Do you love WW2 books based on true stories? Don't miss The Library Of Legends by Janie Chang, Chinese WWII historical fiction. Find a The Library Of Legends summary, book information, and reviews.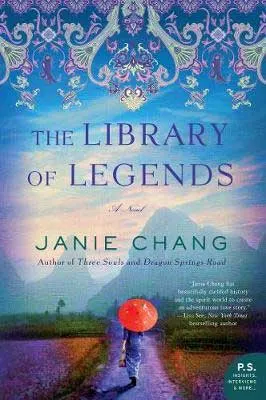 This post may contain affiliate links: If you purchase through my link, I will receive a small commission at no additional cost to you. I only recommend products/services that I approve of. See my full Disclosure Policy.
Author: Janie Chang
Genre: WW2 Historical Fiction | Book Set In China | WW2 Chinese & Japanese Fiction
Pages: 400
Publisher: William Morrow Paperbacks
Publication Date: May 2020
Buy Now: Amazon
Find morer books like The Library Of Legends by Janie Chang:
The Library Of Legends by Janie Chang Summary
"Myths are the darkest and brightest incarnations of who we are…"

China, 1937: When Japanese bombs begin falling on the city of Nanking, nineteen-year-old Hu Lian and her classmates at Minghua University are ordered to flee. Lian and a convoy of more than a hundred students, faculty, and staff must walk a thousand miles to the safety of China's western provinces, a journey marred by hunger, cold, and the constant threat of aerial attack. And it is not just the student refugees who are at risk: Lian and her classmates have been entrusted with a priceless treasure, a 500-year-old collection of myths and folklore known as the Library of Legends.

Her family's past has made Lian wary of forming attachments, but the students' common duty to safeguard the Library of Legends forms unexpected bonds. Lian finds friendship and a cautious romance with the handsome and wealthy Liu Shaoming. But after one classmate is murdered and another arrested, Lian realizes she must escape from the convoy before a family secret puts her in danger. Accompanied by Shao and the enigmatic maidservant Sparrow, Lian makes her way to Shanghai, hoping to reunite with her mother.

On the journey, Lian learns of the connection between her two companions and a tale from the Library of Legends, The Willow Star and the Prince. Learning Shao and Sparrow's true identities compels Lian to confront her feelings for Shao. But there are broader consequences too, for as the ancient books travel across China, they awaken immortals and guardian spirits to embark on an exodus of their own, one that changes the country's fate forever.

Based on true events, rich in Chinese history and lore, The Library of Legends is both an illuminating exploration of China's recent past and an evocative tale of love, sacrifice, and the extraordinary power of storytelling.

William Morrow Paperbacks
Join The Uncorked Reading Challenge Today
---
Travel around the world with the Uncorked Reading Challenge. Get the best book and movie recs straight to your inbox. Sign Up Now.
About The Author, Janie Chang
Janie Chang is a bestselling and award-winning historical fiction author. Born in Taiwan, Chang has lived all over the world and currently resides in Canada. Learn more about Janie Chang.
More Books From Janie Chang
Where You Can Find The Library Of Legends by Janie Chang On TUL
If you enjoy stories about the keepers of books and information, be sure to head over to our reading list all about library collections and librarians, traditional and not.
If you love history from around the world, don't miss this WW2 books reading list. Find more WWII books based on true stories such as Code Name Hélène by Ariel Lawhon and The Prisoner's Wife by Maggie Brookes along with popular historical fiction novels like The Nightingale, All The Light We Cannot See, and The Storyteller.
Uncover some of the top WW2 historical fiction novels, including The Library Of Legends by Janie Chang. We'll share 36+ World War 2 books inspired by true stories or titles that are romances, indies, thrillers, and mysteries – both new and old. We also promise to showcase bestselling WW2 fiction along with lesser-known books.
If you love WW2 books as much as we do, see what other new World War 2 books published along with The Library Of Legends by Janie Chang.