Find book information and book lists featuring The Last Castle on The Uncorked Librarian.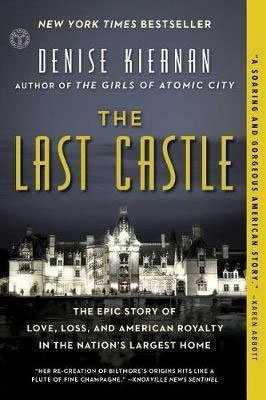 This post may contain affiliate links: If you purchase through my link, I will receive a small commission at no additional cost to you. I only recommend products/services that I approve of. See my full Disclosure Policy.
Author: Denise Kiernan
Genre: Books Set In The South, North Carolina & Asheville | Nonfiction | Women In History
Pages: 416
Publisher: Atria
Publication Date: 2018
Purchase Your Copy Of The Last Castle Here: Amazon
Grab more great books:
The Last Castle Summary From The Publisher
A New York Times bestseller with an 'engaging narrative and array of detail' (The Wall Street Journal), the 'intimate and sweeping' (Raleigh News & Observer) untold, true story behind the Biltmore Estate—the largest, grandest private residence in North America, which has seen more than 120 years of history pass by its front door.

The story of Biltmore spans World Wars, the Jazz Age, the Depression, and generations of the famous Vanderbilt family, and features a captivating cast of real-life characters including F. Scott Fitzgerald, Thomas Wolfe, Teddy Roosevelt, John Singer Sargent, James Whistler, Henry James, and Edith Wharton.

Orphaned at a young age, Edith Stuyvesant Dresser claimed lineage from one of New York's best known families. She grew up in Newport and Paris, and her engagement and marriage to George Vanderbilt was one of the most watched events of Gilded Age society. But none of this prepared her to be mistress of Biltmore House.

Before their marriage, the wealthy and bookish Vanderbilt had dedicated his life to creating a spectacular European-style estate on 125,000 acres of North Carolina wilderness. He summoned the famous landscape architect Frederick Law Olmsted to tame the grounds, collaborated with celebrated architect Richard Morris Hunt to build a 175,000-square-foot chateau, filled it with priceless art and antiques, and erected a charming village beyond the gates. Newlywed Edith was now mistress of an estate nearly three times the size of Washington, DC and benefactress of the village and surrounding rural area. When fortunes shifted and changing times threatened her family, her home, and her community, it was up to Edith to save Biltmore—and secure the future of the region and her husband's legacy.

This is the fascinating, 'soaring and gorgeous' (Karen Abbott) story of how the largest house in America flourished, faltered, and ultimately endured to this day.

Atria Books
About Denise Kiernan
Denise Kiernan is a bestselling author, producer, and journalist. You name it, and she has probably tried and done it.
You may also know Kiernan from The Girls of Atomic City, and she wrote for the ABC TV show, Who Wants to Be a Millionaire. Read more about Denise Kiernan here.
Other Books By Denise Kiernan:
TUL Book Lists Featuring The Last Castle By Denise Kiernan
Travel around the world to castles, both real and imagined.
TUL thrives on sharing books set in locations. Take our America Reading Challenge with these books set across the United States.
If you love historical fiction, nonfiction, and deep-fried delish books, you'll love these books set in the South, including The Last Castle by Denise Kiernan.
Find books about North Carolina history as well as cozy mysteries on this 'books set in North Carolina' reading list. You'll discover more about Kiernan's novel along with another famous Asheville legend – local author, Thomas Wolfe.
Head over to our sister site, Uncorked Asheville, to discover even more books about and set in Asheville, North Carolina.
Asheville, NC is home to a plethora of authors. Those gorgeous Blue Ridge Mountains are quite inspiring. Meet even more famous AVL authors like Kiernan on Uncorked Asheville.
Learn more about North Carolina with these books on Uncorked Asheville.