Are you looking for books set in Salem and famous classics? Be sure to check out The House Of The Seven Gables by Nathaniel Hawthorne. Find a summary, book information, and reviews here.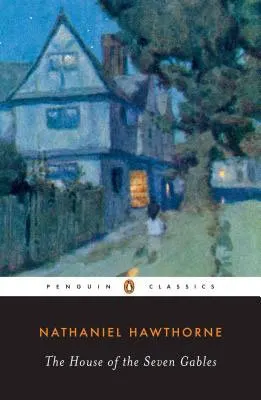 This post may contain affiliate links: If you purchase through my link, I will receive a small commission at no additional cost to you. I only recommend products/services that I approve of. See my full Disclosure Policy.
Author: Nathaniel Hawthorne.
Genre: Classics | Books Set In Salem & Salem Witch Trials | Gothic Fiction & Horror
Pages: 368
One Publisher: Penguin Classics
Original Publication Date: 1851
Buy on Amazon
Find more great books here:
The House Of The Seven Gables Summary
"This enduring novel of crime and retribution vividly reflects the social and moral values of New England in the 1840s.

Nathaniel Hawthorne's gripping psychological drama concerns the Pyncheon family, a dynasty founded on pious theft, who live for generations under a dead man's curse until their house is finally exorcised by love. Hawthorne, by birth and education, was instilled with the Puritan belief in America's limitless promise. Yet – in part because of blemishes on his own family history – he also saw the darker side of the young nation. Like his twentieth-century heirs William Faulkner and F. Scott Fitzgerald, Hawthorne peered behind propriety's façade and exposed the true human condition."

Penguin Random House
Join The Uncorked Reading Challenge Today
---
Travel around the world with the Uncorked Reading Challenge. Get the best book and movie recs straight to your inbox. Sign Up Now.
About The House Of The Seven Gables Author, Nathaniel Hawthrone:
Nathaniel Hawthrone is no stranger to Salem, MA. Born in Salem in 1805, Hawthrone started as an anonymous American author. He wrote both novels and short stories until his death in 1864. He is equally well-known for The Scarlet Letter.
TUL Book Lists Featuring The House Of The Seven Gables by Nathaniel Hawthrone Reviews
Intrigued by the Salem Witch Trials? Find Nathaniel Hawthrone's The House Of The Seven Gables on this books set in Salem, MA book list. Unique to this reading list, TUL consulted a guest expert, Wandering Crystal, who focuses on dark and spooky tourism. Find Crystal's top Witch Trials and Salem books.
Don't miss all of the books we talk about set around North America.
Did You Know That You Can Visit The Real House Of The Seven Gables?
Are you thinking about visiting The House Of The Seven Gables? This literary house consists of 7 actual gables and is, quite frankly, pretty spooky looking with its Georgian-style architecture.
Built in 1668 by John Turner, Nathaniel Hawthrone stayed at The House Of The Seven Gables as a guest, thus influencing his imagination and book.
TUL toured the home years and years ago. Don't miss this historic and creepy site if you land in Salem, MA.