Are you interested in reading or listening to The Graveyard Book by Neil Gaiman?  Get The Graveyard Book summary here along with similar book suggestions and featured book lists.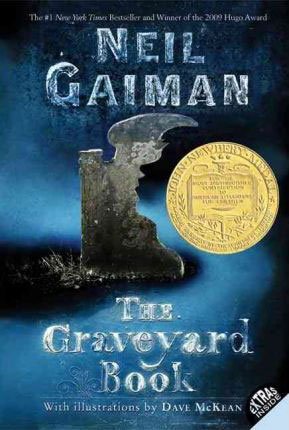 This post may contain affiliate links: If you purchase through my link, I will receive a small commission at no additional cost to you. I only recommend products/services that I approve of.  Purchasing through my links allows me to continue to provide unique content and pursue my business dreams. Thank you for supporting me.  See my full Disclosure Policy.
The Graveyard Book
Author: Neil Gaiman
Illustrations: Dave McKean
Genre: Middle Grade | Children's Paranormal | YA Spooky & Horror
Pages: 325
Publisher: Harper Collins
Publication Date: 2008
Awards: Newbery and Carnegie Medals
Buy The Graveyard Book by Neil Gaiman Here:


The Graveyard Book
Summary From The Publisher, Harper Collins:
"Neil Gaiman's perennial favorite, The Graveyard Book, has sold more than one million copies and is the only novel to win both the Newbery Medal and the Carnegie Medal.
Bod is an unusual boy who inhabits an unusual place—he's the only living resident of a graveyard. Raised from infancy by the ghosts, werewolves, and other cemetery denizens, Bod has learned the antiquated customs of his guardians' time as well as their ghostly teachings—such as the ability to Fade so mere mortals cannot see him.
Can a boy raised by ghosts face the wonders and terrors of the worlds of both the living and the dead?
The Graveyard Book is the winner of the Newbery Medal, the Carnegie Medal, the Hugo Award for best novel, the Locus Award for Young Adult novel, the American Bookseller Association's "Best Indie Young Adult Buzz Book," a Horn Book Honor, and Audio Book of the Year."
About The Graveyard Book Author, Neil Gaiman:
New York Times bestselling author, Neil Gaiman, is known around the world and has achieved a variety of awards, including Newbery and Carnie medals for The Graveyard Book.  Born in England, Gaiman resides in the U.S. Gaiman is a champion of libraries and was a journalist before he became an author.   Read more about Neil Gaiman.
Loving The Graveyard Book by Neil Gaiman?
Try His Other Books:
Neil Gaiman Books Made Into Movies And Series:
TUL Book Lists Featuring The Graveyard Book By Neil Gaiman:
Did you know that Neil Gaiman books make for the BEST audiobooks?
Check out these top audiobooks perfect for road trips and long commutes.  Find titles like The Graveyard Book as well as some of my favorite reads and listens in recent years.  Adult and YA books included for family and solo trips.

Other Road-Trippy Books That You Will Find On This Audiobook List Include:
Click on any of the books below to see their summaries, read alikes, and author biographies.
Books Similar To The Graveyard Book That You May Enjoy:
Looking for bestselling and popular books similar to The Graveyard Book?  Check out these great titles perfect for middle grade and adult audiences who love YA: