If you are looking for a coming of age story set in Nigeria, don't miss The Girl With The Louding Voice by Abi Daré. Find a The Girl With The Louding Voice summary, book information, and book reviews here.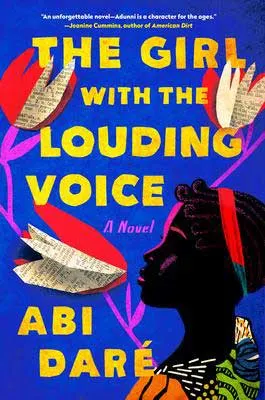 This post may contain affiliate links: If you purchase through my link, I will receive a small commission at no additional cost to you. I only recommend products/services that I approve of. See my full Disclosure Policy.
Author: Abi Daré
Genre: Book Set Nigeria | Literary Fiction
Pages: 379
Publisher: Dutton
Publication Date: February 4, 2020
Buy Now On Amazon
Find more great books here:
The Girl With The Louding Voice by Abi Daré Summary
The unforgettable, inspiring story of a teenage girl growing up in a rural Nigerian village who longs to get an education so that she can find her "louding voice" and speak up for herself, The Girl with the Louding Voice is a simultaneously heartbreaking and triumphant tale about the power of fighting for your dreams.

Despite the seemingly insurmountable obstacles in her path, Adunni never loses sight of her goal of escaping the life of poverty she was born into so that she can build the future she chooses for herself – and help other girls like her do the same.

Her spirited determination to find joy and hope in even the most difficult circumstances imaginable will "break your heart and then put it back together again" (Jenna Bush Hager on The Today Show) even as Adunni shows us how one courageous young girl can inspire us all to reach for our dreams…and maybe even change the world.

Dutton
Join The Uncorked Reading Challenge Today
---
Travel around the world with the Uncorked Reading Challenge. Get the best book and movie recs straight to your inbox. Sign Up Now.
More About The Author, Abi Daré
Abi Daré is an award-winning Nigerian author who grew up in Lagos. She now resides in the UK with her family. Daré holds an MSc in International Project Management from Glasgow Caledonian University and an MA in Creative Writing from Birkbeck, University of London. Keep up with Abi Daré on Twitter.
Where You Can Find The Girl With The Louding Voice by Abi Daré Reviews On TUL
Are you hoping to learn more about Nigeria or travel there via a good book? Don't miss our books set in and about Nigeria reading list. This book list will teach you about Nigerian history, authors, war, identity, and culture. Find The Girl With The Louding Voice along with even more great Nigerian-based books.