If you are looking for a powerful YA fantasy series set in West Africa, don't miss The Gilded Ones by Namina Forna. Find a The Gilded Ones summary, book information, and book reviews here.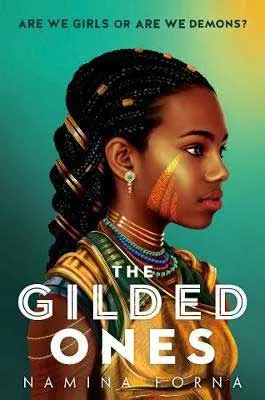 This post may contain affiliate links: If you purchase through my link, I will receive a small commission at no additional cost to you. I only recommend products/services that I approve of. See my full Disclosure Policy.
Author: Namina Forna
Genre: Book Set In West Africa/Inspired by Sierra Leone | YA Fantasy | Books About Racism, Xenophobia, Abuse
Pages: 432
Publisher: Delacorte Press
Publication Date: February 9, 2021
Buy Now On Amazon
Find more great books like The Gilded Ones here:
The Gilded Ones by Namina Forna Summary
Sixteen-year-old Deka lives in fear and anticipation of the blood ceremony that will determine whether she will become a member of her village. Already different from everyone else because of her unnatural intuition, Deka prays for red blood so she can finally feel like she belongs.

But on the day of the ceremony, her blood runs gold, the color of impurity–and Deka knows she will face a consequence worse than death.

Then a mysterious woman comes to her with a choice: stay in the village and submit to her fate, or leave to fight for the emperor in an army of girls just like her. They are called alaki–near-immortals with rare gifts. And they are the only ones who can stop the empire's greatest threat.

Knowing the dangers that lie ahead yet yearning for acceptance, Deka decides to leave the only life she's ever known. But as she journeys to the capital to train for the biggest battle of her life, she will discover that the great walled city holds many surprises. Nothing and no one are quite what they seem to be–not even Deka herself.

Delacorte Press
Join The Uncorked Reading Challenge Today
---
Travel around the world with the Uncorked Reading Challenge. Get the best book and movie recs straight to your inbox. Sign Up Now.
Sneak Peek Of TUL's Advanced Copy Review Of The Gilded Ones
With a gorgeous cover and equally mesmerizing mythological and fantastical plot, become completely engrossed in a tale about power, feminity, friendship, love, and family.
Find a book filled with feminist messaging and a fast-paced story that will keep you reading late into the night.
You'll champion Deka and all of the evil forces she goes up against, including abuse, racism, misogyny, and xenophobia.
More About The Author, Namina Forna
Originally from Sierra Leone, West Africa, and based in LA, Namina Forna is a YA writer and screenwriter. Read more about Namina Forna.
Where You Can Find The Gilded Ones On TUL
Discover more books with monsters across genres for adults and teens. This includes fantasy and horror monster stories along with imaginary but beastly monsters and the metaphorical monsters inside of us.
Don't miss the best (and worst) books releasing in February 2021. Find more YA books like The Gilded Ones along with the top picks in historical fiction, nonfiction, and diverse books set around the world. We are sharing two exciting translated literature titles, too, one of which is set in North Africa.
What books are releasing with The Gilded Ones by Namina Forna? We are discussing the most-anticipated books of 2021 in YA, fiction, nonfiction, indie, translated literature, and so much more. Find new books set around the world.