One of my favorite books of 2020, don't miss The Death Of Vivek Oji by Akwaeke Emezi. Set in Nigeria, witness a heartbreaking but beautiful story about friendship and living a life true to how you feel inside. Find a The Death Of Vivek Oji summary, book information, and book reviews here.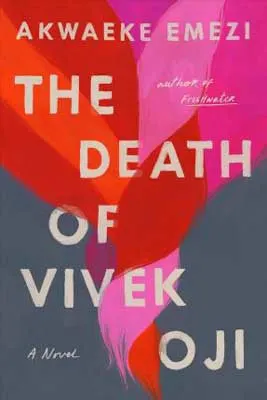 This post may contain affiliate links: If you purchase through my link, I will receive a small commission at no additional cost to you. I only recommend products/services that I approve of. See my full Disclosure Policy.
Author: Akwaeke Emezi
Genre: LGBTQ+ | Book Set In Nigeria
Pages: 256
Publisher: Riverhead Books
Publication Date: August 4, 2020
Buy On Amazon
Get On Book Of The Month
Grab the best books here:
The Death Of Vivek Oji by Akwaeke Emezi Summary
One afternoon, in a town in southeastern Nigeria, a mother opens her front door to discover her son's body, wrapped in colorful fabric, at her feet. What follows is the tumultuous, heart-wrenching story of one family's struggle to understand a child whose spirit is both gentle and mysterious.

Raised by a distant father and an understanding but overprotective mother, Vivek suffers disorienting blackouts, moments of disconnection between self and surroundings. As adolescence gives way to adulthood, Vivek finds solace in friendships with the warm, boisterous daughters of the Nigerwives, foreign-born women married to Nigerian men.

But Vivek's closest bond is with Osita, the worldly, high-spirited cousin whose teasing confidence masks a guarded private life. As their relationship deepens—and Osita struggles to understand Vivek's escalating crisis—the mystery gives way to a heart-stopping act of violence in a moment of exhilarating freedom.

Propulsively readable, teeming with unforgettable characters, The Death of Vivek Oji is a novel of family and friendship that challenges expectations—a dramatic story of loss and transcendence that will move every reader.

Riverhead Books
Join The Uncorked Reading Challenge Today
---
Travel around the world with the Uncorked Reading Challenge. Get the best book and movie recs straight to your inbox. Sign Up Now.
More About Author, Akwaeke Emezi
Akwaeke Emezi is an artist and award-winning writer. Born in Umuahia and raised in Aba, Nigeria, they write nonfiction, fiction, and YA books. Emezi is an advocate for Black Trans rights. Read all about Akwaeke Emezi.
More Books By Akwaeke Emezi
Find Pet on our fantasy audiobooks and queer fantasy books reading lists.
Or, grab You Made a Fool of Death with Your Beauty on our most-anticipated 2022 book releases list as well as the best books of 2022.
Where You Will Find The Death Of Vivek Oji by Akwaeke Emezi Reviews On TUL
Are you looking for books set in and about Nigeria to read before you go? Or, why not travel via your armchair with this reading list? We are sharing famous Nigerian and Nigerian-American authors and novels, including The Death Of Vivek Oji by Akwaeke. See what other books you can read to learn more about Nigerian history and culture. Explore themes of identity, family, love, migration, and war, too.
The Death Of Vivek Oji was one of the absolute best books we read in 2020. See what other books we think you'll love or should give a shot from this year. If you are looking for more LGBTQ+ titles, you'll also find Untamed and A Burning on this list. Plus, we are sharing the top books in historical fiction, inspirational nonfiction, YA, indie, and romance.
See what books we read this month, including The Death Of Vivek Oji by Akwaeke Emezi. You will also find multiple book reviews for Women In Translation with authors like Sayaka Murata and Han Kang. Uncover a The Little Prince read alike, too.
Don't miss our huge Fall 2020 reading guide filled with some of the season's hottest new books. Find The Death of Vivek Oji along with romances, thrillers, mysteries, YA, indie, and LGBTQ+ novels releasing in fall 2020.