If you are looking for a hilarious multicultural rom-com set in California, don't miss The Dating Plan by Sara Desai. Find a summary, book information, and book reviews here.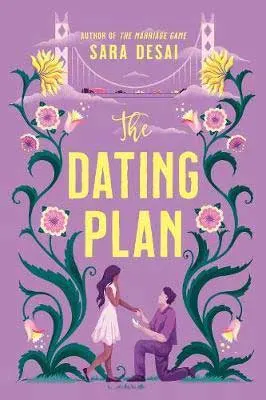 This post may contain affiliate links: If you purchase through my link, I will receive a small commission at no additional cost to you. I only recommend products/services that I approve of. See my full Disclosure Policy.
Author: Sara Desai
Genre: Multicultural Rom-Com | Book Set In CA
Pages: 269
Publisher: Berkley
Publication Date: March 16, 2021
Buy on Amazon
Find more great books here:
The Dating Plan by Sara Desai Summary
Daisy Patel is a software engineer who understands lists and logic better than bosses and boyfriends. With her life all planned out, and no interest in love, the one thing she can't give her family is the marriage they expect. Left with few options, she asks her childhood crush to be her decoy fiancé.

Liam Murphy is a venture capitalist with something to prove. When he learns that his inheritance is contingent on being married, he realizes his best friend's little sister has the perfect solution to his problem. A marriage of convenience will get Daisy's matchmaking relatives off her back and fulfill the terms of his late grandfather's will. If only he hadn't broken her tender teenage heart nine years ago…

Sparks fly when Daisy and Liam go on a series of dates to legitimize their fake relationship. Too late, they realize that very little is convenient about their arrangement. History and chemistry aren't about to follow the rules of this engagement.

Berkley
Join The Uncorked Reading Challenge Today
---
Travel around the world with the Uncorked Reading Challenge. Get the best book and movie recs straight to your inbox. Sign Up Now.
Our Sneak Peek Advanced Review Of The Dating Plan
Hilarious and sexy, this sweet multicultural romance will have you screaming, "Just get married already!" The Irish and Indian family members with their qualms and quirks are a fun and relatable addition to the story. I ate up the romance between Liam and Daisy. Don't let them anywhere near your headboard.
More About The Author, Sara Desai
Sara Desai writes sexy and hilarious rom-coms. Along with being a writer, she's also been a lawyer, librarian, and radio DJ — just to name a few. Read more about Sara Desai.
Where You Can Find The Dating Plan Reviews On TUL
Although not set in India, The Dating Plan talks about Daisy's Indian family and their expectations for her. See what are books are about and set in India here.
Along with The Dating Plan, what other books are publishing in March? Don't miss The Rose Code by Kate Quinn and The Lost Apothecary by Sarah Penner. Never be late to the party with The Uncorked Librarian's book releases reading lists.