Are you looking for books set in Salem and famous classics? The Crucible by Arthur Miller is a not to miss Salem Witch Trials book.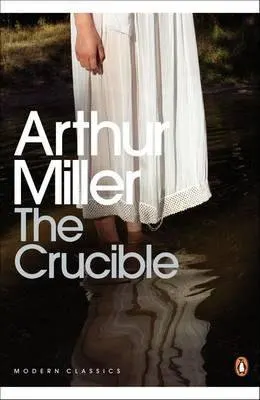 This post may contain affiliate links: If you purchase through my link, I will receive a small commission at no additional cost to you. I only recommend products/services that I approve of. See my full Disclosure Policy.
Author: Arthur Miller
Genre: Classics | American Drama & Plays | Books Set In Salem & Salem Witch Trials
Pages: 143
Publisher: Penguin Random House
Original Publication Date: 1953
Buy It Here: Amazon
Find more great books here:
The Crucible by Arthur Miller Summary
"…In the rigid theocracy of Salem, rumors that women are practicing witchcraft galvanize the town's most basic fears and suspicions; and when a young girl accuses Elizabeth Proctor of being a witch, self-righteous church leaders and townspeople insist that Elizabeth be brought to trial. The ruthlessness of the prosecutors and the eagerness of neighbor to testify against neighbor brilliantly illuminate the destructive power of socially sanctioned violence.

Written in 1953, The Crucible is a mirror Miller uses to reflect the anti-communist hysteria inspired by Senator Joseph McCarthy's "witch-hunts" in the United States. Within the text itself, Miller contemplates the parallels, writing: "Political opposition…is given an inhumane overlay, which then justifies the abrogation of all normally applied customs of civilized behavior. A political policy is equated with moral right, and opposition to it with diabolical malevolence."

Penguin Random House
Join The Uncorked Reading Challenge Today
---
Travel around the world with the Uncorked Reading Challenge. Get the best book and movie recs straight to your inbox. Sign Up Now.
About The Author, Arthur Miller:
Born in NYC in 1915, Arthur Miller wrote numerous plays in his lifetime. High School curriculums love to teach Miller's The Death of a Salesman, another popular classic.
Twice, Miller achieved the New York Drama Critics Circle Award. In 1949, he won the Pulitzer Prize. Miller died in 2005. Learn more about this infamous play writer, Arthur Miller→
A Fan Of Arthur Miller's Work? If You Like The Crucible, Don't Miss Out On His Other Titles:

TUL Book Lists Featuring The Crucible by Arthur Miller With Book Reviews
Are you craving more recommendations with witches? Check out TUL's favorite adult and YA witchy books. Find a little mystery, historical fiction, and even YA that adults will love.
Intrigued by the Salem Witch Trials? Find Arthur Miller's The Crucible on this books set in Salem, MA book list. Unique to this list, TUL consulted a guest expert, Wandering Crystal. Crystal focuses on dark and spooky tourism. Find Crystal's top Witch Trials and Salem books.
See what other popular and famous books were published along with The Crucible.
Massachusetts is a book lover's dream. Discover literary travel, famous writers, and some of the best books set in Massachusetts on this destination reading list.
Don't miss all of the books we talk about set around North America.