Are you looking for a book similar to The Little Prince that the entire family will love? Don't miss reading The Boy, The Mole, The Fox and The Horse by Charlie Mackesy.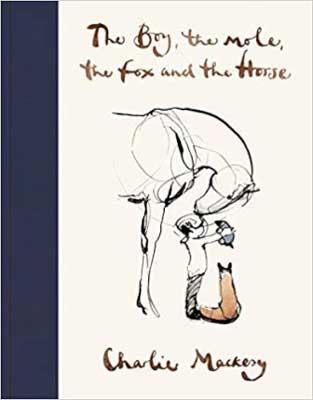 This post may contain affiliate links: If you purchase through my link, I will receive a small commission at no additional cost to you. I only recommend products/services that I approve of. See my full Disclosure Policy.
Author: Charlie Mackesy
Genre: Junior Fiction Graphic Novel | Self-Help | Inspirational
Pages: 128
Publisher: HarperOne
Publication Date: October 2019
Buy It On: Amazon
Find more great books here:
1. We get the month's hottest new and upcoming titles from Book of the Month.
2. Try Audible Plus.
3. Find books via Kindle Unlimited Membership Plans.
4. As a member of Amazon Prime, don't miss Amazon First Reads — early access to Kindle books.
The Boy, The Mole, The Fox and The Horse by Charlie Mackesy Summary
From the revered British illustrator, a modern fable for all ages that explores life's universal lessons, featuring 100 color and black-and-white drawings.

"What do you want to be when you grow up?" asked the mole.

"Kind," said the boy.

Charlie Mackesy offers inspiration and hope in uncertain times in this beautiful book based on his famous quartet of characters. The Boy, the Mole, the Fox, and the Horse explores their unlikely friendship and the poignant, universal lessons they learn together.

Radiant with Mackesy's warmth and gentle wit, The Boy, the Mole, the Fox, and the Horse blends hand-written narrative with dozens of drawings, including some of his best-loved illustrations (including "Help," which has been shared over one million times) and new, never-before-seen material. A modern classic in the vein of The Tao of Pooh, The Alchemist, and The Giving Tree, this charmingly designed keepsake will be treasured for generations to come.

HarperOne
Join The Uncorked Reading Challenge Today
---
Travel around the world with a book a month as part of our Uncorked Reading Challenge. Never be late to the party again with the best new book releases. Get book recs straight to your inbox. Sign Up Now.
About The Author, Charlie Mackesy
Charlie is a British illustrator, artist, and cartoonist and has exhibited his artwork in galleries across London, New York, and Edinburgh. He preferred drawing cartoons over finishing college and has lived and traveled around the world. Read more about Charlie Mackesy.
Where You Can Find The Boy, The Mole, The Fox and The Horse Reviews On The Uncorked Librarian
Don't miss these amazing books that will make you think differently about the world. Find books like The Little Prince along with titles that will make you think about travel, life, love, and society.
Along with The Boy, The Mole, The Fox and The Horse, see what other books we've read this September. Find book reviews of Convenience Store Woman, The Nickel Boys, The Vegetarian, and The Death of Vivek Oji.