The Baltics For Book Lovers
Did you know the Baltic states are a literary travel destination? Lithuania, Latvia, and Estonia are a few of the many geeky bookish places in Europe. The Baltics for book lovers is truly a dream come true.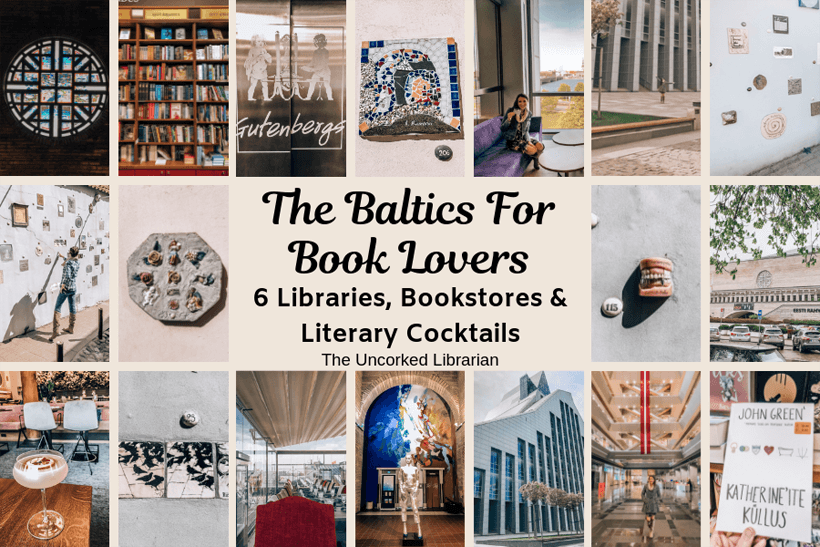 Pin
Visitors can spend hours wandering the stacks of the National Library of Latvia in Riga.  Equally impressive is the Estonian National Library in Tallinn.  Don't forget about hunting for the Literary Street in Vilnius, Lithuania.  Plus, find book-inspired restaurants, literary cocktails, and local bookstores.
Check out my 6 favorite places in the Baltics for book lovers.
---
I will never forget the feeling of driving into Riga and spotting the Castle of Light from the bridge.  What is that enormous building with endless windows?  Why is it shining!?  Why am I sucked to it like a bug to the light?!
Then it dawned on me. Oh, my librarian goddess, it's the LIBRARY.  Be still my beating heart.
After checking out some of the must-see sights in Lithuania, Latvia, and Estonia, we decided to go on a bookish scavenger hunt in the Baltics. Warning: I promise these places aren't too hard to find, especially when you have a 13-story library towering overhead.  Get ready for literary inspiration and bookish heaven.
The Baltics For Book Lovers: 6 Must-See Literary Destinations in Latvia, Estonia, and Lithuania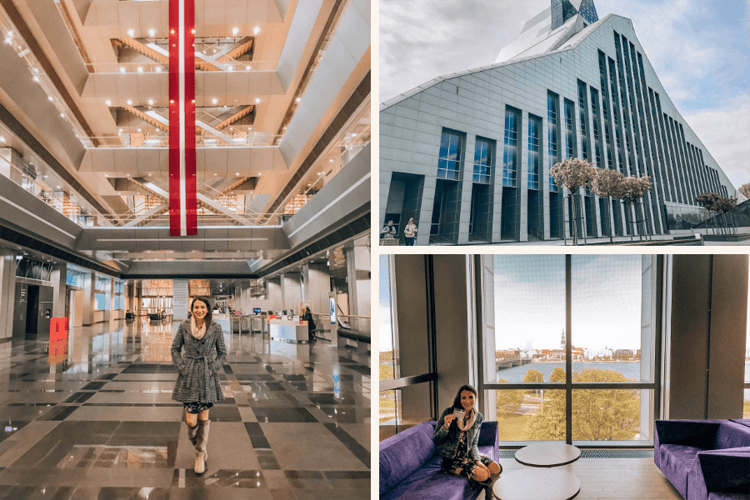 Pin
Baltic Bookish Places #1: The National Library of Latvia in Riga
A Baltic book lover's dream: The Castle of Light in Riga, Latvia
If you are a librarian or beautiful international library seeker, the Latvian National Library will not disappoint.  Deemed the "Castle of Light," the institution is truly just that.  Look up to a magnificent palace of windows. Find 13-story floors of information. Plus, there are endless spaces for books, conversations, and art installations. In Latvian, the library is 'Latvijas Nacionālā bibliotēka.'
The National Library of Latvia is one of the newest places in the Baltics for book lovers, although its history dates back to 1919. Now housed in a modern building since its grand opening in 2014, the library guards over 5 million titles.
Drop the jaw.
As world library travelers, the library does not require visitors to seek permission to visit in advance.  These librarians are friendly. The doors are WIDE OPEN for gawking guests.
You can walk to the library from Old Town Riga past the House of Blackheads. Cross the bridge and under traffic on pedestrian walkways. Take that picture from far away too.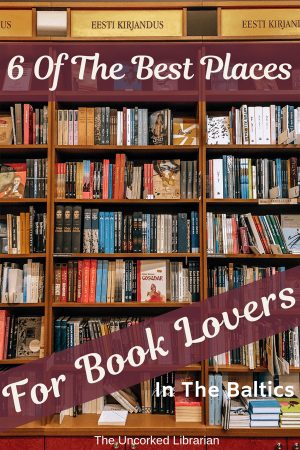 What To Know Before You Go To The National Library of Latvia:
Upon entering the library, check your coat for free.  Bring a few euros to drop as a deposit in a well-secured locker for larger items. You may take your silenced phone, laptop, and a small personal item like your wallet.
Once you unload, be sure to check in with any of the front desk staff in the gorgeous atrium.  They will hand you a free day-pass to wear around your neck.  From there, you can head to any of the 8-floors without a guide. Check out the art installations.  Peruse the shelves.  There are stairs, elevators, and escalators for accessibility.
You may schedule a guided tour.
Uncorked Bonus Tip:
Why the Latvian National Library is an extra special Baltic library: Be sure to look up in the atrium.  Gunnar Birkerts, the architect, created a 5-story people's bookshelf.  Here, you can donate a book to add to the collection.  See the full details of the People's Bookshelf.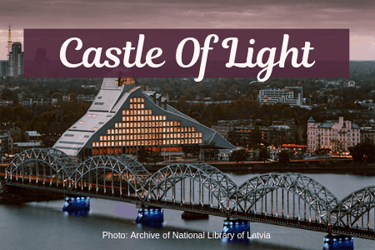 Don't forget to check for holiday hours and visitor information on the National Library of Latvia's website.
Address (or just type "National Library of Latvia into your GPS:  Mūkusalas iela 3, Zemgales priekšpilsēta, Rīga, LV-1423, Latvia)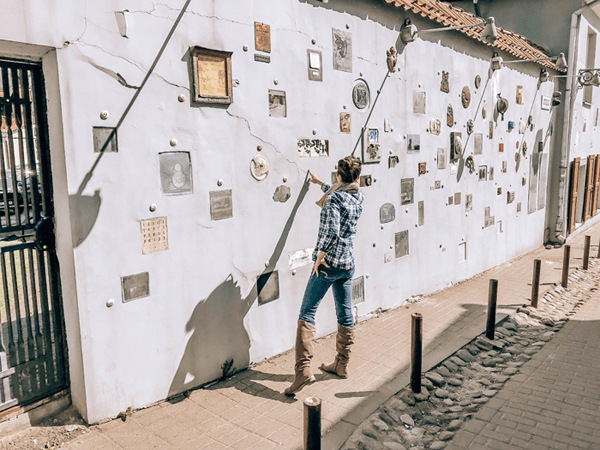 Pin
The Baltics For Book Lovers Literary Destination #2: The Literary Street in Vilnius, Lithuania (Literatų gatvė)
If you love to read literature set in a county as I do, you will fawn over the Vilnius' Literary Street, Literatų gatvė.  Formerly known as the Literatu street project, imagine a brick and cobble-stoned walkway filled with unique and handcrafted tiles.
Visitors find sculptures, murals, and glasswork.  Each piece is numbered and paired with a particular person.  These memorials are dedicated to writers, authors, translators, and anyone who has impacted Lithuanian literature.  Sadly, I didn't see my girl Ruta Septys. Maybe I missed it.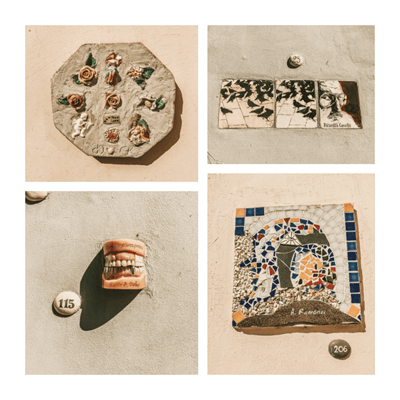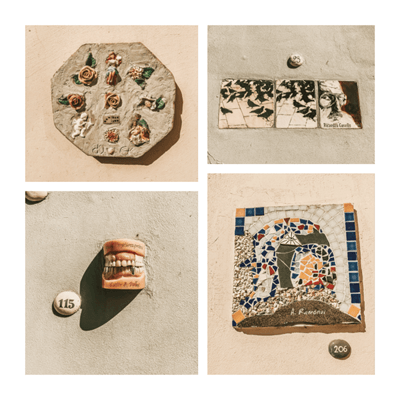 Pin
The best part of Literatų gatvė for Baltics book lovers?  Instead of a stuffy museum, you walk an open-aired street market.  Beautiful and slightly off-the-beaten-track (but still extremely popular), you can't go wrong taking this 15-minute detour on your way to Užupis. Literatų str. is close to Old Town Vilnius near the famous Pilies street.
Read a little more about the Literary Street, Literatų gatvė, in Vilnius. You can type any version of "Literary Street Vilnius" into your GPS. This bookish sight is on Vilnius tourist maps, too. Literatų g., Vilnius 01125, Lithuania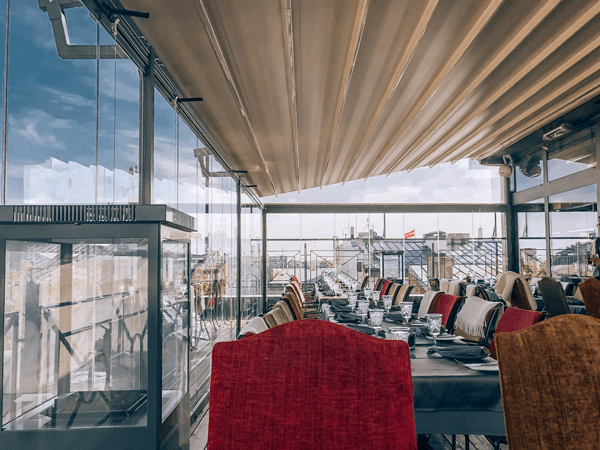 Pin
Best Bookish Places In The Baltics #3: Hotel Gutenberg's in Riga, Latvia
A boutique hotel in Old Town Riga, I highly recommend a visit for at least a rooftop dinner and drinks.  With views of the stunning Old Town Riga architecture–and even a little scavenger hunt on your menu–you cannot go wrong.  Reservations highly recommended.
Besides impeccable service and delicious local drinks, why does Gutenberg's matter for book lovers?  Gutenberg is a namesake!
Rumor has it that the building was semi-home to none other than Johannes Gutenberg. Hmmm…  Gutenberg is the inventor of the printing press in the 16th century. Prior to Gutenberg's invention, monks used to handwrite and copy books like the Bible.  With the printing press, everything could be printed by lining up wood carved letters with ink.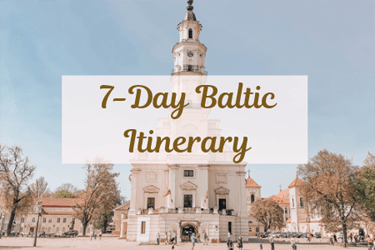 Gutenberg was actually from Mainz, Germany.  Even the restaurant jests that he probably never resided in Riga.  Yet, Gutenberg's may have housed printing presses, if nothing else.  Call me a sucker? After a drink, I don't mind.  Don't troll me for this one.  I loved Gutenberg's and it was BIRTHDAY. Sorry, not, sorry.
REGARDLESS, the first floor has a copy of the Gutenberg Bible.  The second floor holds printing engravings and books.  Gutenberg's even offer printing services.  Oh, and you can get trapped in the elevator.  The excitement is endless; I loved it.
Looking for bookish travel in the Baltics?  Make reservations at Gutenberg's.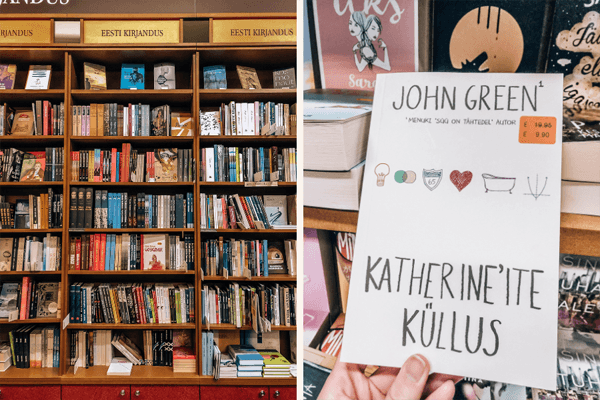 Pin
The Baltics For Book Lovers Literary Places #4: Rahva Raamat Bookstore in Old Town Tallinn, Estonia
The Baltics for book lovers would be incomplete without a bookstore shoutout.  As an American looking for contemporary Baltic literature, especially from Estonia, I had to find one of the biggest bookstores around.  Estonian titles are hard to get in U.S. libraries.
Rahva Raamat is an Estonian bookshop chain. Viru Street in Old Town, Tallinn is Rahva Raamat's flagship of bookish love.  In operation since 1912, you can find the chain in over 7 cities, including Parnu and Tartu. Chosen as one of the best bookstores in 2016 by the London Book Fair, shoppers can find stationery, books, and gifts for book lovers.
Rahva Raamat has an English section with all of the bestselling titles. Plus, find Estonian novels translated into English.  For locals, the store is filled with international books translated into Estonian.  Personally, I always love seeing American book cover editions abroad.
Make sure to purchase a title while you are there.  It's so important to give back to these communities and tourist economies.  Check out Rahva Raamat.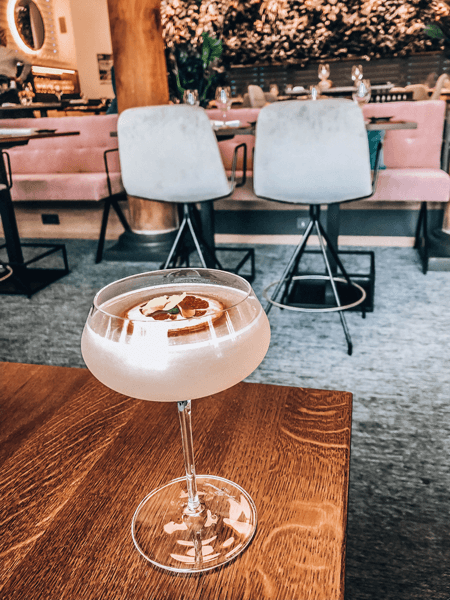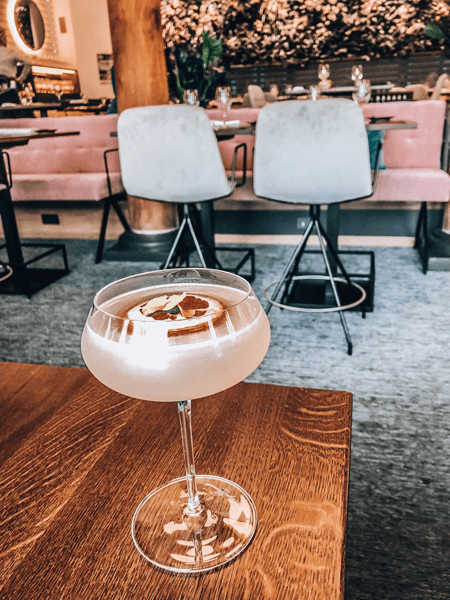 Pin
The Baltics For Book Lovers Literary Destinations #5: Have a literary cocktail at BIBLIOTĒKA №1
If you are seeing a theme with TUL getting sucked into literary named restaurants, you are onto something big here.  No lie, I have NO idea why this restaurant is library-anything named.  However, I LOVED IT.
All I can say is make reservations for a meal in their cozy turquoise and rose gold seats.   If you are an Instagram girl, this is your f'ing heaven for pictures.
Although you would think this fine dining establishment might be stuffy, they are fantastically filled with personality.  We competed with the hostess and waitstaff over magnetic lightbulbs at the bar.
Our table overlooked the park, Vērmanes dārzs, perfect for people-judging.  Order the sorbet.  Peppermint kiwi, coconut, and apricot for our visit.  Literary?  Hmmm, sure.
Oh, and my drink was a Hemingway cocktail.  Literary AF!  That's all I got. BIBLIOTĒKA №1 was our last dinner in the Baltics.  What a way to end.  Perfection.
P.S. You might also want to check out The Grand Poet in Riga.  Although not super bookish, the hotel has fun literary quotes throughout their rooms.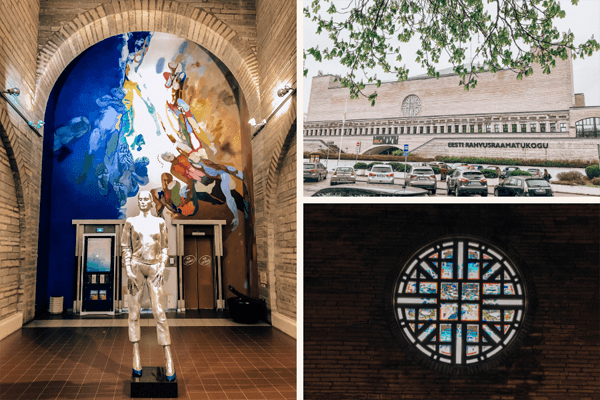 Pin
Baltic Bookish Places #6: The National Library of Estonia in Tallinn
Established as the parliament library in 1918, The National Library of Estonia today houses millions of books.  The library is dedicated to the preservation of Estonian history.  This hidden gem lies outside of Old Town Tallinn's walls.
Inside, visitors are more than welcome to wander the stacks.  Find countless floors of books and art exhibitions. Don't forget to catch a giant game of chess or checkers.  Friendly staff greet you and will answer any and all of your questions about this public space.  No advance permission required.
Don't miss the gorgeous staircases and stained glass window.  Tell me if you find the librarian statue with the heels.  Is it me?  Grab a snack in the cafe or sit by the windows taking a break from the rain.
See the latest happenings at the National Library of Estonia here.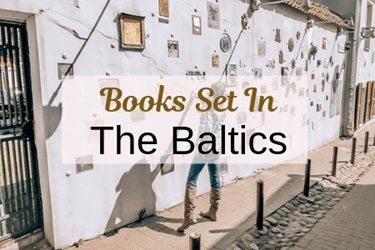 Are you ready for Baltics bookish adventure?
What libraries have you visited abroad and loved?
Which of these places most appeals to you?
Have you been to the Baltics as a book lover? Have you traveled to the National Library of Latvia or Literary Street in Vilnius?  The National Library of Estonia is certainly off of the beaten path in Tallinn. I promise you cannot go wrong with drinks at bookish named places.
Don't forget to read a few intriguing and historical books set in the Baltics. A few of my favorites include YA fantasy, The Warrior Maiden and YA historical fiction, Salt to the Sea.
Headed to Lithuania, Latvia, and Estonia? Pin The Baltics For Book Lovers For Later: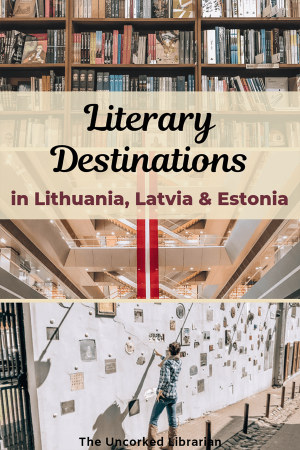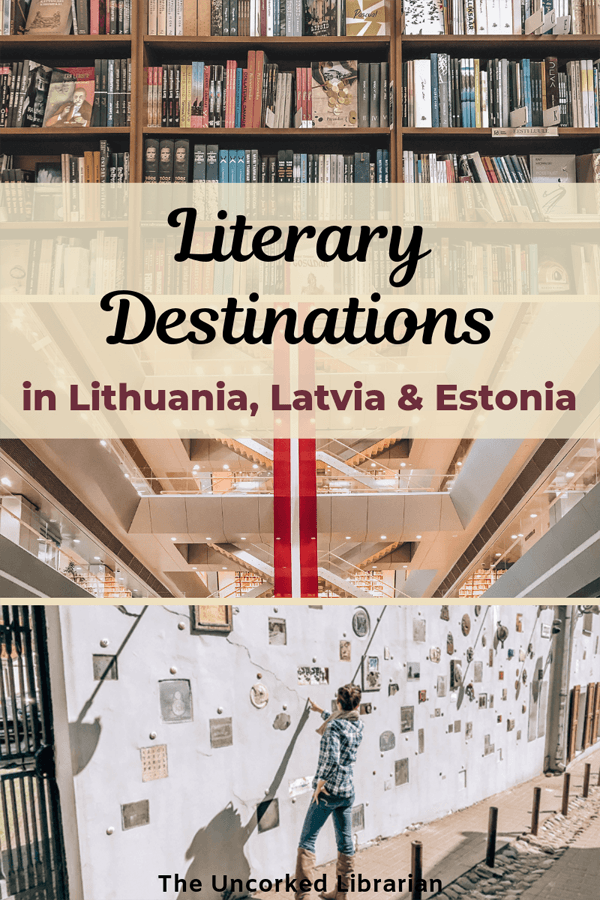 Pin
Baltics Posts You May Also Love:
7-Day Baltics Itinerary
Meet The Glass Castle: The National Library of Latvia
Check out our favorite Baltic city, Parnu
Fascinating Baltic Books For Literature and History Lovers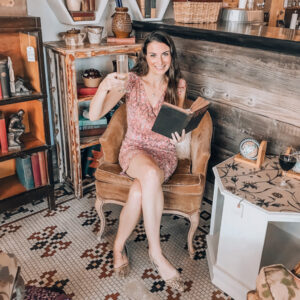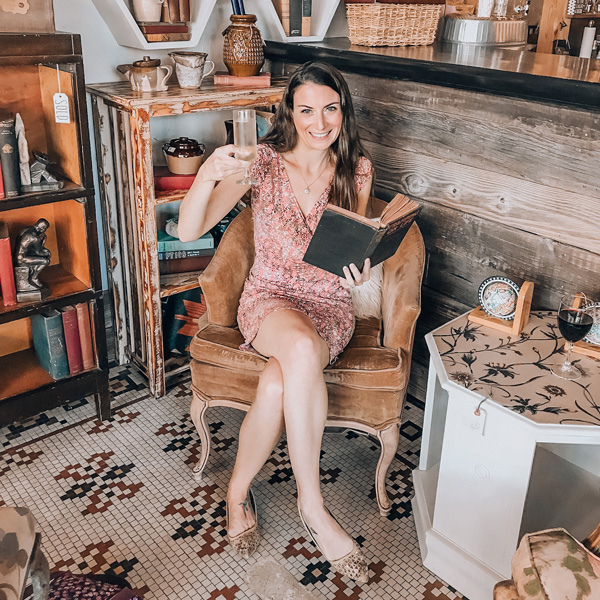 Christine (she/her) is the owner, lead editor, and tipsy book sommelier of The Uncorked Librarian LLC, an online literary publication showcasing books and movies to inspire travel and home to the famed Uncorked Reading Challenge.
With a BA in English & History from Smith College, an MLIS from USF-Tampa, and a U.S. Fulbright Fellowship in Christine's back pocket, there isn't a bookstore, library, or winery that can hide from her. Christine loves brewery yoga, adopting all of the kitties, and a glass of oaked Chardonnay. Charcuterie is her favorite food group.