Looking for St. Augustine restaurants? See where to eat, drink, and sleep from a local Floridian in Saint Augustine, Florida.
In Saint Augustine, Florida antiquity allures visitors while the modern establishments entertain and nourish.
We headed to St. Aug. with no set itinerary but found ourselves seduced by its historic spell. To newbies, the city may be overwhelming. If you are just visiting for a short stay, below are my recommendations for the perfect St. Augustine, Florida weekend trip.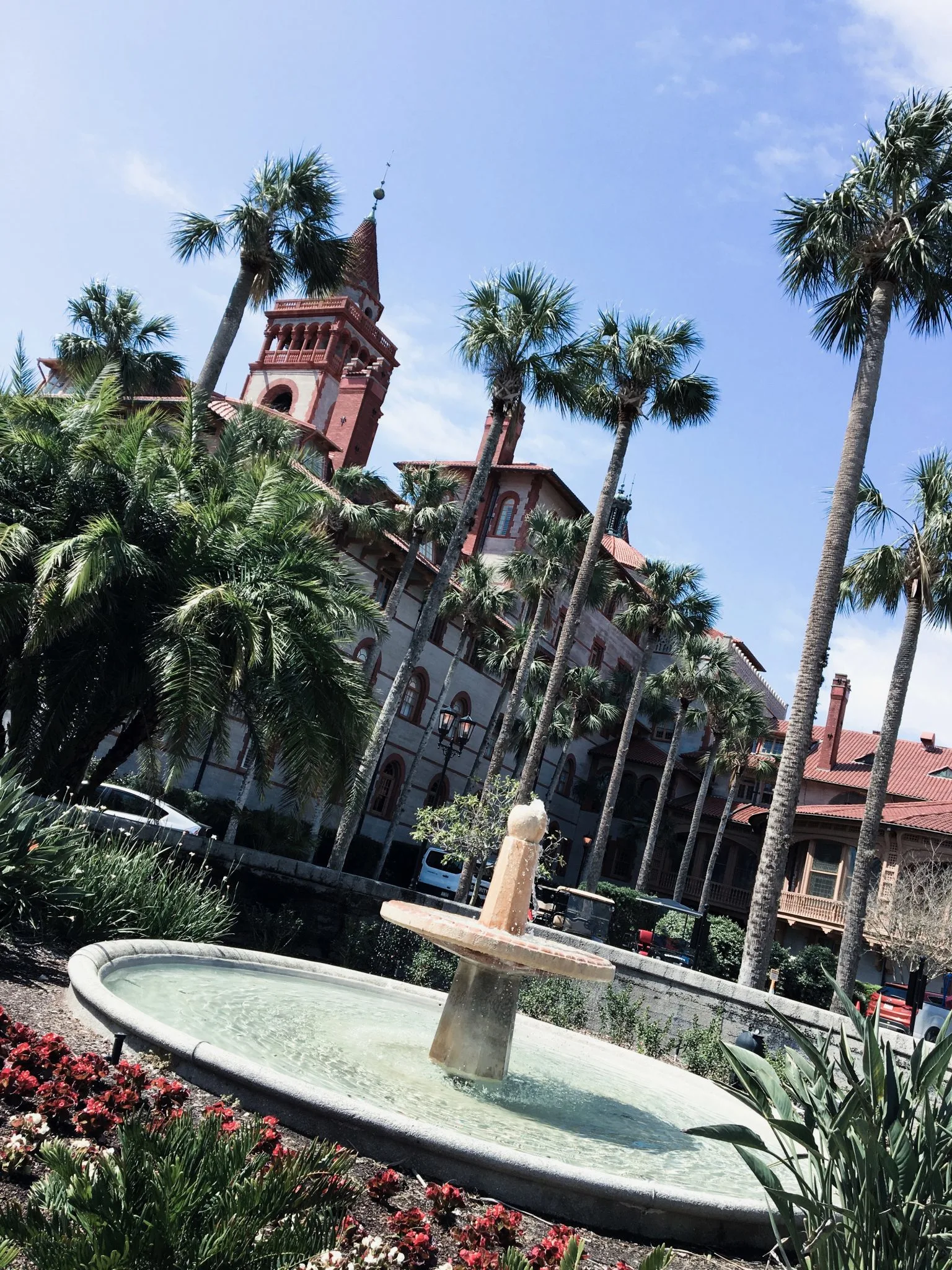 Pin
A Quick Introduction to St. Augustine, Florida
In a trance-like gait, we wandered neighborhoods, lusting over old Victorians. We stopped to admire parks with artistically and poignantly dedicated monuments and reached over to stroke local furry celebrities parading down the cobblestoned roads.
St. Augustine, Florida boasts of the Fountain of Youth—home to some possessive peacocks—the oldest wooden schoolhouse in the United States, and B&Bs bursting with guests who have never left. An old fort greets you on one side adjacent to a cheesy yet swashbuckling fun pirate museum. I even earned my piece of the treasure at the end of the tour.
Across town in St. Augustine:
Stumble into old graveyards, hidden parks, and the past awaiting discovery.
Ride bikes down cobblestone roads.
Peruse native literature and used books.
Try some local spirits (literally and figuratively).
Dine to live music in a speakeasy before a ghost tour.
A few days stay is hardly enough. Make your time in St. Augustine, Florida as tourist or local as you wish.
St. Augustine restaurants, bars, and B&B's are my reprieve from endless stucco and paper towns. Take my phone away as I Zillow old Victorians and try to peep over walls.
Sound appealing? Be sure to visit these downtown St. Augustine restaurants and local boozy places, including one B&B, to create the perfect weekend trip: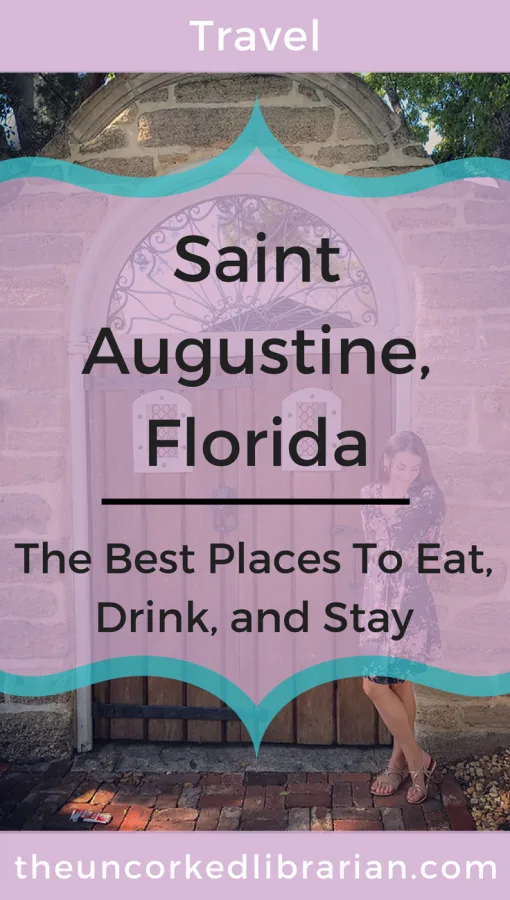 Pin
Top Experiences For St. Augustine Restaurants And Drinks
1. Lunching on an asparagus sandwich at Café Alcazar's historic swimming pool
The History of Cafe Alcazar
Imagine having lunch in the world's largest indoor swimming pool of its time. Housed in the historic Lightner Museum (my husband was disappointed when he realized it was not the "Lighter" Museum), Café Alcazar sits in the deep end of the former Hotel Alcazar's indoor pool.
Henry Flagler built this extravagantly gorgeous hotel and casino in 1888. The pool spanned 120 feet long and ranged from 3 to 12 feet deep. With over three stories and an impressive façade, the café feels like everyday lunch is actually a beautiful art or wedding reception.
Cafe Alcazar's Dining Experience
Today tourists and locals can enjoy a fine dining meets casual lunch experience. Listen to serene instrumental music over casual conversation. Munch on unique sandwich selections, fresh fish, and homemade specialty sides.
The chic vibe is anything but pretentious. Receive fantastic service and a historical atmosphere unlike any other. Sneak up to the second floor, pretending to use the restroom. From here, spy a gorgeous overview of the impressive landmark. From this vantage point, you get a feel for the true scope of the pool. Be sure to read the history placards with old pictures of the pool on your way out the back door.
2. Roasting marshmallows and spending a romantic, cozy night at The St. Francis Inn
Ok, so technically this Inn is a B&B, which is a restaurant if you stay there, right? And trust me, you want to stay here.
Imagine:
A gentle swing on the porch.
A cup of tea in the sitting room.
Witchy cat eyes staring back at you from the trees.
A B&B With Loads of Yummy Treats
One of my all-time favorite B&B's, this Irish inn offers social hours. Find local wine, beer, and liquor as well as an array of desserts. My favorite: s'mores by the incandescent courtyard fire.
Let staff know in advance, and they will cater to dietary needs.
We found ourselves ensconced by history older than our grandparent's grandparents with floors hiding secrets of trysts. Neighboring buildings housed centuries of foreign settlers and inhabitants.
If you book far enough in advance you can pick your room, each with a special name and design. With the friendliest staff and sweetest breakfast–french toast casserole anyone?–the Inn makes for a perfect vacation.
3. My favorite St. Augustine restaurant: Sipping on handcrafted cocktails at the Ice Plant Bar
Only in St. Augustine, Florida can you find yourself sipping handcrafted cocktails in a speakeasy meets steampunk warehouse at the Ice Plant Bar. With drinks and ice made with precision, we celebrated a quiet afternoon picking at fresh cut tuna smothered in capers and nuts.
The building dates back to 1927. Here, workers broke down ice for shrimp boats and local use. The original crane sits above the bar, topping off that factory-feel.
And the Plant Bar is Attached to a Distillery…
Don't forget to tour the St. Augustine Distillery next door for some rum, gin, whiskey, and vodka sampling. Tasting and tours are free. Stamp in with the time clock, sip a few samples with mixers, tipsily shop away, and rinse your hands in the bathtub-esque sink. Factory warehouses with an old-fashioned flair call to me like the history nerd and gentle bacchanalian that I am.
4. Listening to live music while munching on southern deviled eggs at Prohibition Kitchen
Another one of my favorite downtown St. Augustine restaurants: Prohibition Kitchen. I especially crave tavern-like pubs in historic places and St. Augustine is no exception.
Located on the famous St. George Street, in the heart of it all, Prohibition Kitchen serves up craft burgers and sandwiches with a vintage, southern flair. Sip on hand-spun milkshakes to live music after a day full of exploring. Wind down by designing your own Old Fashioned, even picking your bitters.
Did Someone Say Music?
We loved watching a couple dance along to the music, sashaying out the door prohibition-style. Reminiscent of flappers and illicit hedonism, Prohibition Kitchen brings you back to a different era.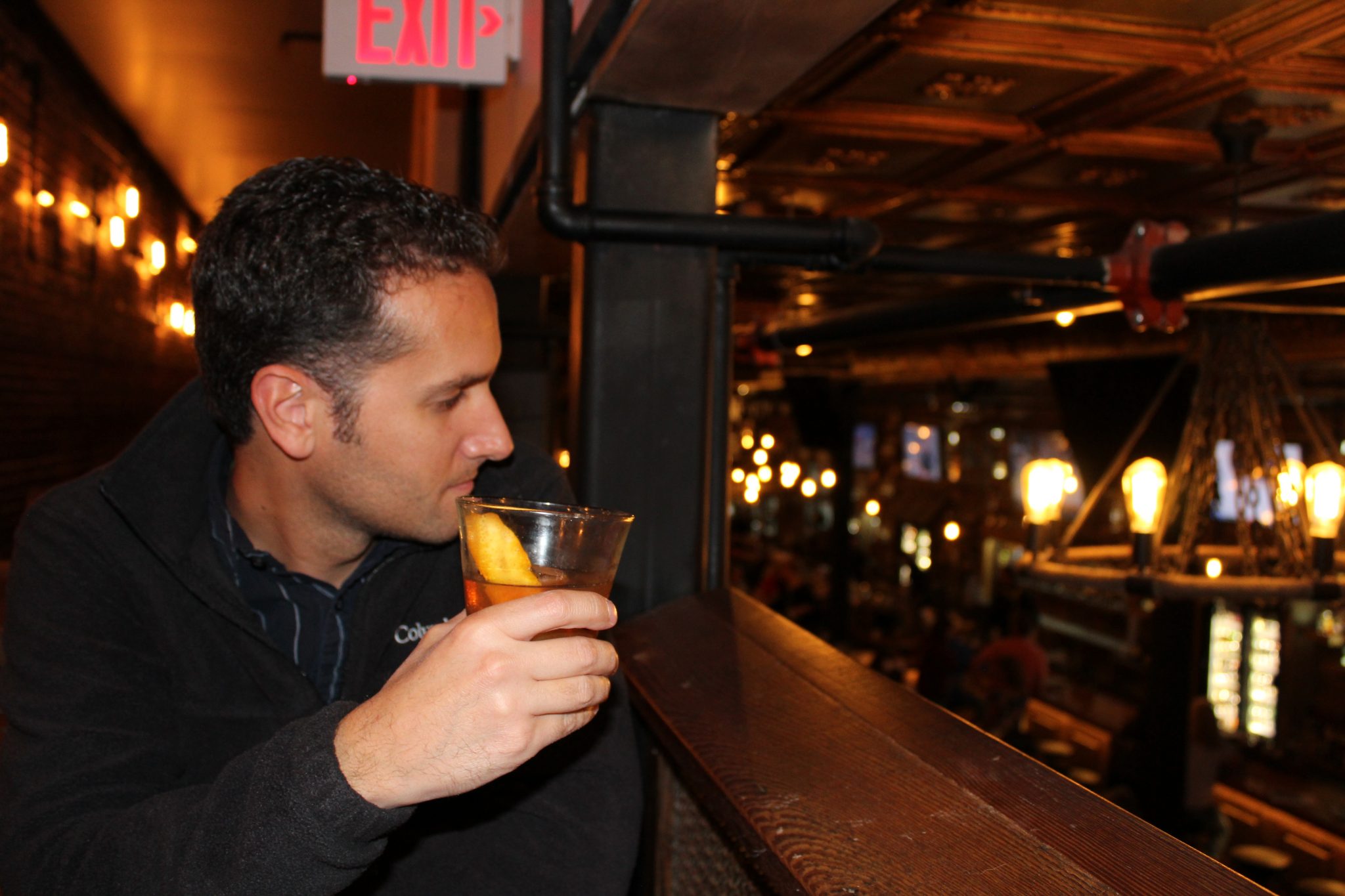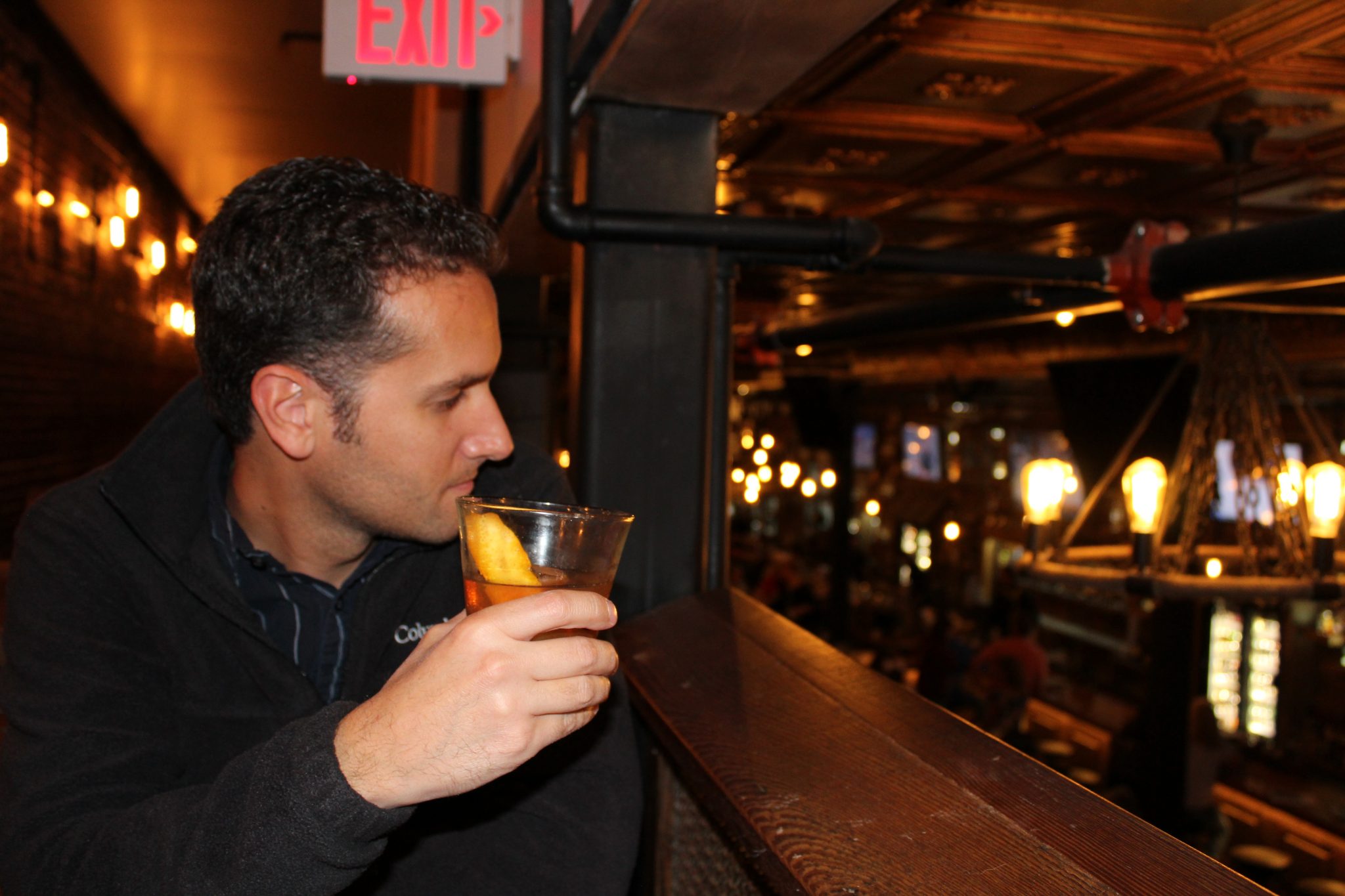 Pin
---
Driving Through Central Florida? Why Not Check Out Beer Yoga? Or Ocala Restaurants?
---
Dog Rose Brewing opened in the fall of 2017 and is a short walk from the center of historic downtown. They offer a hoppy selection of brews. Dog Rose's stomping grounds are pristine. Taste a flight while watching your beer brew. Play a round of darts and table shuffleboard. The colors and artwork remind me of Saturday yoga at the brewery. I could sit here all afternoon people-watching out their gorgeous wall of windows.
Nearby, you may also want to check out: Bog Brewing Company. Or, wine taste at the San Sebastian Winery.
Quietly Share The Secrets. Pin It!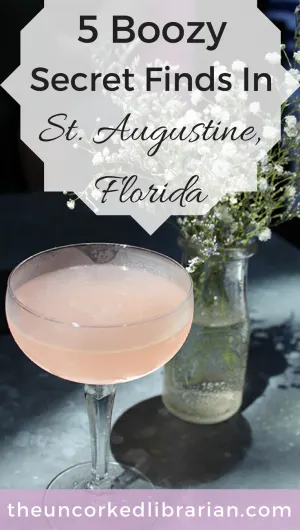 Pin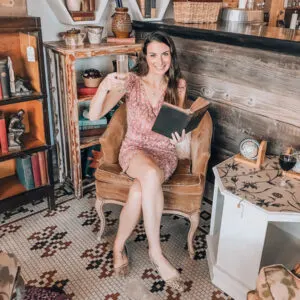 Christine (she/her) is the owner, lead editor, and tipsy book sommelier of The Uncorked Librarian LLC, an online literary publication showcasing books and movies to inspire travel and home to the famed Uncorked Reading Challenge.
With a BA in English & History from Smith College, an MLIS from USF-Tampa, and a U.S. Fulbright Fellowship in Christine's back pocket, there isn't a bookstore, library, or winery that can hide from her. Christine loves brewery yoga, adopting all of the kitties, and a glass of oaked Chardonnay. Charcuterie is her favorite food group.