Are you looking for Spring 2020 book releases that will soothe your soul and take your mind off of the world? Unplug from social media and the tube, and grab one of these new or upcoming Spring books.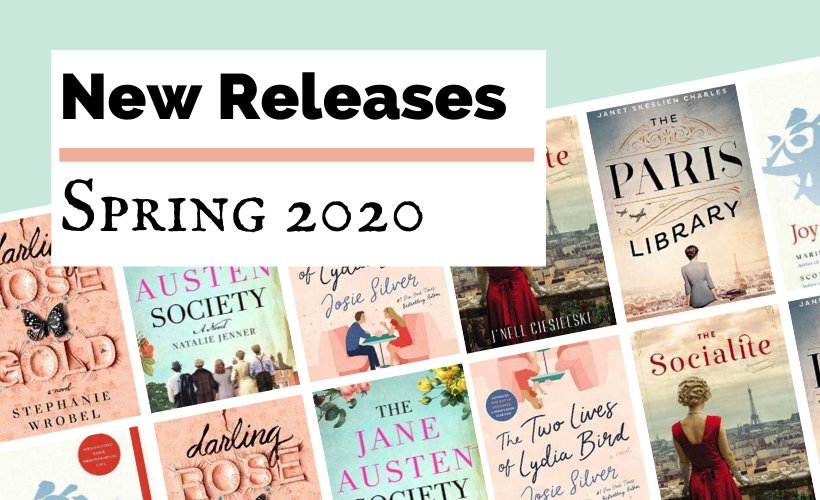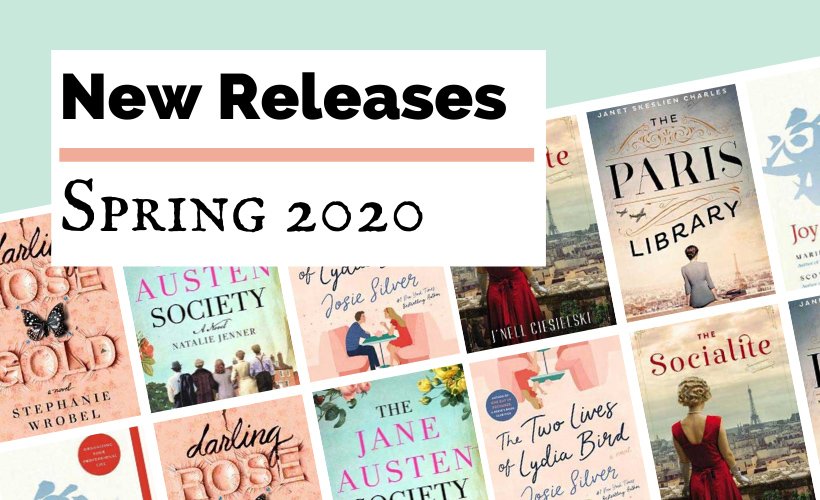 Times are stressful right now. Even though many of us are struggling to focus on a good book (and might have limited access to them), I have been seeking out more romances and psychological thrillers. Who doesn't love a happy ending or feisty relationship when the world is a mess?
More and more, I find myself craving inspirational stories, too: Books filled with hope and tales of overcoming hardship. Plus, give me a new 2020 book oozing with armchair travel to transport me to different times and destinations. My imagination just returned from Alaska…
Why not crack out the hammock and take a break from everything to devour one of these Spring 2020 book releases?
Let's get started.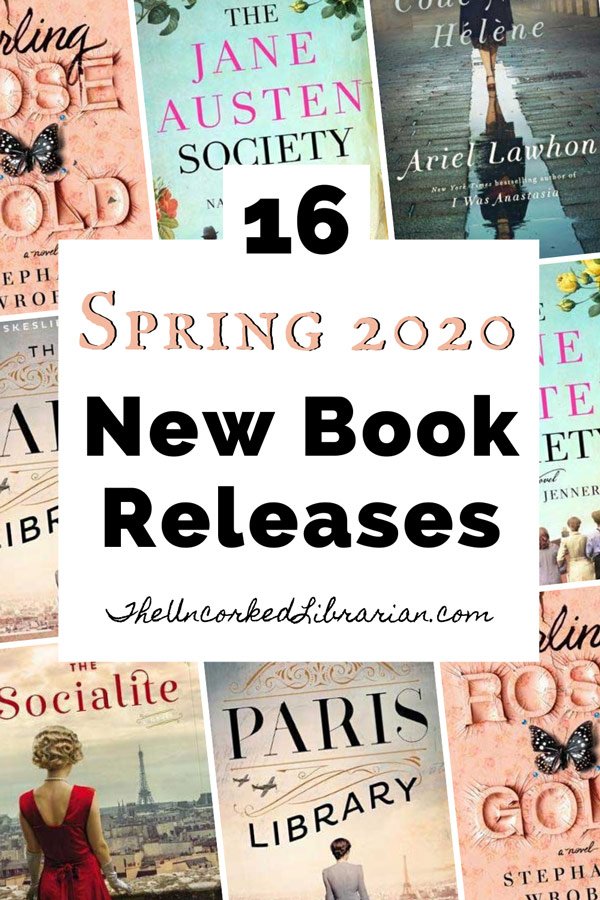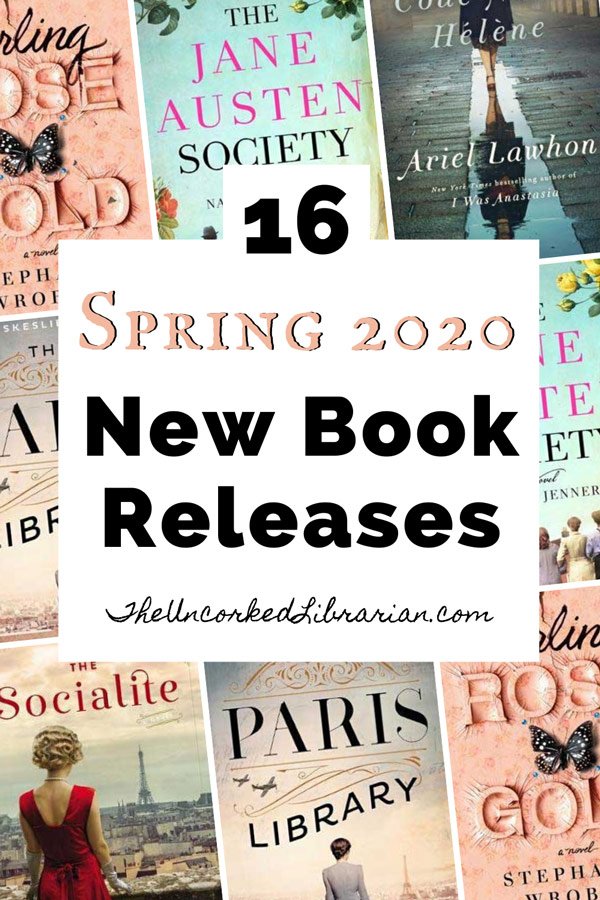 *All books marked with an asterisk are upcoming new book releases and ARCs that we requested in exchange for a fair and honest review or were freely gifted by the author/publisher. Please know that these are estimated dates of publication.
March 2020 New Book Releases
You Might Have Missed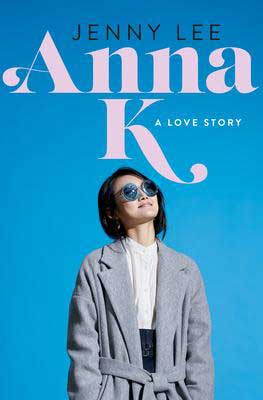 Anna K: A Love Story by Jenny Lee
YA Contemporary Fiction Set In NYC | Literary Fiction
March 3, 2020*
Do you love to escape into teenage drama? Or are you looking for a retelling of a classic novel? One of the most talked about March 2020 book releases is Anna K by Jenny Lee. It's no secret that this new YA book is *EXTRA* everything, simmering with teenage alcohol, drugs, parties, and romance. Lee stays fairly true to Tolstoy's Anna Karenina, adding in multicultural characters with a Gossip Girl flair. Check out February 2020's Currently Reading for the complete review. As for early Spring 2020 book releases, Anna K will deliver you a party, Kardashian-style. Amazon | Goodreads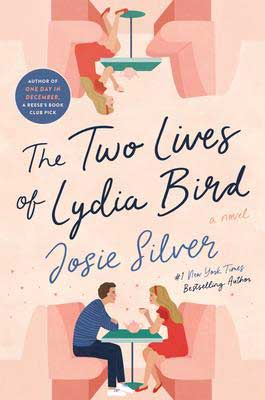 The Two Lives of Lydia Bird by Josie Silver
Romantic Comedy
March 3, 2020
The Two Lives of Lydia Bird is one of the Spring 2020 book releases that I missed but is now on my TBR list after so many people loved it. Overcoming hardship and finding the light again is a message we all need right about now. When the love of Lydia's life dies in a car crash, her world falls apart. Knowing that moping around is not what Freddie would have wanted, Lydia embarks on the journey to love again. At the same time, Lydia finds a world where she can be with Eddie–distracting her from reality and a second chance at living. Amazon | Goodreads | Book Information→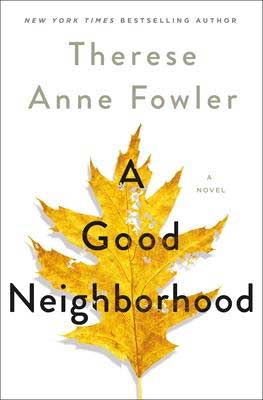 A Good Neighborhood by Therese Anne Fowler
Coming Of Age Fiction | Book Set In North Carolina
March 10, 2020
Living in North Carolina, I am dying to read March 2020 new release, A Good Neighborhood by Therese Anne Fowler, especially in a time where it is essential to be a good neighbor. Filled with diverse characters, Valerie loves her little home in Oak Knoll, NC where she lives with her son, Xavier. When the wealthy Whitmans move in next door with their troubled daughter, their world is about to change. Thank gosh we have the sweetest neighbors in the world, but we know how quickly that can change. Amazon | Goodreads | Book Information→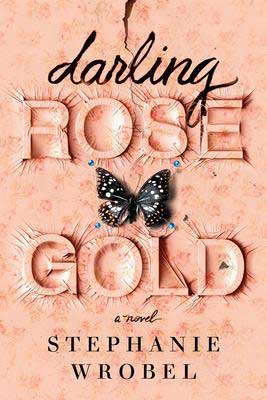 Darling Rose Gold By Stephanie Wrobel
Psychological Thriller
March 17, 2020*
If you are a TUL newsletter subscriber, you know how much I raved about Darling Rose Gold as an early Spring 2020 new book release. While this wild novel wasn't for everyone, if psychological thrillers entrance you, this royally f*cked up mother and daughter relationship will keep you reading late into the night. With Poisonous Patty recently released from jail, Rose Gold must decide how to take care of her mother. Pun completely intended. Amazon | Goodreads | Read More→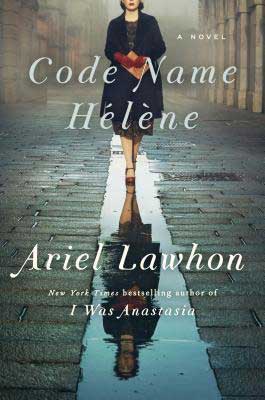 Code Name Hélène by Ariel Lawhon
WW2 Historical Fiction | Based On A True Story
March 31, 2020*
It's no secret that here at TUL, we love World War 2 fiction and nonfiction. One of the best Spring 2020 book releases that you may have missed is Code Name Hélène by Ariel Lawhon. While WW2 stories aren't always uplifting or comforting, I couldn't help but get sucked into this thrilling true story of French Resistance fighter and spy, Nancy Wake. Then again, I did go to Smith and find feminist historical fiction completely inspiring and captivating. Plus, Code Name Hélène offers a glimpse of hope during a dark time. Amazon | Goodreads | Book Information→
---
Join The Uncorked Reading Challenge Today
---
Travel around the world with the Uncorked Reading Challenge. Get the best book and movie recs straight to your inbox. Sign Up Now.
---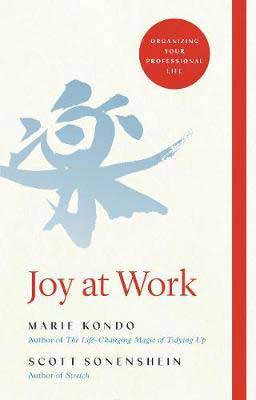 Joy At Work by Marie Kondo and Scott Sonenshein
Nonfiction | Organization | Self-Help & Motivation
April 7, 2020*
I don't know about you, but during a time when we are locked inside, it's the perfect opportunity to clean and organize. One of my favorite and most timely Spring 2020 book releases is Kondo's and Sonenshein's Joy At Work. Clearing clutter is meant to bring us joy and more help us create more productive workspaces. If you are working from home, this new book will help you transform your home office as well as clear up digital disasters. I am a digital photo hoarder, and how about those emails? Spark joy at home. Amazon | Goodreads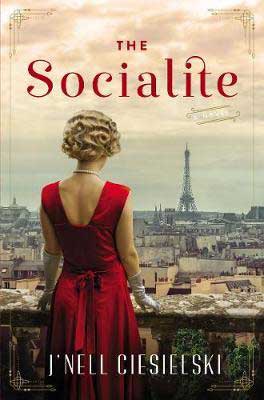 The Socialite by J'nell Ciesielski
World War 2 Romance & Historical Fiction
April 14, 2020*
When I am stressed out, I suddenly regain an appreciation for love stories. One of my favorite April 2020 new book releases is The Socialite. Set in Nazi-occupied Paris, Barrett Anderson finds himself caught in a situation. Not only is he fighting for the French Resistance to avoid jail time, but he also must babysit two English socialites. Watch the love story unfold as Kat tries to save her sister Ellie before it's too late. Goodreads | Amazon | Book Information→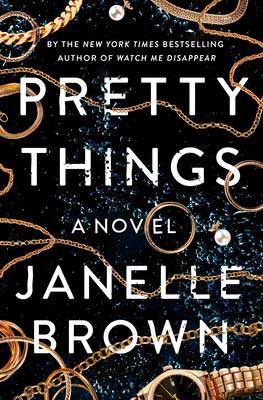 Pretty Things by Janelle Brown
Psychological Thriller
April 21, 2020*
Psychological thrillers make up a ton of my favorite Spring 2020 new releases. Similar to Darling Rose Gold, Janelle Brown's Pretty Things kept me turning pages like it was my job. I guess it kinda is. Who can trust a con artist? Most relevant, Brown focuses on the Instagram influencer life. You know that we are all mindlessly scrolling the Gram right now from our couches. Watch as the tides turn in one of the biggest and most personal cons gone wrong. Amazon | Goodreads | Read More Book Information→
Check out even more April 2020 Book Releases here.
Most-Anticipated May 2020 Books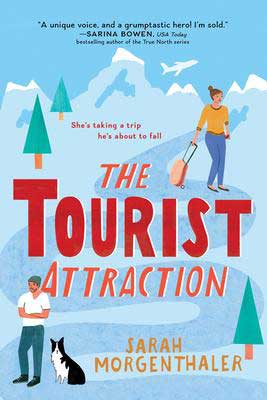 The Tourist Attraction by Sarah Morgenthaler
Romantic Comedy Set In Alaska
May 5, 2020*
When I hit a reading slump this month, one of the Spring 2020 book releases that saved my book blogging butt included Morgenthaler's The Tourist Attraction. If you crave escapist fiction paired with armchair travel, this little romance will sweep you off your feet. There is a humping moose, an adorable tourist who keeps breaking her glasses, and a dreamy Alaskan native. This little Alaskan town with its divey reindeer burger joint sings to my heart. I'm pretty sure The Tourist Attraction is one of my favorite May 2020 adult book releases. Amazon | Goodreads | Book Information→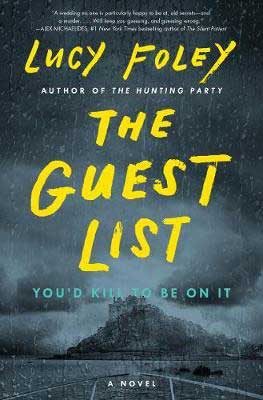 The Guest List by Lucy Foley
Murder Mystery | Psychological Thrillers Set In Ireland
Publication Date Moved From May 5 to June 2, 2020*
Did anyone else freak out when their local libraries (rightfully so) closed? I wanted all of the books. Book of the Month Club alerted me to May 2020 new release, The Guest List by Lucy Foley. I just had to have it. I am getting Agatha Christie vibes here. Set off the coast of Ireland during wedding festivities, someone is now dead. These characters are a tad rich and spoiled…and boozy. I am all in and cannot wait to escape into a whodunit new book. Amazon | Goodreads | Book Information→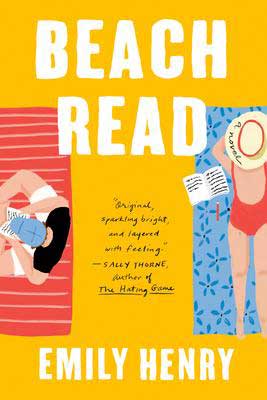 Beach Read by Emily Henry
Contemporary Fiction | Rom-Com
May 19, 2020*
I loved rom-com May 2020 book release, Beach Read by Emily Henry. The title itself lets you know it's comforting AF, and who isn't contemplating writing a novel right now? Augustus writes literary fiction while January is a bestselling, 'fluffy' romance author. Filled with writers' block, they decide to switch genres. Read my full mini-review in TUL's May issue of Currently Reading. Amazon | Goodreads| Book Information→
As Much As I Ever Could by Brandy Snow Woods
YA Contemporary Romance & Southern Fiction
May 26, 2020*
The perfect early summer beach read, As Much As I Ever Could will transport you to Edisto, South Carolina. Imagine a hot race car driver with a crush on a girl who needs him now more than ever. Add in a sassy grandmother, a selfish mean girl, and lessons for how to overcome blame and tragedy. You won't be able to put this one down, especially with its beautiful and poignant ending. Our complete review is coming soon in May's issue of Book Buzzed. Amazon | Goodreads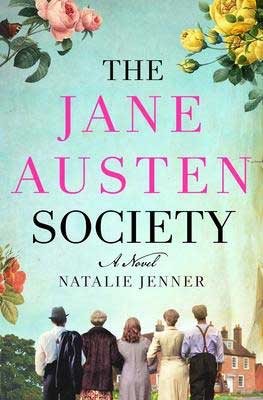 The Jane Austen Society by Natalie Jenner
Historical Literary Fiction
May 26, 2020*
Now is definitely the time to support our community and help save small businesses. I am just about to start Spring 2020 book release, The Jane Austen Society. With WW2 ending, a group of people band together to save Jane Austen's legacy and home. An unlikely group of friends, they create The Jane Austen Society. Enjoy the literary journey to a small English town, too. Amazon | Goodreads
See all of the May 2020 Book Releases we think you'll love.
End Of Spring 2020 Book Releases
I already have a large stack of June 2020 new book releases in my hands to keep my heart and mind occupied. These are a few of the upcoming new books that I am excited to dive into: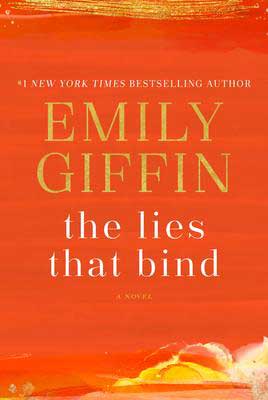 The Lies That Bind by Emily Giffin
Contemporary Women's Fiction
June 2, 2020*
One of my most anticipated Spring 2020 book releases includes a 9/11 story by bestselling author Emily Giffin. I just scored an advanced copy, and I am trying not to dig in early. Giffin is my go-to for escapist fiction, and her newest, The Lies That Bind seems bolder and more intense than usual. We are seeing many more 9/11 stories publish this year, which has everyone questioning if enough time has passed. In The Lies That Bind, Cecily falls for a stranger at a dive bar in NYC. When he soon goes missing in the chaos and aftermath of 9/11, Cecily questions all that she has come to feel and believe. Amazon | Goodreads | Book Information→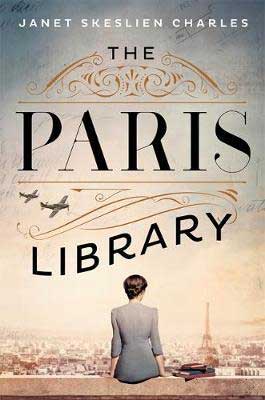 The Paris Library by Janet Skeslien Charles
WW2 Historical Fiction | Book Set In Paris
June 2, 2020* — Update: Publication Date Is Now Showing 2021
The Paris Library is by far one of my most anticipated Spring 2020 upcoming WW2 book releases–LIBRARIANS, y'all. I've coveted an ARC since February. My husband and I visited the American Library in Paris. I knew that I just needed this armchair travel book right now, especially since I miss my library. Based on a true story and set in 1939 Paris, Odile–along with a gaggle of librarians–joins the Resistance to protect everything that she loves. Flash forward to Montana in 1983, to find a shared story from a dark past. Goodreads | Amazon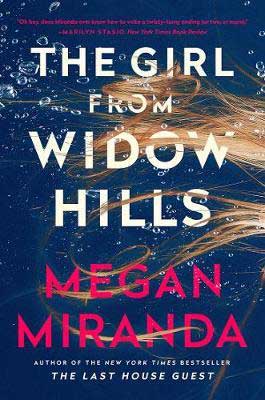 The Girl From Widow Hills by Megan Miranda
Psychological Thriller | Suspense
June 23, 2020*
I have heard so much hype about The Girl From Widow Hills and just had to snatch an ARC of this June 2020 book release. While this book list is meant to provide comfort, my impression is that The Girl From Widow Hills will suck you into a creepy murder mystery. To my dark tourist friends, that is indeed a good read during this tough time. Arden barely survives a sleepwalking episode through a storm as a young child. Changing her name and leaving that past behind, 20 years later she finds a dead body at her feet and the reemergence of her childhood story. Amazon | Goodreads | Book Information→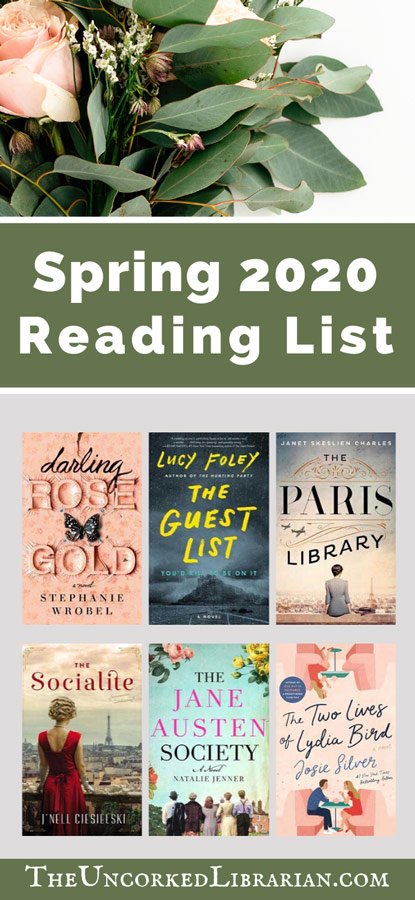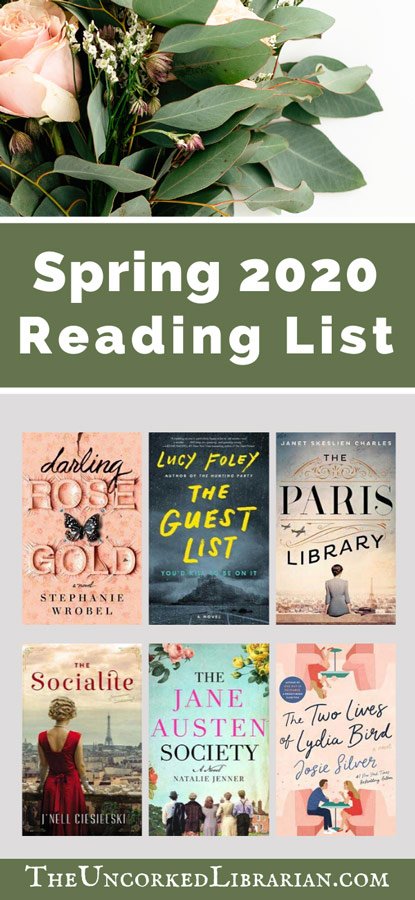 Which Of These New Spring 2020 Book Releases Are You Most Excited For?
Let us know in the comments which of these upcoming or recently released books you are dying to read. Which ones have you read already? Are there any new books that you didn't love?
You May Also Enjoy:
Most-Anticipated Winter and Spring 2020 WW2 Books
Upcoming Buzz-Worthy 2020 Book Releases
March 2020 New Books
April 2020 New Book Releases
Upcoming May 2020 Book Releases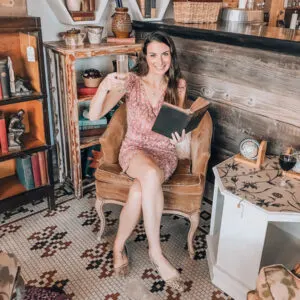 Christine (she/her) is the owner, lead editor, and tipsy book sommelier of The Uncorked Librarian LLC, an online literary publication showcasing books and movies to inspire travel and home to the famed Uncorked Reading Challenge.
With a BA in English & History from Smith College, an MLIS from USF-Tampa, and a U.S. Fulbright Fellowship in Christine's back pocket, there isn't a bookstore, library, or winery that can hide from her. Christine loves brewery yoga, adopting all of the kitties, and a glass of oaked Chardonnay. Charcuterie is her favorite food group.