Legendary Southern Iceland Waterfalls
Are you looking for dreamy southern Iceland waterfalls? The stuff legends are made out of? Check out these 7 beautiful Icelandic waterfalls perfect for your 7-day itinerary. Bookish stories, GOT references, and Icelandic myths included.
---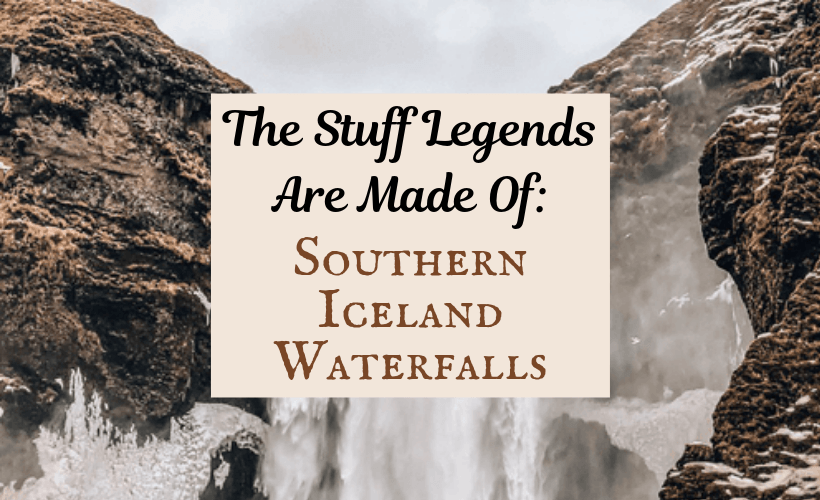 Pin
When you decide to visit a country, are there certain features that you actively seek out? For Italy, I hunt down the wine and ghostly ruins. In Germany, my itinerary obsession zeroes in on Glühwein and Christmas markets. In Ireland, show me all of the books.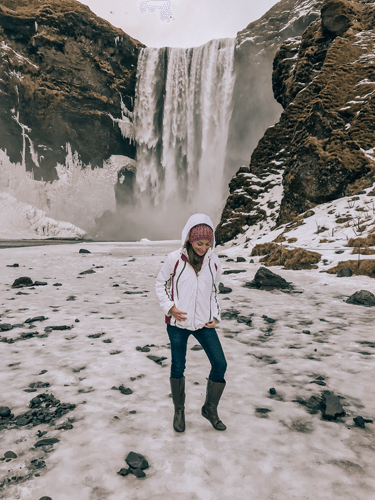 For Iceland, I had three goals:
Catch the Northern Lights
See glaciers for the first time
Chase all of the southern Icelandic waterfalls
We visited Iceland in February and looking back at pictures, I just have to laugh. Hello, giant snow bank.
Thankfully, no waterfalls froze completely on us. However, they are a tad snow-covered.
Warning: There are no extra fancy shots here. The weather chilled these Floridians to the bone, and I definitely almost slid into some steams. But, this is really how you will see Iceland in the winter. No over-editing or sugar-coating here. Just snow coating…relentlessly.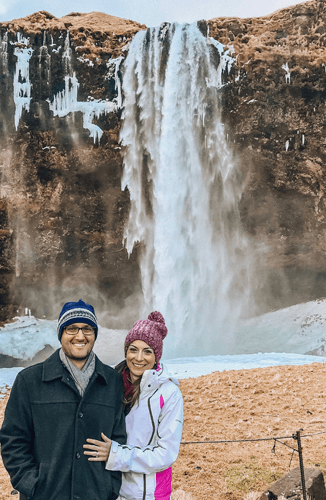 Also, please know that I didn't wear the traditional bright yellow coat recommended for picture-taking and IG because I could care less. I choose to blend in like a polar bear. And maybe that's why my IG account is becoming extinct.
An Added Bonus:
Soon after we returned from Iceland so did one of my blogging friends, Keri of Quiet Girl Loud World. Be sure to check out her bio and blog at the end of this post. We both had unique adventures and decided to team up to share our 7 favorite southern Iceland waterfalls with a bookish and dreamy flair. These Iceland waterfalls are the stuff legends are made of, literally.
P.S. Keri's contributions are marked with **.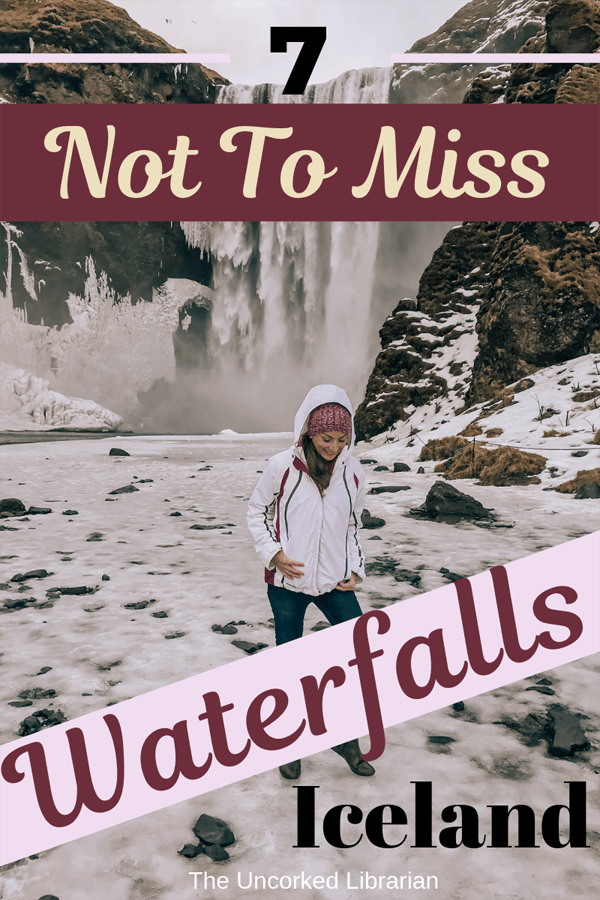 Pin
7 Southern Iceland Waterfalls You Don't Want To Miss
While some of these waterfalls cascade a little farther beyond south Iceland, this is the order you can see them from west to east:
Bjarnarfoss >
Öxarárfoss > Gullfoss > Seljalandsfoss > Gljúfrabúi > Skógafoss >
Fardagafoss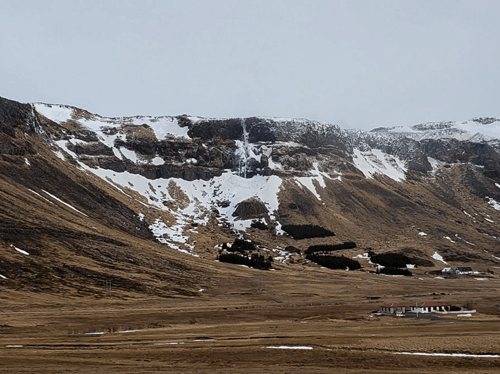 Pin
Bjarnarfoss**
About a 2.5-hour drive from Reykjavik, you can spot this waterfall on the Snæfellsnes Peninsula from road 54. Bjarnarfoss falls from a cliff that overlooks a farm.
There is a parking area closer to the falls and a walking path around the lower portion of the falls and river. If you want to go to the main waterfall, the path is much steeper and not advisable in the winter.
Myths say that Fjallkonan, the Lady of the Mountain, stands under the falls with the water cascading over her shoulders. She is the personification of Iceland and its values as a nation. I love a lady with influence.
Legend has it that the name Bjarnarfoss comes from a wealthy farmer named Bjarni who one day turned away a vagrant in need of a place to stay. The next day all his livestock lay dead in the field. He proceeded to lose his mind and throw his money into the waterfall. Seems like a dark story, but I do love a good legend.

Öxarárfoss**
Found within Thingvellir National Park, Öxarárfoss is easy to access and has its own parking area. The waterfall drops from the Öxará River onto a bed of large rocks. In the winter, this southern Iceland waterfall is mostly frozen and covered in ice. A wooden footpath makes Öxarárfoss easier to walk around and take photos.
As you approach the falls through a massive fissure, you may be reminded of a place you have seen before. Game of Thrones featured part of the area.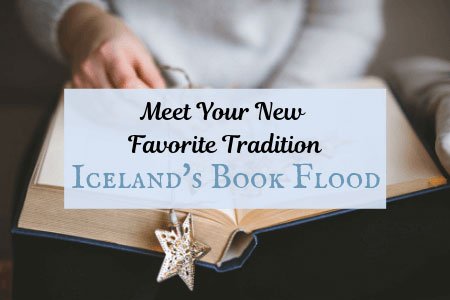 Do you recall following Arya and the Hound as he took her to the Eyrie to sell her back to Aunt Lysa? Öxarárfoss looks especially familiar on a bleak day. You can have a nice laugh like Arya when you learn that Lysa Arryn is in fact, not there (or just smile because Öxarárfoss is so stunning).
Öxarárfoss is a must stop as you explore the Golden Circle. Just past Öxarárfoss, find Silfra and Thingvellir Church. If you are a diver, consider going for a dive between two tectonic plates at Silfra.
You will not run out of things to do in this National Park.
Find out all you need to know about visiting Thingvellir National Park.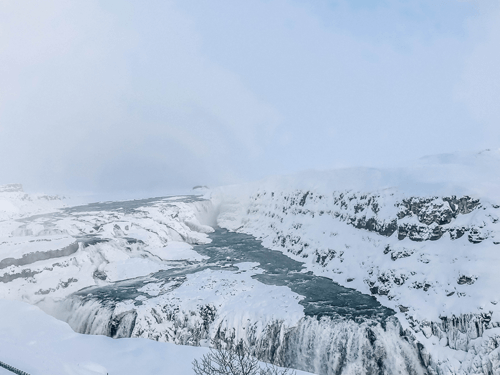 Pin
Gullfoss
Like Öxarárfoss, Gullfoss lands in Iceland's popular Golden Circle. Gullfoss translates to "golden falls." Visiting Iceland's Gullfoss waterfall is free, and know that Gullfoss steals the reputation for one of Iceland's most well-known waterfalls.
Waterfall chasers will find multiple stairways and viewing points for the falls. You definitely won't get lost looking for Gullfoss as you can hear this beast from virtually anywhere.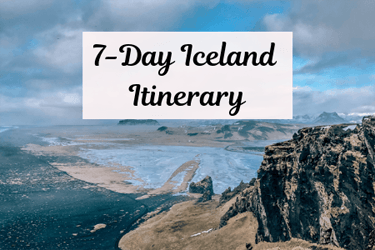 Although the stories and myths behind Gullfoss are largely untrue, look for the plague–a stone memorial–of Sigríður Tómasdóttir. Legend and some truth have it that her father wanted to harmfully exploit the falls for power and electricity. In protest, she threatened to chuck herself down them. Who doesn't love a passionate feminist?
You'll also find Gullfoss on a British band cover, in multiple movies, and even a music video. I like to think of Gullfoss as the MTV of waterfalls. Know that Geysir, the Secret Lagoon, and Kerid Crater are also close by.
Check out the Gullfoss Visitor Website Here.
---
If Self-Driving Iceland Isn't For You, Book Your Next Tour:
---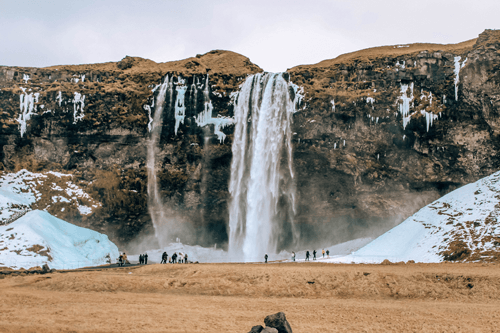 Pin
Seljalandsfoss
One of the best parts of Iceland is driving around through all that eye candy. Mountains turn navy blue in the sunset, black sand beaches pop up through patches of white snow, and waterfalls are everywhere. Visitors can see Seljalandsfoss waterfall from Ring Road.
We spent a night in Hella, which I highly recommend.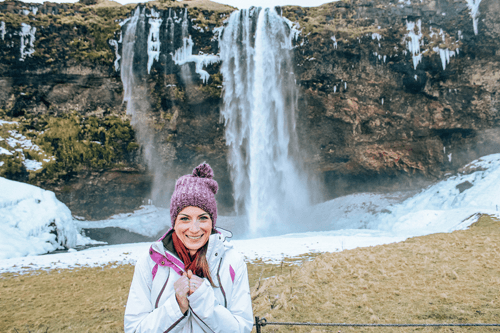 Pin
When it's not snowing and icy, you can walk up the steps behind the waterfall for even better views. In February and March, though, expect roped off stairs for your safety. Not that we didn't watch many crazed photographers…cough, cough IGers, chance the ice. In fact, one guy almost plummeted off the side to his doom.
While there are no legends that I know of, one of the Amazing Race legs kicked off here.
We paid a small fee for parking in the lot and to use the bathrooms.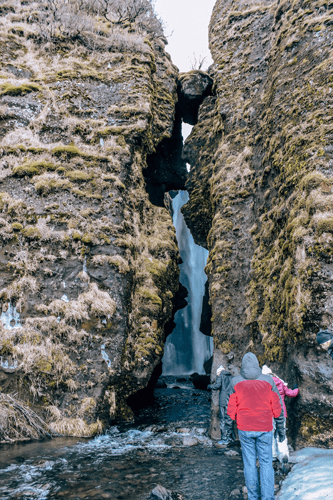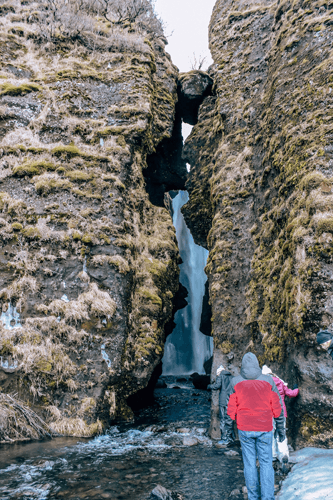 Pin
Gljúfrabúi, Also Known As Gljúfrafoss
Located slightly behind and to the left of Seljalandsfoss, some tourists accidentally overlook Gljúfrabúi known as the "canyon dweller" or "inhabitant of the gorge." There are quite a few loose translations so I just go ahead and call it the buttcrack waterfall; I guess that says more about my class than anything else.
Gljúfrabúi and Gljúfrafoss are also the same waterfalls. Names get super confusing in Iceland, especially when they have the coolest pronunciations.
Follow the cleared trail from Seljalandsfoss–it's less than a 10 to 15-minute walk. When not covered in sheets of ice–and even then–you can sneak between the crack to get up close and personal with one of southern Iceland's hidden waterfalls.
---
Experiencing southern Iceland waterfall fatigue? Stop and rest for a few days. Book your Iceland accommodations:


---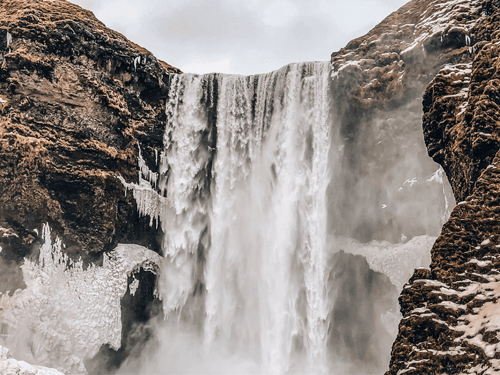 Pin
Skógafoss
Skógafoss waterfall holds a special place in my heart. One, because if you are lucky, you might just catch a rainbow over the falls. Our rainbow landed close by, and the floating birds added such an enchanting quality to the top.
Two, Skogar is a great little pitstop for food and beer. If you don't stay in Hella and Vík like us, there are great lodging options here.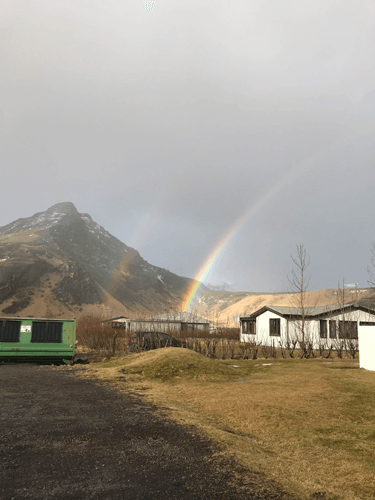 Pin
I read from Katla GeoPark that Skógafoss means "forest waterfall," although I question everything in the winter.
Equally fun is the legend that Thrasi Thórólfsson hid a treasure chest below the falls. Arrrrrr. I guess this is probably more Viking than pirate. Apparently, greedy men tried to pull out the treasure chest and broke its ring, which now sits as the church handle. People swear that in the sun, you can still see a glimmer of gold. I'd believe it with those rainbows. Magical right?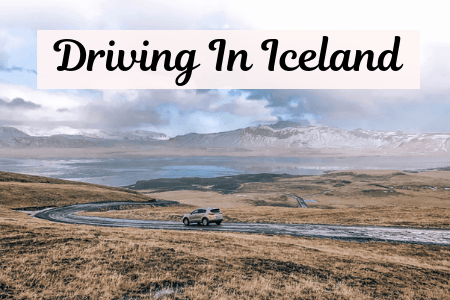 For stair climbers, head right up to meet this beauty eye-to-eye. In the winter, it's a tad slippery, and we wussed out. If this yogi can't keep her balance, then trust me, it's slippery. Many wore better hiking shoes or had those special shoe chains.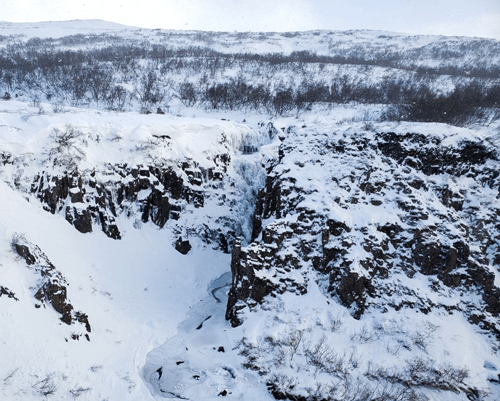 Pin
Fardagafoss**
The waterfall Fardagafoss is a more than 7-hour drive from Reykjavik, and about 2 hours from Jökulsárlón Glacier Lagoon. While this one is more Eastern Iceland than Southern, I enjoyed it so much that I believe it warrants a visit if you have the time.
Fardagafoss was the least crowded of the southern Iceland waterfalls. If you want a waterfall all to yourself, this is a likely candidate. Just a few minutes from Egilsstaðir, on the road to Seyðisfjörður, you will find the parking area for Fardagafoss.
From the parking lot, the hike to the falls is about 30-minutes or so, maybe longer in the winter when the path is covered in ice (if you are willing to brave that). You can go down to the water via a path with a chain to hold onto, but again, ice doesn't make that particularly safe.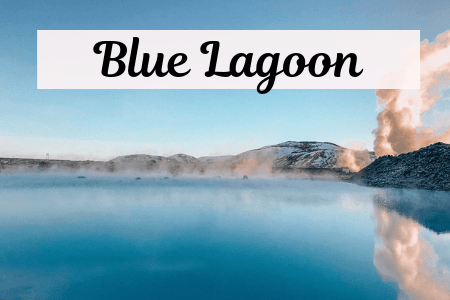 The best story surrounding this waterfall is that of a female troll who lived in the cave behind Fardagafoss for centuries until it collapsed. She had a pot of gold that she hid in Gufufoss, another waterfall that you can find further down the road. Some say that you can see the handle of the pot through the falls at the right angle.
If you make it this far, spend some time in Egilsstaðir and make the drive to the artistic town of Seyðisfjörður. You will see more waterfalls along the way.
More Iceland Posts On TUL That You May Find Helpful:
Driving In Iceland In February
Is The Blue Lagoon Worth A Visit?
What Is Iceland Like In The Winter?
What Drinks Are Famous In Iceland?
What Should I Read Before Heading To Iceland?
Learn More About Iceland's Christmas Tradition Of Book Giving
7-Day Iceland Itinerary For Independent Travelers
Are you ready to hop in your car or book a tour to Iceland after reading about these literally legendary southern Iceland waterfalls?
Looking for more Iceland inspiration? Check out my co-contributor Keri's post on Eastern Iceland. She is a GOT's fanatic with a quiet take on the boisterous world.
**Contributor Posts From Keri of Quiet Girl Loud World
Keri is the creator of Quiet Girl Loud World, a travel blog for the quiet folk. She loves her two cats, eating all of the desserts, and a good YA fantasy book. Her favorite places to travel are those with a good story, delicious food, and friendly locals.
Headed To Iceland Soon? Pin These Southern Iceland Waterfalls For Later: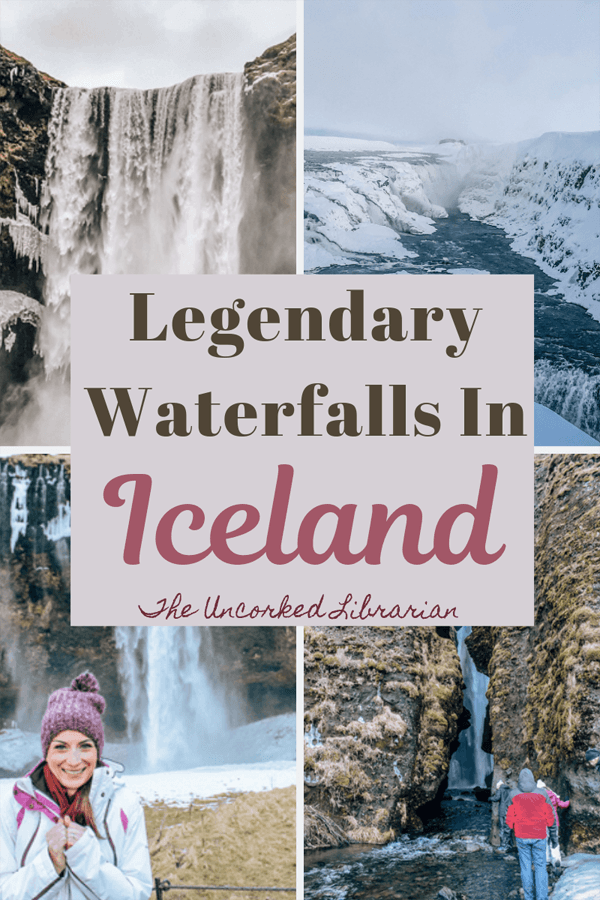 Pin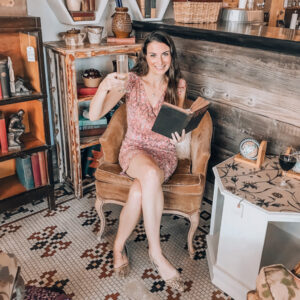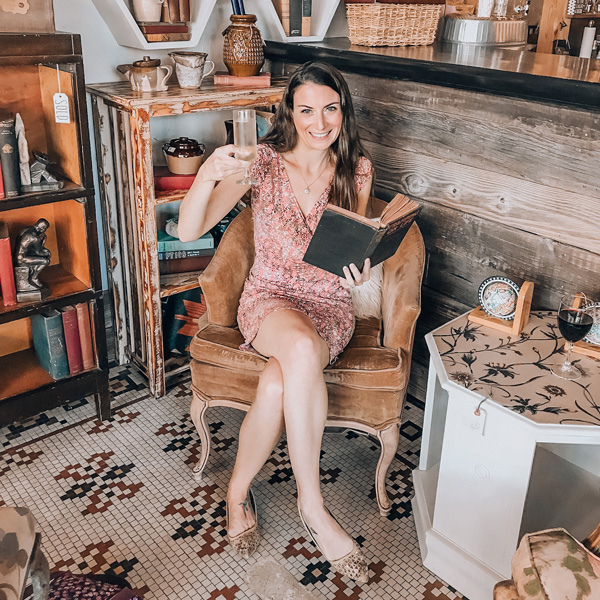 Christine (she/her) is the owner, lead editor, and tipsy book sommelier of The Uncorked Librarian LLC, an online literary publication showcasing books and movies to inspire travel and home to the famed Uncorked Reading Challenge.
With a BA in English & History from Smith College, an MLIS from USF-Tampa, and a U.S. Fulbright Fellowship in Christine's back pocket, there isn't a bookstore, library, or winery that can hide from her. Christine loves brewery yoga, adopting all of the kitties, and a glass of oaked Chardonnay. Charcuterie is her favorite food group.