If you are looking for a foodie romance, check out Simmer Down by Sarah Smith. Set in Maui, watch as Nikki and Callum compete in the Maui Food Truck Festival while falling in love. Find a Simmer Down summary, book information, and book reviews here.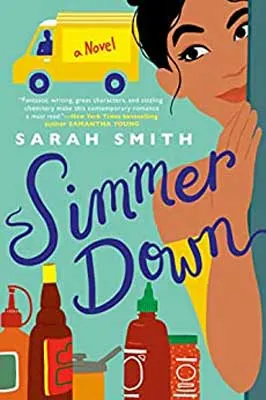 This post may contain affiliate links: If you purchase through my link, I will receive a small commission at no additional cost to you. I only recommend products/services that I approve of. See my full Disclosure Policy.
Author: Sarah Smith
Genre: Romance | Book Set In Maui | Asian-American Rom-Com
Pages: 336
Publisher: Berkley
Publication Date: October 13, 2020
Buy Now On Amazon
Find books like Simmer Down by Sarah Smith here:
Simmer Down by Sarah Smith Summary
In this finger-licking good rom-com, two is the perfect number of cooks in the kitchen.

Nikki DiMarco knew life wouldn't be all sunshine and coconuts when she quit her dream job to help her mom serve up mouthwatering Filipino dishes to hungry beach goers, but she didn't expect the Maui food truck scene to be so eat-or-be-eaten—or the competition to be so smoking hot.

But Tiva's Filipina Kusina has faced bigger road bumps than the arrival of Callum James. Nikki doesn't care how delectable the British food truck owner is—he rudely set up shop next to her coveted beach parking spot. He's stealing her customers and fanning the flames of a public feud that makes her see sparks.

The solution? Let the upcoming Maui Food Festival decide their fate. Winner keeps the spot. Loser pounds sand. But the longer their rivalry simmers, the more Nikki starts to see a different side of Callum…a sweet, protective side. Is she brave enough to call a truce? Or will trusting Callum with her heart mean jumping from the frying pan into the fire?

Berkley
Join The Uncorked Reading Challenge Today
---
Travel around the world with the Uncorked Reading Challenge. Get the best book and movie recs straight to your inbox. Sign Up Now.
More About The Author, Sarah Smith
Sarah Smith is a copywriter and romance author. She lives in Bend, Oregon with her family. You can follow Sarah Smith on Twitter here.
More Books From Sarah Smith
Where You Can Find Simmer Down By Sarah Smith Reviews On TUL
Travel across islands with the best books set in and about Hawaii – fiction and nonfiction.
If you love food truck wars and delicious meals, this foodie fiction reading list is for you. Travel around the world eating the best food and dining at stellar restaurants.
Looking for more books set in Hawaii and around the United States? Don't miss our massive 50 states reading list filled with books like Simmer Down.
Head to Hawaii and even more tropical islands with our island-themed reading list. Plus, explore large island countries, too.
Gahhhhhh, 2020 had such amazing books to read! Are you concerned that you might have missed them? Don't worry: we got you! We are sharing the best books of 2020 that you might have accidentally skipped. Some of these are bestsellers while others are lesser-known. We are talking indie, LGBTQ+, historical fiction, inspirational nonfiction, multicultural romance, and so much more. Plus, if you loved Simmer Down by Sarah Smith — it's on the list — don't miss 3 more fantastic romances, including Ties That Tether.
Uncover all of TUL's book lists for books set across North America and books set in North America. You'll also find our 50 States and Southern Books reading lists. Travel around the world with these books to inspire travel, love, delicious dining at food trucks, and understanding.
Uncover some of the hottest books releasing in fall 2020, including Simmer Down by Sarah Smith. We'll share some of the season's most-anticipated new books in romance, thrillers, historical fiction, and WWII fiction. Never be late on the hottest new books.
What other books released with Smith's Simmer Down? Don't miss some of the more festive titles releasing in October including fall thrillers and mysteries like Plain Bad Heroines by Emily M. Danforth, The Searcher by Tana French, and Leave The World Behind by Rumaan Alam. We also share even more rom-coms like Mistletoe and Mr. Right (set in Alaska) and Love Your Life (set in Italy).
Don't miss some of the year's hottest new books, including Simmer Down by Sarah Smith. We'll share books releasing in 2020 in historical fiction, YA, WW2 books, romance, thrillers, mysteries, indies, and more. Some of these titles are our favorites of 2020, too.