Did you read Salt to the Sea, an intense YA historical fiction title, by Ruta Sepetys? Find Salt to the Sea discussion questions here. Be sure to download the Salt to the Sea Discussion Guide for your next book club and catch some read alikes too.
Even if you haven't read Salt to the Sea, you may love these intriguing questions about YA lit and historical fiction.
---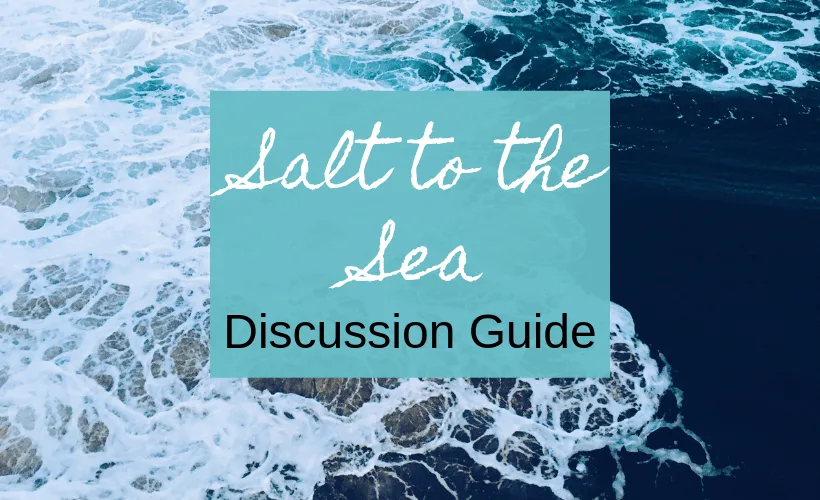 Pin
With a trip in the works to the Baltics to tour Estonia, Lithuania, and Latvia, what could be a better way to understand the Baltic states' histories and cultures than by reading Baltics books? This book-inspired travel blogger desired to shake hands with the Baltics through its award-winning authors.
Ruta Sepetys is infamous for writing not only books that bring obscured stories to life but also books set in the Baltics. Sepetys places emphasis on youth during war and innocent civilians.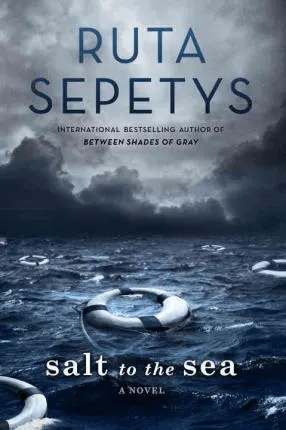 Pin
A Brief Salt to the Sea Summary
Salt to the Sea follows along with four teenagers during WWII as Hitler and Stalin fight over the Baltic territories. The seemingly endless battle displaces and kills hundreds upon thousands of people. Orphaned children wander aimlessly, some too young to understand.
Among these atrocities, the Wilhelm Gustloff–a once luxury ship–sinks. Carrying over 10,000+ civilians and wounded soldiers, the Soviets torpedo this transformed evacuation boat soon after leaving port. The missiles murder an estimated 9,000 women and children.
A largely unknown tragedy, overshadowed by the sinking of the Lusitania and Titanic, Sepetys enlightens readers to this massive maritime disaster. Through Emilia, Florian, Alfred, and Joana, readers gain different perspectives about the war. Check out TUL's full book review of Salt to the Sea.
Salt to the Sea Discussion Questions
These Salt to the Sea discussion questions are meant to evoke conversation about Sepetys' rich title as well as to help readers think more about the roles of WWII and historical fiction.
Salt to the Sea Book Club Discussion Questions & A Guide For Literary Travelers
Why should we read books set in other countries? What do we gain from another country's literary canon? Even if books don't have literary merit, what can we take away from fun fictional titles set abroad? What does international historical fiction teach us?
Do you prefer nonfiction or historical fiction?
Would both adults and teens enjoy Salt to the Sea? How would this book read differently as an adult fiction title? Do you like reading YA, and what are the genre's merits? What are teen fiction's downfalls?
Do you enjoy reading books with alternating narratives? This writing style is currently trending. What do readers gain through multiple perspectives? If you could choose only one character to tell their story in Salt to the Sea, who would you want to hear from the most and why? What other books can you think of with multiple narrators?
Issues of War & History: More In-Depth Salt to the Sea Discussion Questions
How do race, gender, and religion play a part in Salt to the Sea?
The sinking of the Wilhelm Gustloff invokes stark images of war affecting innocent women and children. Civilians are under attack. What are the lasting impacts of war on youth? Why is showing the civilian side just as important as the soldier/war-front perspective? What do we gain, and what do we lose?
Sepetys brings attention to the Wilhelm Gustloff and Amber Room, two true parts of history. What did you learn from this story? What truths can you take away?
Why do you think the Wilhelm Gustloff is lesser-known in comparison to the sinking of the Titanic? Why is there no major motion picture with Leo as Florian?
Documentation and having the right papers are a terrifying issue for Emilia. How are her story and situation relevant to refugees today?
Salt to the Sea Discussion Questions About Characters
Did the budding romance between Joana and Florian add to the story? Was it necessary?
Alfred is quite a vain and disillusioned character. What purpose does he serve in the novel? How do you feel about him?
Which character is the bravest and most courageous? Who is the most selfless?
Is there a perspective that you are missing in Salt to the Sea that you'd like to see? Is there one that you would take away? Whose story touches you the most?
Salt to the Sea Discussion Guide: The Ending
Although we know that the Wilhelm Gustloff is destined to sink, did you have to read ahead to see how the book ends? Is there suspense, and if so, how does Sepetys build suspense?
Why end the novel the way Sepetys does in relation to Emilia's story? Would you have preferred a different ending? Is it poetic?
Why are books like Salt to the Sea important? Who would you recommend this book for?
Overall, is this story a tragedy or one of hope? Is Salt to the Sea a survival story?
Download This Salt to the Sea Discussion Guide:
Salt To The Sea Discussion Questions Printable Copy
If you liked Salt to the Sea, you may also like…
Books Similar To Salt to the Sea:
Between Shades of Gray by Ruta Sepetys
The Boy In The Striped Pajamas by John Boyne
The Book Thief by Markus Zusak
All The Light We Cannot See by Anthony Doerr
A Night Divided by Jennifer A. Nielsen
What other thoughts and emotions did Salt to the Sea by Ruta Sepetys stir up for you? What Salt to the Sea discussion questions would you add to this list? I would love to know some of your answers in the comments below.
If you reproduce or use this Salt to the Sea discussion guide in any way, please credit Christine of The Uncorked Librarian, theuncorkedlibrarian.com. Thanks so much!
Save these Salt to the Sea Discussion Questions For Later: Pin This Post!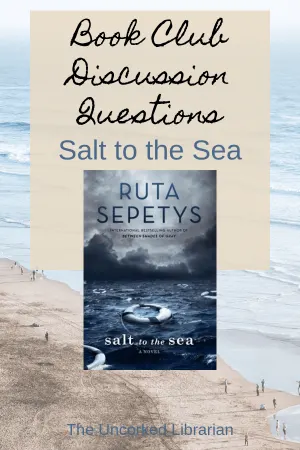 Pin
You May Also Enjoy:
Best Books About World War 2 For Adults & History Lovers
Holocaust Books For High School & Middle School Readers
Baltic Books To Inspire Your Next Vacation
Books About Poland
Books Set On Ships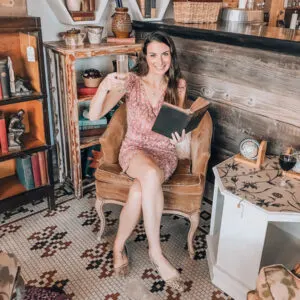 Christine (she/her) is the owner, lead editor, and tipsy book sommelier of The Uncorked Librarian LLC, an online literary publication showcasing books and movies to inspire travel and home to the famed Uncorked Reading Challenge.
With a BA in English & History from Smith College, an MLIS from USF-Tampa, and a U.S. Fulbright Fellowship in Christine's back pocket, there isn't a bookstore, library, or winery that can hide from her. Christine loves brewery yoga, adopting all of the kitties, and a glass of oaked Chardonnay. Charcuterie is her favorite food group.