Reflection: A Twisted Tale
Do you love fairytale retellings?  You will enjoy Reflection: A Twisted Tale by Elizabeth Lim. Find out more about this Mulan retelling and series that flips your Disney favorites.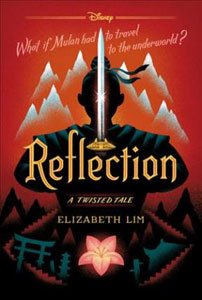 This post may contain affiliate links: If you purchase through my link, I will receive a small commission at no additional cost to you. I only recommend products/services that I approve of.  Purchasing through my links allows me to continue to provide unique content and pursue my business dreams. Thank you for supporting me.  See my full Disclosure Policy.
Reflection: A Twisted Tale
Author: Elizabeth Lim
Series: A Twisted Tale
Genre: Young Adult |  Fairytale Retelling | Mulan Retelling | Fantasy
Pages: 416
Publisher: Disney Press
Publication Date: 2018
Buy Reflection: A Twisted Tale By Elizabeth Lim Here:


Description Of Reflection: A Twisted Tale From The Publisher, Disney Books:
"What if Mulan had to travel to the Underworld?
When Captain Shang is mortally wounded by Shan Yu in battle, Mulan must travel to the Underworld, Diyu, in order to save him from certain death. But King Yama, the ruler of Diyu, is not willing to give Shang up easily. With the help of Shang's great lion guardian ShiShi, Mulan must traverse Diyu to find Shang's spirit, face harrowing obstacles, and leave by sunrise–or become King Yama's prisoner forever. Moreover, Mulan is still disguised as the soldier called Ping, wrestling with the decision to reveal her true identity to her closest friend. Will Mulan be able to save Shang before it's too late? Will he ever be able to trust her again? Or will she lose him–and be lost in the Underworld–forever?"
About The Author, Elizabeth Lim:
Elizabeth Lim loves fairy tales and storytelling, even as a child.  In fact, she used to write fanfiction for favs such as Sailor Moon.  Lim has been a videogame and film composer on top of a creative writer.  While she grew up in CA and has lived in Japan, she now resides in NYC with her family.   Read more about Elizabeth Lim.
Loving Reflection: A Twisted Tale? Don't Miss Out On Elizabeth Lim's Other Book:
More Books In A Twisted Tale Series:

TUL Book Lists Featuring Reflection: A Twisted Tale by
Elizabeth Lim
:
Find more Mulan retellings here:

Find Even More Great Books On This Mulan Book List:
Books Similar To Reflection That You May Like: