If you are looking for Royal LGBTQ+ romance, don't miss Red, White & Royal Blue by Casey McQuiston. Find Red, White & Royal Blue book information, a book summary, and book reviews featuring this enemies-to-lovers rom-com.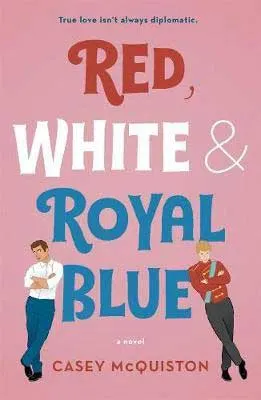 This post may contain affiliate links: If you purchase through my link, I will receive a small commission at no additional cost to you. I only recommend products/services that I approve of. See my full Disclosure Policy.
Author: Casey McQuiston
Genre: Romance | Book Set In England & Washington, DC | LGBTQ+
Pages: 432
Publisher: St. Martin's Griffin
Publication Date: May 2019
Buy Now: Amazon
Red, White & Royal Blue by Casey McQuiston Summary
What happens when America's First Son falls in love with the Prince of Wales?

When his mother became President, Alex Claremont-Diaz was promptly cast as the American equivalent of a young royal. Handsome, charismatic, genius―his image is pure millennial-marketing gold for the White House. There's only one problem: Alex has a beef with the actual prince, Henry, across the pond. And when the tabloids get hold of a photo involving an Alex-Henry altercation, U.S./British relations take a turn for the worse.

Heads of family, state, and other handlers devise a plan for damage control: staging a truce between the two rivals. What at first begins as a fake, Instragramable friendship grows deeper, and more dangerous, than either Alex or Henry could have imagined. Soon Alex finds himself hurtling into a secret romance with a surprisingly unstuffy Henry that could derail the campaign and upend two nations and begs the question: Can love save the world after all? Where do we find the courage, and the power, to be the people we are meant to be? And how can we learn to let our true colors shine through? Casey McQuiston's Red, White & Royal Blue proves: true love isn't always diplomatic.

St. Martin's Griffin
About The Author, Casey McQuiston
Casey McQuiston was born in the South and currently lives in Colorado. Read more about Casey McQuiston.
Where You Can Find Red, White & Royal Blue Reviews and Summaries On TUL
If you are looking for a fun and creative reading list, why not read books with a color in the title? Find books with red, yellow, green, blue, black, gray, and brown in the title.
Don't miss some of our favorite YA LGBT books, including Red, White & Royal Blue — which we consider to be geared more towards new adults and YA. Discover LGBTQ+ fantasy, science fiction, graphic novels, and so much more, too. Books include Grasshopper Jungle, Aristotle and Dante Discover The Secrets Of The Universe, Two Boys Kissing, and Unbecoming.
See what books hit the big screen in 2023.
See which books we loved in July like Red, White & Royal Blue. Other books include Such A Fun Age, White Fragility, and A Burning.