Philosophical Science Fiction: The Unfortunate Expiration of Mr. David S. Sparks
Are you looking for philosophical science fiction recommendations? Check out this book review of William Aicher's The Unfortunate Expiration of Mr. David S. Sparks.
---

Sneak Peek of The Unfortunate Expiration of Mr. David S. Sparks
Parasitic worms burrowing into eye sockets, oceans filled with man-eating, snake-like monsters, and fields of eyes are just small proof that Mother Nature is pretty pissed off at mankind. Caught in this murderous world is Mr. David S. Sparks, but he has no idea how he landed here.
Who is he?
Where he is?
When is he?
And how is he? 
Shit, WHAT IS HE?
In William Aicher's latest philosophical science fiction thriller, The Unfortunate Expiration of Mr. David S. Sparks, David attempts to recollect and piece together snippets of his memory from a seemingly normal past.
At the same time, he must fight a system overload and shutdown of his present situation. David is the most important man in the world, after all.
David can barely pledge allegiance to one side. The Progressives, drone-like businessmen, kill others for their own selfish gain but promise to restore his memories.
On the other hand, the Cause, a somewhat violent and obscure mixed group of organic hippies and scientists, recruits him for a secret mission.
Who will David help?  A thought-provoking, intellectual book about our environment, digitally obsessed society, and need for self-preservation, Aicher sneakily creates an ingenious modern-day satire.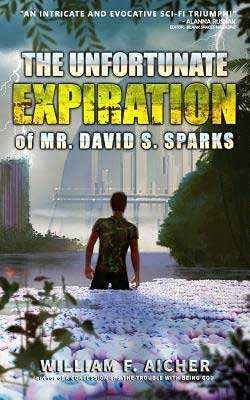 Pin
Philosophical Science Fiction At Its Best
Book Review of The Unfortunate Expiration of Mr. David S. Sparks
Maybe We Should, You Know, Take Care of the World
Imagine waking up to a killer serpent rubbing against your legs like a toxic cat and a man from the Texas Chainsaw Massacre aimed and ready to redesign your body–well at least that is how I pictured Calvin. This scenario greets David as he enters a strange land that seemingly wants all humans dead.
David does not get far as he dreams or possibly lives in a secondary normal world with a family. These alternating plots with parallel mishaps confuse David about which world is real and who he is. I am pretty sure he prefers the wife and kids version, although kids can be rough.
Calvin, a Preservationist, takes David along with him, knowing that he is key to some future plot to save the world. Traitorous to Plasticity, a recreated glass bubble city full of depressed but healthier businessmen, Calvin has formed a group called the Cause.
The Cause wants to end Plasticity and their cruel experiments and disregard for a more soulful human life.
David learns that The Chemical Wars, sparked by genetically modified plant engineering, caused farmers and the poorer classes to become ill. Hence, this f'ed up new environment is born.
Even before that fateful event, the faulted government self-destructed over class, greed, and prejudice, all of which contributed to society's and the earth's untimely demise.
Sound terrifyingly prophetic?!  P.S. I am pretty sure that the dinosaurs had it easier. Calvin and his team lead the charge to take back the land and work in harmony with Mother Nature.  I am not going to lie: Calvin is pretty sketch too.
Mother Nature vs Digital Connectivity In This Philosophical Science Fiction Thriller
When the Progressives ultimately rescue David from one of Calvin's terrorist attacks, they offer him a trade: his memories for informational uploads about Calvin. The city wirelessly connects David to their databases and both sides use David to hack each other's systems.  David is a pretty trusting guy.
This new society is a world where people are connected via clouds and storage. Without giving away spoilers, the novel ends with David learning who he is and which side his ultimate allegiance lies. There is a love triangle—that gets a little weird—and of course, destruction and death.  Do I sense a sequel?  Please?!
---
Loving This Philosophical Science Fiction Indie Title? Other Indie Book Reviews by TUL That You May Enjoy:
A Long Goodbye       Between Two Minds Awakening
---
Reminiscent of Other Great Philosophical Science Fiction Novels
The Unfortunate Expiration of Mr. David S. Sparks reminds me of M.T Anderson's, Feed, and Scott Westerfeld's, Uglies Series. Both upgrade society and alter mankind in pretty messed up worlds.
Pieces of David Sparks also evoke the maze of worlds in A Wrinkle in Time. I picture Oprah playing Sarah and compare David's mind time traveling and different planes of reality to Meg's tessering.
Of course, unlike these young adult titles, Aicher describes contemporary adult issues in his self-destructing world.
If you are looking for science fiction that makes you think about current societal problems with a plot that leaves you guessing and continuously thinking, David's mind will hardwire you right into The Unfortunate Expiration of Mr. David S. Sparks.
I cheered for David all the way and tried to figure out his story for him.  I cannot wait to read more by this author, and Aicher reminded me that I need to pick up much more science fiction.
Find your copy of The Unfortunate Expiration of Mr. David S. Sparks here:  Amazon
I would like to personally thank William Aicher for sending me a free copy of The Unfortunate Expiration of Mr. David S. Sparks along with some unicorn dust in exchange for a fair and honest review.  The bigger philosophical question here: Where is my library cake?
Book Information:
Book: The Unfortunate Expiration of Mr. David S. Sparks by William (Bill) F. Aicher [Self-published 2018]
Author: Read more about William Aicher here.  Bill is a strong advocate against the piracy of books, passionately supports indie writers, and is an entertaining and kind Twitter friend.  You can follow his reading and writing adventures on Twitter here.
Genre: Adult philosophical science fiction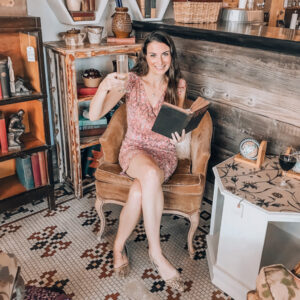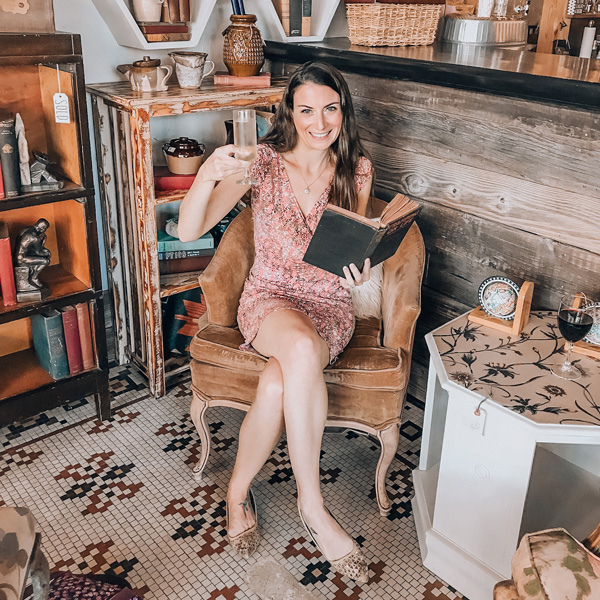 Christine (she/her) is the owner, lead editor, and tipsy book sommelier of The Uncorked Librarian LLC, an online literary publication showcasing books and movies to inspire travel and home to the famed Uncorked Reading Challenge.
With a BA in English & History from Smith College, an MLIS from USF-Tampa, and a U.S. Fulbright Fellowship in Christine's back pocket, there isn't a bookstore, library, or winery that can hide from her. Christine loves brewery yoga, adopting all of the kitties, and a glass of oaked Chardonnay. Charcuterie is her favorite food group.