Over The Top by Jonathan Van Ness
Looking for an inspirational LGBTQ+ memoir? Don't miss Over The Top by Jonathan Van Ness. Find an Over The Top summary, book information, and book reviews featuring this hilarious and raw story about being true to ourselves.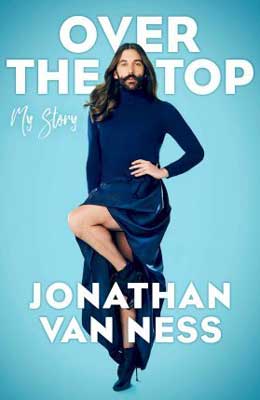 This post may contain affiliate links: If you purchase through my link, I will receive a small commission at no additional cost to you. I only recommend products/services that I approve of. See my full Disclosure Policy.
Author: Jonathan Van Ness
Genre: LGBTQ+ | Biography
Pages: 288
Publisher: HarperOne
Publication Date: September 2019
Buy Now: Amazon
Over The Top by Jonathan Van Ness Summary
Who gave Jonathan Van Ness permission to be the radiant human he is today? No one, honey.

The truth is, it hasn't always been gorgeous for this beacon of positivity and joy.

Before he stole our hearts as the grooming and self-care expert on Netflix's hit show Queer Eye, Jonathan was growing up in a small Midwestern town that didn't understand why he was so…over the top. From choreographed carpet figure skating routines to the unavoidable fact that he was Just. So. Gay., Jonathan was an easy target and endured years of judgement, ridicule and trauma—yet none of it crushed his uniquely effervescent spirit.

Over the Top uncovers the pain and passion it took to end up becoming the model of self-love and acceptance that Jonathan is today. In this revelatory, raw, and rambunctious memoir, Jonathan shares never-before-told secrets and reveals sides of himself that the public has never seen. JVN fans may think they know the man behind the stiletto heels, the crop tops, and the iconic sayings, but there's much more to him than meets the Queer Eye.

You'll laugh, you'll cry, and you'll come away knowing that no matter how broken or lost you may be, you're a Kelly Clarkson song, you're strong, and you've got this.

HarperOne
About The Author, Jonathan Van Ness
You might best know Jonathan Van Ness from the Netflix series, Queer Eye. Van Ness is also a hairdresser, performer, comedian, and podcaster. JVN is in another Emmy-nominated series, Gay of Thrones, and you can listen to the podcast, Getting Curious, which Time Magazine named as one of the top ten podcasts of 2018. Read more about JVN.
More Books From Jonathan Van Ness
Where You Can Find Over The Top Book Reviews On The Uncorked Librarian
Are you planning on taking a long drive or road trip this year? The Uncorked Librarian loves podcasts and audiobooks. We asked audiobook expert, Eline, for some of her favorite audiobook recommendations for road trips, both long and short, and added in a few of our own. Find something for everyone on this reading list with 30+ audiobook titles. Of course, we couldn't leave off JVN.
See 6 powerful and life-changing books that we read in July. If you like JVN's biography, you might also enjoy LGBTQ+ romance and coming out story, Red, White & Royal Blue. Also on this book list, discover books about racism like White Fragility and Such A Fun Age.