Are you obsessed with Outlander by Diana Gabaldon? Find more information about the series and book lists with Outlander on The Uncorked Librarian.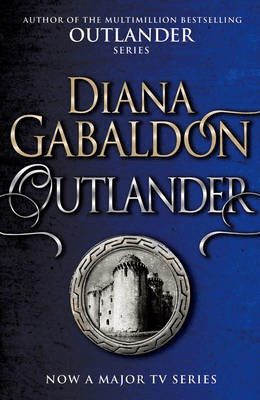 This post may contain affiliate links: If you purchase through my link, I will receive a small commission at no additional cost to you. I only recommend products/services that I approve of. See my full Disclosure Policy.
Outlander Book Information
Author: Diana Gabaldon
Genre: Scottish Historical Romance | Romance | Fantasy
Pages: 864
Publisher: Cornerstone
Publication Date: 2016 (Originally published in 1991)
Watch Season One Here
Purchase Your Copy Here: Amazon
Find more great books here:
1. We get the month's hottest new and upcoming titles from Book of the Month.
2. Try Audible Plus.
3. Find books via Kindle Unlimited Membership Plans.
4. As a member of Amazon Prime, don't miss Amazon First Reads — early access to Kindle books.
Outlander Summary From The Publisher
"What if your future was the past?

1946, and Claire Randall goes to the Scottish Highlands with her husband Frank. It's a second honeymoon, a chance to learn how war has changed them and to re-establish their loving marriage.

But one afternoon, Claire walks through a circle of standing stones and vanishes into 1743, where the first person she meets is a British army officer – her husband's six-times great-grandfather.

Unfortunately, Black Jack Randall is not the man his descendant is, and while trying to escape him, Claire falls into the hands of a gang of Scottish outlaws, and finds herself a Sassenach – an outlander – in danger from both Jacobites and Redcoats.

Marooned amid danger, passion and violence, her only chance of safety lies in Jamie Fraser, a gallant young Scots warrior. What begins in compulsion becomes urgent need, and Claire finds herself torn between two very different men, in two irreconcilable lives."

Cornerstone and Arrow Books LTD
Join The Uncorked Reading Challenge Today
---
Travel around the world with a book a month as part of our Uncorked Reading Challenge. Never be late to the party again with the best new book releases. Get book recs straight to your inbox. Sign Up Now.
About Diana Gabaldon
Diana Gabaldon is a bestselling author who is most well-known for her Outlander series. She holds a Ph.D. in Quantitative Behavioral Ecology and lives in Scottsdale, Arizona. Read more about Gabaldon here.
Read The Next Two Books In The Outlander Series
TUL Book Lists Featuring Outlander By Diana Gabaldon