Looking for historical fiction about trains? Don't miss Orphan Train by Christina Baker Kline. Find a summary, book information, and book reviews here.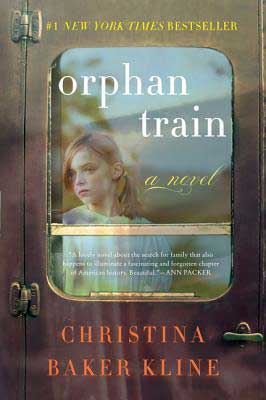 This post may contain affiliate links: If you purchase through my link, I will receive a small commission at no additional cost to you. I only recommend products/services that I approve of. See my full Disclosure Policy.
Author: Christina Baker Kline
Genre: Historical Fiction | Books About Trains | Foster Care & Adoption | Book Set in Maine & Minnesota
Pages: 403
Publisher: William Morrow
Publication Date: April 2, 2013
Find more great books:
1. We get the month's hottest new and upcoming titles from Book of the Month.
2. Try Audible Plus.
3. Find books via Kindle Unlimited Membership Plans.
4. As a member of Amazon Prime, don't miss Amazon First Reads — early access to Kindle books.
Orphan Train by Christina Baker Kline Summary
Between 1854 and 1929, so-called orphan trains ran regularly from the cities of the East Coast to the farmlands of the Midwest, carrying thousands of abandoned children whose fates would be determined by pure luck. Would they be adopted by a kind and loving family, or would they face a childhood and adolescence of hard labor and servitude?

As a young Irish immigrant, Vivian Daly was one such child, sent by rail from New York City to an uncertain future a world away. Returning east later in life, Vivian leads a quiet, peaceful existence on the coast of Maine, the memories of her upbringing rendered a hazy blur. But in her attic, hidden in trunks, are vestiges of a turbulent past.

Seventeen-year-old Molly Ayer knows that a community service position helping an elderly woman clean out her home is the only thing keeping her out of juvenile hall. But as Molly helps Vivian sort through her keepsakes and possessions, she discovers that she and Vivian aren't as different as they appear. A Penobscot Indian who has spent her youth in and out of foster homes, Molly is also an outsider being raised by strangers, and she, too, has unanswered questions about the past.

Moving between contemporary Maine and Depression-era Minnesota, Orphan Train is a powerful novel of upheaval and resilience, of second chances, and unexpected friendship.

William Morrow
Join The Uncorked Reading Challenge Today
---
Travel around the world with a book a month as part of our Uncorked Reading Challenge. Never be late to the party again with the best new book releases. Get book recs straight to your inbox. Sign Up Now.
Read More About The Author, Christina Baker Kline
A NYT bestselling author, Christina Baker Kline was born in Cambridge, England. She grew up in England, the American South, and Maine. Kline is a graduate of Yale, Cambridge, and the University of Virginia. Read more about Christina Baker Kline.
Where You Can Find Orphan Train Reviews On TUL
If you are looking for books set on trains, don't miss this reading list. Find even more great books like Orphan Train where trains are center stage. Read about trains in the backdrop, too, like in The Last Train To Key West.