Baltic Travel: One Week Baltics Itinerary
Are you headed to the Baltics? Check out this one week Baltics itinerary perfect for capital sightseeing in Lithuania, Estonia, and Latvia.  These Baltic travel vacation stops are ideal for a 7-day to 10-day Baltics road trip.
---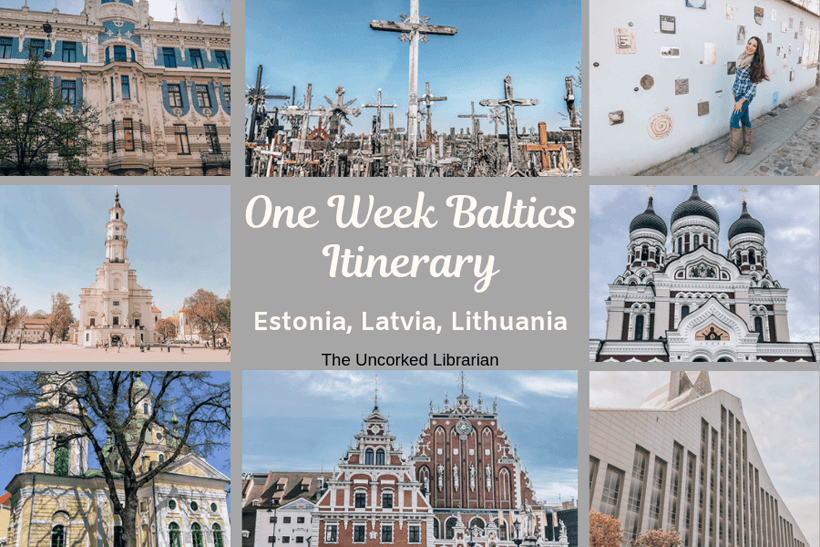 Pin
I always recommend spending as much time as possible in a country without rushing through the sights.  However, this isn't always possible with vacation time and life.  If you are headed to the Baltic states–Lithuania, Estonia, and Latvia–I suggest at least a 7 to 10-day Baltic vacation period to get you started.
Seven days felt a tad short for us but doable. One week in the Baltics would have been sufficient if we could have flown into Vilnius, Lithuania and out of Tallinn, Estonia.  Unfortunately or fortunately, Riga, Latvia offered us one layover versus two and much cheaper prices.  We flew from Florida to London to Riga.
Since Riga lands in the middle of the Baltics, we decided to figure 8 the countries for our Baltics road trip, adding a tad more driving.  However, the extra cruising meant more road stops to explore towns like Pärnu and Kaunas.  Imagine landing at a cute convenient store in the middle of Lithuania trying to communicate girlie issues and a desperate need to pee.
Best Weeklong Baltics Itinerary Plan:
If you are craving a small taste of the Baltics states, check out the capitals and consider going:
Vilnius < Riga < Tallinn (or vice versa)
Due to our flights–and you may find this to be your situation–our week in the Baltics itinerary looked like:
Riga < Vilnius < Riga < Tallin < Riga
Head, shoulders, knees and toes, knees and toes…
Was it awful?  Nope!  I kind of loved breaking up the countries and returning to Riga like an old friend.
You should also know that Tallinn to Vilnius is about 8 hours of driving. Riga is in the middle from Vilnius and Tallinn at 4 hours.  You can fly between the cities, as well, but we loved road tripping around the Baltics.  Airport time would take just as long.
Our total 7 day Baltics itinerary looked like:
Riga < Hill of Crosses, Kaunas, Vilnius < Riga < Pärnu, Tallinn < Pärnu, Riga
If you are adventurous, you can add in a few more Baltic holidays destinations like Tartu, Sigulda, Jurmala, and Trakai.  This fuller Baltics itinerary would work best like this:
Riga < Hill of Crosses, Kaunas, Vilnius < Trakai, Riga < Pärnu, Tallinn < Tartu, Sigulda or Jurmala, Riga
Phew.  I don't know about you, but when I am travel planning, I love seeing my driving route planned out first.  Once I have my chosen cities and map game plan, I book hotels.  Lastly, I plan activities–although these are in my mind throughout the process.
Are you ready to start designing your 7-day Baltics itinerary?  Keep reading for bulleted places of interest in each city mentioned above.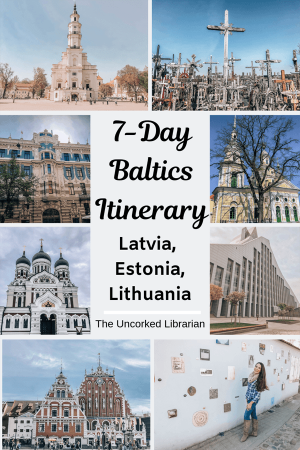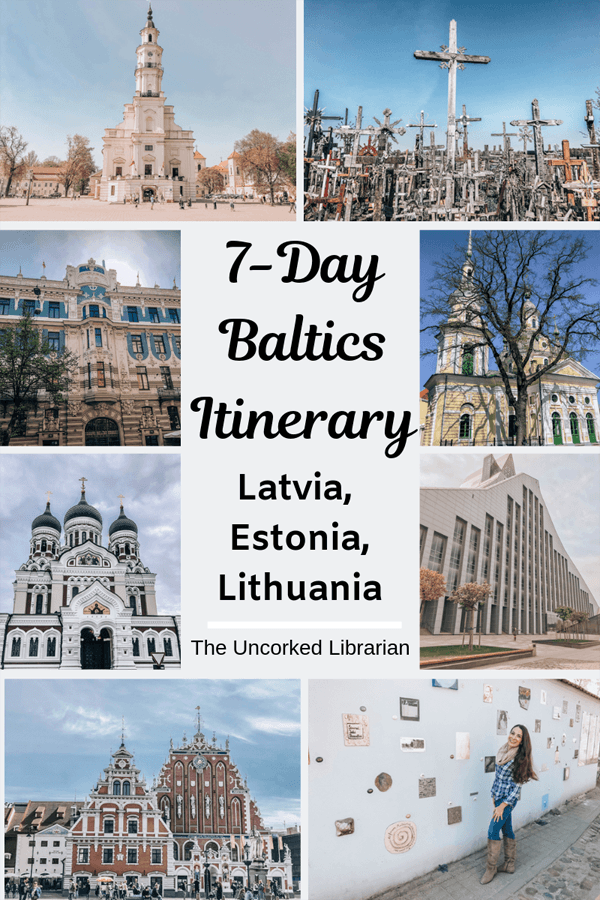 Pin
Baltic Travel: One Week Baltics Itinerary
Since many of TUL readers originate from the United States, this 7-day Baltics itinerary will start in Riga, Latvia.  However, you can easily pick and choose pieces of this Baltics road trip guide if you start in Vilnius or Tallinn–and never hesitate to email me or comment below with logistical questions.
Be on the lookout for full Baltics capital guides, Baltics driving tips, and what to drink in the Baltics on TUL too.
Baltic Vacation Day One: Riga, Latvia
Renting A Car For Touring The Baltic States
Flying from Orlando to London/Gatwick on Thomas Cook (they no longer exist, ek!), we arrived in Riga, Latvia with half a day to spare before starting our Baltics road trip.  We seamlessly rented a car with rentalcars.com.  In Latvia, this was definitely one of the cheapest rental car experiences we've had, and it was great.
I say this just having returned from expensive Iceland, though.
We walked a short distance to Auto5, they shuttled us to pick up our little poop colored Corolla (lovingly deemed 'Shit Baby Cakers'–message me for the secret story), and off we went.  Our 5 AM drop off later that week was fast and simple too.
Half Day In Riga
We landed in Riga a tad exhausted from our red-eye flight, but we always go all in–ballz to the wallz.
Fantasizing of a chill start, we headed to the park, Vērmanes dārzs.  Here, you can also find a little outdoor tea hut, Apsara, with tea and boxed wine perfect for people-watching.
P.S. I loved the parks and walking spaces throughout the Baltics.  There are a ton of outdoor areas, parks, trails, and walkways, and everyone is out catching some rays and good vibes.  You can even rent bikes.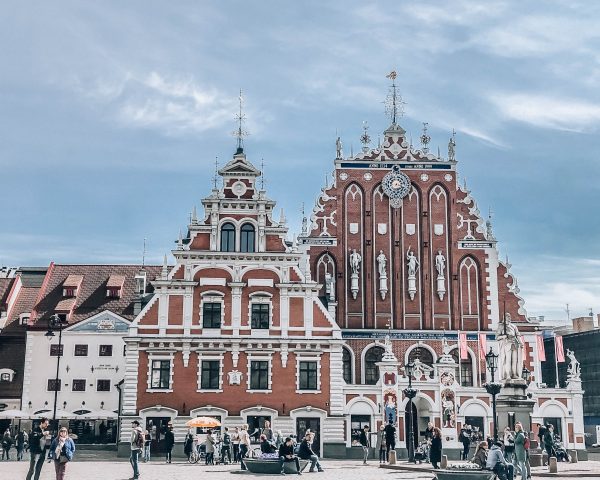 If you are looking for a few walking points of interest for pretty pictures, history, and must-sees in Riga, Latvia, start with:
Nativity of Christ Cathedral
St. Peter's Church
Riga Art Space
Town Hall Square
Riga Castle
The Powder Tower
Latvian War Museum
The Freedom Monument
The House of Blackheads
Chain hotels are not everyone's jam, but the Baltics are infamous for Radisson Hotels; I am all about those points and comfy upgrades.  We spent our first and last Riga nights at the Radisson Blu Elizabete. You cannot go wrong with glass elevators, all the amenities, and an omelet station. Of course, there is another huge Radisson right next door with a sky bar too.  Choose wisely.
Night at Radisson Blu Elizabete.
Drink of choice: A Syrah at Apsara in the park.
Baltics Road Trip Begins Day Two: Riga, Latvia To The Hill Of Crosses, Kaunas, and Vilnius in Lithuania
Every day for our week in the Baltics, we planned to be on the road by 9/9:30 AM, right after any perceived rush hour.  The cities get slightly congested for driving but it's not as terrifying as say, Palermo, Sicily.
Once you escape the city craze, country road welcomes you.  I won't lie, the scenery is slightly boring AF, but hey, it's quiet. Let the Baltic travel begin!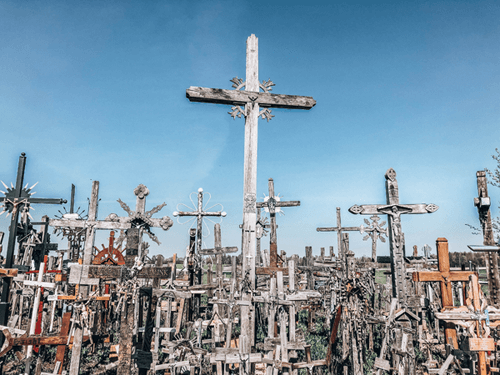 Baltics Itinerary Unique Must: Hill Of Crosses, Lithuania
Even though the Hill of Crosses is slightly out of your way to Vilnius, you should stop by to check out the over 200,000 crosses transplanted here.  The ride from Riga to the Hill of Crosses will take you about one hour and 45 minutes.
Eerie yet serene, I'd budget at least 45 minutes here with a small price for parking if you choose to stop at the visitor center with clean restrooms.
Lunch Break In Kaunas, Lithuania
I don't know about you, but I get hangry pretty fast.  Kaunas is known as a historically beautiful little Lithuanian town.  Two and a half hours from the Hill of Crosses, we decided to spend half a day getting lunch and walking around Kaunas before heading to our hotel in Vilnius.  You could spend days here, though.
Kaunas is also a Baltic holiday destination, and we caught celebratory Easter festivities.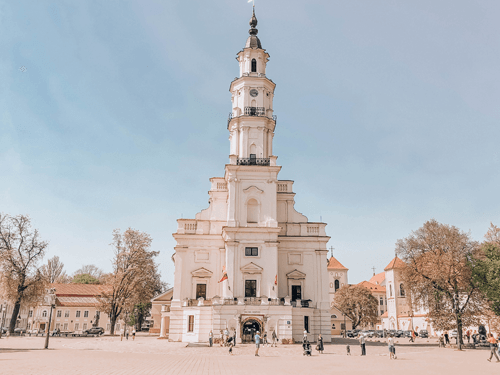 Touring the Baltic States: Points Of Interest In Kaunas
Kaunas Castle
Kaunas Cathedral Basilica (Cathedral of Saint Peter and Paul)
Lunch in Old Town Kaunas
Devil's Museum (sadly, we missed this one)
Town Hall Square
Santakos Park
Ninth Fort (we missed this one too, sigh)
Vytautas the Great Church
Kaunas Priest Seminary
We missed a few of the sights to check into our Vilnius hotel and catch a vegan dinner before bed.  Kaunas is equally a great resting point with accommodations.
Night at Novotel Vilnius Centre (not my favorite hotel ever but it is located in the heart of Vilnius with high reviews).
Drink of choice: Any of the yummy cocktails at Soul in Kaunas or a delicious smoothie at the VegCafe in Vilnius.
The Baltics Itinerary Continues Day 3: Vilnius, Lithuania
Vilnius is an easy to navigate, friendly, and clean little city.  The driving is pretty scary, though.  We walked most of the city in a day, even having time to stop at the local cat cafe.
Note that you can also take free walking tours of each of the Baltic capitals.  Walking tours usually leave twice a day from Town Hall-like areas and take a few hours.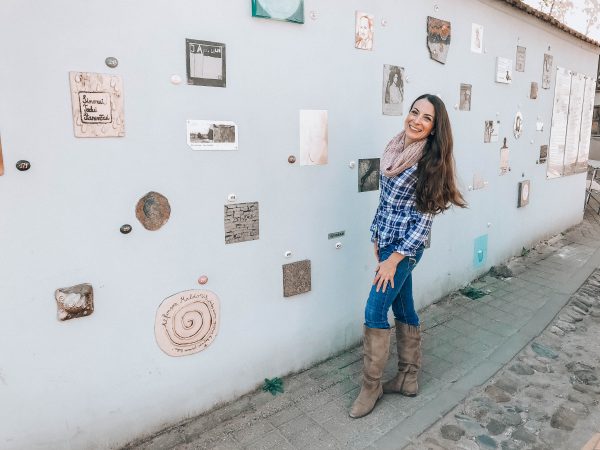 Places of Interest in Vilnius, Lithuania
Cathedral Basilica
Palace Of The Grand Dukes
Gediminas Tower
Bernardine Garden
St. Anne's and Bernardine Churches
Republic of Užupis
Literatų gatvė (Literary Street)
The Museum of Occupations and Freedom Fights/KGB Museum (this was closed the day we tried to go)
Hill of Three Crosses
Cat Cafe
Night at Novotel Vilnius Centre.
Drink of choice: A Whiskey Sour at the Meat Lovers Pub.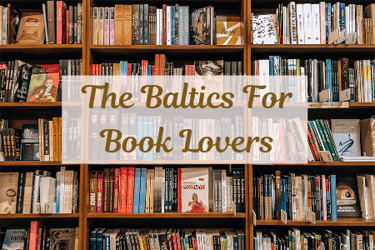 Baltic Travel Day 4: Vilnius, Lithuania to Riga, Latvia
Feeling a bit tired and waking up on my Birthday, we decided to head straight back to Riga to meet up with blogging friends instead of heading to Trakai Island Castle.  If you have more energy than us, I'd definitely stop at Trakai on the way back to Riga.  The castle is about 40 minutes from Vilnius and then you can loop up to Latvia.
Since it was my birthday and with more time in Riga, there was only one place my heart was skipping to: THE LIBRARY.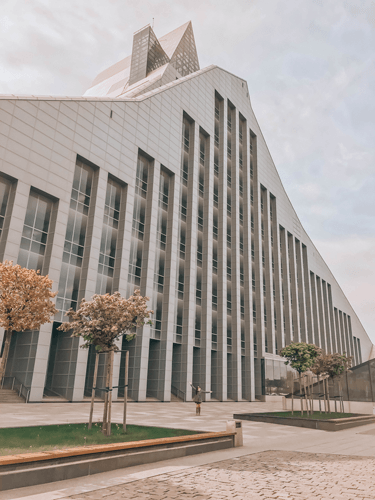 Did you know that the National Library of Latvia, known as the Castle of Light, houses 4.1 million books?  This newer 13-floor building opened in 2014 and shouldn't be missed by any book lover.  Best of all, they give you a free day pass to go anywhere you wish inside.
See the light shine down and hear my heart sing.
If I could have pulled myself away, I would have loved to drop into the Beer Museum too.
Desiring a full literary-themed day, we treated ourselves to Gutenbergs for dinner with a rooftop view of the heavy Riga hitters.
Night at Grand Poet by Semarah, officially one of my favorite hotels in the world.  What a gorgeous facility and they surprised us with Birthday champagne and vegan truffles.  I never wanted to leave, and our room overlooked the park.
Drink of choice: Clavis Riga at Gutenbergs.
Baltics 7-Day Travel Itinerary Day 5: Riga, Latvia to Pärnu
and Tallinn, Estonia
Pärnu Stop On The Way To Tallinn
Pärnu is by far one of my favorite locations on our Baltics itinerary along with Riga.  A small beach town, we've heard Pärnu is a popular summer destination for Europeans and Estonians.  At the beginning of May, Pärnu is still pretty quiet and is perfect for lunch, doorway picture-taking, and a walk down the promenade to the ocean.  They love their pizza and ice cream just as much as any summer destination.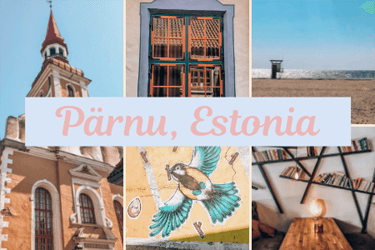 Pärnu is about a 2 hour and 20-minute drive from Riga (see what I did there?  Sounds less than 2.5 hours.). Pärnu is definitely also a top Baltic holiday destination.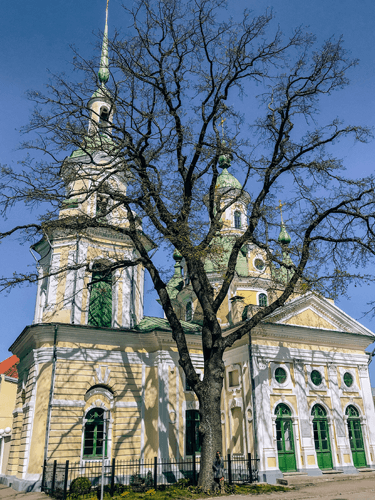 What To See In Pärnu. Estonia With One Week In The Baltics:
Seriously, just walk around and gawk at the beautiful architecture
Search for some funky street art like hitchhiking foxes
Pärnu Beach and promenade
St. Elizabeth's Church
St. Catherine's Church
Pärnu Museum (we missed this one due to the holiday closings)
Grab a bite to eat at the local cafes–we loved Mum Cafe.
Pärnu feels like New England, and you would not go wrong seeking accommodations here.
From Pärnu, Tallinn is about a 1 hour and 40-minute drive.
Night at the beautiful Radisson Blu Sky Hotel Tallinn.
Drink of choice: Vana Tallinn Mojito with Estonian rum.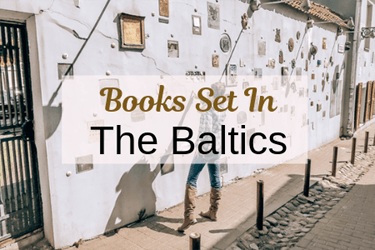 One Week Baltics Itinerary Day 6:
Tallinn, Estonia
Oh Tallinn, what do I think of thee?!  Whenever you say Tallinn, everyone instantly thinks back to Old Town and their cruises there.
Estonia is so much more than just Tallinn and Tallinn is not just Old Town.  Don't get me wrong, though, Old Town Tallinn is not to be missed and won't disappoint.  Just beware of the time of year because cruise ships and hundreds of tourist buses slam this city each day.  It gets hellish fast.  Pray for rain to wash away everyone.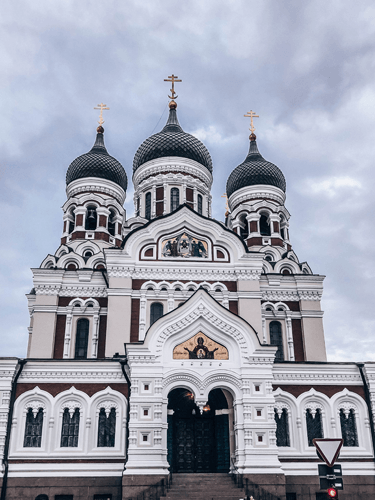 The list for Tallinn must-sees is endless, but be sure to check out:
Viru Gates– you will see why Tallinn is idealized as a fairy tale
Old Town– it's a little tourist gimmicky at times but the architecture and hidden local gems make it worth it
Alexander Nevsky Cathedral
Town Hall Square
Olaf's Church
Local Beer
Walk Outside The Walls
Telliskivi Creative City
Seaplane Harbour
KGB Prison Cells
National Estonian Library
Rahva Raamat Bookstore
Night at the Radisson Blu Sky Hotel Tallinn.  The Radisson has a beautiful sky bar that overlooks all of Tallinn, including Old Town.
Drink of choice: Mango Sour Beer at the House of 100 Beers.
Touring The Baltic States Day 7: Tallinn/
Pärnu, Estonia to Riga, Latvia
Even in May, we woke up to snow in Tallinn when earlier in the week Riga was almost 80-degrees.  Go figure.  Packing for one week in the Baltics during April and May is tricky.
With one last day for our Baltics road trip, we debated sneaking over to Tartu but instead went back to glorious Pärnu.  Pärnu is much closer and on your way back to Riga.
We had the BEST brunch and service at Mahedik.  Picture hot oatmeal, lamb burgers, and potato pancakes.
You could also consider stopping at Sigulda or Jurmala, Latvia for half a day visit.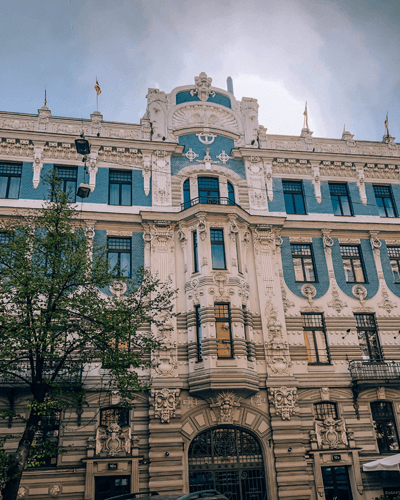 Landing back in Riga, we walked the Art Nouveau District and ended with a literary dinner at Biblioteka No 1.
Night at Radisson Blu Elizabete.
Drink of choice: Hemmingway Cocktail and Blueberry Balsam at Biblioteka.
Goodbye Baltics Vacation
Man, we had an early flight out to London the next day.  Up at 4 AM, we headed to the airport by 5 AM.  With the Latvian holiday, we were told to give the small Riga airport at least 1.5 hours to 2 hours of time.  We had no trouble at all and went straight through with time to spare.
To end with a funny story and traveling first:
Getting onto the highway for the airport, police DUI checked every single car with a breathalyzer test.  They didn't speak English, and I have never had to do this before (thank gosh).  Having an autoimmune disease, I did not want my mouth on a clearly used instrument with no protection.  Imagine the cop demonstrating that I am not blowing hard enough at 5 in the god awful morning.
Thank gosh my Listerine didn't set that off.
What a way to end the trip, but we loved our Baltics self-driving tour.
Are You Ready For Your Weeklong Baltic Vacation?
One week in the Baltics will give you the perfect feel for the capitals and introduce you to the culture.  The Baltic states are full of history, especially from WWII and the utter devastation from both Hitler and Stalin.
Visitors see a haunting past and a hopeful, modern rebuilding.  Even decades later, the Baltics are still growing their independence and identities.
A Baltics road trip is the perfect way to pace yourself around Eastern Europe and pick and choose what interests you.
Have you been to the Baltics?  What would you add to this Baltics itinerary?  What would you take away?  If you are thinking about planning a Baltics vacation, what interests you the most?  What questions do you have about Baltics travel?
Book A Room
Traveling To The Baltics? Pin This Baltics Itinerary For Later:
Pin
Baltics Posts You May Also Love:
Baltic Books To Read Before Your Visit
Meet The Glass Castle: The National Library of Latvia
Discover the Baltics for Book Lovers
Check out our favorite Baltic city, Parnu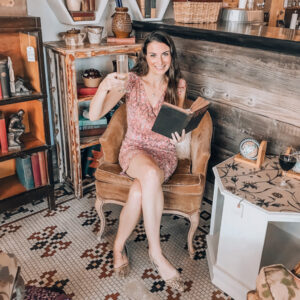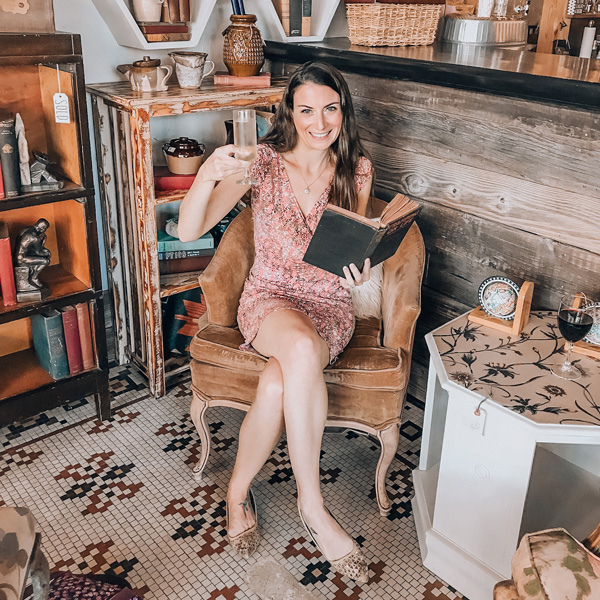 Christine (she/her) is the owner, lead editor, and tipsy book sommelier of The Uncorked Librarian LLC, an online literary publication showcasing books and movies to inspire travel and home to the famed Uncorked Reading Challenge.
With a BA in English & History from Smith College, an MLIS from USF-Tampa, and a U.S. Fulbright Fellowship in Christine's back pocket, there isn't a bookstore, library, or winery that can hide from her. Christine loves brewery yoga, adopting all of the kitties, and a glass of oaked Chardonnay. Charcuterie is her favorite food group.