Do you only have one day in Reykjavik, Iceland? Check out this list of eclectic things to do with 24 hours in Reykjavik, including breweries, churches, tourist musts, and museums. Find out secret places to eat, too.
---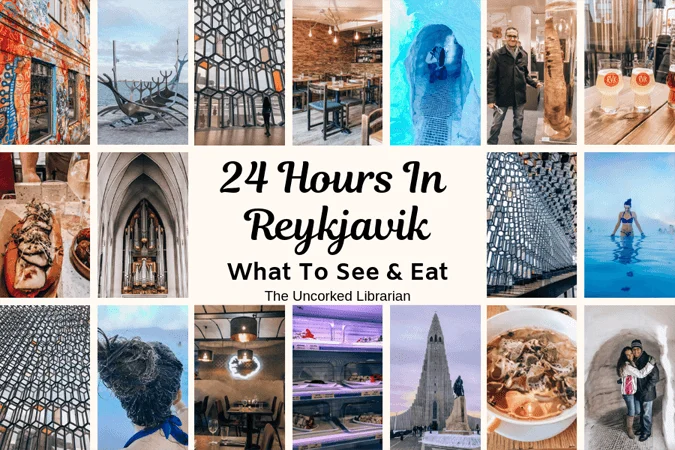 Pin
Many people find themselves in Reykjavik, Iceland for a short layover. Others use Reykjavik as a hub for endless Iceland day trips. For us, we had one day in Reykjavik when we landed and another on our return from driving around Southern Iceland. With 24 hours in Reykjavik, you can do a lot without feeling overwhelmed. You don't need to see it all.
The city seems vast, but most of the tourist attractions and fun are within walking distance of each other. You might walk a mile at most. Mount Esja, the pinkish mountains, as well as grayish blue water, envelop the friendly and clean city on one side. Stunning 360-degree views, a tall phallic church, a penis museum, breweries, and 3D people-sized prisms are just a few of Reykjavik's bragging points.
Below find our favorite activities for what to do in Reykjavik in a short time period.
One Day In Reykjavik
What To Do In Reykjavik In 24 Hours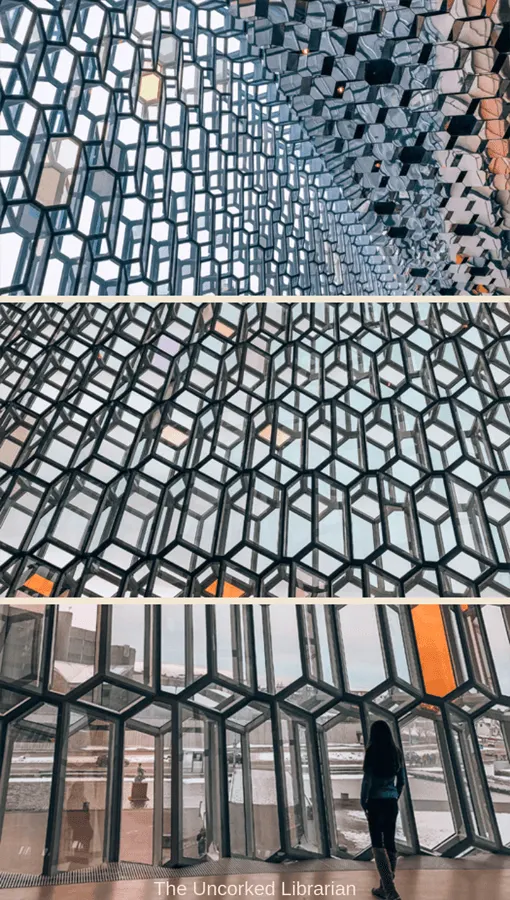 Pin
Catch Some Rays At Harpa Concert Hall
With construction starting right before the 2008 economic depression, Harpa is both an extravagance and symbol of screw you. The financial crisis put a temporary halt to its construction.
With Danish and Icelandic influences, steel framework meets geometric prisms and mirrors. Hello, gorgeous. Be sure to check out this eye candy from both inside and out.
Known for classical concerts, you can tour the hall for free. If driving, park in the garage below, pay a small fee, and spend at least 45-minutes climbing floors and snapping pictures. Don't forget to look up.
In the Icelandic nonfiction novel Names For The Sea, Sarah Moss notes that the prisms are fish scales.
Discover more about Harpa to see hours and check visitor information.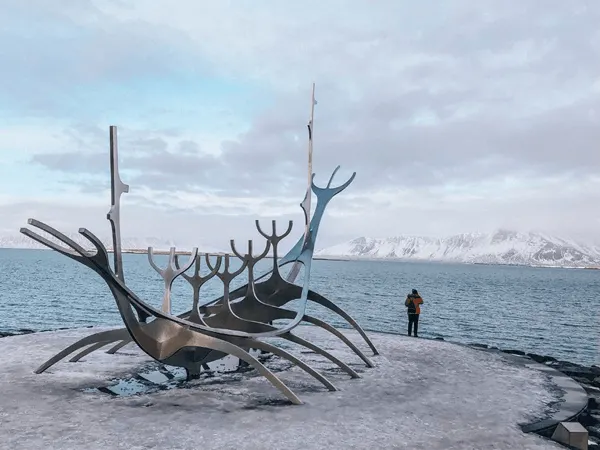 Pin
Stroll Over To The Solfar Sun Voyager
Is Solfar Sun Voyager art or is it a tourist trap? More importantly, is the Sun Voyager a Viking ship, fish bones, or an ode to the sun?
Gosh only knows, really–regardless of what you read. Should you take a peek if you only have one day in Reykjavik, though? Unequivocally, yes.
The [Sólfar] Sun Voyager is a sculpture and ode to the sea by Jón Gunnar Árnason. Many see the art installation as a symbol of hope, journey, and freedom. Nope, it's not supposed to be a Viking ship or bones but my eyes fail to agree.
Located next to the Sæbraut road in Reykjavík, you should give this unique piece at least 10-minutes of your time. Plus, the Sun Voyager is next to Harpa. If you have a car, just pull up in its special traffic lane. If you are walking, enjoy Esja in the background.
Try to snap a shot before swarms of tourist buses stop by. Although we missed sunset views, I heard it's a beaut.
Read more about the Solfar Sun Voyager.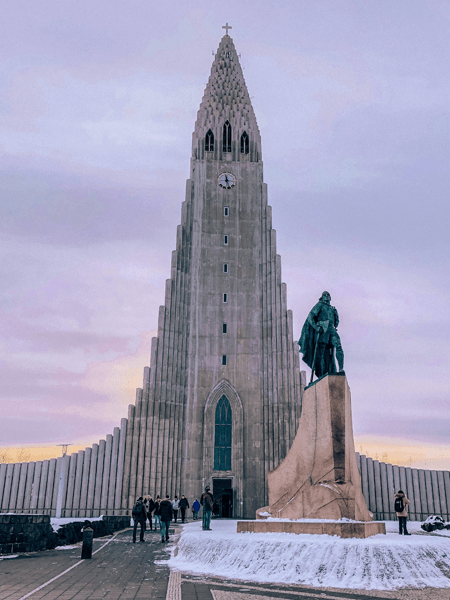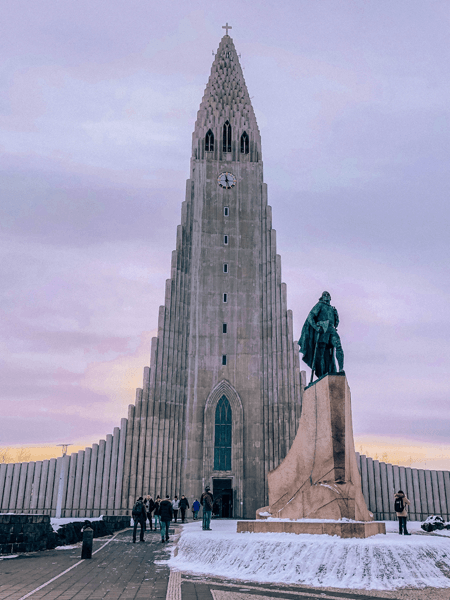 Pin
Climb To The Top Of Hallgrímskirkja
I don't know about you, but when I have limited time in a city, church fatigue, like a cheap wine hangover, is for real. However, Hallgrímskirkja is a looker and one of the tallest buildings in the country. Get there early if you want to take the 6-person elevator to the top for killer Reykjavik views. We skipped the ascension–the line was at least 2 hours. If you know me, that's a hell no. We caught equally stunning vistas from Perlan–crowd-free.
Hallgrímskirkja is a Lutheran Church. I don't have my religions down, but the inside is simplistic gray. This is not your typical Roman Catholic beast.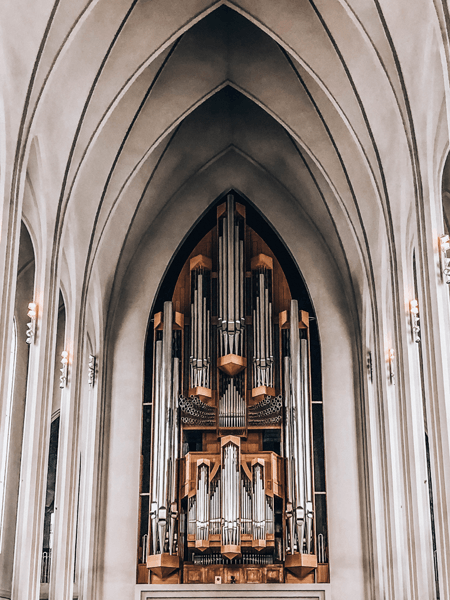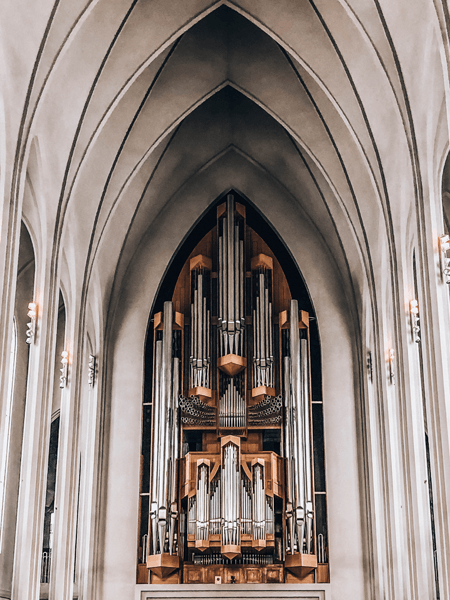 Pin
Interestingly, this church is also not that old. Commissioned in 1937, Hallgrímskirkja took 41 years to build. Said to invoke the Icelandic mountains and glaciers, the phallic structure narrows at the pointed top.
Learn more about the sanctuary and church, Hallgrímskirkja.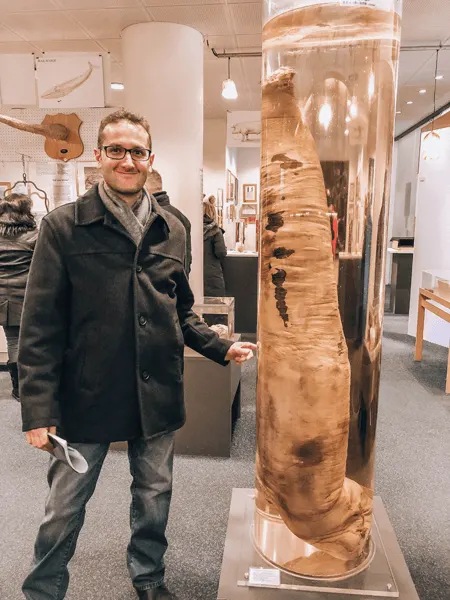 Pin
Gawk At A Sperm Whale Penis At The Iceland Phallological Museum
OK, maybe it was the noodles next door that suckered us into the penis museum. Starving (get your mind out of the gutter), we walked to Vietnamese noodles first, passing penis pasta and shorts. Since we had just cruised by the casino, I figured we hit…an interesting area.
Nope. Good Afternoon, Museum Culture.
To be honest, the Iceland Phallological Museum is not a must with 24 hours in Reykjavik. A little pricey, you will only spend maybe 30-minutes here immaturely giggling and staring. Sperm whales are well endowed.
Draw penises in a book, check out dick paraphernalia, and of course, see an array of mammal penises floating in glass containers. Leave with a penis shot glass souvenir.
Sad I blew the cash here? Hell no.
Caught your interest? Get the deets on the Iceland Phallological Museum.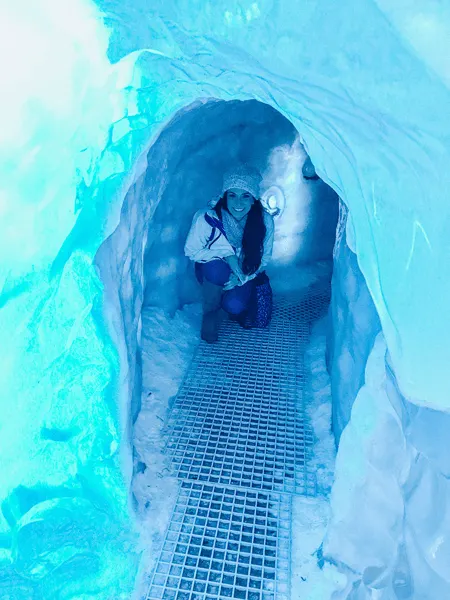 Pin
Scale Perlan's 3D Viewing Deck And Catch A Beautiful Landscape Movie In The Planetarium
Perlan did not land on our original agenda but driving in Iceland in the snow is an unpredictable bitch sometimes. Plus, if you happen to visit Iceland in the winter, you cannot always safely make it to a real ice cave.
Perlan is a world-case museum with a hokey but worthwhile simulated ice cave. Warning: the Perlan's ice cave is cold AF. Expect maybe 10 to 15 minutes tops inside the narrow passageways with a short film before the doors open to icy magic.
Housed in an architecturally radical dome, don't miss out on a 3D movie or two at the Planetarium. Head upstairs past the gift shop for 360-degree views of Reykjavik, too. Although you can spend hours here, we walked around for maybe 1-1.5 hours. Lunch and the road called.
If you are spending one day in Reykjavik, check out Perlan.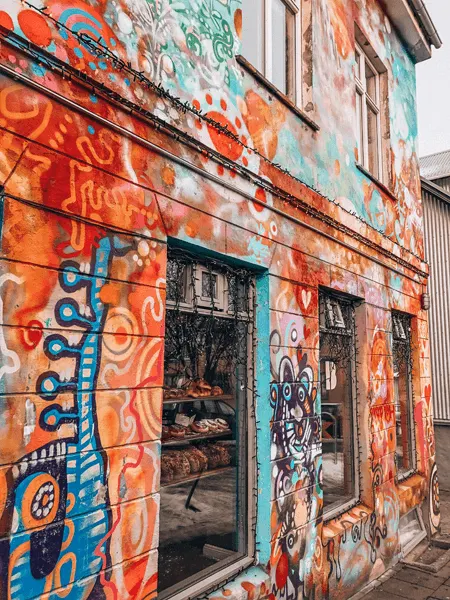 Pin
Check Out Some Street Art and Grab A Bite To Eat On Laugavegur Street
On our last day in Reykjavik, we decided to walk around Laugavegur Street (not the hiking trail). Like most downtowns, this is the place to be. Find all of the food you could want plus Hallgrímskirkja. Of course, there are bars and shopping too.
An abundance of funky street art will greet you along with scary taxidermy. The name "Laugavegur" means 'wash road' because back in the day, this is where women did their washing.
Keep reading for our favorite Reykjavik restaurants. Many are located on or close to Laugavegur Street.
Where To Eat And Drink With One Day In Rejkjavik
I am never a fan of blogging guides where the blogger pretends that everywhere s/he ate in a city is literally the best and only place. This especially bugs me if you spent a short time in the city–how can you possibly know? "Comprehensive foodie guide to [insert place]," my butt. Yes, you might have visited some local and infamous recommendations, but still…
With that said, these are our favorite Reykjavik, Iceland restaurants but certainly not musts or probably even the best you'll ever find. We don't like famous spots, either.
If you have one day in Reykjavik, though, I highly recommend grabbing a hot dog. Who knew hotdogs could be so famous in Iceland of all places?
These delicious establishments are the places locals recommended and/or we found and absolutely loved.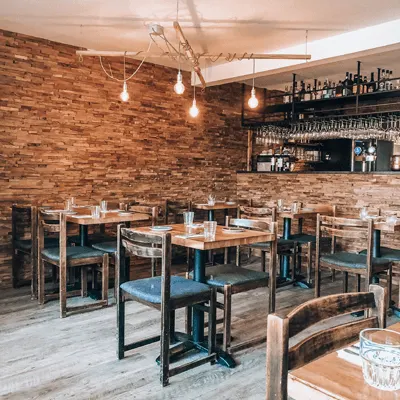 Pin
Old Iceland Restaurant
On our last day in Reykjavik before heading to the airport, we had the best goodbye Iceland meal. Old Iceland Restaurant modifies dishes for gluten and lactose intolerances. The fish melts in your mouth. Filled with kind staff and literally perfect, this lunch and dinner spot is family-owned and focuses on traditional Icelandic cuisine.
Walk-ins accepted and mostly preferred until after 6 pm.
Hungry? Be sure to stop by Old Iceland Restaurant.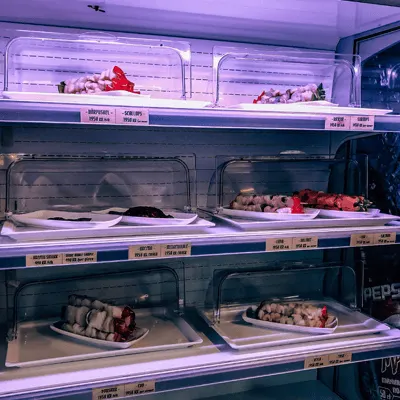 Pin
Saegreifinn
Family-style dining and fish you pick out on skewers is a must. With a small group of friends, we ordered salmon, white fish, and scallops to share along with potatoes. To. Die. For. Simple but even as I write this, my mouth is salivating.
Located in the harbor, take a stroll to walk off the bloat. The Sun Voyager is close by. See if you can find an Anthony Bourdain quote on the walls nearby.
Craving fish on skewers with 24 hours in Iceland? Don't miss Saegreifinn.

Reykjavik Kitchen
Happy Valentine's Day evening to us! We had just driven in from Vik. Two sisters own this sweet restaurant. Serving Icelandic fish and meat, we sipped traditional Iceland libations and toasted to love. Atmospheric and perfect for couples, you'll love this small and trendy newer gem.
Reykjavik Kitchen is located near the penis museum too. Wink, wink.
Be sure to check out the cool glowing map of Iceland on the walls of Reykjavik Kitchen.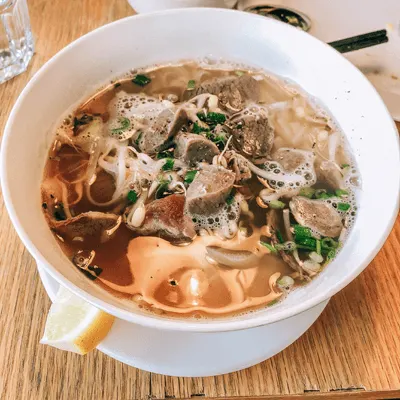 Pin
Pho Vietnamese Restaurant
Does anyone else have international travel traditions? We always look for Pho abroad. Mind you, Reykjavik and Iceland, in general, are insanely expensive when dining out. Be prepared for $18 soup at most quick bite places.
On a chillier day, we loved Pho Vietnamese's spring rolls, Pho, and steamy rice dishes. An Asian market sits next door, and again, your museum of ya know…sits nearby.
Sign me up for Pho!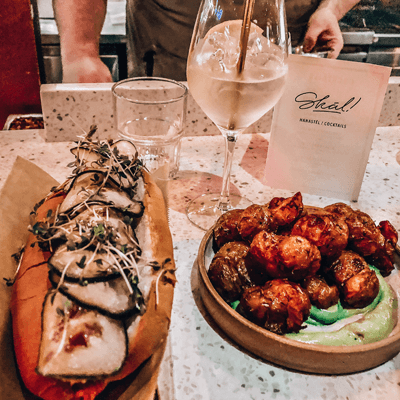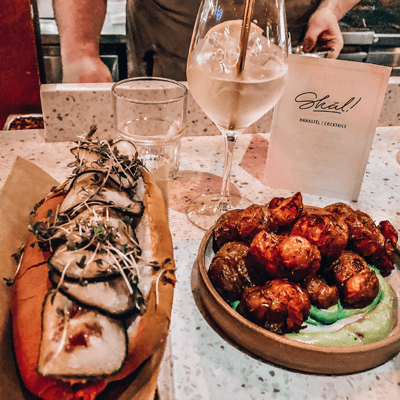 Pin
Skál
The local brewery told us about this AMAZING food stall building, Hlemmur Mathöll. Do not miss this one.
Personally, we loved Skál where I found my non-tourist Icelandic hotdog. Plus, limoncello drinks and special whiskey sours?! Heaven.
The building boasts of 10 food stalls and used to be a historic bus station. From nitro brews to Mexican and traditional Icelandic cuisine, you can pretty much sample the world.
Read more about Skál in the Hlemmur Mathöll food hall.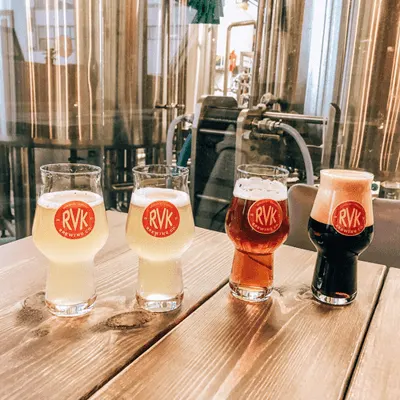 Pin
Looking For a Brewery In Reykjavik? Try RVK Brewing.
Lastly, with one day in Reykjavik, I'd personally want to find the beer. But, I am biased. RVK Brewing is tiny and delicious. Find a flight of beer or even sip on some Floki Whiskey.
Don't miss RVK Brewing when you spend a day in Reykjavik, Iceland.
If You Just Landed & Have One Day in Reykjavik, Stop At The Blue Lagoon First
I have to mention that we almost skipped the Blue Lagoon. The Blue Lagoon is perfect if you have a short layover in Iceland.
We debated if the Blue Lagoon Spa was a tourist trap or worth our time. My verdict: go at least once.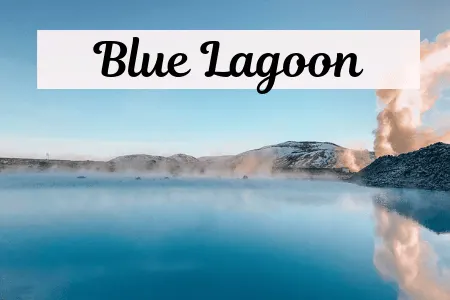 Pin
The Blue Lagoon is 20-minutes from the airport. The airport is about 45-minutes from Reykjavik. If you are jet-lagged and beat up, nothing beats those warm blue waters and mist. You can spend a few hours at the Blue Lagoon and then enjoy half a day in Reykjavik, easily.
Buses run straight from the airport too.
Do You Feel Like You Are Ready For One Day in Reykjavik? And GO!
Most people don't love only spending one day in a city like Reykjavik. While 24-hours in Reykjavik isn't the most ideal, it is completely doable to see quite a few breath-taking structures, museums, and churches.
Don't forget to slow down and enjoy too. Sip a beer at RVK Brewing while talking to the locals. Grab a snack at the new food stall market and laugh at giant penises. Have fun. Iceland is one of my favorite countries. You cannot go wrong.
Let me know what you love to see and do in Reykjavik. How would you spend one day in Reykjavik, Iceland?
Traveling To Iceland Soon? Don't Forget How To Have A Spectacular 24 Hours in Reykjavik. Pin It!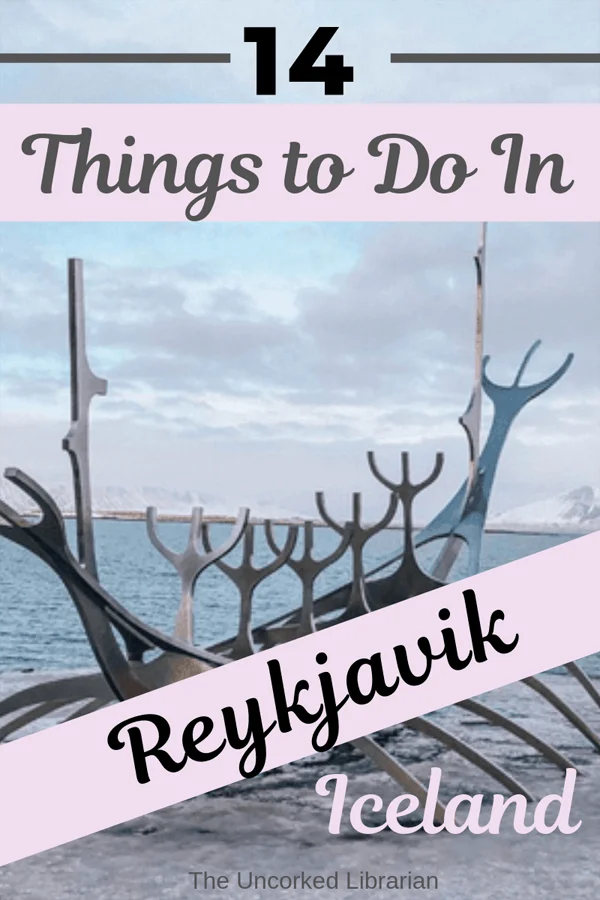 Pin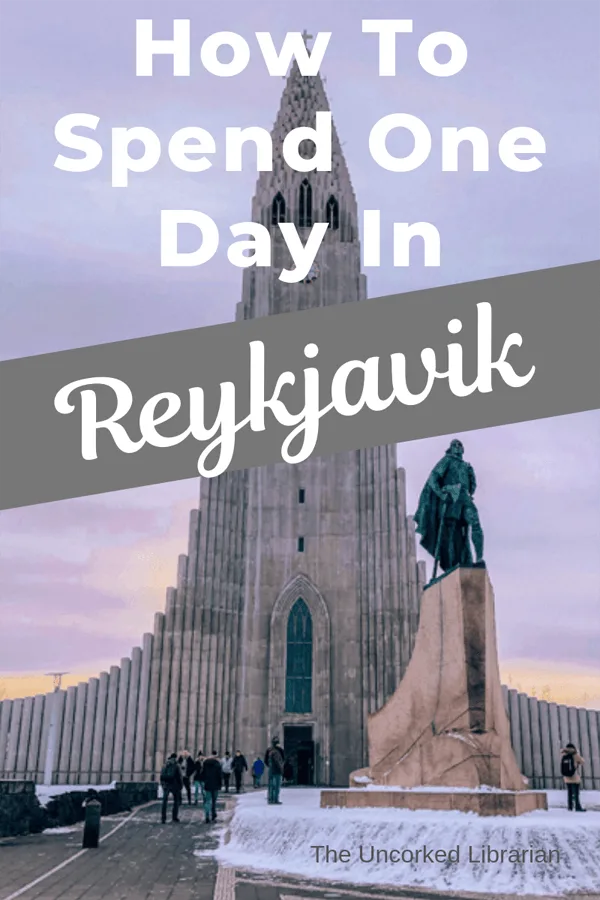 Pin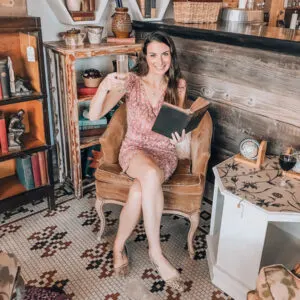 Christine (she/her) is the owner, lead editor, and tipsy book sommelier of The Uncorked Librarian LLC, an online literary publication showcasing books and movies to inspire travel and home to the famed Uncorked Reading Challenge.
With a BA in English & History from Smith College, an MLIS from USF-Tampa, and a U.S. Fulbright Fellowship in Christine's back pocket, there isn't a bookstore, library, or winery that can hide from her. Christine loves brewery yoga, adopting all of the kitties, and a glass of oaked Chardonnay. Charcuterie is her favorite food group.