Novel About Alzheimer's: A Long Goodbye
Are you looking for a novel about Alzheimer's?  Check out indie author Anthony Le Moignan's A Long Goodbye.
---

A Sneak Peek Into A Long Goodbye & Reviewing Across The Pond
The Problems Book Bloggers Face: Please be good; please be good; pleaseeeee be good
When I look back at why I started a book blog, my motivations stemmed from wanting to find lesser-known titles and my desire to bring them into the public eye.
Readers' advisory was always my favorite excuse to chat endlessly with patrons at the reference desk. I equally loved finding a title that I may have never picked up without some gentle coaxing. Yes, many book bloggers choose and receive ARCs from databases like NetGalley—a source that I love—but even better is when an author or member related to them reaches out with a sincere and well put together PR email.
Taking On A Novel About Alzheimer's Disease
When that same email brings home the idea of a novel about Alzheimer's disease from an author whom the subject matter personally relates, I know my heart is in for a doozy.
I hate crying.  Let's face it, a book title like 'A Long Goodbye' is going to obliterate my soul while gently plumping up my heart and spirit.
Even more, knowing that a book is coming all the way from the UK and receiving said book with its special customs stamp always excites and terrifies me.
What if the title is a dud?
What if I hate the book and cannot bear to finish it?
Sending mail internationally is not cheap. Can you imagine an author not only pouring him or herself into a book but then also spending extra money to get it to you? This particular copy had a personalized note inside, and as I opened the first page, I crossed my fingers and made a silent prayer to the Italian wine gods that the title would quite frankly, not suck.
The Verdict About A Long Goodbye
Spoiler alert: I unabashedly loved A Long Goodbye by Anthony Le Moignan.  Nope, I promise that I am not raving because he wrote a cute note or flew the book across the ocean.  A Long Goodbye is well written, hard to put down even though we know the outcome and a title with characters that will stay in my heart for a long time.  I hope you will consider tracking down a copy.
Meet Your British Nicholas Sparks In A Novel About Alzheimer's: Anthony Le Moignan
Le Moignan notes that A Long Goodbye will resonate with Jojo Moyes' fans, which you can surely bet I am. While I do not disagree with this statement because of Me Before You, I feel even more strongly like I was reading a British Nicholas Sparks novel.
Tear-jerker, romance, a bit of predictability that we all want, and tragedy with morals and life lessons. Scenes from Tuesdays With Morrie also played across my mind, and similar to the young adult novel, 13 Reasons Why, I couldn't help but reach the end hoping that everyone remained alive and well. But, you know this will not be the case. It cannot be the case. Alzheimer's does not play fair.
---
Loving A Long Goodbye? You May Also Enjoy These Indie Book Reviews On The Uncorked Librarian:
Schmuck The Buck   The Unfortunate Expiration of Mr. David S. Sparks         
New Wave                Between Two Minds: Awakening
---
Is There Something Wrong With Me?
Before I summarize, I should also note that A Long Goodbye did not make me sob like Me Before You. I don't think I'm a heartless wretch, and I actually attest my contentment to Le Moignan's adequate and non-sensationalized view of Alzheimer's. As Le Moignan describes in his PR letter, "…there's an especially fine balance between tragedy and comedy…It'll [A Long Goodbye] move readers to tears, but not in an overly manipulative way."
In many ways, I am still processing the book, but the love, relationships, and beauty flowed so freely that the inevitable ending broke my heart while simultaneously making me smile from all of the gains. There is so much love and so many good people. A Long Goodbye is incredibly dynamic and multi-dimensional; readers leave feeling sated and warmed.  Characters veer and progress but never stagnate.
[bctt tweet="There is so much love and so many good people. A Long Goodbye is incredibly dynamic and multi-dimensional; readers leave feeling sated and warmed.  Characters veer and progress but never stagnate." username="theuncorkedlib"]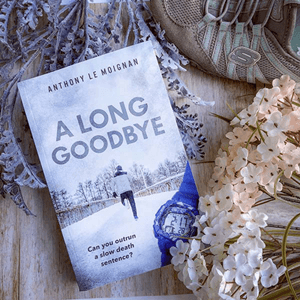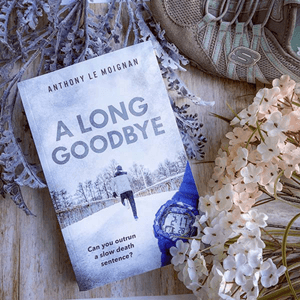 Pin
A Novel About Alzheimer's: Book Summary of A Long Goodbye
Hopefully, by this point, you've decided to order a copy of A Long Goodbye instead of waiting for my summary but just in case:
Emma is in charge of Orchard Home Care, a career of caring which she lives for. Her marriage is falling apart over fertility issues.  Mixed up bouquets of flowers with different messages make matters even worse.
Meanwhile, enter Simon.  At 41-years-old, he is rich, successful, and newly alone with the diagnosis of early-onset Alzheimer's.  He is by far the youngest resident to enter this senior care facility.
An active runner and sweet joker, Simon and Emma begin to form an indescribable bond filled with compassion. Simon would be impossible not to fall in love with. The man gives his house to a homeless teenage girl and her cat, for goodness sake.
Somewhat predictably, Emma's marriage to her husband, Michael, falls apart.  Michael is always away for work, and while he tries to rekindle the love, the baby-factor looms over them both.
Emma has to worry about mixing the professionalism of work with loving and caring for Simon.  Not that we need to mention she is also falling in love with a dying man.
Readers watch as Simon slowly begins to lose his memory and succumb to the disease. There are plot twists, and while there are no major surprises, this is more of a story about connection and heart.
Final Sniffles & A Big Hug
A contemporary romantic read, A Long Goodbye by Anthony Le Moignan is a heart wrenching yet equally heartwarming tale about loving each other, following our passion, and utter selflessness.
Le Moignan's writing reminds me of Sparks for the surge of emotion and predictability, none of which I minded. The transparency is what makes this title endearing and Simon's motivations pure and simple. As humans, all we want is to love and be loved in return.  The goodness in us appreciates seeing others happy.  Simon certainly encompasses the human spirit and radiates empathy on every lap that he takes around his self-made track.
I have not read or seen too many fictional books on Alzheimer's since Still Alice. A Long Goodbye is a poignant and relevant contemporary read that I know I will not soon forget.  I am looking forward to Le Moignan's next book.
Find a copy of A Long Goodbye here: Amazon
Book Information: A Long Goodbye by Anthony Le Moignan (Biddles Ltd. 2018)
Genre: Contemporary Fiction; Novel About Alzheimer's
I would like to thank Piers and Tony Le Moignan for personally sending me a free copy of A Long Goodbye in exchange for a fair and honest review.
About the Author
Anthony Le Moignan's father died from Alzheimer's after a 5-year battle. An avid reader and retiree, you can find Tony as well as his next projects here.
Want To Add This Novel About Alzheimer's To Your TBR Pile: Pin It!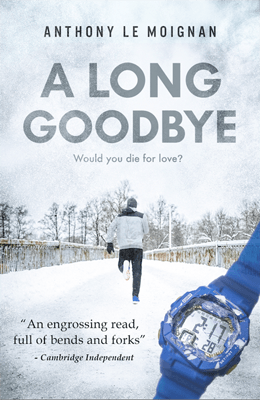 Pin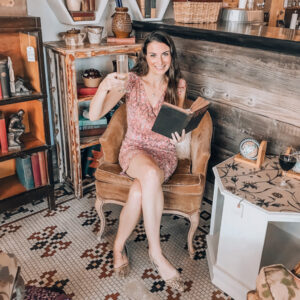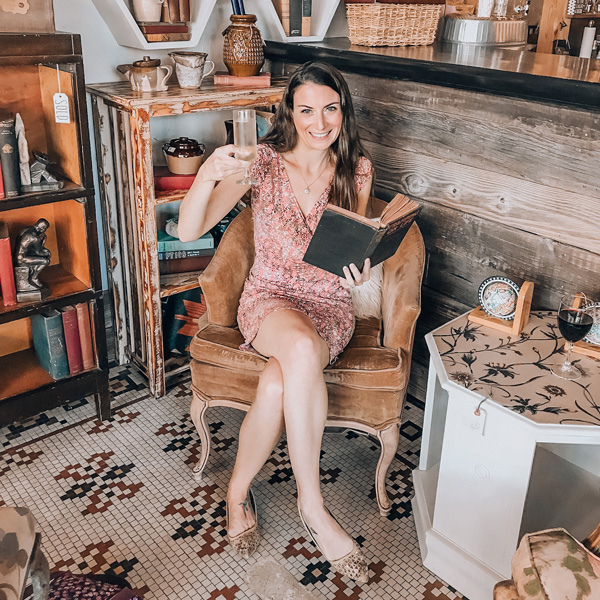 Christine (she/her) is the owner, lead editor, and tipsy book sommelier of The Uncorked Librarian LLC, an online literary publication showcasing books and movies to inspire travel and home to the famed Uncorked Reading Challenge.
With a BA in English & History from Smith College, an MLIS from USF-Tampa, and a U.S. Fulbright Fellowship in Christine's back pocket, there isn't a bookstore, library, or winery that can hide from her. Christine loves brewery yoga, adopting all of the kitties, and a glass of oaked Chardonnay. Charcuterie is her favorite food group.