Have you heard about the stunning Castle of Light? The National Library of Latvia in Riga houses 13-stories of books, resources, art, and history.
Find out the secrets of the Latvian National Library, including librarian requirements, a papal donation, and how this beautiful library got its nickname from an enchanted tale of a princess in a glass mountain. Poetic, cultural, and a true symbol of national pride, I promise you will want to add this gem to your Baltic itinerary.
---
Know that when I plan our international trips, they are for both pleasure and work. Blogging as a career is one and the same for me. Ok, maybe the hubs is forced to take a few eye-roll-worthy pictures for the Gram, but mostly, our travels never change for TUL. I also rarely over plan each day, mostly plotting a few sights that I'd like to run into. And run into the library, I did.
High on my list: The National Library of Latvia (NLL), a must for book lovers.
A few of my favorite tales from the NLL that you will find in this bookish eye candy post:
The Pope donated a book to the People's Bookshelf located within the NLL.
The Latvian National Library houses over 4 million artifacts.
Early librarian staff had toolkits, including sewing kits and kitchen utensils, to serve everyone in any way possible.
During the war, library staff helped fit gas masks and provided first aid.
The National Library of Latvia is called the "Castle of Light" due to magical folktales, a princess, and a glass mountain.
The National Library Of Latvia For Book Lovers As A Baltic Destination
Driving up from Vilnius, Lithuania to Riga, Latvia on my birthday, I zeroed in on my target. Shiny, new, full of windows, this Castle of Light beckoned me closer. Come in. Smell the books. See the books. Feel the books. Be one with the books.
Plus, how else would this book-loving, literary traveler want to spend her birthday? Like yuppies flock to Asheville (hand raised), the Latvian National Library's magical pull tugged my heartstrings right in through those wide open front doors.
Could I come in? May I wander the stacks? Are pictures allowed? Can I sit here for hours? Would they give tours and later answer my questions across the world? Would my heart explode from reading joy? Was it a wonderful birthday adventure?
Yes, Yes, Yes!!! No, shushing here.
A Visit Paired With An Online Interview
Looking back, I wish that we had scheduled an official tour. Our 7-day whirlwind Baltics road trip made our stops a little less predictable, though. In effect, we headed over to the National Library of Latvia from Old Town Riga–about a 15-minute walk–and decided to explore on our own. Read through to the bottom for all visiting logistics.
After visiting, I needed to know more. I emailed the Library. Their Head of Communications, Mr. Augusts Zilberts, offered any and all help possible. I am more than thankful for the plethora of information as well as stunning pictures he provided from the Archives of the National Library of Latvia.
Below, find our online interview as well as my favorite facts.
The National Library Of Latvia In Riga
Why does this beautiful Eastern European library matter? Where do I even start? The National Library's history is both telling and poetic. The story is one of empowerment and identity, and the structure will take away your breath.
History And Construction Of The Latvian National Library
The Ministry of Culture of Latvia oversees the National Library of Latvia or Castle of Light. In Latvian, the library is called: Latvijas Nacionālā bibliotēka.
The library began as a state library in 1919. Over the course of decades and through German and Soviet occupations and wars, the library consistently changed names, purposes, and buildings.
A few of the coolest wartime facts that I learned while visiting the Library's atrium museum (exhibits change on occasion):
During Soviet occupation, the Library established a first aid team. Members learned basic first-aid skills, sometimes through competitions that involved setting fractures, dressing wounds, fitting gas masks, and helping with evacuations.
Like librarians across the world, early staff had multiple out-of-the-box jobs. Their toolkit included: hammers, nails, razor blades, sewing kits, and kitchen utensils. They adopted the phrase, "We did it all ourselves." Although there are more professional staff members to take care of these issues today, I think most librarians can relate here. Guys, I pulled beer cans out of the men's toilet in Florida.
Final Latvian independence birthed the official "National Library of Latvia" in 1991. Latvian National Library architect, Gunnar Birkerts, designed the current building with construction starting in 2008. A human chain helped relocate some items to the new 13-story building that is rumored to have cost around 193 million Euros. The NLL visitors see today opened in 2014.
How The National Library Of Latvia Became Known As The "Castle of Light"
From afar, the Library seemingly has cat ears. Or maybe that's just me.
When I heard its nickname, "Castle of Light," I could begin to assume why. Look at those windows. Check out its sexy shape.
I also knew that mountains and light meant a lot to the Latvians and heard rumors of famous Latvian folktales.
Mr. Zilberts further clarified the entire story behind the National Library's awe-inspiring nickname and folktale (His responses will always be in blue):
Yes, the appearance of the building includes metaphors and references to one of the most important images of Latvian folk legends and folk songs – the symbolic Castle of Light. In essence, we could say that it symbolizes light, freedom and knowledge, and knowledge, as you know, is also related to freedom.
Furthermore, the period of time when Latvia was stepping towards independence and trying to get out of the intellectual darkness (meanwhile the idea of the new Library had already been born), brought by the Soviet occupation, gave the building this symbolic name.
Inspiration From Latvian Folktales
Mr. Zilberts continues: It must be said that originally the architect, Gunnar Birkerts, used a well-known Latvian folktale "Golden Horse,' written by famous Latvian poet and playwright Rainis (1865-1929). Rainis to Latvians is what Goethe is to the Germans or Shakespeare to the English. Being one of the most distinguished Latvian poets and playwrights, he was also an influential political figure and thinker at the turn of the 19th and the 20th centuries.
The story involves the rescue of an enchanted princess from the top of a glass mountain. Birkerts fashioned an iconic image of rescue, freedom and upward aspiration — an image that embodies the energies of a nation recently emerged from decades of Soviet occupation. That is the way how he wanted to describe the importance of the new library building.
While the architectural form of the Library is one inspired by the glass mountain allegory, the National Library of Latvia is more often referred to as the Castle of Light – another symbol rooted in Latvian folklore. The tale about a mystical castle, which holds the nation's collective wisdom, virtues and strength, and which sinks underground when its people are oppressed, is at the core of the choral ode, Gaismaspils (The Castle of Light) performed at the culmination of the Latvian Song and Dance Celebration. The tale goes that freedom is achieved through knowledge and intellectual enlightenment, light triumphs over darkness and the Castle of Light rises up again.
Is anyone else tearing up yet?
The Unique & Special Collections Of The National Library Of Latvia
So what does this magnificent castle hold? Belle's gifted library, of course. Wait, wrong country…
Mr. Zilberts best describes what this Castle of Light truly cherishes within its walls:
Of course, we have the Rare Books and Manuscripts Collection with books and documents from the 16th century. But I would like to emphasize something else. We have a total collection of 4 million different types of materials: books, newspapers, audio, video, recordings, maps, etc.
The priority is everything that has been ever published in Latvia, in Latvian, by Latvians or about Latvia. There is no other place in the world where such a collection will be ever kept. I think this is the Everest of the uniqueness.
P.S. Shhh…Latvian is a secret language. Only about 2 million people know it.
Explore The National Library Of Latvia Catalogue.
The People's Bookshelf At The Latvian National Library
Along with librarian roles during the war, I love the idea of The People's Bookshelf. Birkerts also created the 5-story "People's Bookshelf," which is unique to the NLL. Here, YOU can donate a book to add to the collection.
So I had to ask Mr. Zilberts' the next question:
What are some of the most unique books added to the People's Bookshelf? Has anyone famous donated a book?
During 2018, Latvia celebrated its centenary. Important visitors (presidents, royalties, speakers, leaders, even Pope Francis) arrived from both near and far. Each of them brought a present for the people of Latvia – a special book of their own choosing with their own message to complement the collection in the People's Bookshelf.
Like the other residents of the People's Bookshelf, these gifts can be viewed on this site: https://tautasgramatuplaukts.lv/en/latvijas-simtgades-gramatas/
A Day In The Life Of A Librarian At Latvian National Library
I had so many questions: Who keeps the National Library of Latvia in Riga running? How many staff work there? How can I work there?
Mr. Zilberts shed more light (pun intended) on this princess' castle:
How Many Staff Work At The Latvian National Library?
The total amount of the National Library of Latvia's employees is about 370 people. Most of them are librarians, but we have a large Communications Department (30 people), IT Department (30 people), and engineers as well. As you see, the building is quite large, so a large workforce is needed to ensure all the functions and services of the building.
Requirements To Work At The National Library of Latvia As A Librarian
It is advisable that a librarian has a degree (not necessarily Master's) in Library Science or related field; for instance, Communication Studies, Humanities. But, we have great specialists who have a diploma, for example, in Law Studies. If a person is willing to acquire new knowledge and is ready to work in the Library, we have a training center, so that to give such an opportunity.
What Is A Day In The Life Of A Librarian Like At The National Library of Latvia?
It consists of different parts – consulting readers, registering new collection materials, analyzing collections and looking for new books which should be bought, organizing events (discussions and small exhibitions) in reading rooms.
What Are Some Of The Most Unique Services And Questions That Librarians Are Asked?
The new building – the Castle of Light – has given the Library a new role and opportunities. Besides the basic and well-known functions of a national and scientific library, it has become also a progressive events venue, a strict place or location in Riga's culture map, and an environment for creativity, meeting new people, sharing ideas and representing the country. Exhibitions, concerts, disco's, political events, discussions, lecture, even sports days and meditation classes are happening here. We are open to public and new ideas.
However, it is nothing new that nowadays libraries take part in everyday activities and adapt to the needs of society. It's the value of democracy. I think that we have this unique option to be unexpected, even it means to sacrifice silence and the academic sense. But it is important that these activities help everyone from age of 5 till 98 (our youngest and oldest reader) to learn, develop, get into shape and live a more successful life. This is our Nokia or Amazon.
Most commonly people ask whether really the visit to the Library (including events) is for free. The answer is positive. Do you have a restaurant or a café? Yes! Still, the leading question in every library on the globe is the same – please, could you help me to find the book. It has a red cover….
Sound familiar, my librarian friends?
Who Uses The Latvian National Library?
The Library is open to everyone, but of course, daily visitors are students, academics, school children, seniors and people who work in the cultural sphere. At the same time, all the events, mentioned before, help us to attract new audiences.
Why Should YOU Visit The National Library of Latvia When In Riga And The Baltics?
Is this a silly question?
So I asked Mr. Zilberts:
Why should you add the Latvian National Library to your itinerary? And why is this library so important to Latvians?
This is a good question. Firstly, and mainly, there is a practical reason – since 1919, when the Library was founded, it did not have any building that had been built for library purposes. There were old bank and apartment buildings, even an old factory and church. Everything that could be transformed into a library (in a way), but nothing that really was a library.
The working conditions were always bad, the collections were in a list of an endangered species due to leakages of water, mildew, burglars. You see, we are talking about our national cultural heritage. Unbelievable!
In comparison, the new building gives the best possible conditions both for employees and collections.
Talking about the importance or the reasons for it, I would say that it is mostly due to the symbolic story which I told at the beginning. This Library serves as a torch and somewhat like a monument for Latvia's intellectual society, its values and the important role of culture in our society. Of course, it is candy for tourists because of its central location, interesting shape, and modern architecture.
The Latvian National Library Visiting Information
Below find a few practical pieces of information for stopping by the National Library of Latvia. You may visit free of charge during operating hours and merely need to ask for a day pass at the reference desk upon entering the building. Lock up your large items and let the fun begin.
National Library Of Latvia Opening Hours:
NLL opening hours:
Mon.-Fri. 9.00-20.00 • Sat., Sun. 10.00-17.00
Each floor and center have varying hours. Please check the Latvian National Library Opening Hours Here before your visit. Be sure to check for holiday changes too.
Latvian National Library Address:
The National Library of Latvia is located on Mūkusalas Street 3 (Castle of Light).
Visit the National Library of Latvia's website.
I'd love your hear your favorite facts from the Latvian National Library below. Is there anything else that you'd like to know?
A Note On Credits and Disclosures
**Please note that pictures from this article are used with permission from the Archive of the National Library of Latvia and Head of Communications/Public Relations, Mr. Augusts Zilberts. Pictures from the Archives are credited as such in the captions. All other pictures are from me, Christine, The Uncorked Librarian. In addition, all quoted material in blue is from an online interview and correspondence with Mr. Zilberts, who graciously dedicated extraordinary time to help with this piece. I will be forever grateful. Thank you so much for your time and passion.
Share The Beautiful Library Love. Pin it: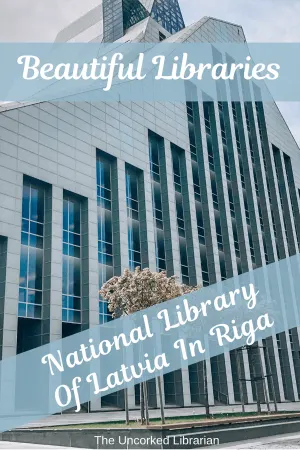 Pin
Baltics Posts You May Also Love:
7-Day Baltics Itinerary
Discover the Baltics for Book Lovers
Check out our favorite Baltic city, Parnu
Captivating Books Set In Lithuania, Latvia, and Estonia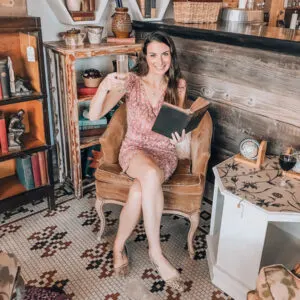 Christine (she/her) is the owner, lead editor, and tipsy book sommelier of The Uncorked Librarian LLC, an online literary publication showcasing books and movies to inspire travel and home to the famed Uncorked Reading Challenge.
With a BA in English & History from Smith College, an MLIS from USF-Tampa, and a U.S. Fulbright Fellowship in Christine's back pocket, there isn't a bookstore, library, or winery that can hide from her. Christine loves brewery yoga, adopting all of the kitties, and a glass of oaked Chardonnay. Charcuterie is her favorite food group.