If you love YA romance, don't miss Love & Olives by Jenna Evans Welch. Set in Santorini, find a Love & Olives summary and book reviews here.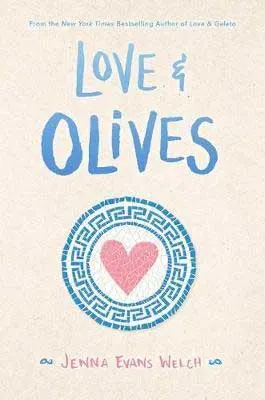 This post may contain affiliate links: If you purchase through my link, I will receive a small commission at no additional cost to you. I only recommend products/services that I approve of. See my full Disclosure Policy.
Author: Jenna Evans Welch
Genre: YA | Romance | Book Set In Greece | Love & Gelato Book 3
Pages: 512
Publisher: Simon & Schuster Books for Young Readers
Publication Date: November 2020
Buy it on Amazon
Find more books like Love & Olives by Jenna Evans Welch:
Love & Olives by Jenna Evans Welch Summary
Liv Varanakis doesn't have a lot of fond memories of her father, which makes sense—he fled to Greece when she was only eight. What Liv does remember, though, is their shared love for Greek myths and the lost city of Atlantis. So when Liv suddenly receives a postcard from her father explaining that National Geographic is funding a documentary about his theories on Atlantis—and will she fly out to Greece and help?—Liv jumps at the opportunity.

But when she arrives to gorgeous Santorini, things are a little…awkward. There are so many questions, so many emotions that flood to the surface after seeing her father for the first time in years. And yet Liv doesn't want their past to get in the way of a possible reconciliation. She also definitely doesn't want Theo—her father's charismatic so-called "protégé"—to witness her struggle.

And that means diving into all that Santorini has to offer—the beautiful sunsets, the turquoise water, the hidden caves, and the delicious cuisine. But not everything on the Greek island is as perfect as it seems. Because as Liv slowly begins to discover, her father may not have invited her to Greece for Atlantis, but for something much more important.

Simon & Schuster Books for Young Readers
Join The Uncorked Reading Challenge Today
---
Travel around the world with the Uncorked Reading Challenge. Get the best book and movie recs straight to your inbox. Sign Up Now.
More About The Author, Jenna Evans Welch
Jenna Evans Welch is known for writing the sweetest YA romance novels set around the world. She lives in Salt Lake City, Utah with her family. Read more about Jenna Evans Welch.
More Books From Jenna Evans Welch
Love & Gelato – Read more on our books set in Italy reading list

Love & Luck – Read more on our books set in Ireland reading list
Where You Can Find Love & Olives by Jenna Evans Welch Reviews On TUL
If you are headed to Greece, don't skip this reading list. Or, if you are wanderlusting and want to travel via your armchair, don't miss out on more books like Love & Olives set in Greece.
Travel to an island with these great books. This reading list was also a part of our Uncorked Reading Challenge.
We loved the books that we read in 2020, which is why we are sharing the best ones. Love & Olives by Jenna Evans Welch made for the perfect read during such a trying year; so, of course, Love & Olives made the list.
See what other YA books we enjoyed like Dear Justyce and Anna K. If you are looking for more romance, check out our mini adult fiction book reviews for Simmer Down, In The Now, The Boyfriend Project, and Ties That Tether.
If you want more books about mental health and wellness, take a peek at Untamed, The Midnight Library, and The Beauty In Breaking.
Plus, we are sharing the 'best of' in historical and literary fiction, LGBTQ+, inspirational nonfiction, and so much more.
Don't miss these European books and books across Europe to inspire your travels. Find books and book lists set in countries like France, England, Greece, Czech Republic, Germany, Latvia, and so more.
Are you looking for some of the fall's hottest new book releases in 2020? We'll share 25+ of the most-anticipated new books publishing from September through November in a variety of genres for adults and teens. The Uncorked Librarian focuses on diverse books set around the world — so like Love & Olives by Jenna Evans Welch, we hope that a few of these new releases will transport you to your dream destination.
Discover some of the hottest new book releases coming out in November 2020 along with Love & Olives by Jenna Evans Welch. These November titles will transport you across the world to Italy, Germany, China, and the United States.
We are sharing the best new 2020 book releases on one master list. Explore the year's most-anticipated titles in fiction, nonfiction, YA, and so much more. Never be without a great new book set around the world to read.