Little Fires Everywhere By Celeste Ng
Head to Shaker Heights, Ohio for a gut-wrenching, family thriller in Little Fires Everywhere by Celeste Ng. Discover book information, book reviews, and where you can find this book to Hulu series on The Uncorked Librarian.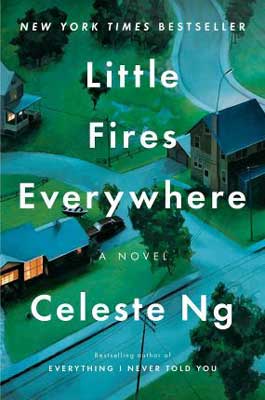 This post may contain affiliate links: If you purchase through my link, I will receive a small commission at no additional cost to you. I only recommend products/services that I approve of. See my full Disclosure Policy.
Author: Celeste Ng
Genre: Family Fiction | Book Set In Ohio
Pages: 352
Publisher: Penguin Press
Original Publication Date: 2017
Grab Your Copy Here: Amazon
Little Fires Everywhere By Celeste Ng Summary From The Publisher:
From the bestselling author of Everything I Never Told You, a riveting novel that traces the intertwined fates of the picture-perfect Richardson family and the enigmatic mother and daughter who upend their lives.

In Shaker Heights, a placid, progressive suburb of Cleveland, everything is planned—from the layout of the winding roads, to the colors of the houses, to the successful lives its residents will go on to lead. And no one embodies this spirit more than Elena Richardson, whose guiding principle is playing by the rules.

Enter Mia Warren—an enigmatic artist and single mother—who arrives in this idyllic bubble with her teenaged daughter Pearl, and rents a house from the Richardsons. Soon Mia and Pearl become more than tenants: all four Richardson children are drawn to the mother-daughter pair. But Mia carries with her a mysterious past and a disregard for the status quo that threatens to upend this carefully ordered community.

When old family friends of the Richardsons attempt to adopt a Chinese-American baby, a custody battle erupts that dramatically divides the town—and puts Mia and Elena on opposing sides. Suspicious of Mia and her motives, Elena is determined to uncover the secrets in Mia's past. But her obsession will come at unexpected and devastating costs.

Little Fires Everywhere explores the weight of secrets, the nature of art and identity, and the ferocious pull of motherhood—and the danger of believing that following the rules can avert disaster.

Penguin Press
About The Author, Celeste Ng
Celeste Ng is an award-winning and bestselling author of Everything I Never Told You and Little Fires Everywhere. She grew up in Pittsburgh, Pennsylvania and Shaker Heights, Ohio, the setting for Little Fires Everywhere. Ng is a graduate from Harvard University and holds an MFA from the University of Michigan. Read more about Celeste Ng.
Don't Miss Celeste Ng's Other Novel
TUL Book Lists Featuring Celeste Ng's Little Fires Everywhere
Do you love reading books where the location is a large part of the novel? Don't miss our 50 States reading list with books set in every state.
Find our complete mini book review of Little Fires Everywhere, along with other great reads, in our May 2020 issue of Currently Reading.