Do you love funny stories about growing up and life? Why not try Is Everyone Hanging Out Without Me? by Mindy Kaling? Find book summaries, information, and reviews here.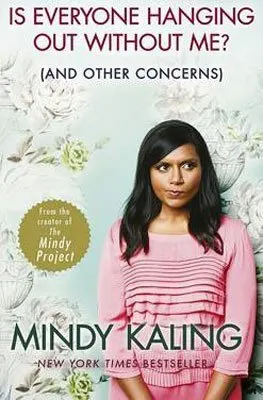 This post may contain affiliate links: If you purchase through my link, I will receive a small commission at no additional cost to you. I only recommend products/services that I approve of. See my full Disclosure Policy.
Author: Mindy Kaling
Genre: Comedy | Humor Essays | Nonfiction | Biography
Pages: 242
Publisher: Three Rivers Press | Penguin Random House
Publication Date: 2011
Buy It Here: Amazon
Is Everyone Hanging Out Without Me? by Mindy Kaling Summary
Mindy Kaling has lived many lives: the obedient child of immigrant professionals, a timid chubster afraid of her own bike, a Ben Affleck–impersonating Off-Broadway performer and playwright, and, finally, a comedy writer and actress prone to starting fights with her friends and coworkers with the sentence 'Can I just say one last thing about this, and then I swear I'll shut up about it?'

Perhaps you want to know what Mindy thinks makes a great best friend (someone who will fill your prescription in the middle of the night), or what makes a great guy (one who is aware of all elderly people in any room at any time and acts accordingly), or what is the perfect amount of fame (so famous you can never get convicted of murder in a court of law), or how to maintain a trim figure (you will not find that information in these pages). If so, you've come to the right book, mostly!

In Is Everyone Hanging Out Without Me?, Mindy invites readers on a tour of her life and her unscientific observations on romance, friendship, and Hollywood, with several conveniently placed stopping points for you to run errands and make phone calls. Mindy Kaling really is just a Girl Next Door—not so much literally anywhere in the continental United States, but definitely if you live in India or Sri Lanka.

Penguin Random House
More About Mindy Kaling
Mindy Kaling is best known for her work as an actress on The Office and played Mrs. Who in my favorite story, A Wrinkle In Time. Kaling is also a director, producer, and author. In 2012, Time magazine named her as one of the top 100 most influential people in the world. Soon after, in 2014, Glamour named Kaling as one of the top women of the year. Read more about Mindy Kaling here.
Where You Can Find Is Everyone Hanging Out Without Me? Reviews On The Uncorked Librarian
Do you love podcasts and want to delve into audiobooks for those long drives? Check out these top audiobooks perfect for road trips and evil commutes. Find titles like Is Everyone Hanging Out Without Me? as well as some of my favorite reads (and listens) in recent years.
Do you enjoy unique books about love? If Valentine's Day isn't your jam, don't miss our anti-Valentine's Day reading list filled with different types of love stories. Maybe you love your pet…or a taco…