Are you looking for tips on how to increase your blog traffic?
Learn about how Pinterest, blogging courses, blog design, quality content, and SEO can help increase traffic for your blog within months. These are my 8 tips for generating blog traffic.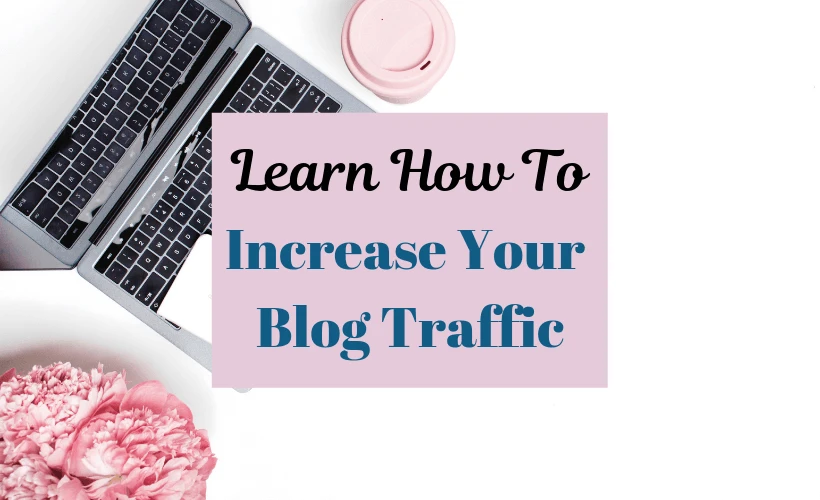 This post first published in the fall of 2018 and has been updated for summer 2019.
Are you there, God? It's me, Christine. Is anyone reading my blog? I must, I must, I must increase my page views.
Yup, boosting your blog traffic is pretty similar to Margaret wanting boobs and her girlie flow in Are You There God? It's Me, Margaret. AKA: Milestones that amount to a dreadful amount of work but transcend you into superwoman status. Milestones like learning how to increase your blog traffic. Blume knew all about life's struggles.
If you don't know this bookish reference and have decided that I'm already too much for you, just skim on down to learn about how to increase traffic for your blog and start seeing your hard work pay off.
How To Increase Your Blog Traffic
Are you blogging your behind off to no avail?
Over a year ago, I decided that instead of returning to a public library job with my newly minted MLIS-degree, I would monetize my blog by forming an LLC. I made that sound so easy. HAHA. Commence silent hysterical tears of joy and stress. BUT I LOVE IT!
All of these slightly younger and hipper millennials were crushing it so why couldn't I?
I did not seriously start taking courses and strategizing, though, until the fall and winter of 2018-2019. In the meantime, I pounded away at content, spent hours perfecting posts, and thumbed through social media as if my phone was an extension of my hand. Follow me. Love me. Buy from me.
I realized that while all of these tasks helped support my blog, they didn't necessarily equate to earning income or generating blog traffic. I needed to boost page views for my blog and start earning money if I wanted my business to thrive.
So at first, did the 30-100+ page views a day feel hopeless with all of this time I dedicated and toiled away at on my blog? You bet!
Grateful for every single site visitor, I still desired and needed more. Any business blogger hoping to make blogging a career watches stats, incessantly checks affiliate income reports, and prays to the Pinterest gods that a pin will go viral.
I watched other bloggers talk about their successes in TEDx Talks, took their online courses, and read hundreds of free blog articles.
Why after putting in the hard work was my blog not growing as much as I hoped? How could I increase traffic for my blog to pay out my passionate efforts? Was I doomed to call this a career?
No!
What I Quickly Realized About Blogging For Business
Then, one fateful day, I watched my blog stats increase. I broke 1,100 daily page views, and I sat dumbfounded. I hit a goal that I set for over a year away—a goal that smaller 'big time' bloggers achieve regularly with no trouble at all. I'm sure they would scoff at this. The next day, I watched again as my blog stats increased. This was within less than 4-6 months of blogging. Did those stats last every single day? Nope.
BUT, today, I watch more and more as my pins go viral and pray to Margaret's God that I will be a Mediavine blogger by the end of the year. In the past year, my traffic has increased by 800% according to Google Analytics. It was THAT bad when I first started.
I've had steady and growing blog traffic, and after analyzing stats, I know what I need to work on for future blog posts. Full disclosure, though, I am no pro. As with all things blogging, do your due diligence and research too. These are just some tips and advice that have helped me grow.
So What Had Changed To Increase My Blog Traffic?
From this summer to last, I learned the beginning keys for how to increase blog traffic:
Self-hosting my blog, downloading the right plugins, and installing a user-friendly and attractive theme
Determining a more specific blogging niche
Grasping Pinterest marketing and having a strong Pinterest strategy with scheduling aides
Investing in my blog and myself by taking blogging courses from the professionals
Creating quality and timely content based on my analytics
Working on SEO
Not soliciting unengaged followers on social media channels
Spending time away from social media
Let's break it down:
8 Easy Tips For How To Increase Your Blog Traffic
Boost Your Blog Traffic With Self-Hosting
SiteGround Rocks
I was going to leave self-hosting off this list, but I have been fielding so many questions about self-hosting that I feel like it isn't a given. These days, it has to be.
If you want to truly monetize, increase traffic for your blog, optimize your site to show up in Internet searches like Google, and have control over the functionality and gorgeousness of your baby, you need self-hosting.
Say goodbye to the once hobby-friendly and awesome WP .com. Let it go. Let it go. No holding back anymore…
Once I switched over to self-hosting, my site instantly started ranking in Google and my blog traffic increased within the week. Plus, I bought an attractive new blog theme that functions on all devices—which again, will help increase blog traffic.
What I recommend: Use SiteGround as your self-host with WP .org as your stomping grounds. WP. org looks exactly like WP .com with a few extras, and you can add in all the plugins you want.
Why do I love SiteGround? Particularly number one: they didn't lose all of my content into the black Internet abyss when I first transferred over to WP .org. Yup, they transferred everything for me.
SiteGround also offers 24/7 chat help—which has been AMAZING—and when I crashed my site with a plugin, they were my shot of whiskey with Xanax. Within minutes, they fixed my error with no questions asked.
Plus, they start plans at $6.99 a month, which is just what this poor blogger needed at the time. That's cheaper than a glass of my daily wine. You can read more about my love of SiteGround and how I use them to make money blogging here.
I should note that I just renewed SiteGround for 3 more years.
Self-Hosting Means More Theme Options
Part of learning how to increase your blog traffic means having a site that is easy to navigate, looks appealing to readers, and is SEO-friendly. I love StudioPress themes as well as their child themes paired with the Genesis Framework. Genesis allows you to build a gorgeous website that works well with Gutenberg, is mobile responsive, and has great customizations. You want a blog theme that works well on mobile devices if you are like me and have a large mobile audience.
With Genesis, I have a child theme, Restored 316, that I love. Restored 316 designs are clean-cut and attractive. I was easily able to integrate my social sharing buttons, newsletter signup forms, and popular posts with a solid theme.
All of these features create a better user experience that makes Google happy and keeps your readers returning and staying on page longer.
Self-Hosting Also Allows For Helpful Plugins
With SiteGround and self-hosting, you can download any plugins that you find necessary to shrink pictures and clear your caches to ultimately increase site speed, which search engines love. You can also add plugins to help you rank with and improve SEO. A few plugins I champion include:
Yoast or Rank Math SEO
WP Fastest Cache
Lazy Load & WP DB Cleaner
While you do not want a ton of plugins to bog down your site, some of these will help increase your blog traffic by making your site run more smoothly behind the scenes. Search engines factor in how fast your site loads, how long users stay on your site, and if users click elsewhere to read more posts.
How To Increase Traffic For Blogs By Niche-ing Down
This tip for how to boost blog traffic is the hardest for me, and I am still working on it. Once you go self-hosted and decide you want to blog for business, you need to niche down. I truly believe that gone are the days of blogging about everything in one blog. Yes, people still do this and some are successful–however, this is usually people who have been blogging for years and years.
In the eyes of your audience and search engines, you want to be known as the expert. This means that you want to have a defined niche.
TUL, for example, is all about travel books (books set in destinations, global books, and books around the world) and book-inspired travels. I also throw in some boozy recs and blogging tips, which is more because of my passions and not necessarily because I'm being smart. I recently stopped posting generic travels around the world because being all over was not helping to increase my blog traffic.
People need to know exactly who you are and what you are about. It helps when they can instantly see what value you provide and need that you fulfill.
You can read more about this idea of writing for one person vs everyone here→
How To Increase Your Blog Traffic With Pinterest Marketing
I'm not going to lie, Pinterest is a beautiful visual platform that boosts my blog traffic like whoaaaaaa. Pinterest is my number one traffic source along with direct visits and Internet searches (SEO). As my blog ages, SEO is tied, but when the fall and winter arrives, Pinterest is BOSS.
Pinterest is no longer just a space for rockstar stay-at-home moms and yuppies wanting to host hipster parties. Everyone is on Pinterest and many are looking for help or to make a purchase. Plus, pinning is downright fun.
Most importantly, Pinterest is a visual search engine. Like Google, people use Pinterest and keywords to look up information that they want or need. Unlike Google, Pinterest offers pretty pictures for every search.
The day I realized Pinterest's potential was when I first hit over 1,000 daily page views: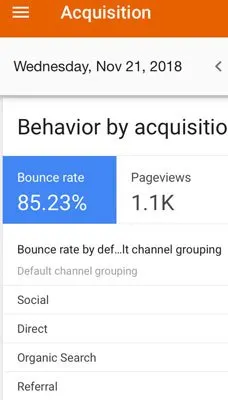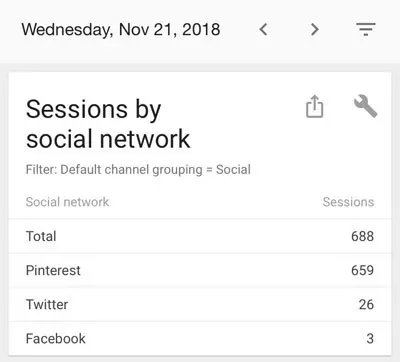 Also, see the bounce rate? GAG. Just a reminder that I'm not amazing, but I am improving, vastly.
Pinterest Basics To Increase Traffic For Blogs
Make sure you have a business Pinterest account for your blog and enable rich pins. Rich pins pull more information from your site. Rich pins also perform better than regular pins. With a business account, you can track analytics to see what pins are thriving. By knowing what content people love from you, you can build similar content to keep them happy.
Your Pinterest account is an extension of your blog and business. You need to brand appropriately. This means making visually appealing board covers, keywording your profile, verifying your website, and pinning quality pins from your site as well as others.
You have to play well in the sandbox. Ask popular bloggers to join their group boards and circulate pins from bloggers that you love. Don't spam, and make sure you know all of the rules for group boards, using affiliate links, and even Pinterest itself. When you join group boards and follow other bloggers, you want to stay as niche-specific as possible. Pinterest doesn't love generic boards for pin dumping. Plus, you want engaged pinners who are interested in your topics.
AND YES, your blog needs to have at least 1-2 pinnable images. I recommend one at the beginning and one at the end of your post. You should make at least 4-6 pins per blog post but just pin the rest directly from Pinterest. Pinterest sees every new pin cover as a new blog post.
Advanced Pinterest Tips To Generate Blog Traffic
ALT Tags Are For SEO So Use This Code
Remember that your alt tags are meant to be keyworded for SEO. While Pinterest pin buttons pick up alt tags first, you can overwrite that. Use the code: data-pin-description="Pinterest description with solid keywords here." This piece of code goes in your html after the pinnable image's dimensions.
Invest In Tailwind (TW)
Pinterest loves consistent pinners. I highly recommend making the investment and using Tailwind to pin at least 5-10 pins daily. Tailwind pins at your optimal Pinterest times and only takes a few hours a week to use for a HUGE ROI.
But Is TW Really Worth The Money?
Since Pinterest is one of my major blog marketing tools these days, I am the first to admit that it is A LOT to pin away all day. Not to mention that you have optimal hours where people are pinning your content while you are or should be asleep. You need to be pinning then.
Sounds impossible or exhausting, right? I thought I could manually pin on my own and succeed but I couldn't. Some bloggers manage, but I like having a life too. The local brewery has a wine glass painting night, and I NEED to be there.
I didn't want to spend the cash on Tailwind, which costs around $100-$119 a year depending on which deal you snag. Being a cheapo and impoverished blogger, I started with the trial that everyone told me wouldn't give me the slightest inkling of Tailwind's power. They were right.
What Is This Glorious Beast? A Pinterest Scheduler (or IG if you so choose).
Week by week, I personally schedule at least 10+ pins a day that circulates at my Pinterest account's most optimal times. Perks for Tailwind include:
Stats: Find pin and board stats to see how everything is performing and what people love.
Tribes: Pin your content in groups where other like-minded niche bloggers can easily access and repin your material.
Board Lists: TW allows you to create themed board lists. I have many for travel, blogging, and books.
Stats Round 2: TW lets me see what people DON'T love so I can stop wasting my time creating and pinning that content. After a while, a dud might just be a dud.
Feeling Overwhelmed by Tailwind and Pinterest? Try This Pinterest Course To Increase Traffic For Your Blog
If all of this sounds confusing or terrifying to you, I love Ell from Boss Girl Bloggers' Pinterest course.
Pinterest With Ell by Ell Duclos teaches you how to master Pinterest and increase your sales and website traffic. And that it did. Ell is the goddess of Pinterest, and her blog hits the 80,000+ monthly page views that we all want.
My Pinterest account, The Uncorked Librarian, reached over 1.4 MILLION monthly views (of course this waivers up and down in the algorithm) in just mere months after Ell's course. The more followers and views I gain, the more I pin articles from my own blog. This all equates to more blog traffic. Here are a few screenshots of my viral pins to prove it: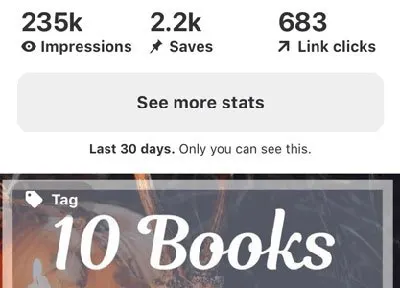 These three pins are examples of viral pins. You can see the number of saves each pin received on Pinterest and the number of link clicks which instantly equates to increased blog traffic.
How To Increase Blog Traffic With Courses
Ell's course brings me to my next point. How else can you generate blog traffic when you are not seeing results? I strongly recommend taking courses from successful bloggers.
You can enroll in a free course or invest in one. Either way, it is time and money well spent. I'd love for there to be a graduate program for blogging. Anyone else in?! I love following and learning from bloggers and influencers like Ell Duclos, Cate Rosales, Elise Darma, Hilary Rushford, and Ann Tran.
These are my personal top-recommended blogging courses with full-blown explanations for what you get in each one:

You'll find blogging basics courses, SEO, Pinterest, and even books and blogging tools that I love.
Boost Your Blog Traffic With The Right Content
Seasonal Content Perks Up Blog Page Views
This year, I am going to rock this so much better: Seasonal content is a must. Who knew? Everyone else. Everyone else BUT ME. Ok, maybe I knew a little, but I was behind…let's call it jet lag. Check out Pinterest's Guides for extra help here too.
I know not everyone celebrates all of the same holidays or even has the same seasons and weather but know your audience.
My audience freaking loves Halloween and the fall. I do too. Get those seasonal books and travel lists out 45 days or more in advance. Gift guides need to come out well before Thanksgiving and Black Friday.
And ya know what, I am a tool. I missed Black Friday and Cyber Monday last year. What about Amazon Prime Day? Regret. My wallet is filled with regret because there is SO much room where the cash should be.
Know fun days and calendar events and play that shit up—but only if you love it and truly standby those products. Don't create cheap, crappy affiliate-laden posts that lack meaning. Write actual real content with stuff that you love, have tried, or know that others in your community can stand by.
Build Content For Your Audience
Besides playing into the trends and seasons, you have to know your audience, community, and readers.
Recently, a few bloggers messaged me asking for thoughts on what they were doing wrong. A quick look at their blogs and I could instantly see that they were writing solely for themselves. If you are a hobby blogger who doesn't care about page views or generating side income, that writing style is awesome.
But if you want to make money blogging and increase blog traffic, this isn't about you. I am so sorry if this is the first time you've heard this.
Now, I am not saying TO NOT BE YOU. Be you. As I wrote in a recent guest post: I believe in keeping my voice—the core of who I am—but to say that I don't gear content toward specific consumers would be a lie.
I will always be a boozy book and travel blogger—that will never change. I love and live for books and travel. And occasionally, I drop an f' bomb here and there, am long-winded, and am probably rated PG only for Pinot Grigio.
The rest is creative process mixed with blogging etiquette and rules. Blog writing is defined as trying to find the balance of personal and passionate writing for a niche audience. Successful bloggers are those who know their readers and create community and buy in to, well, you. Once your audience is hooked, you work together to create content.
To Check The Success Of Your Blog Content Do The Following:
How do you know what content is helpful to people? How do you know what they love or need?
See what search terms are doing well for your blog traffic in Google Console. Build content off of it and connect it all together.
Analyze both your Pinterest and Google Analytics stats to gauge what people love.
Use Google Trends and UberSuggest to see what search terms are popular and in your reach.
Ask your followers across social media channels or in your newsletter.
Don't Forget To Make Your Blog Content Attractive and Sharable
Lastly, don't forget to make this content attractive to increase your blog traffic faster. I don't mean swirls and girlish fonts, although that might help. Dress it up for the party:
You need clear images, branding, and pinnable posts.
Your posts need share buttons. I use the plugin Shareaholic.
I love products like Lightroom, Photoshop, and Spark for blog pins, photo editing, and my social media channels.
Also, I use presets to up my photography game. Grab my favorite presets here:
Boost Blog Traffic By Updating Key Posts
Don't forget that one piece of having stellar content is maintaining it. If you want to save time, be productive, and stay on Google's good side, I recommend updating some of your top-performing and staple blog posts each year.
If you drastically change content, re-publish the article right before the present date and time. With this method, you'll change the date to be more current, push Google to crawl the newer content, and keep all of your previous comments and social shares.
Plus, search engines hate out of date material and links. Make sure that all information is up-to-date and that all links work.
Don't Forget About SEO
I am not an SEO pro, but right now, I am ranking number for a post that brings me steady page views every single day. A few general SEO tips:
I use Google Trends, UberSuggest, and Keywords Everywhere to research my long-tail keywords. I check in on what is trending on Pinterest too. See what is happening in pop culture, the travel world, etc.
You want your keywords and synonyms in your blog post title, major headings, scattered throughout your post's text, and in your alt tags. Make sure to properly save and label your images too.
Small images increase your site speed. You need to worry about your site speed. It sucks…
Interlink relevant posts on your site in a way that makes sense.
Guest post and seek out keyworded deep links in others' posts to build your DA.
One SEO course that I took:
How Not To Increase Your Blog Traffic: A Myth Dispelled
P.S. Why The Number Of Followers Isn't King…or Queen For Generating Blog Traffic
P.S. Let me also add that soliciting and begging for followers on your social media channels isn't the best way to increase traffic for your blog.
Having a small or large number of ENGAGED followers is great for support and comments. However, sometimes your following isn't king. Don't get me wrong: I LOVE my regular champions. I would be lost without YOU and everyone else. Numbers matter. I get it. They just do.
BUT, I watch people solicit blog followers on Twitter and Facebook–sometimes with 4x times the WP blog followers of The Uncorked Librarian–and they don't understand why they don't have the page views, engagement, and any income.
Follows for follows don't guarantee engagement past the shallow number. Other bloggers of similar status cannot be your only target audience. If you want to blog for business, you need a marketing strategy that pushes past these boundaries. You want and thrive on sincerely interested readers.
You want to create and build community through quality and consistent content.
Lastly, Don't Waste Too Much Time On Social Media
Yes, we all know what I am talking about. This past season, I decided to put my thumbs away and back off social media platforms that were eating my blogging time. Always consider what happens if those SM channels were to disappear. Would you still have a following? Would people know where to find you?
While having a consistent presence is important on most channels, pick one or two that you love and focus the most on them. I don't really consider Pinterest as a social media platform, but I live there and on Twitter. Instagram is where I see the least return (and I don't love it) so I backed off. Facebook doesn't take a ton of time so I try to have fun and drop a daily post.
It's amazing how much content you can produce when you put down your phone. Also, don't forget to get that email list going.
Do You Know How You Will Increase Your Blog Traffic?
After trial and error for months, these are the methods that have most helped me increase blog traffic. I hope you better understand how tools like Pinterest and Tailwind can help you generate more blog traffic. What other tips do you love for increasing traffic with blogging?
Never hesitate to hit up this uncorked lady on any social media channel with questions.
Save These Tips For Later: Pin It!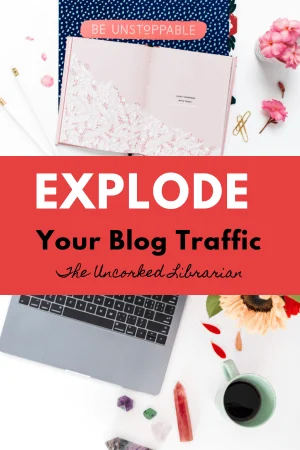 Where To Head Next:
Why & How To Register Your Blog As An LLC
Blogging Resources We Live By
Affiliate Marketing Programs To Make Money Blogging
Inspiration vs Copyright Infringement
How To Start A Thriving Book Blog
Truth Bomb Blogging Tips and Tricks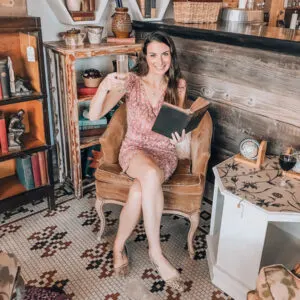 Christine (she/her) is the owner, lead editor, and tipsy book sommelier of The Uncorked Librarian LLC, an online literary publication showcasing books and movies to inspire travel and home to the famed Uncorked Reading Challenge.
With a BA in English & History from Smith College, an MLIS from USF-Tampa, and a U.S. Fulbright Fellowship in Christine's back pocket, there isn't a bookstore, library, or winery that can hide from her. Christine loves brewery yoga, adopting all of the kitties, and a glass of oaked Chardonnay. Charcuterie is her favorite food group.