Have you heard of Jolabokaflod or laughed at Jolabokaflod memes online? Iceland's Book Flood, or Jólabókaflóðið, is a popular Icelandic Christmas tradition perfect for book lovers.
Jolabokaflod focuses on giving books as presents on Christmas Eve and involves my favorite things in life: chocolate and beer. Plus, there is a whole catalog of books as well as a book fair dedicated to this holiday tradition.
Read on for interviews from Icelanders and expats about Jolabokaflod. See how to pronounce Jolabokaflod, too.
Find local recommendations for Icelandic books, booze, and must-see sights.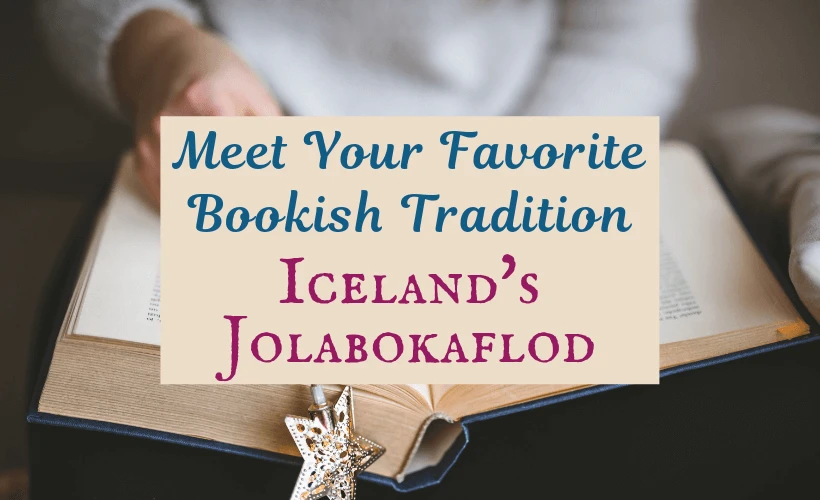 Pin
Did you know that Iceland has a strong literary culture and history? In fact, one in ten Icelanders will publish a book in their lifetime.
Even better, Iceland's Christmas traditions focus on books. Iceland's Book Flood, the Jolabokaflod tradition, starts with a catalog sent out in early fall. A publisher's dream, commence the book-buying season which culminates in celebrations around December, Christmas Eve, and all of Christmas week.
Many Icelanders give books as Christmas gifts as part of Jolabokaflod, and from Christmas Eve until New Years there is an unspoken reading frenzy.
Which brings me to my most important question here: Can I move to Iceland?
Although I am sure that you have seen all the Jolabokaflod Christmas Eve memes on Facebook and Twitter and headline-y articles for Jolabokaflod traditions, what is the Iceland Book Flood tradition all about? I decided to ask an expat living in Iceland as well as a local Icelander for their views on books, reading, Iceland publishers, Christmas traditions, and Jolabokaflod.
And the most pressing question? How the f' do you pronounce Jolabokaflod? Click here for the Jolabokaflod pronunciation.
When we traveled across Iceland, I tried so hard to learn pronunciations. I never could roll my Spanish R's…
Iceland Holidays: The Jolabokaflod Tradition
Meet My Two Iceland Book Flood Interviewees
First Up: Native Icelander, Yarn Lover, And Engineer: Þorbjörg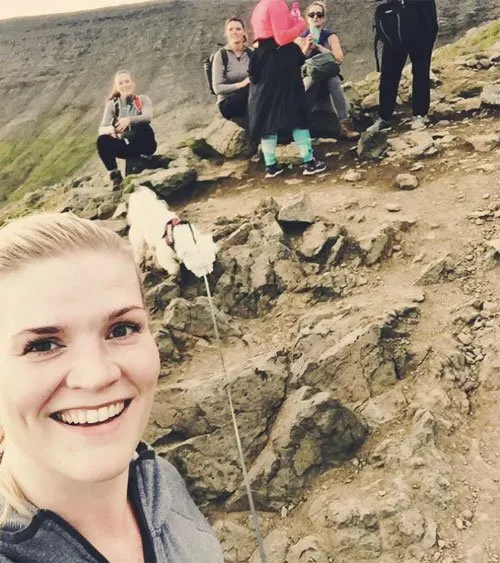 Pin
When asked about Iceland's Jolabokaflod tradition from a complete book blogging stranger, Þorbjörg graciously jumped all in. (P.S. If I ever convince Tom to move to Iceland, Þorbjörg has a new best friend that she didn't know she needed):
Hi, I'm Þorbjörg. I'm born and bred in Iceland, so 40 years right here on this rock. I grew up in Reykjavík and lived there, west side and downtown, until 4 years ago when I moved to Kópavogur, which is basically a suburb of Reykjavík.
I'm an engineer, and I head up operations at Activity Stream, which is a software company. I am married, with three boys, and when I felt like I was being outnumbered by the boys in the house, I got a female dog, which is the undisputed princess of the house.
I'm addicted to yarn. When I realized I was hiding it all over the house–in closets, behind books in bookshelves, in the garage and where not–I decided to lean into it and started a small yarn dying business with my friend. I do that on the side when I'm not running a software company in three countries or spending time with my family.
My favorite moments are sitting on my couch and knitting and listening to audiobooks, which are a relatively recent discovery for me! And to be honest, when knitting and listening to books, I do not turn down a cold glass of Cloudy Bay, Sauvignon Blanc.
Þorbjörg is our local expert and go-to for Jolabokaflod traditions. Throughout this interview, she will not only discuss Iceland's Book Flood but also give us insight into Icelandic book culture. I love Þorbjörg's Iceland Christmas traditions of reading in bed in new PJs.
An Iceland Book Flood Perspective From An Adventurous Expat (I am so jealous): Meet Alex Illes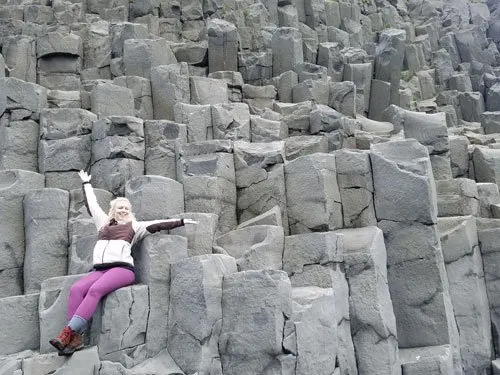 Pin
And then there is Alex Illes, who is living my dream life:
Alex and I started talking on Instagram, and she is the one we need to thank for these bookish interviews.
Alex has resided in Iceland for almost a year and lives in 105 Reykjavik. Originally from Pittsburgh, PA, she is a teacher's assistant in an international department at a private school in Reykjavik. Alex and her nomadic story remind me of Sarah Moss from Names For The Sea.
What I love about Alex is that prior to Iceland, she had never taught before. The Iceland job offer was "what made the move a sealed deal." Plus, her husband's name is Tom too.
Her Tom received a job offer from the same school to teach math and science in English for the international department. A little under two months later, they along with their two cats moved to Iceland with 12 checked bags and 2 carry-ons.
Does this sound familiar to anyone? Like maybe TUL and her Tom picking up and moving to Asheville with two months' notice? With our 4 cats? I love kindred spirits, and Alex is one of them.
Fitting with Jolabokaflod traditions and Icelandic book culture, Alex is in two book clubs, a women's only book club and a science fiction and fantasy-based one.
Additionally, as she notes,
I have become more outdoorsy since living in Iceland. I definitely have gotten into the pool culture here, perfect after a hard workout or being hungover. I am still slowly exploring the island and Europe. My not so secret guilty pleasure…reality tv., real housewives, Kardashians; love it!
So like Þorbjörg, Alex has a new best friend that she never knew existed…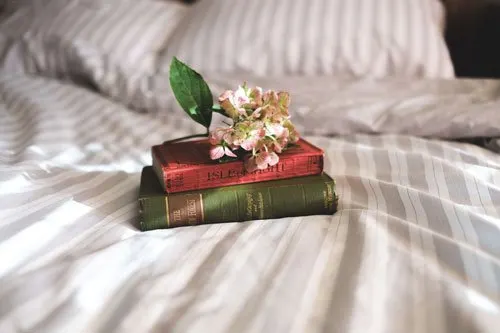 Pin
So How Important Are Books In Icelandic Culture?

I feel like my tone may have sounded like a mother pummeling her daughter with questions after returning home late from a date. Not that I know what that sounds like or anything…
The Jolabokaflod Tradition In Iceland Is Not Just A Meme
Alex's answer cracked me up about the importance of books in Iceland because she is soooo right, even though I am guilty of this:
"[Reading is] definitely a big part of the culture, but as in a general statement. Not all Icelanders are obsessed with reading as Facebook memes make it out to be."
Damn it…
However, the principal at the school gave everyone a book at Christmastime! It made me so happy that I got to participate in such a cultural moment in my new country.
Have we not all seen the Iceland Book Flood Memes On Facebook? You totally know what Alex is talking about. I refuse to post one here, but more so because I don 't want to get sued for Copyright…
Reading In Icelandic Education
As for the importance of reading in Iceland, Alex believes that:
Icelanders are obsessed with preserving their language. You will find that the bestselling teen novels–Twilight, Harry Potter, Hunger Games, etc.–have all been translated to Icelandic.
While I can't speak on the stress of reading in school, my assumption is that to keep the language alive, teachers put reading as a high priority.
Talking with coworkers at the school, reading as an adult is similar to the U.S. You do it if it is important to you; you don't if you don't find reading to be a valuable use of your time.
I find this interest and time to be the case in the U.S. as well. Families and some schools don't necessarily place enough emphasis on reading or show youth why reading is essential to growth.
Equally, every time I am abroad, I head to the local bookstores. I am always amazed at how many English titles are translated into the native language–it's amazing. I don't think all U.S. bookstores work as hard to do the same, but I hope global books are growing in numbers.
Iceland's National Treasures And High Literacy Rate
Þorbjörg emphasized similar sentiments about preserving the language and honoring a culture as well as Iceland's high literacy rate:
Books and literacy are huge in Icelandic culture. To properly understand it, you have to realize that our national treasures are not really beautiful buildings or famous art pieces or collections like so many other countries have. They are manuscripts, preserved on sheepskin, for hundreds and hundreds of years.
Reading is very important for us, both in schools and in society in general. The literacy rate is somewhere around 99%. I don't believe there is anyone in Iceland that doesn't know how to read unless there are some specific challenges or disabilities involved.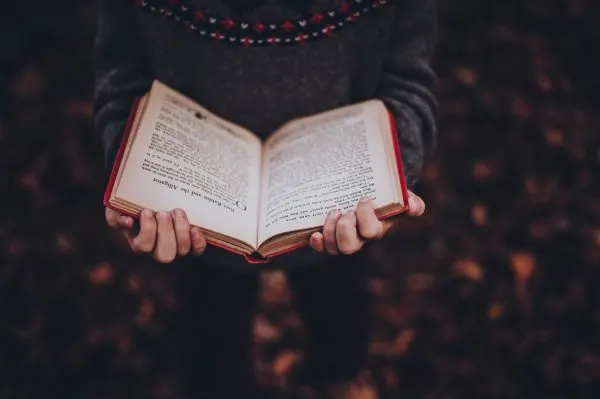 Pin
Iceland's At-Home Book Culture
According to Þorbjörg, and as part of Jolabokaflod tradition, books are cultural symbols:
One thing that I've noticed about book-culture in Iceland is that people perceive books as important belongings. They are displayed in living rooms and nice areas in our homes, preferably where guests can see them.
I think we're all guilty of stuffing our shelves with high culture books that we want others to think we've read and therefore think we're smart and cultural.
Confession: I myself have had a collection of books by Halldór Laxness, an Icelandic Nobel prize winner and our most esteemed author, for 20 years; they are among the first things you see when you enter my house, and I think I've actually read 2 of them.
Did You Know That Iceland Produces Many Authors?
One of the aspects I loved and learned more about when researching Iceland Christmas traditions included the plethora of well-known Icelandic authors. Iceland is always producing new titles. Þorbjörg agrees:
Another thing worth noting is that I think a lot of people fancy themselves to be a writer. A lot of people actually go for it and publish books, even though their day job is something completely different.
1 out of every 10 of the population here, have or will publish a book in their lifetime.
Iceland's Holiday Jolabokaflod Tradition
With so many books circulating, it only makes sense that Christmas traditions in Iceland involve books. Þorbjörg furthers:
There is a rich tradition for publishing books and giving books; we have this thing called the Christmas Book Flood since it's a very deep-rooted tradition to put books under the Christmas tree. Most people have more 'sacred' Christmas traditions involving books, rather than actual religious traditions, during this religious holiday.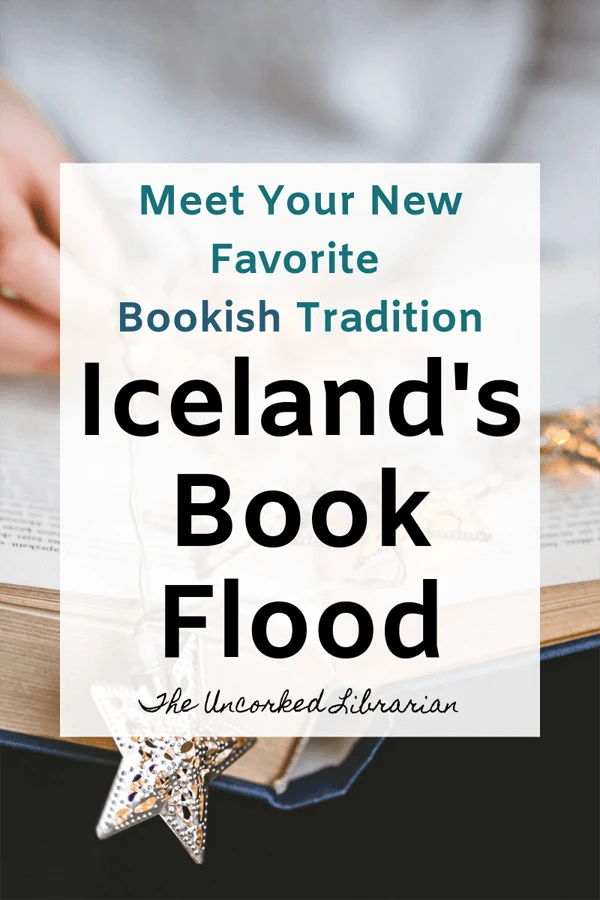 Pin
The Complete Down-Low On Iceland's Christmas Book Flood & Jolabokaflod Tradition
As I headed to Iceland in February, all I knew about Iceland's book culture was from the memes that Alex referenced and the Icelandic novels that I had read to spark my wanderlust. As Þorbjörg suggests, I also had an idea of Iceland's reputation for holding one of the highest international literacy rates in a country filled with library lovers.
About a month after returning, I even interviewed for a podcast on Sarah's Book Shelves where she wanted to know more about Iceland's bookish Jolabokaflod tradition. During our chat, I realized that I really wanted to know more about Iceland's Book Flood and Christmas Eve celebrations besides those memes and what the internet told me. I loved finding that throughout October, Iceland holds a book fair to gear up for Jolabokaflod.
I also feel like Jolabokaflod starts as the Black Friday of Books since their famous bookish catalog and book bulletin starts circulating in the fall.
Which brings me to the heart of this piece. With such a strong bookish culture, what is Iceland's Book Flood really about?
Where Does The Jolabokaflod Tradition Originate From?
How did the Book Flood start? According to Alex:
I went to the Árbær Open Air Museum (Williamsburg of Iceland) and there they had the history of Iceland starting in the 1900s. The Iceland Book Flood didn't happen until WW2 because of the influence of American and British cultures from the troops occupying Iceland during the war. Additionally, Iceland opened up importing and trade more too."
As Alex mentions, I had also read that the Jolabokaflod tradition started during World War II because books were the one import Icelanders could still afford during the Depression. Due to the meshing of culture and languages, people started giving books as gifts, and the idea stuck through the present day.
Alex also adds, "Also, the winters are dark and cold! There is a reason that Icelanders are avid chess players, musicians, writers, and readers. Until TV (again didn't happen until the US brought tv here for troops) and the internet was invented, what else was there to do?
Good point, right? I feel like this will be me as a Floridian moving to chilly NC. Like Þorbjörg and Alex both mention, I might have to hibernate inside to stay warm. I guess I'll just have to take one for the team and curl up with a good book.
Jolabokaflod Through The Eyes Of A Native Icelander
I needed to know more about these continuing Christmas traditions in Iceland, and Þorbjörg had all of the bookish insight about Jólabókaflóðið:
I think almost everyone participates in some shape or form [of Jolabokaflod] to be honest. It's a flood, which means you can't really ignore it. So, every year there is a catalogue that's delivered to every household in the country and it details all of the books published before Christmas. I think a lot of books are held throughout the year to launch them during the 'flood.' And like I said earlier, there is a rich tradition to give and receive books as Christmas gifts.
You can check out the Icelandic Book Flood Catalog, Bokatidindi, here.
Reasons Why Giving A Book As A Gift Is A Fabulous Idea
You might be asking yourself, "why books" and why not wine? Or maybe that's just me…
Þorbjörg denotes:
Books are not cheap in Iceland, so they are a kind of luxury in a sense. Giving a book is usually a generous though common gift.
We give a lot of books during Christmas since it's the perfect gift to give people who already have all the stuff they need or want. A freshly published book is likely to be a successful gift.
Since there are a lot of new books published right before Christmas, if you get more than one copy of the same book, it means you can easily go and swap it for some other interesting books. We gift everything from children's books to historical books, thrillers, romances and anything in between; I have a hard time picking out some specific books.
I actually use the opportunity a lot when I'm giving presents to my foreign friends [such as] expats in Iceland or someone trying to learn Icelandic. [These books might be] some funny children books in Icelandic; they're usually simpler and illustrated making them easier to read when you have a limited vocabulary.
The most memorable book gift I have given lately was to a friend from the US who received the very cultural 'Allir eru með rass' or Everyone Has a Butt for her birthday.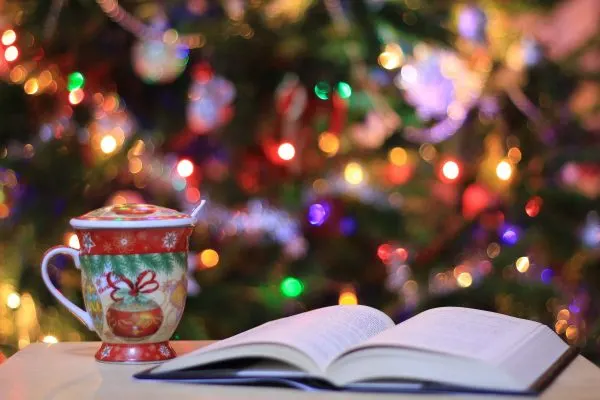 Pin
The Infamous Christmas Eve Book Tradition In Iceland
Like Icelanders, I am a huge fan of giving books as presents, especially to newborns and families. When I lived in Indonesia, I would try to read children's books in Indonesian to better learn the language.
When Christmas Eve and Day–and gift-giving–arrive in Iceland, Þorbjörg discusses how she honors the Jolabokaflod tradition:
Icelanders open presents on Christmas Eve. The 25th and the 26th are public holidays. If we're lucky, there is a weekend somewhere in the mix. Most people have 3-7 days of holidays, and students even longer; there is a lot of time available for book reading.
So, the 'general' Iceland Christmas Eve book tradition is to dress up and overeat during dinner. You open presents and stuff down some dessert after all the food you ate earlier. You also change into (preferably) new PJs that you either got as a Christmas gift or as a present from the last Yulelad/Santa (which is a whole other subject, the 13 Icelandic Yulelads) that morning.
Grab a bowl of candy before scurrying off to your bed with your new stash of books and start reading the one you're most excited about.
I also read that many Icelanders will drink hot chocolate while reading their new books. There is also specialty Jolabokaflod chocolate that is sold for Christmas Eve book reading. Today, there is even Jolabokaflod beer, just like we search for pumpkin everything in the fall in the U.S. Count me in!
Christmas Book Flood Week
But this Iceland book holiday doesn't stop on Christmas Eve…
Between Christmas parties, over the next few days, it's quite socially acceptable to stay in bed and read and keep all other social interactions at a minimum.
Keep in mind this all happens during a period of the year where there is almost no daylight and most people feel some of the weight of the constant darkness. Many just want to stay in bed and hibernate.
Ironically, during this time of the year, we throw an unnatural number of Christmas parties and meet our family and friends over and over again. Those are all traditions as well and cannot be canceled or changed unless you are prepared to be outed as a Grinch.
All people talk about in these parties are which books they received during Jolabokaflod, what they have started reading, and if they already finished some of their books?
What Happens If You Don't Receive Books As Part Of Iceland's Jolabokaflod Tradition?
One Christmas, neither me nor my husband received a single book as a gift. I felt so left out and actually kind of excluded from all the interesting conversations about books that year. Now my parents make sure that there is at least one book under our tree, every year.
An Expat's Experience With The Icelandic Book Flood
Christmas in Iceland sounds pretty amazing to me. Of course, in America, we also down a ton of food, unbutton our jeans covered by a long shirt (or is that just me?), and exchange gifts.
How does the Icelandic Book Flood look and feel to an expat?
Alex recalls,
My first Christmas was in 2018. The principal of the school gave everyone a book at our end of year party. The Icelandic staff received a book, in Icelandic, about the school that we work at. To the English speaking staff, she gave a variety of books that were written by Icelandic authors and translated into English. It was awesome!
The book I received was 101 Reykjavik, which I haven't read yet. My husband received Jar City by Arnaldur Indriðason (which apparently was made into a movie; I need to watch it!). I read Jar City and it was okay: Noir, murder/detective mystery. Apparently, he is the James Patterson of Iceland.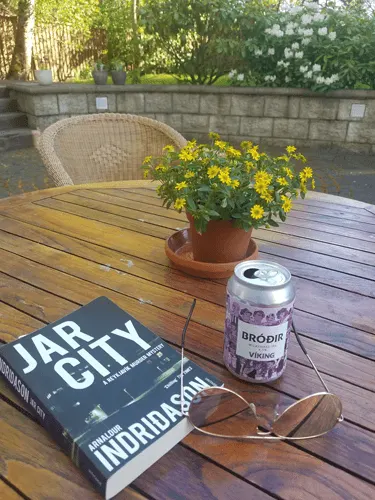 Pin
So Where Can You Get Iceland Christmas Books To Give In Iceland?
I am a pretty thirsty interviewer, and while both Alex and Þorbjörg totally convinced me that I need to host my own Book Flood full of Jólabókaflóðið traditions, I wanted a few secret insights into Iceland for when I go back.
Are you reading this (my) Tom?
I fell in love with Iceland's legendary and myth-filled waterfalls. One day in Reykjavik just wasn't enough.
When I go back, I asked Þorbjörg to disclose her favorite Icelandic bookstores:
I love Mál og Menning and Eymundson downtown, mostly because they have coffee shops inside. I can browse and grab some things I'm interested in and then sit down with some coffee. But, I must admit that I mostly read at home, in our cabin, or when I'm traveling.
As for libraries, I don't use them a lot nowadays, but my parents used to take my kids when they were younger for quality outings to the Borgarbókasafn in Tryggvagata. They all used to love it because it had a great children's area.
As for Alex, she also loves,
Bókabúð Máls og Menningar for the second-floor cafe. This is perfect to meet for a book club, or just grab a coffee, beer, food and read a book.
The main library in downtown Reykjavik has lots of comfortable corners, pillows, etc. to encourage lounging and reading. But mainly, I read on the bus (ha) or at home. I don't usually go to a cafe or other public space to read.
Looking For More Jolabokaflod Ideas?
Check out the Iceland Publishers Association here for a full list of Icelandic publishers.
*BONUS* Iceland Travel Recommendations For Bookish & Boozy Travelers
Lastly, I wanted to know the best overall sights in Iceland, including, of course, books and booze.
Not To Miss Sights And Drinks In Iceland From Alex:
I haven't been, but am DYING to go. In the north, Beer Spa – Bjórböðin.
Also, in the north, that I can't wait to go to, is Myvatn. Think Blue Lagoon of the North.
Einstök is my favorite beer, which is available in the states. Also, try Ulfur, again, available in the states. (You can read more about these boozy Icelandic selections here.)
Reyka Vodka is my favorite vodka, AND it's available in the states.
Favorite restaurants in Reykjavik: Vínyl bistro and Hlemmur Mathöll (food hall with lots of options).
Te og Kaffi is the Starbucks of Iceland. And it is true, coffee culture and the amount of coffee Icelanders drink is incomparable to anything I have seen.
Brauð og Co is a really popular bakery.
Icelanders LOVE ice cream no matter the time of year and the best place to go is Valdís.
Places to travel to: East and West Fjords. I haven't been yet, but everyone says they are AMAZING with some of the best and biggest waterfalls!
You have to visit Iceland twice: In the winter for the Northern lights and the craziness of the darkness! Seriously, the darkness isn't scary (cough, MOM! cough), but something most people would never experience. In the summer, the midnight sun is amazing!!! And if you are visiting, you will never have a lack of light to stop your exploring.
Not To Miss Icelandic Sights From Þorbjörg:
Books: Bókin on Klapparstígur for antique and old books and Mál og Menning or Eymundson for general books.
Booze: Beer – Brewdog on Hverfisgata, Cocktails – Snaps or Pablo Discobar. Fancy Happy hour – Rok, they have champagne on happy hour!
Close to Reykjavík:
Esjan – hike up there, it's not too hard; the view is great.
Reykjadalur – a hike that will end in a hot river you can dip into.
Vestmannaeyjar – is an interesting place to visit; it's a volcanic island.
Þórsmörk – extremely beautiful in the summertime.
Þingvellir and the golden circle is also great to visit, but it's become very touristy. Brúarárfoss on that route is lovely.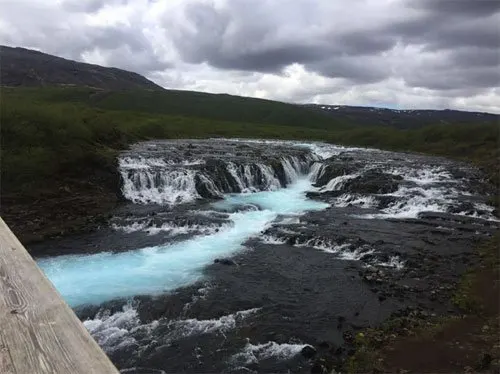 Pin
Further away
My favorite places are quite far from Reykjavík, but if you're traveling way up north-east, there is a little piece of heaven called Ásbyrgi, which you should absolutely visit. Jökulsárlón in the far south is also a very impressive place. If you go north-west, to the Westfjords, you'll also constantly drop your jaw over the extremes in the landscape. A visit to the top of mount Boli (you can drive up) is also something you'll never forget.
So Are You Ready To Head To Iceland?
What do you love most about Iceland's Book Flood and the Jolabokaflod tradition?
Are you headed to Iceland? What is on your agenda?
Will this interview influence any of your Christmas traditions?
Iceland Travel & Book Posts That You May Find Helpful:
Driving In Iceland In February
Is The Blue Lagoon Worth A Visit?
What Is Iceland Like In The Winter?
What Drinks Are Famous In Iceland?
What Should I Read Before Heading To Iceland?
Discover Southern Iceland's Legendary Waterfalls
What Is A Good Bucket List, One Week Iceland Itinerary?
A Special Thanks To Our Jolabokaflod Tradition Contributors:
When you start out blogging, you may have some idea or hopes for the direction that your blog will take. However, I never could have imagined that I would be interviewing library staff in the Baltics or talking with Icelanders about their Book Flood and Christmas traditions.
I would like to give a special thanks to Alex and Þorbjörg for taking time out of their busy schedules to compile answers for this inquisitive blogger, who they have never met in person. Thank you so, so much to both of them for their generosity.
The Uncorked Librarian is all about helping readers travel abroad through books and gain a better understanding of cultures around the world whether you can travel or not.
I hope Alex and Þorbjörg introduced a new tradition to your household. I hope you celebrate or adapt Jólabókaflóðið, Iceland's Book Flood, or at least parts of this Icelandic Christmas tradition in your home (whether or not you celebrate Christmas).
If you are sad that this interview is over, you can follow along with Alex and her Icelandic adventures on Twitter and Instagram. You can follow along with Þorbjörg on Instagram as well.
Loving These Christmas Traditions in Iceland?
Start Celebrating The Jolabokaflod Tradition In Your Home!
Pin It For Later: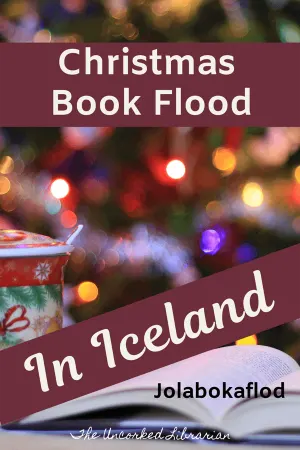 Pin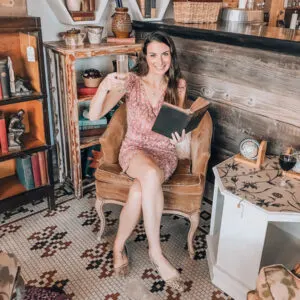 Christine (she/her) is the owner, lead editor, and tipsy book sommelier of The Uncorked Librarian LLC, an online literary publication showcasing books and movies to inspire travel and home to the famed Uncorked Reading Challenge.
With a BA in English & History from Smith College, an MLIS from USF-Tampa, and a U.S. Fulbright Fellowship in Christine's back pocket, there isn't a bookstore, library, or winery that can hide from her. Christine loves brewery yoga, adopting all of the kitties, and a glass of oaked Chardonnay. Charcuterie is her favorite food group.