Happy & You Know It by Laura Hankin
Enter the lives of the rich moms of NYC in Happy & You Know It by Laura Hankin. Uncover a Happy & You Know It summary, book information, and book reviews featuring this women's friendship fiction novel.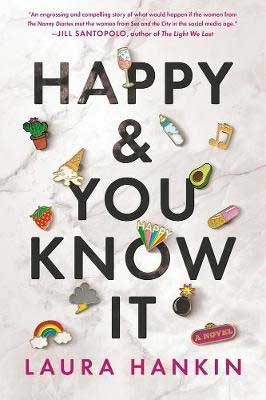 This post may contain affiliate links: If you purchase through my link, I will receive a small commission at no additional cost to you. I only recommend products/services that I approve of. See my full Disclosure Policy.
Author: Laura Hankin
Genre: Women's Fiction | Book Set NYC, New York | Satire
Pages: 384
Publisher: Berkley
Publication Date: May 2020
Buy Now: Amazon
Book Of The Month selection for May 2020
Happy & You Know It by Laura Hankin Summary
After her former band shot to superstardom without her, Claire reluctantly agrees to a gig as a playgroup musician for wealthy infants on New York's Park Avenue. Claire is surprised to discover that she is smitten with her new employers, a welcoming clique of wellness addicts with impossibly shiny hair, who whirl from juice cleanse to overpriced miracle vitamins to spin class with limitless energy.

There is perfect hostess Whitney who is on the brink of social-media stardom and just needs to find a way to keep her flawless life from falling apart. Caustically funny, recent stay-at-home mom Amara who is struggling to embrace her new identity. And old money, veteran mom Gwen who never misses an opportunity to dole out parenting advice. But as Claire grows closer to the stylish women who pay her bills, she uncovers secrets and betrayals that no amount of activated charcoal can fix.

Filled with humor and shocking twists, Happy and You Know It is a brilliant take on motherhood – exposing it as yet another way for society to pass judgment on women – while also exploring the baffling magnetism of curated social-media lives that are designed to make us feel unworthy. But, ultimately, this dazzling novel celebrates the unlikely bonds that form, and the power that can be unlocked, when a group of very different women is thrown together when each is at her most vulnerable.

Berkley
About The Author, Laura Hankin
Happy & You Know It is Laura Hankin's debut novel. She is a writer and performer who lives in NYC and Washington, DC. Read more about Laura Hankin.
Where You Can Find Happy & You Know It Reviews On TUL
Find the best fiction and nonfiction books about music, musicians, and the music industry to read.
Head to NYC in our New York books reading list. Find even more of our favorite Book of the Month selections set in NY along with YA novels, suspense books, and the best contemporary books to take you to New York.
If you enjoy books about budding friendships – healthy and toxic – you won't want to miss this reading list. Explore fiction and nonfiction friendship books for adults and teens in all genres.
Looking for more great books to read? Find diverse books set around the world and other BOTM selections like Happy & You Know It on our June 2020 reading list.