Do you love fairytale retellings?  You will enjoy Frostblood by Elly Blake. Find out more about this book similar to Mulan and find even more series to devour.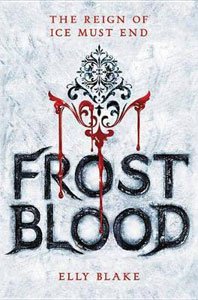 This post may contain affiliate links: If you purchase through my link, I will receive a small commission at no additional cost to you. I only recommend products/services that I approve of.  Purchasing through my links allows me to continue to provide unique content and pursue my business dreams. Thank you for supporting me.  See my full Disclosure Policy.
Frostblood
Author: Elly Blake
Series: The Frostblood Saga
Genre: Young Adult | Fairytale Retelling | Mulan Retelling | Fantasy
Pages: 385
Publisher: Little, Brown Books For Young Readers
Publication Date: 2017
Buy Frostblood By Elly Blake Here:


Description Of Frostblood by Elly Blake From The Publisher, Little, Brown Books For Young Readers:
"This New York Times bestseller is perfect for fans of Red Queen. An "enchanting and fast-paced debut" that "lights up the page with magic, romance, and action."
Seventeen-year-old Ruby is a Fireblood who has concealed her powers of heat and flame from the cruel Frostblood ruling class her entire life. But when her mother is killed trying to protect her, and rebel Frostbloods demand her help to overthrow their bloodthirsty king, she agrees to come out of hiding, desperate to have her revenge.
Despite her unpredictable abilities, Ruby trains with the rebels and the infuriating–yet irresistible–Arcus, who seems to think of her as nothing more than a weapon. But before they can take action, Ruby is captured and forced to compete in the king's tournaments that pit Fireblood prisoners against Frostblood champions. Now she has only one chance to destroy the maniacal ruler who has taken everything from her–and from the icy young man she has come to love.
Vivid and compelling, Frostblood is first in an exhilarating series, followed by Fireblood and Nightblood, about a world where flame and ice are mortal enemies…but together create a power that could change everything."
About The Author, Elly Blake:
Elly Blake is a New York Times bestselling author.  Like your boozy blogger, she holds a B.A. in English and has worked in a library.  Blake currently lives in Canada.    Read more about Elly Blake.
Loving Frostblood? Find More Books In The Frostblood Saga:

TUL Book Lists Featuring Frostblood by
Elly Blake
:
Find more Mulan retellings here:

Find Even More Great Books On This Mulan Book List:
Books Similar To Frostblood By Elly Blake That You May Like: