Are you looking for a love story with baseball, ghosts, and redemption? Try Four-Finger Singer And His Late Wife, Kate by indie author, Arthur D. Hittner. Find a hint of magical realism and a whole lot of sports fiction high-fiving chick lit in this brilliant new masterpiece.
---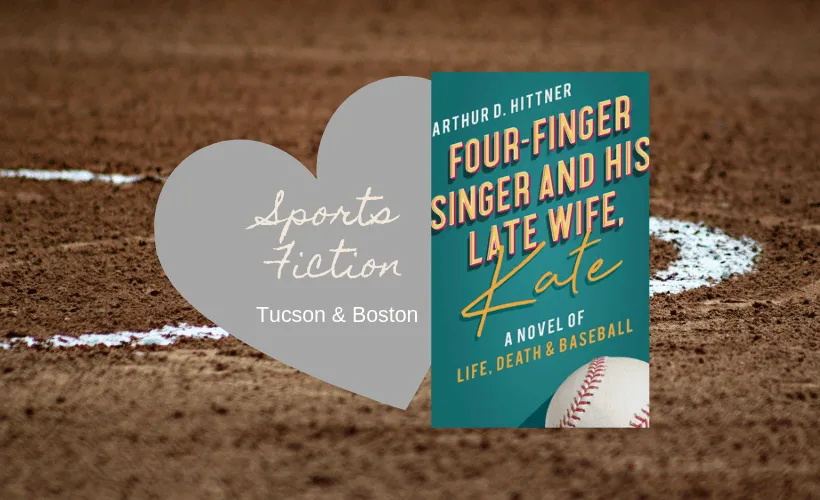 Pin
I always look forward to an email from Arthur D. Hittner. His projects range from baseball and writing to contextualizing and preserving art history. With the highest expectations from this Dartmouth and Harvard graduate, I know that his books exude his passions and will be some of the best-written fiction of the year. Four-Finger Singer And His Late Wife, Kate did not disappoint.
After reviewing Hittner's Artist, Soldier, Lover, Muse, I had no idea what to expect with his latest book. While Artist, Soldier basked in historical art fiction, Four-Finger Singer promised baseball and love. Could Hittner pull it off? I couldn't picture this academic and former lawyer writing an angsty love story. WITH A GHOST.
Completely different than his last book, what a curveball. I am pretty sure that Hittner can write just about anything. I'm nervous to call Four-Finger Singer And His Late Wife, Kate a mix of chick literature and sports fiction, but here we go. Get ready for a story about love, death, haunting, and baseball.
P.S. Spoiler alert: I loved it!

Book Review: Four-Finger Singer And His Late Wife, Kate: A Novel Of Life, Death & Baseball by Arthur D. Hittner
Four-Finger Singer And His Late Wife, Kate Book Summary
When Opposites Attract
Jake and Kate are complete opposites. Kate is a small town, broke waitress from Iowa trying to find her place in the world. With an iffy past–let's just say she has a Kim Kardashian sex tape floating around–she's on the run. Hoping to start over, Kate cannot help that much older Jake takes interest in her spunk (cough, cough…body).
Jake has a few years on Kate as well as a pretty hefty bank account from his law practice. A straightedge lawyer from a waspy, uppity family, you already know how Jake's friends and family will receive Kate. Jake's past involves a ruined baseball career from a case of mistaken identity with the mafia. Some people have no luck.
Somehow, though, these two end up hitched. Imagine a fiery relationship and marriage gone to hell, especially when Kate cannot get pregnant. From horny, preying (not praying) preachers to scumbag, felonious ex-boyfriends, Kate never stood a chance. Is she really that naive? Gosh, you just want to give her a reality check, but you feel for her at the same time.
P.S. Non-Spoiler Alert: Kate Is Dead
Oh, and this is not so secret: Kate dies early on in the book. In fact, the prologue starts with her shitty funeral, a fist fight, and guys from the bar leading the ceremony.
Soon after Kate and Jake's marriage falls into shambles, a truck takes her out. However, Kate comes back to check on Jake and help him navigate life without her. This guidance includes commenting on Jake's new pity screw but also helping him find baseball once again.
How will Kate and Jake move on with their new fates? Is it possible to forgive those who mess up over and over again? Why do we fail? What keeps us from our passions? Four-Finger Singer And His Late Wife, Kate explores the meaning of all that we are in life and death.
Did I mention the book is funny, too?
Who Will Love Four-Finger Singer And His Late Wife, Kate?
When Intitutive "Chick Lit" Meets Sports Fiction
Why did I say Four-Finger Singer And His Late Wife, Kate is semi-chick lit? And trust me when I say this is not chick lit in a junk foody Sophie Kinsella kind of way.
The beginning is a comedic romance about two people falling in love. Kate is a hot mess, and the couple struggles through modern issues and barriers like fertility and childbearing. Socio-economic differences, upbringing, education, and age are just a few forces attacking Kate and Jake's relationship.
While Hittner grabs chick lit fans with the first half of the book, he hits a strong home run in the latter half to enrapture his sports fans. For anyone who loves baseball or has tried to make a career out of it, Jake's newfound pitching glory will turn the novel way up for you. Boring for non-sports lovers? Naw. You have Kate still haunting around, new romance prospects, and you want Jake to succeed.
Passion is everything in this day and age.
Lastly, the title is pretty funny. Call it Seinfeld humor. I couldn't help but crack up when Kate buys Jake special boxers to help them have kids. Kate thinks Jake's tight boxers are suffocating his, you know…so she buys him a set four times larger. Jake laments, "When I reluctantly tried on one, my penis felt like a comma in a four-page run-on sentence" [Hittner 57].
My Uncorked Conclusion:
Four-Finger Singer And His Late Wife, Kate is a not-to-miss novel of 2019. Once again, Hittner threatens to steal the top of my favorite books of the year list.
Disclosure & Thank You!
I would like to thank Arthur Hittner for sending me a free copy of Four-Finger Singer And His Late Wife, Kate in exchange for an honest review. I love working with repeat indie authors and always know that Hittner's work will capture my heart and interest. His eclectic vocabulary paints the most intriguing and sometimes hilarious images for readers. He sure knows how to hit it out of the park.
Interested In Purchasing A Copy Of Four-Finger Singer And His Late Wife, Kate?
Amazon Book Depository Barnes and Noble
Book Information
Four-Finger Singer And His Late Wife, Kate: A Novel Of Life, Death & Baseball by Arthur D. Hittner [Apple Ridge Press 2019]
Genre: Sports Fiction & Magical Realism
About The Author, Arthur D. Hittner
Arthur Hittner is no stranger to baseball. A retired attorney, he is also the co-owner of the Lowell Spinners, a minor league professional baseball team. When not immersing himself in sports, Hittner spends time with his other passions: art and art history. His second fictional title, Artist, Soldier, Lover, Muse, depicts the trials and tribulations of a young artist trying to make his way through NYC's Depression-era before WWII.
Read more about Arthur D. Hittner.
Want To Add Four-Finger Singer And His Late Wife, Kate To Your TBR pile? Pin It For Later: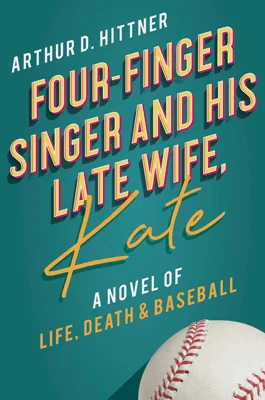 Pin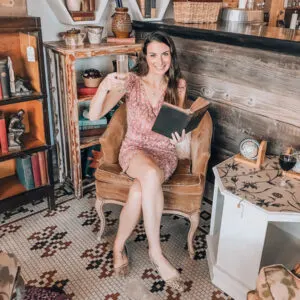 Christine (she/her) is the owner, lead editor, and tipsy book sommelier of The Uncorked Librarian LLC, an online literary publication showcasing books and movies to inspire travel and home to the famed Uncorked Reading Challenge.
With a BA in English & History from Smith College, an MLIS from USF-Tampa, and a U.S. Fulbright Fellowship in Christine's back pocket, there isn't a bookstore, library, or winery that can hide from her. Christine loves brewery yoga, adopting all of the kitties, and a glass of oaked Chardonnay. Charcuterie is her favorite food group.