Do you love fairytale retellings? You will devour Flame in the Mist by Renée Ahdieh, a book set in Feudal Japan. Find out more about this Mulan retelling perfect for channeling your inner warrior.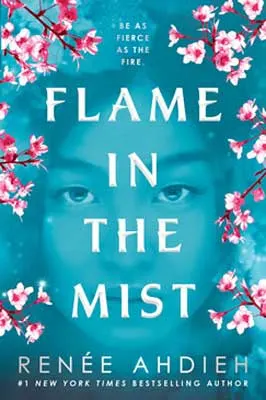 This post may contain affiliate links: If you purchase through my link, I will receive a small commission at no additional cost to you. I only recommend products/services that I approve of. See my full Disclosure Policy.
Author: Renée Ahdieh
Genre: Young Adult | Fairytale Retelling | Mulan Retelling
Pages: 413
Publisher: G.P. Putnam's Sons Books for Young Readers | Penguin Random House
Publication Date: 2017
Buy on Amazon
Find more great books here:
Summary Of Flame In The Mist
"From the #1 New York Times bestselling author of The Wrath and the Dawn, comes a sweeping, action-packed YA adventure set against the backdrop of Feudal Japan where Mulan meets Throne of Glass.

The daughter of a prominent samurai, Mariko has long known her place—she may be an accomplished alchemist, whose cunning rivals that of her brother Kenshin, but because she is not a boy, her future has always been out of her hands. At just seventeen years old, Mariko is promised to Minamoto Raiden, the son of the emperor's favorite consort—a political marriage that will elevate her family's standing. But en route to the imperial city of Inako, Mariko narrowly escapes a bloody ambush by a dangerous gang of bandits known as the Black Clan, who she learns has been hired to kill her before she reaches the palace.

Dressed as a peasant boy, Mariko sets out to infiltrate the Black Clan and track down those responsible for the target on her back. Once she's within their ranks, though, Mariko finds for the first time she's appreciated for her intellect and abilities. She even finds herself falling in love—a love that will force her to question everything she's ever known about her family, her purpose, and her deepest desires."

G.P. Putnam's Sons Books for Young Readers
Join The Uncorked Reading Challenge Today
---
Travel around the world with the Uncorked Reading Challenge. Get the best book and movie recs straight to your inbox. Sign Up Now.
About The Author, Renée Ahdieh:
Renée Ahdieh is the author of two of our favorite YA books, The Wrath And The Dawn and The Rose And The Dagger.
She is a New York Times bestselling author who hates exercise but loves writing. While she used to live in South Korea, she now resides in Charlotte, North Carolina. Read more about Renée Ahdieh.
Loving Flame In The Mist? Don't Miss Out On Renée Ahdieh's Other Books:

TUL Book Lists Featuring Flame In The Mist Book Reviews
Travel across Asia with the best novels set in Japan, including historical fiction, ghost books, and short story collections.
Read some of the best Japanese fantasy books for adults and teens.
If you love Mulan stories, this reading list will take you around the globe with even more books like Mulan.
Travel to Japan with these books. Along with YA and adult novels, encounter translated Japanese literature and some of the best books about Japan. Find books set in Japan too.