If you are looking for a mountaineering rom-com set in Alaska, don't miss Enjoy The View by Sarah Morgenthaler. Find an Enjoy The View summary, book information, and book reviews here.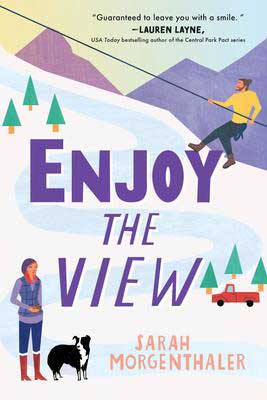 This post may contain affiliate links: If you purchase through my link, I will receive a small commission at no additional cost to you. I only recommend products/services that I approve of. See my full Disclosure Policy.
Author: Sarah Morgenthaler
Series: Moose Springs Alaska Book 3
Genre: Romance | Book Set In Alaska | Adventure | Rom-Com
Pages: 327
Publisher: Sourcebooks Casablanca
Publication Date: January 19, 2021
Buy Now On Amazon
Find books like Enjoy The View by Sarah Morgenthaler here:
1. Book of the Month: Get the month's hottest new and upcoming titles from Book of the Month. You might snag an early release or debut author. Along with selecting a book a month, find terrific add-ons, both trendy and lesser-known titles.
2. Audible Plus: From Amazon, listen to Amazon Originals, podcasts, and audiobooks. They add new titles every week.
3. Amazon Prime: Don't miss Amazon First Reads – early access to Kindle books. Get fast delivery as well as movies, music, Originals, shows, and more.
4. Or, start your trial of Amazon Video for movies and tv series on demand.

Enjoy The View by Sarah Morgenthaler Summary
A grouchy mountaineer, a Hollywood starlet
And miles of untamed wilderness…
What could possibly go wrong?

Former Hollywood darling River Lane's acting career is tanking fast. Determined to start fresh behind the camera, she agrees to film a documentary about the picturesque small town of Moose Springs, Alaska. The assignment should have been easy, but the quirky locals want nothing to do with River. Well, too bad: River's going to make this film and prove herself, no matter what it takes.

Or what (literal) mountain she has to climb.

Easton Lockett may be a gentle giant, but he knows a thing or two about survival. If he can keep everyone in line, he should be able to get River and her crew up and down Mount Veil in one piece. Turns out that's a big if. The wildlife's wilder than usual, the camera crew's determined to wander off a cliff, and the gorgeous actress is fearless. Falling for River only makes Easton's job tougher, but there's only so long he can hold out against her brilliant smile. When bad weather strikes, putting everyone at risk, it'll take all of Easton's skill to get them back home safely…and convince River she should stay in his arms for good.

Sourcebooks Casablanca
Join The Uncorked Reading Challenge Today
---
Travel around the world with the Uncorked Reading Challenge. Get the best book and movie recs straight to your inbox. Sign Up Now.
About The Author, Sarah Morgenthaler
Sarah writes sweet romantic comedies set in Alaska. She is a 2017 and 2018 RWA® Golden Heart® finalist. You can read more about Sarah Morgenthaler here.
More From Sarah Morgenthaler
The Tourist Attraction
Mistletoe & Mr. Right
Where You Can Find Enjoy The View (& More) by Sarah Morgenthaler Reviews On TUL
Enjoy a vacation with some of the best novels set at and about hotels. Of course, Morgenthaler's books all emphasize tourists vs the locals, and this hotel reading list is no different.
If you enjoy hiking, this reading list is for you. Uncover nonfiction and fiction books about hiking and backpacking across the globe.
What are the best books set in every state? One of the largest book lists on TUL, don't miss our favorite books across America. This 50 states reading list has books like Enjoy The View alongside classics, YA, indie, and so much more.
Don't miss our master list of books set around North America. Here, you'll find book lists with books set in America and books set in and about North America. See which popular and classic books set across the continent we are talking about on The Uncorked Librarian.
Don't miss some of the hottest new books of 2021, including Enjoy The View. We are sharing some of the most anticipated titles of the year in romance, YA, historical fiction, and, of course, books set around the world.
What new books released with Enjoy The View? Don't miss books like People Like Her, My Story, Your Story, Shipped, and The Wife Upstairs.