Empress Of All Seasons by Emiko Jean is a new YA feminist fantasy novel featuring much-needed diversity in teen fiction. Pairing Japanese folklore with dystopian adventure, follow along with Animal Wife, Mari, as she fights to become Empress of all Seasons.
---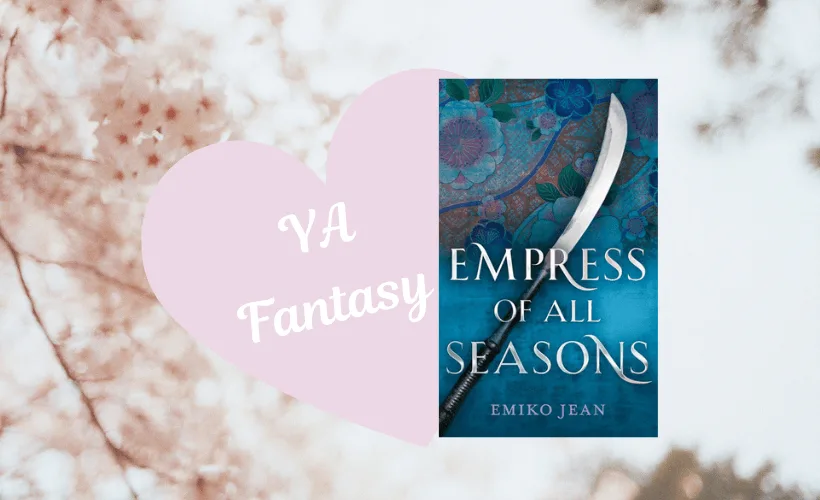 Pin
Imagine growing up in a village of strong women. In a world much like my alma mater, Smith College, women rule this mountainous city. Mothers cast baby boys down the river and young girls seduce men only to marry them and run away with their possessions. Ok, maybe the similarities stop at all women's dwelling, but you get the idea. Love, betrayal, prejudice, war–Empress Of All Seasons has it all.
Book Review: Empress Of All Seasons by Emiko Jean
In the village of Tsuma, Mari and the Animal Wives live isolated and free from men. Beautiful and deadly, these women are powerful mythological creatures known as yōkai. Each woman can transform into a deadly beast with the exception of Mari. The black sheep of her village, Mari can only half transform and has not acquired the looks of her fellow tribemates. Half yōkai and half human, Mari has yet to find her place in the world.
Unable to fulfill her Animal Wife legacy, Mari's destiny awaits her at the Palace of Illusions. Here in Honoku, Mari must dominate each of the enchanted season themed rooms. Surviving other warrior humans as well as the elements, her prize is the prince. True to her Animal Wife upbringing, Mari must steal his wealth and return to the village. If Mari fails, her village may disown her, or more than likely, Mari will perish in one of the seasonal rooms.
Burning up in the summer or freezing to death in the winter rooms are not the only problems threatening Mari. Honoku is a rather prejudice city.
Fearful of yōkai powers, the humans have enslaved all yōkai with metal collars. These chains subdue yōkai magical abilities, forcing them to work for human masters. Touching a collar instantly burns and can even kill yōkai.
For Mari, Taro the prince created these chains, conflicting her feelings for him even more. Small spoiler: Taro turns out to be pretty lovable. Every day that Mari resides in the palace competing for the throne, she faces the threat of discovery as an illegal and uncollared yōkai. She could lose her freedom and her life.
YA Feminist Fantasy That Destroys The Dystopian Trilogy
Thank Gosh, Empress Of All Seasons Is Not Another Trilogy
Although not a series, Empress Of All Seasons is nostalgic of The Selection series. Young women compete for the prince, except here, the prince has no say in his future. Both princes had their favorite gal and both lived in kingdoms on the verge of corruption and collapse.
I appreciate that Empress Of All Seasons is not a series, although Jean could have easily woven the tale into a trilogy. The ending could have been left up in the air over who lived and who perished. Another novel could have discussed the throne and control over the human and beastly world. However, in the world of dystopian YA, I know that I am personally tired of these formulaic trilogies. Can YA be anything other than three tiresome books in a series?
Jean answers, 'yes' with Empress Of All Seasons. Although Empress ends abruptly, I appreciate that the story is complete. In this conclusion, Jean emphasizes that the overall ending and power acquired is meaningless. More important are the lessons learned and confidence Mari gains. Empress isn't about ruling a kingdom or even falling in love. The story is about loving yourself. If the tale continued, Empress Of All Seasons would become just another teen book about living in harmony and fighting for the throne.
Feminism Refuting Feminism in Empress Of All Seasons
I equally applaud the feminist appeal with strong and terribly weak women characters. The Animal Wives, who pretend to be independent and free, are slaves to their beliefs. We watch as Hissa self-destructs when her baby boy is cast down the river. Any Animal Wife who falls in love and refuses to leave her man is outcast. They only feel power in their beauty.
Throughout the novel, Mari works to overcome these stereotypes and illusion of freedom, learning that feminism is not synonymous with being free from men. In her path, she takes a nonviolent approach that leaves her stronger than her tribe. Mari is enough on her own.
Who Will Enjoy Empress Of All Seasons?
Even though this is 2018, YA fiction still lacks diversity, especially in the sci-fi and fantasy realm. Empress Of All Seasons beautifully weaves accessible Japanese folklore into a feminist thriller. The tale has romance and action that will appeal to younger teens looking for a female-powered adventure story with a non-Western setting. The mythology is purposeful and engaging. A quick read, Empress Of All Seasons is comparable to The Selection and Red Queen series.
Find your copy here: Amazon
I would like to thank NetGalley and HMH Books for Young Readers for providing me with a free ARC in exchange for a fair and honest review.
Empress of All Seasons Book Information:
Empress Of All Seasons by Emiko Jean [HMH Books for Young Readers 2018]
Genre: Young Adult Science Fiction and Fantasy; YA Folklore and Fairytales
About The Author: Emiko Jean lives in Vancouver, Washington and is a former entomologist. You can read more about her here.
Add Empress of All Seasons to Your TBR List: Pin It!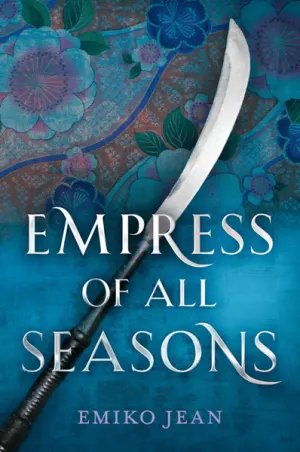 Pin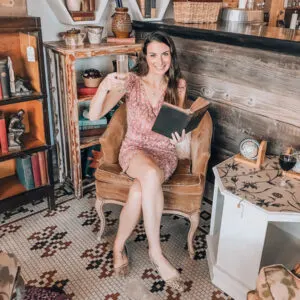 Christine (she/her) is the owner, lead editor, and tipsy book sommelier of The Uncorked Librarian LLC, an online literary publication showcasing books and movies to inspire travel and home to the famed Uncorked Reading Challenge.
With a BA in English & History from Smith College, an MLIS from USF-Tampa, and a U.S. Fulbright Fellowship in Christine's back pocket, there isn't a bookstore, library, or winery that can hide from her. Christine loves brewery yoga, adopting all of the kitties, and a glass of oaked Chardonnay. Charcuterie is her favorite food group.