This post may contain affiliate links for products and services I recommend. If you make a purchase through these links, at no additional cost to you, I will earn a small commission. Read the full disclosure here.
Are you headed to Iceland in January and February and wondering if driving in Iceland in the winter is for you?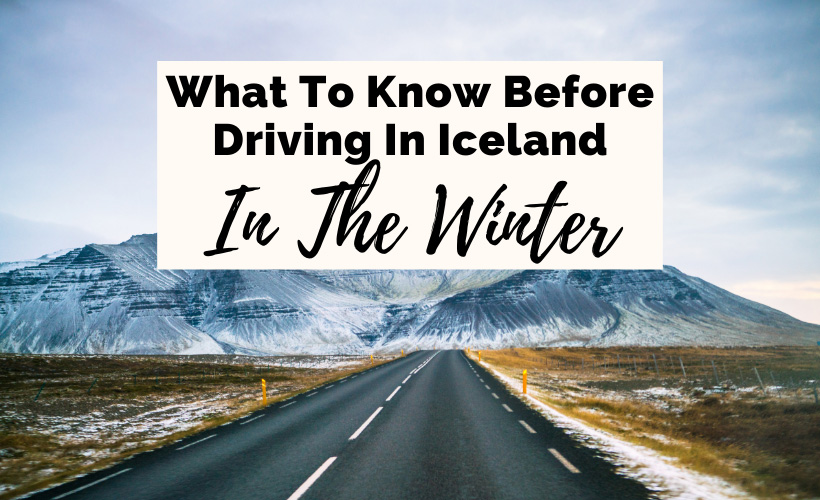 My driving-in-Iceland-in-snow night terrors kept me awake well before booking our February Icelandic road trip adventure:
Were we being unsafe by choosing to drive in Iceland in February? Did we have a death wish? Would we hit a patch of ice and slide off the road? Could an avalanche bury us alive? What if we could not find gas or help for hours? What type of road conditions would greet us?
I did not want to meet my icy grave prematurely or leave my four furbabies orphaned. Who would take a poopy panda mutt Maine Coon? Mom? MOM?!
However, after a few days of cruising down Route 1 and 7-days of Icelandic road tripping, we started to get the feel for driving in Iceland in the winter.
Although we had to change plans frequently due to Icelandic winter road conditions, driving in Iceland in February was manageable and not a decision we regret.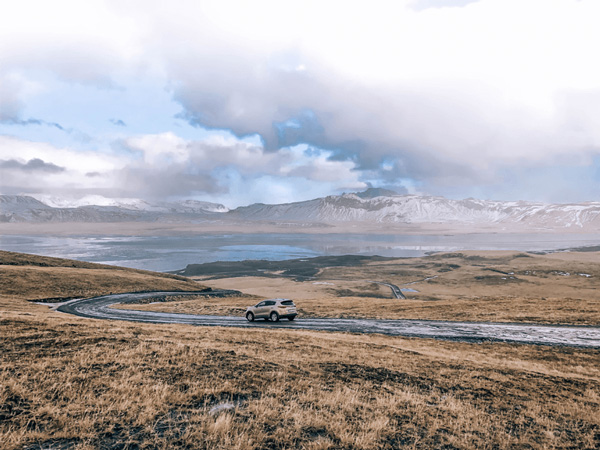 Below, find the must-know tips for driving around the snowy Icelandic roads. Read about the essential websites, emergency numbers, and helpful suggestions to keep you safe.
Let this post be an Iceland driving guide to aid your decision-making and know what to expect. Driving in Iceland isn't necessarily a breeze.
Please just keep in mind: I am not an expert or professional on Icelandic driving. After 12 years of driving abroad, though, I hope these guidelines make you have the best driving experience possible. Always be sure to do your own research and verify the information. Make the best decisions for yourself.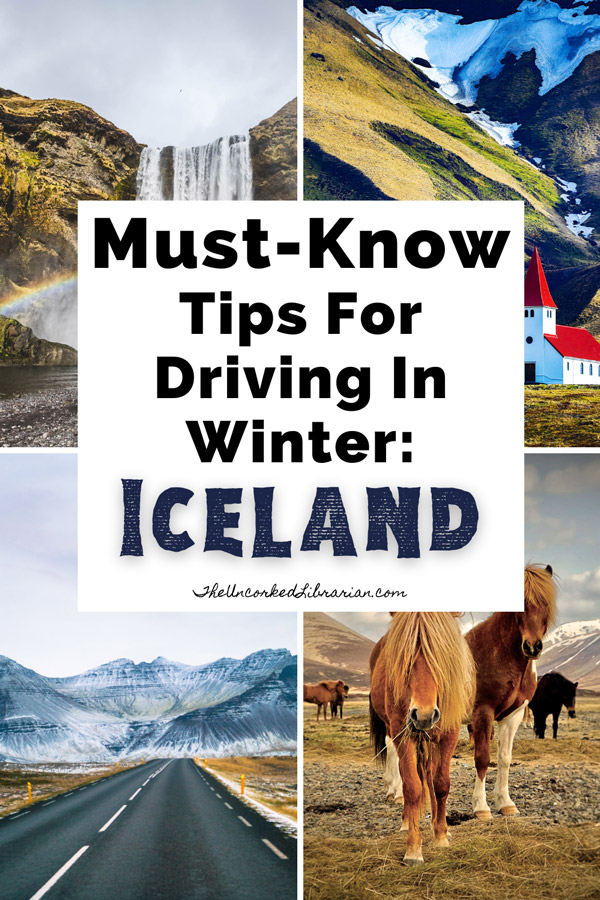 P.S. Looking For Places To Stay In Iceland?
If you are searching for places to stay in Iceland, don't miss these Airbnb Stays. You can also check out these Hotels Around Reykjavik and the Golden Circle.
Is It Safe To Drive In Iceland In The Winter, Especially January And February?
Do I recommend driving in Iceland in the winter for everyone? Is it safe to drive in Iceland in February?  Honestly, I cannot make that decision for you.  Driving internationally, for some, may always be out of the question. We mostly prefer to rent a car and go.
Driving in Iceland and abroad in general — regardless of the weather conditions — requires extra diligence and attention. Some signs may look unfamiliar, and you might not know where you are going.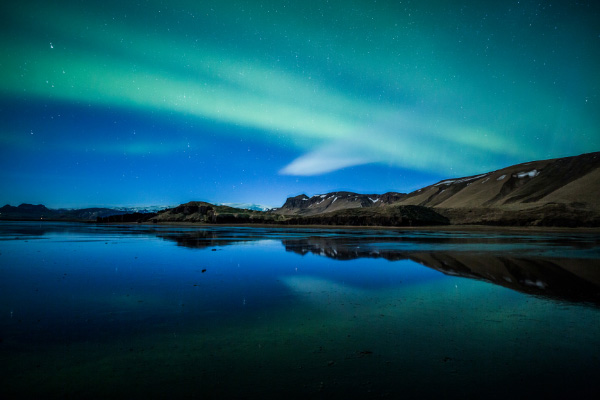 The rules of the road vary, and the terrain might be much different than back home. Plus, you are driving a car that you aren't used to. The sights get pretty distracting.
However, I also read quite a few terrifying blogs that said, "Absolutely do not drive in Iceland in the winter." We rented a car, and it wasn't a decision we regretted.
What I can advise from personal experience is to know what to expect.  Gauge your expertise and comfortability.  We are incredibly glad that we spent our week driving around Iceland — even in the winter — but you have to be careful, smart, and safe. 
Oh, and adaptable, too! The weather may thwart your plans.
---
---
Do You Need To Rent A Car In Iceland?
Let's start at the beginning. Do you need to rent a car for a week in Iceland in winter?
If you are nervous to rent a car and drive around Iceland, you can always book a group bus tour. In fact, we met up with an old friend who was doing just that. She saw a lot of the same gorgeous Icelandic attractions that we did without the hassle of a car.
You can take group tours either from Reykjavík or around other areas of Iceland. Some people use the local airport to fly around the island too.
Why Rent A Car In Iceland?
Although it's pretty nice to get chauffeured around, especially in inclement weather, tour buses can be limiting and expensive.
I suffer from extreme motion sickness, and neither of us loves traveling in big groups. We always feel like we are being herded around on someone else's clock.
So, why rent a car in Iceland? These are our 5 main reasons for renting and driving a car in Iceland in winter:
1. Travel At Your Own Pace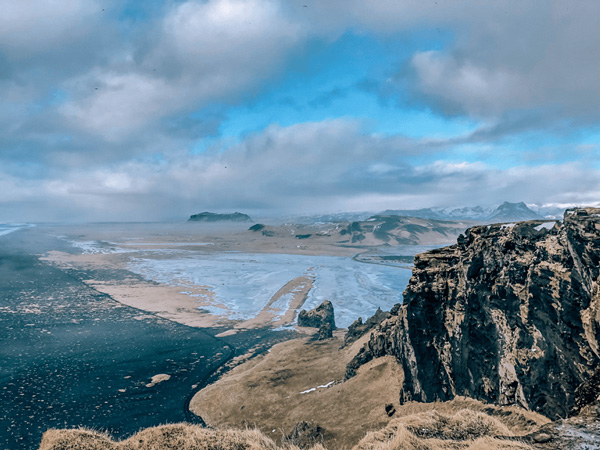 As we get older, we love traveling at our own pace. While we might book one or two group tour day trips, we love the comfort of exploring, building our own schedule based on how we feel, and lingering at a destination for as little or as long as we want.
Sometimes, you just want to sleep in or take a day off to wander a city and plunk down at a cafe. We also used to overbook our time, and a vacation is no fun if it's exhausting.
As a traveler with a chronic illness (UC), I also like to be on my own schedule with no pressure.
2. Convenience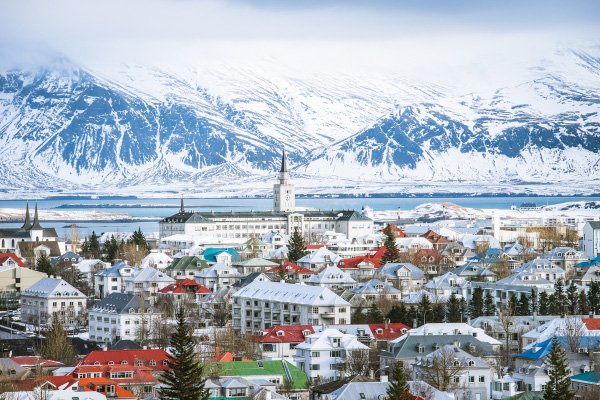 We loved having a car at the tip of our fingers in Iceland for convenience.  Reykjavík is easy to navigate, and you can find free and metered parking plus [expensive] parking garages. 
You don't have to worry about bus schedules or wait around for a ride. You can come and go as you please.
---
---
3. Ability To Build Your Own Itinerary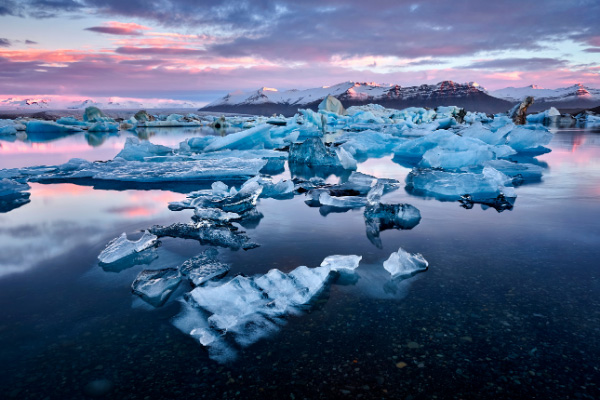 We tend to build our travel itineraries by booking our road trip stops and hotels. We jot down some key sights ahead of time but love to ask for local recommendations when we land — places not always in the travel guides.
Renting a car allows you the extra cushion and time to add in spur of the moment activities.
For our week-long Icelandic road trip, we drove around Southern Iceland, including Ring Road and the Golden Circle. We made it as far east as Jökulsárlón and as far west as the West Fjords.
4. Won't Have To Worry About Public Transportation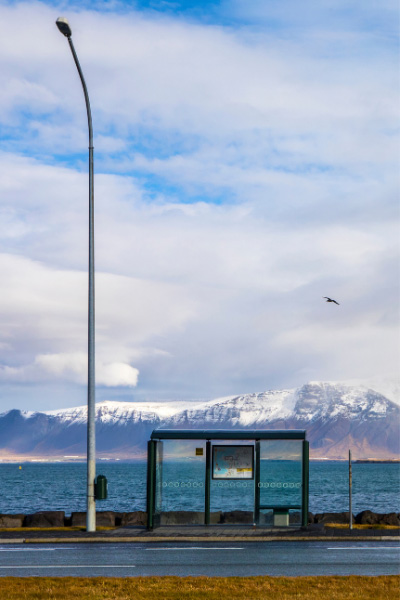 When it was snowing, we didn't always want to walk to our destination or take public transportation. Slush gets cold and gross on the feet. Driving was the best option, for us.
There is public transportation in Iceland, but it felt scarce. Iceland is still largely untouched.  Unlike Italy, you won't be able to hop on a train from Florence to Venice to Milan and Lucca. You won't find Switzerland's train system, either.
There is also no Uber in Iceland. We saw few taxis, although they are around. Taxis in Iceland are expensive.
5. Carry As Much As You Like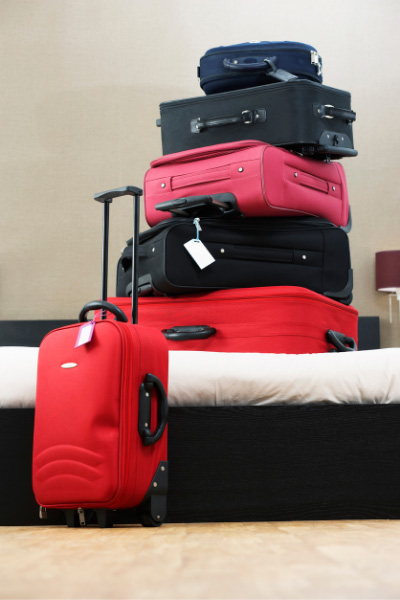 Lastly, if you are renting and driving a car in Iceland in the winter, you can pack as much as you want, including all of those extra socks and sweaters.
You are the one schlepping all of your stuff around. I always pack worry-free when I know that I am driving.
---
Don't leave for Iceland without getting all of our Winter In Iceland Tips.
---
Where Can You Rent A Car In Iceland?
We rented our car from Auto Europe, which in Iceland, landed us at the Avis/Budget counter at Reykjavík–Keflavík Airport. You can also find rental car places in major cities, but we have always rented directly at the airport.
4 Essential Tips When Renting A Car In Iceland
When renting a car in Iceland in winter, I highly recommend:
1. Renting A Car With 4WD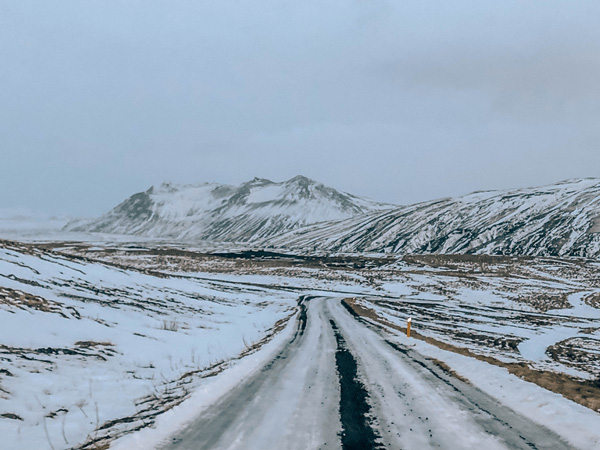 This one isn't even debatable.  You will need 4WD for the snow, smaller roads, and road conditions.  Of course, you will pay more for 4WD.
Also, know that some Icelandic road signs are labeled '4WD only.' That means that if you want to visit Dyrhólaey to see the infamous arch and lighthouse, you need 4WD for the massive offroading hill. Trust me; you really do.
2. Consider Full Coverage Car Insurance
As we landed at the Icelandic rental car counter, the family next to us was crying and yelling at rental car staff.  I cannot even begin to tell you how many times we return our rental car to watch others owe thousands in minor damages.  Thousands.  
Plus, in Iceland, for us, this coverage included roadside assistance.
Driving in Iceland in the winter means that most likely something — hopefully minor — may happen to the car.  The winds are strong and might scratch the paint.  The door might blow off its hinge or take a hit. Rocks will kick up and dent the windshield. 
While watching the Northern Lights, lava stones pounded the car to death.  Your car will take a beating.
When we received our rental car, my side door required a nudge to shut it from previous damage. The windshield had a sizable, recently sealed crack. The car was safe and still in great condition, but the car also demonstrated incessant battles with the landscape.
Even with a rental car booked on a credit card, we never surpass full auto coverage for a vehicle.  Your personal insurance, if you get hurt, is another story.
3. Get Trip Insurance Coverage
We have AAA travel insurance and added extra coverage to our Iceland road trip, which we almost always do when traveling abroad. 
If we didn't make it to a hotel due to snow or not feeling safe driving that day in the snow, we'd get our money back. 
4. Say Yes To Snow Tires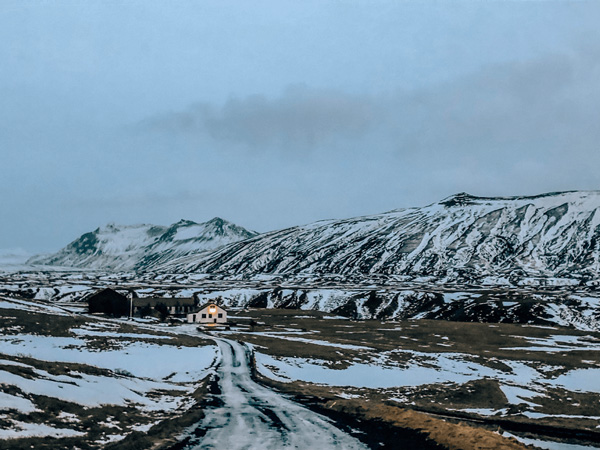 Triple check to make sure you get snow tires when renting an Icelandic vehicle.  Most rental cars have them in the winter these days.  If you are driving in Iceland in the winter, you need 4WD with snow tires.
What Does It Cost To Rent A Car In Iceland In Winter?
For our 7 days, we spent a little over $500 on the rental car. Not so bad, right? Then, add in the $90 a day for insurance… Most rental car companies also charge for more than one driver.
Lastly, add in the price of gas, which for us was around $80 every two days based on our driving. We had to fill up with diesel.
I also searched around, but I loved Auto Europe. They had quick and easy service, acted professionally, and gave us a solid car. We didn't have a single problem.
Do You Need An International Driver's License To Drive In Iceland?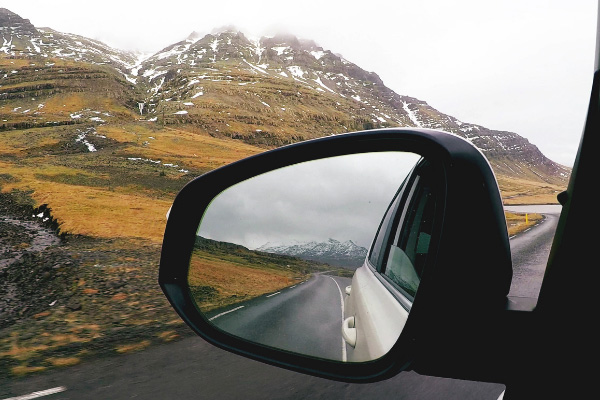 Do you need an international driver's license to drive in Iceland? We always check this before traveling to a country.
In Iceland, you do not need an international driver's license, although I always carry mine. You will need your home or national valid driver's license, and when driving abroad, I always have my passport ready, too.
We've been pulled over in other countries before: the rental car company didn't tag the car correctly (Ireland) or we had to stop for a routine DUI check (think Riga, Latvia at 4:30 AM on the way to the airport). The police asked for a valid national driver's license and (sometimes) passport.
We find that regardless if an international driver's license is needed to drive in a country, rental car companies like to see them, too.
We typically road trip around multiple countries a year, and someone always requires an international driver's license anyway.
So, once you get your rental car, how can you stay better prepared to drive in Iceland in the winter?
8 Tips For More Safely And Successfully Driving In Iceland In The Winter
Imagine leaving lightly flurrying Reykjavík first thing in the morning.  You check road conditions on your phone and with the hotel.  All looks smooth. You head out barely 30-minutes into your Golden Circle tour.
You are headed to Þingvellir for some ruin-hiking. As the snow gently falls, you watch as a beautiful Icelandic horse grazes in the distance.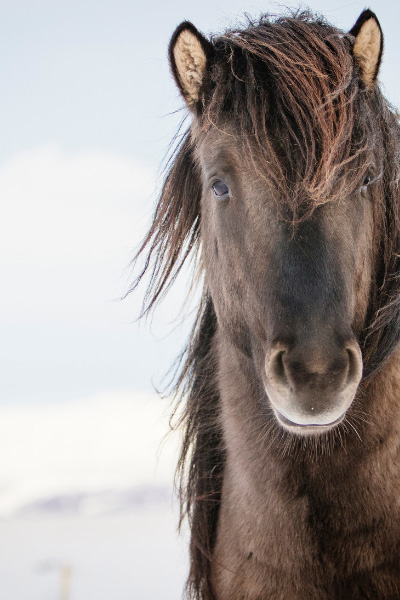 Rather suddenly, the horse disappears into a white gust of snow. Where are the mountains? Where is the horse? But, look at all of that glorious white!
Then, you disappear. The road disappears. Everyone has stopped, and there is an accident in front of you. You can't really see it, though.
You make a call to turn around. This is an unfamiliar land. You are in a whiteout. Your GPS and cell service are wavering, and you only know the way back and not forward. Gosh only knows what happens if this weather gets worse ahead.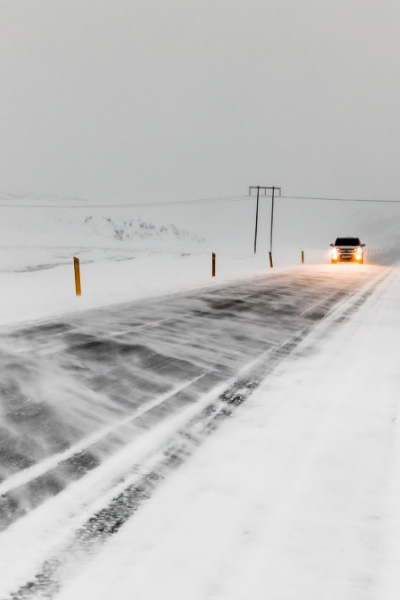 Returning to the hotel you just checked out of, you look at weather conditions. That road has officially been labeled a blizzard area and the road gate is up now. Within a 45-minute period, a clear road is closed.
Does this sound like an oddly true story? If yes, it's because it is.
The above happened on our second driving day in Iceland in February and made us approach the weather and roads even smarter in the future.  Was it the end of the world?  No.
With that said, these are the most important tips and tricks that I found helpful for self-driving in Iceland in February:
1. Check Traffic and Road Conditions Frequently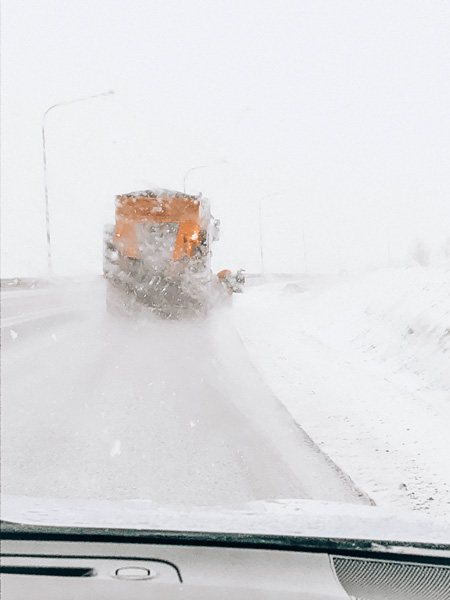 If bad weather suddenly turns in front of you, check the weather and roads.  I highly recommend having some sort of phone service.  We turn on our Verizon international plan for short trips.
Important Websites & Numbers To Know While Driving In Iceland In The Winter
The best source for Icelandic road conditions is the Roads IS website. Click on 'Road Conditions and Weather.' That map is your new Bible.
If you don't have internet, you can also call 1777 for road information.
112 is the Iceland emergency number.
Also, use a weather app for radar and weather conditions. Check it frequently.
---
---
2. Know A Few Key Road Tricks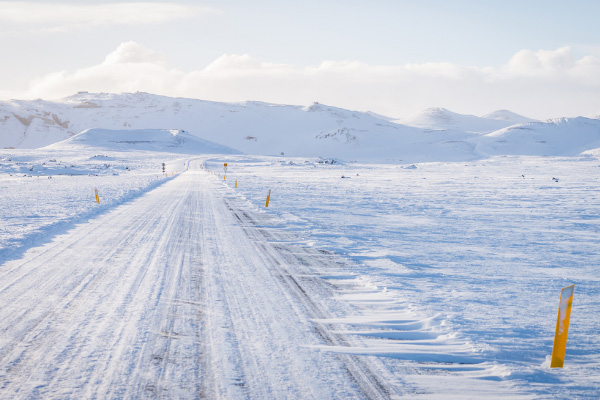 Something we quickly learned from hotel staff members: Look for the yellow poles on the side of the road. These mark the road's edge.
A single and usually silver line across them designates the right side of the road. A double silver line signifies the left side of the road.
3. Have Back-Up Maps As A Screenshot Or Printed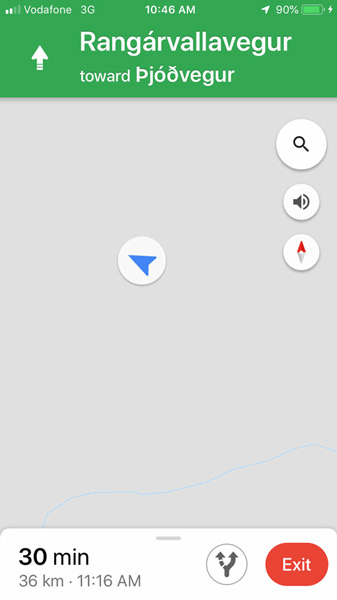 We did not venture too far off of the Golden Circle or Ring Road/Route 1. Although we took some side roads for sights and used routes off of the main roads, we almost always knew our way around.
We took rougher roads in uncharted territory only 2 to 3 times that week. Southern Iceland is not hard to navigate.
However, with sometimes spotty cellular reception and after our whiteout experience, I always took a screenshot map of the day's route.
If my navigation died, I knew where to go and how to get back. I am sure you can buy an actual map (you mean those aren't just for decoration and book crafts?!), but I'm an older millennial.
4. Expect Strong & Sporadic Wind Gusts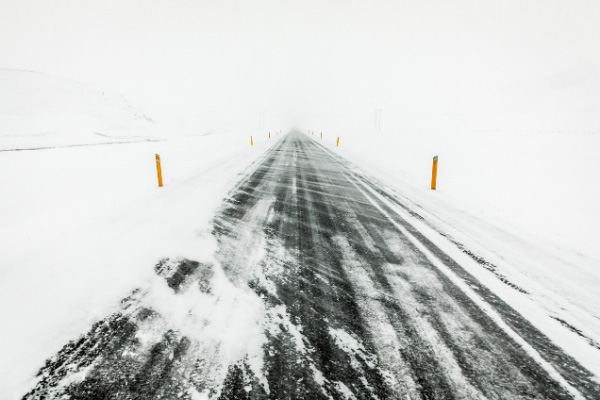 Prior to going to Iceland, Crystal of the dark tourism blog, Wandering Crystal, and I not so jokingly laughed about driving in the winter in the northernmost places. 
Crystal warned that car doors can literally blow off the car, which a sticker in our rental car also depicted. As Crystal recommended in our chat about not blowing away in Iceland:
"We put sandbags in the trucks of our cars in the winter to weigh down the vehicle a bit more to help prevent being pushed around by the wind. I have definitely noticed a difference! Just always carry all your luggage with you in the trunk of your car on your Iceland trip, haha."
HAHA, for REAL.  I am writing this blog post so that you won't be like Rabbit in the Hundred Acre Wood.
However, Iceland is windy in the winter.  We rented a Subaru Forester. Just know that wind will push and shove you all over the road. 
As noted above, we also watched the Northern Lights from a hill in Vik.  Lava rocks and sand pelted the car at 30+mph.  I opened the window for a picture and let's just say that lava rocks jiggled all over the dashboard the next day.
5. Never Pullover In Random & Undesignated Spots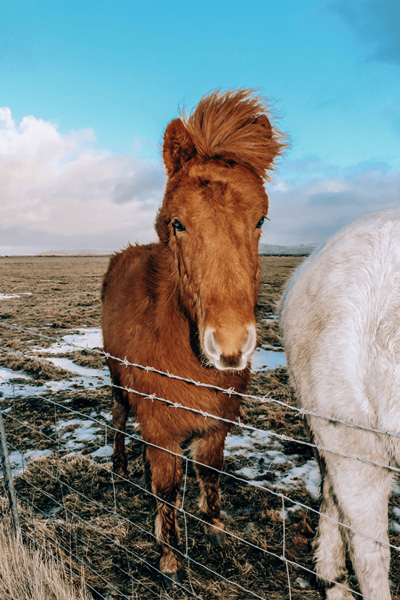 Ohhh, pretty horse!! Let me just stop on the side of this extremely narrow road on a blind turn with 60 mph driving speeds… Don't DO THIS!!!
The car rental place will tell you never to pull over on the side of the road in random spots. The locals will tell you the same advice, and the hotel staff members will remind you again. Driving off-road is illegal in Iceland.
You can pull over in spots designated for cars. There are plenty of them everywhere.
6. Watch Your Speed – There Are Speed Cameras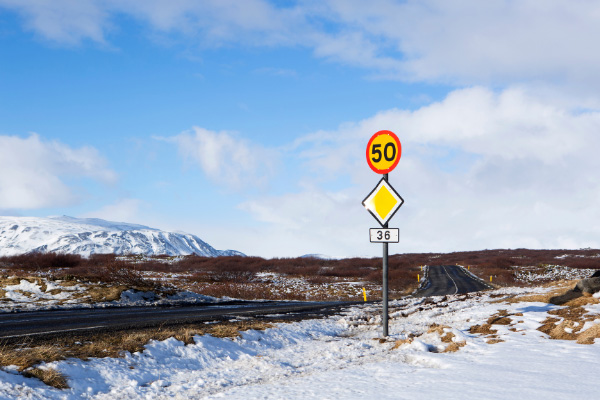 Pay attention to speed signs and know that cameras monitor some of Iceland's roads. I don't think we saw speed signs higher than 90 km/h.
In the winter, I doubt you'll want to surpass this. Signs tell you where the road is under surveillance too.
Main roads are cleared frequently and dusted with gravel/sand. Tiny roads are an adventure in themselves.  A few are sheer sheets of ice.
7. Stay Calm At Single-Lane Traffic Bridges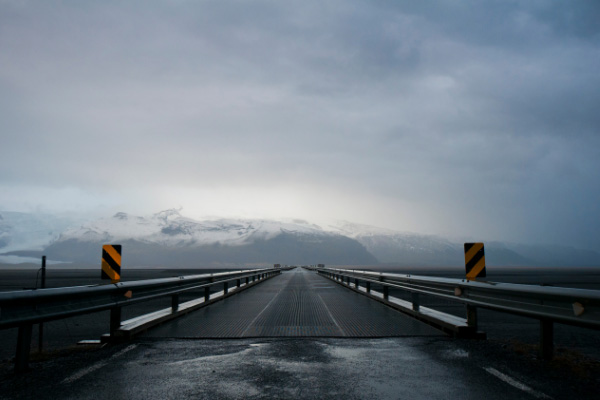 I will never understand the logic of single-lane traffic bridges.  Usually, you can see traffic coming from afar, but a few times, you could not spot oncoming traffic.  We nervously giggled our way over a giant one-way, steel-grated bridge on the way to Jökulsárlón.
You get there first: you go.  BUT, you may get there first, and the other car may be a tourist, too, and not know…proceed with caution.
8. Fill Up You Rental Car With Gas Whenever You Can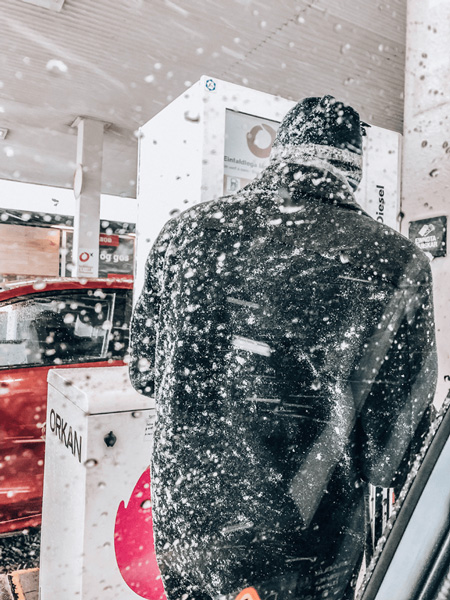 When people described Iceland, they made it sound like we would never find food or gas along the south coast.  They really freaked us out. 
However, none of this was the case. As two people with food intolerances galore, there were plenty of food options.
The myth of no gas is unwarranted for Southern Iceland.  You should always try to leave with more than half a tank in an unknown country, though.  We found gas stations in small and big cities, every 1-1.5 hours at least.  Maybe we hit a two-hour stretch, too.
However, be safe and fill up when you can. Plus, if you are in an unfamiliar car, don't be so trusting of that gas gauge.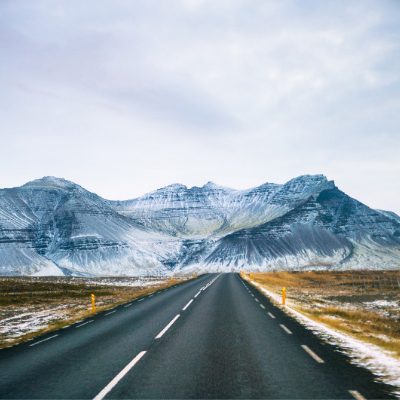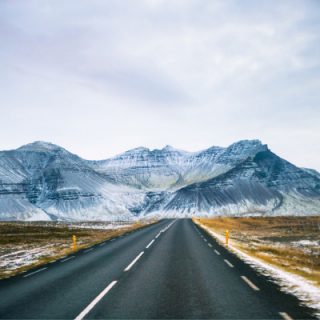 How To Better Prepare For Driving In Iceland In Winter
Thinking about driving in Iceland in the winter? These are our 9 tips and tricks for how to drive more safely and successfully for your Icelandic road trip.
Materials
Rental Car
Valid National Driver's License
Insurance
Tools
Navigation
Backup Maps
Snow Tires
Instructions
Rent a car with 4WD and snow tires
Check the weather and road conditions
Have a backup map paired with GPS
Park in designated areas only
Know important numbers to call for information and help
Know and drive the correct speed limits
Use etiquette and caution for one-way bridges
Fill up with gas when you can
Make safe, smart, and well-educated decisions, even if it means missing an attraction
Notes
For full details, website links, and pictures, please don't forget to visit https://www.theuncorkedlibrarian.com/driving-in-iceland-in-the-winter.
We have tons of Iceland guides, too!
Have a wonderful road trip!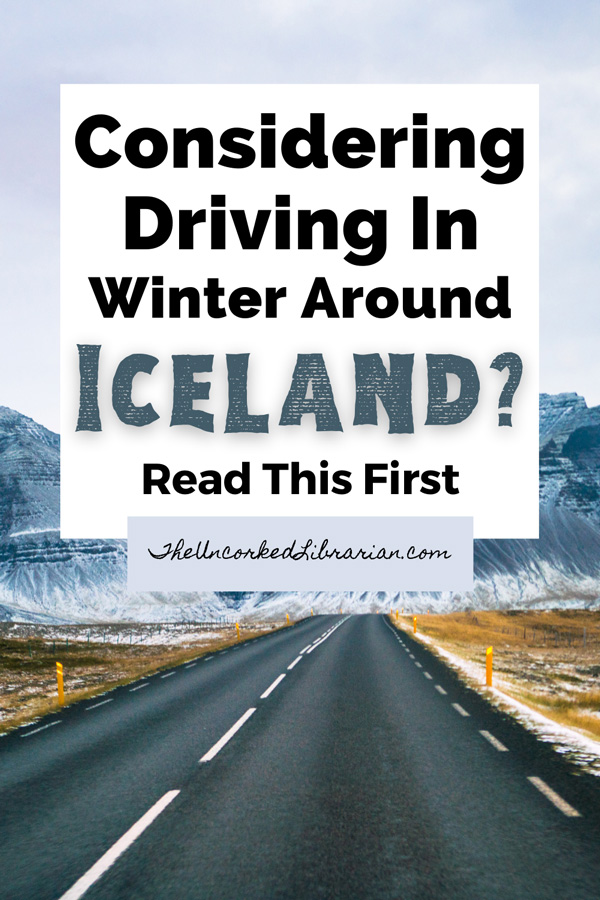 Looking For Places To Stay In Iceland For Your Road Trip?
If you are searching for places to stay in Iceland, don't miss these Airbnb Stays.
You can also check out these Hotels Around Reykjavik and the Golden Circle.
Are you ready for the adventure of a lifetime? Will you be driving in Iceland in the winter?
Iceland in the winter is beautiful. February is the best month for catching the Northern Lights and avoiding the crowds. 
We visited the Blue Lagoon first thing in the morning and had the infamous bucket list item largely to ourselves until after the gorgeous sunrise.  We never had to make dinner reservations for popular places. Overall, we greatly enjoyed visiting and driving in Iceland in the winter.
Is there anything else that you would add to this list about driving around in snowy conditions? Have you driven Iceland in the winter? Would you do it again? What were the pros and cons for you.
This post originally published on February 28, 2019 and has been updated for 2021.
You May Also Love These Iceland Posts To Plan Your Trip:
Is The Blue Lagoon Worth It?
Will I Enjoy Iceland In The Winter?
One-Week Iceland Road Trip Itinerary
One Day In Reykjavík
For TUL's Book Lovers:
Best Books About Iceland To Read Before You Go
Iceland's Book Flood, Jolabokaflod
Must-See Southern Iceland Waterfalls & Their Legends
For TUL's Booze Lovers: