If you love vampire novels, you cannot miss the vampire OG of them all: Dracula by Bram Stoker. Find Dracula book information, summaries, and reviews here.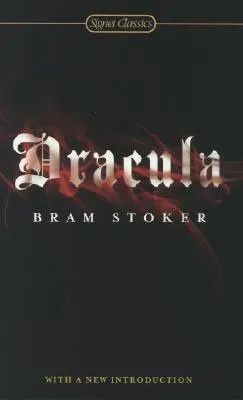 This post may contain affiliate links: If you purchase through my link, I will receive a small commission at no additional cost to you. I only recommend products/services that I approve of. See my full Disclosure Policy.
Dracula by Bram Stoker Book Information
Author: Bram Stoker
Genre: Book Set London | Classic Literature | Gothic Horror | Book With Vampires
Pages: 416
Publisher: Signet Classics
Publication Date: Originally, 1897 | Signet 2007
See Dracula The Movie
Buy Dracula on Amazon
Grab even more great books here:
Dracula by Bram Stoker Summary From The Publisher
Bram Stoker's gothic horror masterpiece pits good against evil and life against death, all under the thrall of the original vampire… Count Dracula sleeps in a silent tomb beneath his desolate castle. His eyes are stony and his cheeks are deathly pale. But on his lips, there is a mocking smile–and a trickle of fresh blood. He has been dead for centuries, yet he may never die… Here begins the most celebrated vampire story in history, a tale of age-old evil that is forever new. With its haunting mix of suspense and horror, Bram Stoker's Dracula is a novel of compelling power. Reader, be warned: once you enter Castle Dracula, you might not escape its baleful spell–even after you close this book.

Signet Classics
Join The Uncorked Reading Challenge Today
---
Travel around the world with the Uncorked Reading Challenge. Get the best book and movie recs straight to your inbox. Sign Up Now.
About Author, Bram Stoker
Born in 1847 in Dublin, Ireland, Bram Stoker grew up in a home where his mother loved to tell him horror stories. Known to take ill often, Bram stayed in bed while his mother offered stories as entertainment.
In college, Bram freelanced as a journalist and a theater critic. He attended Trinity College Dublin–which as we know is a bookworm's dream destination.
Stoker married aspiring actress, Balcome, and together they had one child. Bram Stoker wrote 18 books before he died at the age of 64.
Time Magazine wrote more about the history behind Dracula. You can also find free Stoker books downloads here.
Dracula by Bram Stoker Reviews On The Uncorked Librarian
If you are looking for even more gothic horror and creepy classics, especially for the fall and Halloween season, you will love this horror book list for adults. Find books like Dracula by Bram Stoker along with The Exorcist, The Guest List, The Woman In Cabin 10, Ring, and The Good Daughter.
Are you blood-lusting for even more vampires? TUL has the perfect book list just for you. Discover all of the vamps that you could ever need–steamy, hot, mean, and girlie–on this huge vampire book list. We are sharing vampire series and romances, too.
Find even more great vampire books for middle and high schoolers on this reading list.
Don't miss these books set in and across Europe to inspire your travels and spark wanderlust. Explore books and book lists set in countries like France, Scotland, England, Ireland, Lithuania, Greece, Czech Republic, Germany, Latvia, Switzerland, Estonia, and so many more.