An August 2020 new book release, Don't Ask Me Where I'm From by Jennifer De Leon is a YA book about racism and immigration set in Massachusetts. Discover book information, summaries, and book reviews here.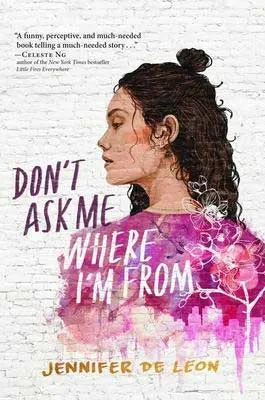 This post may contain affiliate links: If you purchase through my link, I will receive a small commission at no additional cost to you. I only recommend products/services that I approve of. See my full Disclosure Policy.
Author: Jennifer De Leon
Genre: Multicultural YA | Book Set In Massachusetts | Book About Racism
Pages: 336
Publisher: Atheneum/Caitlyn Dlouhy Books
Publication Date: August 18, 2020
Buy Now: Amazon
Don't Ask Me Where I'm From by Jennifer De Leon Summary
Liliana Cruz is a hitting a wall—or rather, walls.

There's the wall her mom has put up ever since Liliana's dad left—again.

There's the wall that delineates Liliana's diverse inner-city Boston neighborhood from Westburg, the wealthy—and white—suburban high school she's just been accepted into.

And there's the wall Liliana creates within herself, because to survive at Westburg, she can't just lighten up, she has to whiten up.

So what if she changes her name? So what if she changes the way she talks? So what if she's seeing her neighborhood in a different way? But then light is shed on some hard truths: It isn't that her father doesn't want to come home—he can't…and her whole family is in jeopardy. And when racial tensions at school reach a fever pitch, the walls that divide feel insurmountable.

But a wall isn't always a barrier. It can be a foundation for something better. And Liliana must choose: Use this foundation as a platform to speak her truth, or risk crumbling under its weight.

Atheneum/Caitlyn Dlouhy Books
More About The Author, Jennifer De Leon
Jennifer De Leon is an Assistant Professor of Creative Writing at Framingham State University. She currently lives in the Boston area. De Leon holds a degree in International Relations from Connecticut College and a Master of Arts in Teaching, which she earned during the Teacher For America program. Read more about Jennifer De Leon.
Where You Can Find Don't Ask Me Where I'm From Reviews On The Uncorked Librarian
Are you headed to Massachusetts? You might enjoy this reading list with books set in and about MA to read before you go.
What did we think of Don't Me Where I Am From by Jennifer De Leon? Find out here along with more August 2020 new book releases to read and skip. Read about new books including In The Realm Of Ash And Sorrow and historical fiction novel, The Lions Of Fifth Avenue by Fiona Davis.