Are you looking for a book similar to Mulan?  You will enjoy YA fantasy, Defy by Sara B Larson. Finds books similar to Defy too.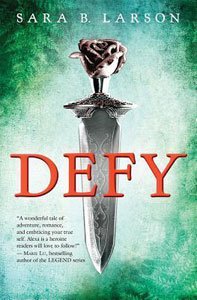 This post may contain affiliate links: If you purchase through my link, I will receive a small commission at no additional cost to you. I only recommend products/services that I approve of.  Purchasing through my links allows me to continue to provide unique content and pursue my business dreams. Thank you for supporting me.  See my full Disclosure Policy.
Defy
Author: Sara B Larson
Series: Defy Series
Genre: Young Adult | Dystopian Romance | Paranormal & Urban Fantasy
Pages: 341
Publisher: Scholastic, Inc.
Publication Date: 2014
Buy Defy By Sara B Larson Here:


Description Of Defy by Sara B Larson From The Publisher, Scholastic Inc.:
"Alexa Hollen is a fighter. Forced to disguise herself as a boy and serve in the king's army, Alex uses her quick wit and fierce sword-fighting skills to earn a spot on the elite prince's guard. But when a powerful sorcerer sneaks into the palace in the dead of night, even Alex, who is virtually unbeatable, can't prevent him from abducting her, her fellow guard and friend Rylan, and Prince Damian, taking them through the treacherous wilds of the jungle and deep into enemy territory.
The longer Alex is held captive with both Rylan and the prince, the more she realizes that she is not the only one who has been keeping dangerous secrets. And suddenly, after her own secret is revealed, Alex finds herself confronted with two men vying for her heart: the safe and steady Rylan, who has always cared for her, and the dark, intriguing Damian. With hidden foes lurking around every corner, is Alex strong enough to save herself and the kingdom she's sworn to protect?"
About The Author, Sara B Larson:
Sara B. Larson is a popular young adult author who lives in Utah with her family.  Read more about Sara B. Larson.
Loving Defy? Find More Books In The Defy Series:

TUL Book Lists Featuring Defy by
Sara B Larson
:
Find YA and adult books similar to Mulan with women who fight for their countries:

Read Even More Great Books On This Woman Warrior Book List:
Books Similar To Defy By Sara B Larson That You May Like: