Do you love dramatic young adult books that take place at boarding schools? Conversion by Katherine Howe will intrigue you. Find out more about this witchy realistic fiction read with a twist.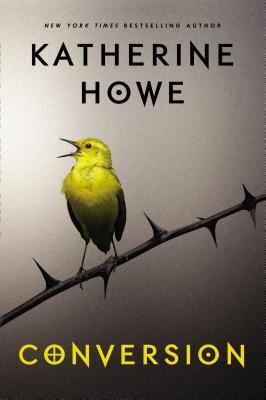 This post may contain affiliate links: If you purchase through my link, I will receive a small commission at no additional cost to you. I only recommend products/services that I approve of. See my full Disclosure Policy.
Author: Katherine Howe
Genre: Young Adult | Mental Health and Wellness | Historical Fiction Mysteries
Pages: 420
Publisher: Penguin Random House
Publication Date: 2014
Buy It Here: Amazon
Find even more great books here:
1. Book of the Month: Get the month's hottest new and upcoming titles from Book of the Month. You might snag an early release or debut author. Along with selecting a book a month, find terrific add-ons, both trendy and lesser-known titles.
2. Audible Plus: From Amazon, listen to Amazon Originals, podcasts, and audiobooks. They add new titles every week.
3. Amazon Prime: Don't miss Amazon First Reads – early access to Kindle books. Get fast delivery as well as movies, music, Originals, shows, and more.
4. Or, start your trial of Amazon Video for movies and tv series on demand.

Conversion by Katherine Howe Summary
"A chilling mystery based on true events, from New York Times bestselling author Katherine Howe.

It's senior year, and St. Joan's Academy is a pressure cooker. Grades, college applications, boys' texts: Through it all, Colleen Rowley and her friends keep it together. Until the school's queen bee suddenly falls into uncontrollable tics in the middle of class.

The mystery illness spreads to the school's popular clique, then more students and symptoms follow: seizures, hair loss, violent coughing fits. St. Joan's buzzes with rumor; rumor erupts into full-blown panic.

Everyone scrambles to find something, or someone, to blame. Pollution? Stress? Are the girls faking? Only Colleen—who's been reading The Crucible for extra credit—comes to realize what nobody else has: Danvers was once Salem Village, where another group of girls suffered from a similarly bizarre epidemic three centuries ago…"

Penguin Random House
Join The Uncorked Reading Challenge Today
---
Travel around the world with the Uncorked Reading Challenge. Get the best book and movie recs straight to your inbox. Sign Up Now.
About The Author, Katherine Howe:
Katherine Howe is a New York Times bestselling author. Uniquely, she comes from a family of accused witches during the Salem Witchcraft Trials. Katherine is also a teacher at Cornell. Read more about Katherine Howe here.
Loving Conversion by Katherine Howe? Don't Miss Out On Her Other Novels:

TUL Book Lists Featuring Conversion by Katherine Howe
Are you looking for dark academia books like Conversion? Explore our reading list filled with spooky and dark books that take place at prestigious universities, colleges, and boarding schools.
Are you craving more YA realistic and fantasy fiction recommendations with witches? Check out TUL's favorite adult and YA witchy books.
Did you know that Conversion is set in Danvers, MA? Find books set in all 50 states on this U.S. reading list.
Do you find the Salem Witch Trials intriguing? Find Conversion along with The Physick Book of Deliverance Dane on this books set in Salem, MA book list.
Find even more YA and adults books like Conversion on this Massachusetts reading list.
Don't miss all of the books we talk about set around North America.