If you are looking for train thrillers with a twist, don't miss Confessions On The 7:45 by Lisa Unger. Find a summary, book information, and book reviews here.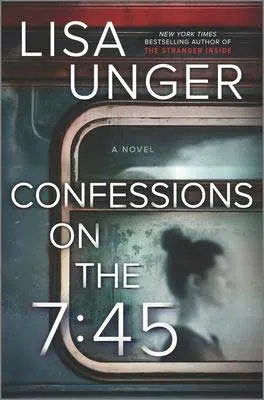 This post may contain affiliate links: If you purchase through my link, I will receive a small commission at no additional cost to you. I only recommend products/services that I approve of. See my full Disclosure Policy.
Author: Lisa Unger
Genre: Train Thriller & Suspense Novel | Set Primarily In NYC
Pages: 368
Publisher: Park Row
Publication Date: October 6, 2020
Find more great books:
1. Book of the Month: Get the month's hottest new and upcoming titles from Book of the Month. You might snag an early release or debut author. Along with selecting a book a month, find terrific add-ons, both trendy and lesser-known titles.
2. Audible Plus: From Amazon, listen to Amazon Originals, podcasts, and audiobooks. They add new titles every week.
3. Amazon Prime: Don't miss Amazon First Reads – early access to Kindle books. Get fast delivery as well as movies, music, Originals, shows, and more.
4. Or, start your trial of Amazon Video for movies and tv series on demand.

Confessions On The 7:45 by Lisa Unger Summary
Selena Murphy is commuting home on the train when she strikes up a conversation with a beautiful stranger in the next seat. The woman introduces herself as Martha and soon confesses that she's been stuck in an affair with her boss.

Selena, in turn, confesses that she suspects her husband is sleeping with the nanny. When the train arrives at Selena's station, the two women part ways, presumably never to meet again.

Then the nanny disappears.

As Selena is pulled into the mystery of what happened, and as the fractures in her marriage grow deeper, she begins to wonder, who was Martha really? But she is hardly prepared for what she'll discover…

Park Row
Join The Uncorked Reading Challenge Today
---
Travel around the world with the Uncorked Reading Challenge. Get the best book and movie recs straight to your inbox. Sign Up Now.
More About The Author, Lisa Unger
Lisa Unger is an award-winning and NYT bestselling author. Read more about Lisa Unger.
Where You Can Find Confessions On The 7:45 Reviews On TUL
If you love thrilling and chilling books set on trains, be sure to head over to this reading list. You'll also find more train-based books like Strangers On A Train, Orphan Train, and The Last Train To Key West.
Travel to New York City and State with these contemporary books. Find historical fiction, suspense novels, and even our favorite YA books set in NY.