We love making simple and delicious cocktails here at The Uncorked Librarian. We are not pro cocktail makers, but we are pro drinkers.
Below, find our easy peasy cocktail recipes that anyone can make at home. Many are inspired by our favorite books.
We try to limit our cocktail making and recipes to basic cocktail ingredients that you already have in your fridge and pantry or ones that you can replicate.
We also love working together with and showcasing our local wineries, meaderies, and distilleries. Please drink responsibly.
Don't miss our Literary-Inspired Cocktails, too.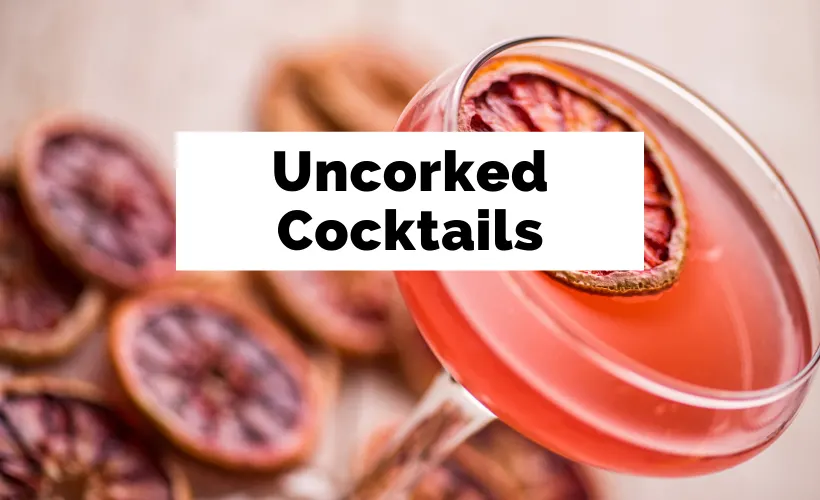 Bourbon Cocktails
Don't miss this seasonal holiday punch cocktail recipe featuring North Carolina's infamous cherry soft drink, Cheerwine.
Gin Cocktails
Perfect for those warm summer days, enjoy our peach and gin cocktail inspired by James and the Giant Peach by Roald Dahl.
Vodka Cocktails
If you are looking for a spicy Blackberry Vodka Smash, don't miss our 'Where The Crawdads Smash,' a vodka cocktail inspired by Delia Owens' Where The Crawdads Sing.
Whiskey Cocktails
An Old Fashioned is one of our favorite drinks over at The Uncorked Librarian. Add a little smoke with vanilla and chocolate flavors, and you have the perfect whiskey recipe for book lovers. Of course, bourbon is an OK substitute for this cocktail.
Drinks For Travelers
Don't miss these cocktails and spirits while traveling.
Headed to Iceland? Get in the spirit with these beverages.
Try our delicious mead cocktail recipes inspired by our favorite books and NC-based meaderies.
More Boozy Fun
Find boozy gifts, games, and so much more.
Throwing a party? Meet your new favorite drinking game.
Do you have a champagne lover in your life? Grab great gift ideas here.
Learn more about wine and travel to vineyards across the world with these books.