Are you headed to Clarksville? Check out these 6 hopping breweries in Clarksville, TN perfect for live music, local grub, or a craft beer.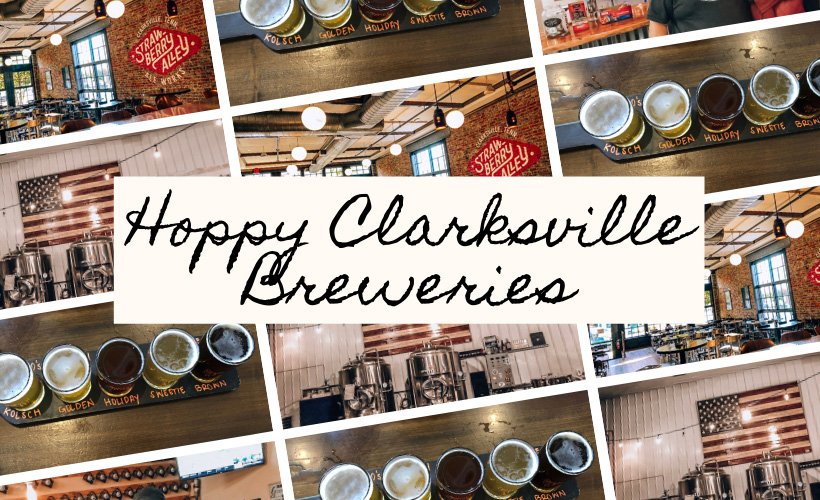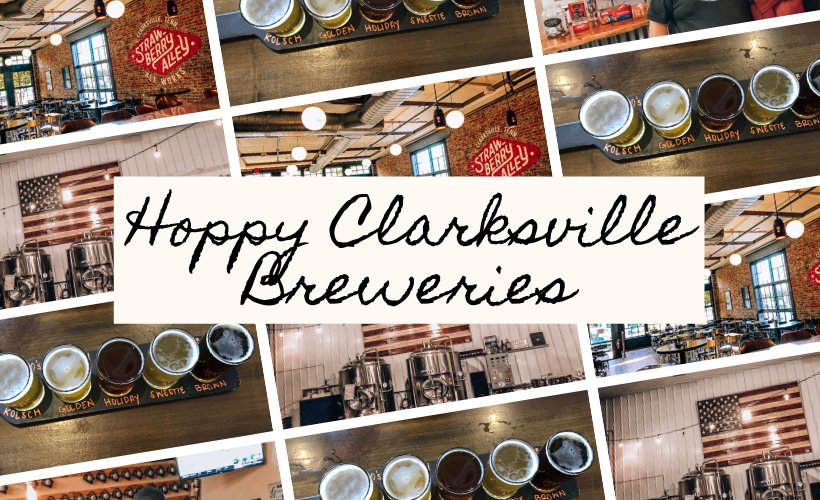 ---
Visit Clarksville invited The Uncorked Librarian out to tour and enjoy the breweries in Clarksville, Tennessee. While this is an all-expenses-paid and sponsored press trip, all opinions are my own and remain unbiased.

---
Clarksville, Tennessee is about 1-hour from Nashville, 3.5-hours from Knoxville, and a total of 5.5-hours from Asheville, NC. If you are looking for a weekend getaway from the big city crowds, Clarksville is for you.
Although the 5th largest city in Tennessee, Clarksville's historic downtown area offers small-town vibes with so much heart and pride. Find street art, southern cuisine, a theater, a used bookstore, and endless cafes for specialty coffee. Don't forget the speakeasy at Roux, too.
Even more, the breweries in Clarksville, TN are plentiful, unique, and community-driven. The Clarksville breweries demonstrate pride in their vets and country–especially with Fort Campbell nearby–as well as their beer.
There are 6 breweries alone in Clarksville, all less than 20-minutes apart. In one weekend, we could barely visit them all. Below, read why each of these Tennessee breweries is unique to better help you pick which ones you should visit–if you can't get to them all.
Not To Miss Clarksville Breweries:
Blackhorse Pub and Brewery
Kings Bluff Brewery
Strawberry Alley Ale Works
The Star Spangled Brewing Co.
Tennessee Valley Brewing Co.
Evill Nash Brewing Co.
Get all of the details on these breweries below: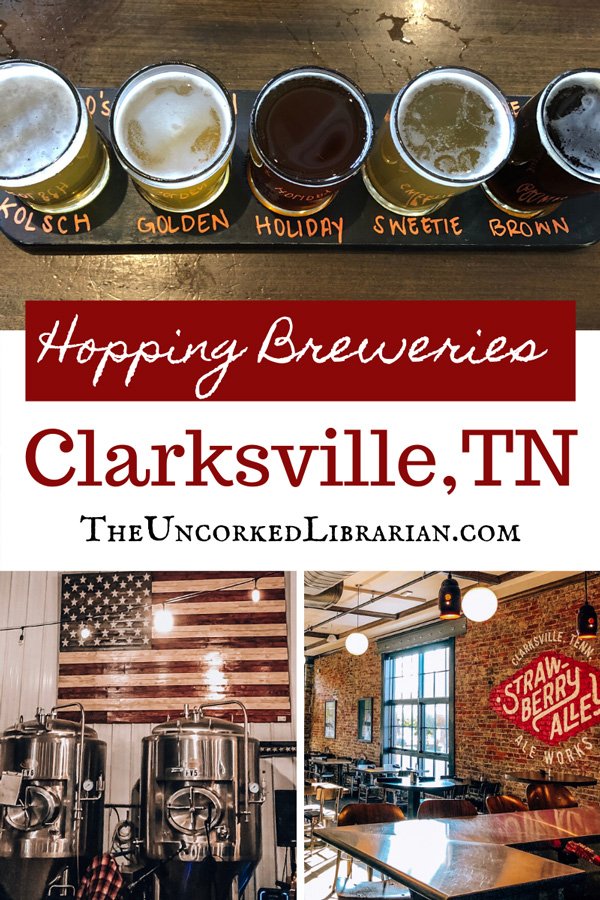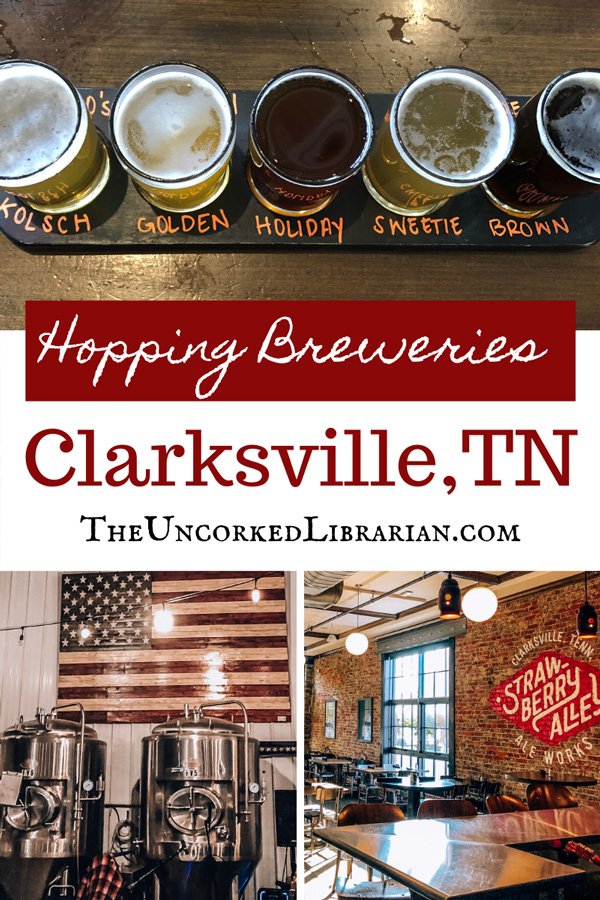 6 Hopping & Fun-Loving Breweries In Clarksville, TN
Blackhorse Brewery and Pub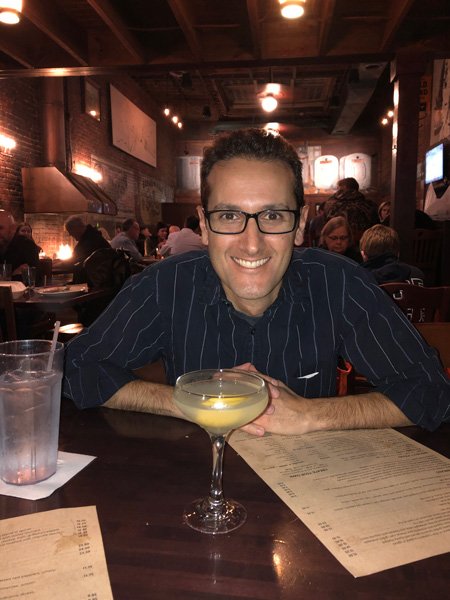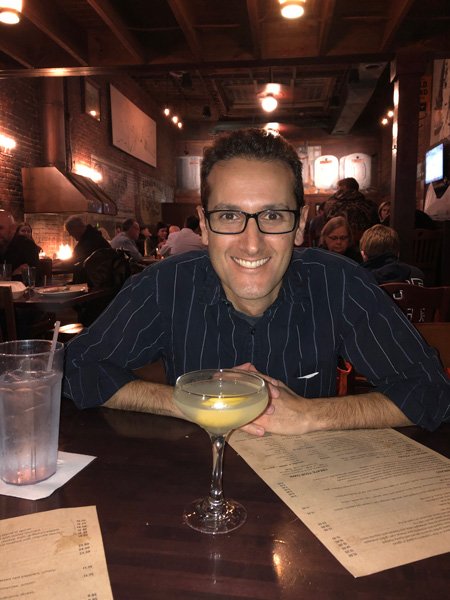 Blackhorse is one of the first breweries to open in Clarksville, TN and is perfect for a cozy night with dimmed lights, a fireplace, and the best pub food. Of course, we landed in Clarksville the weekend it was 17-degrees.
Find craft beer and cocktails, a huge menu of food, including gluten-free options, and a great blend of southern-infused treats. They tap seasonal, specialty, and year-round beers. We caught an experimental one, too.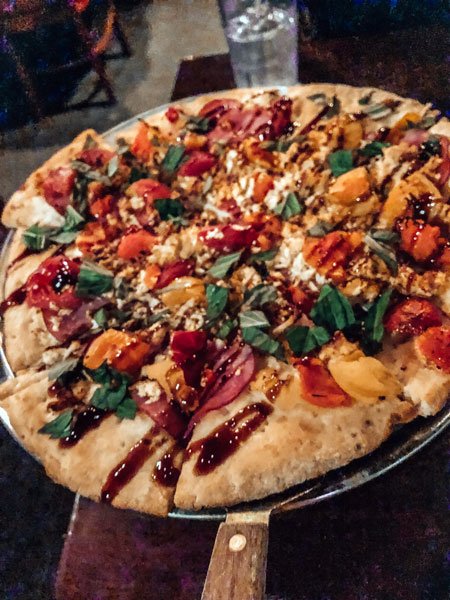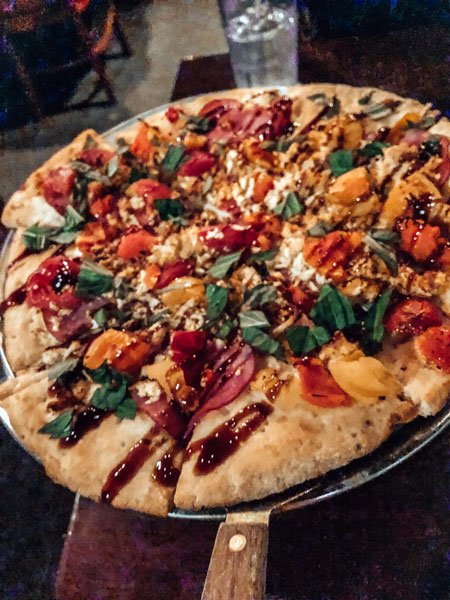 Notably, Blackhorse Pub and Brewery is veteran-owned. Jeff Robinson is a former helicopter pilot for the 101st Airborne Division and opened the pub with his wife, Sherri. The name "Blackhorse" honors the 11th Armored Cavalry Regiment.
You can also find Blackhorse in Knoxville, TN, which is Sherri's hometown.
The pub is such a staple to Clarksville, TN, you'll find it packed on pretty much any night of the week. Yes, this Clarksville brewery is super family-friendly.
Blackhorse Pub and Brewery is located at 132 Franklin St., Clarksville, TN. Learn more about Blackhorse here.
Kings Bluff Brewery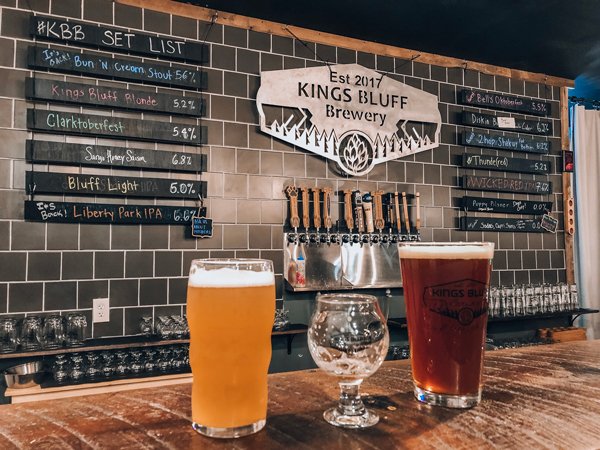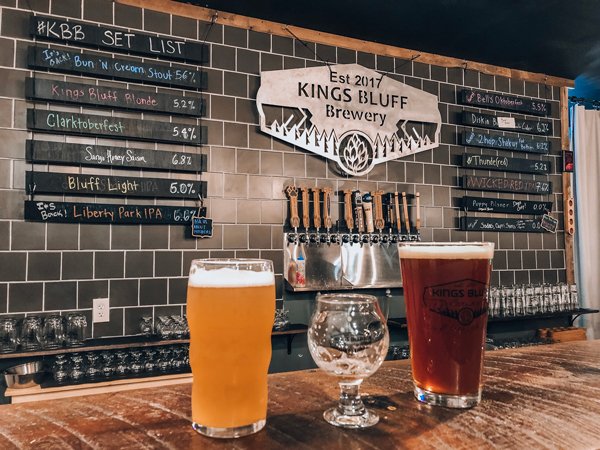 Kings Bluff Brewery is one of the younger breweries in Clarksville, TN. Recently opened as of January 2019 and close to Austin Peay, you will find a hip crowd, live music, and of course, delicious craft beer.
Pet-friendly, you'll find a variety of beers, including Seasonals, Pilsners, IPAs, Saisons (one of my favs), and a Stout. I give them extra credit for being the only brewery along with Wicked Weed in Asheville for still having something October-y on tap in November.
Yup, that might make you amazing. I am that beer drinker…
Plus, the Kings Bluff owners' names pretty much qualify them to run a brewery, right? They are Dustyn and Kristen Brewer, after all. With a sense of humor and friendly staff, you don't want to miss this community-oriented Clarksville brewery.
Kings Bluff is located at 128 University Ave., Clarksville, TN. Check hours and what's on tap at Kings Bluff Brewery.
Strawberry Alley Ale Works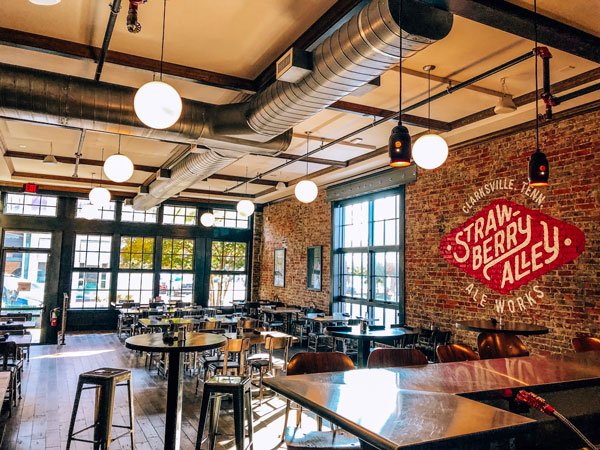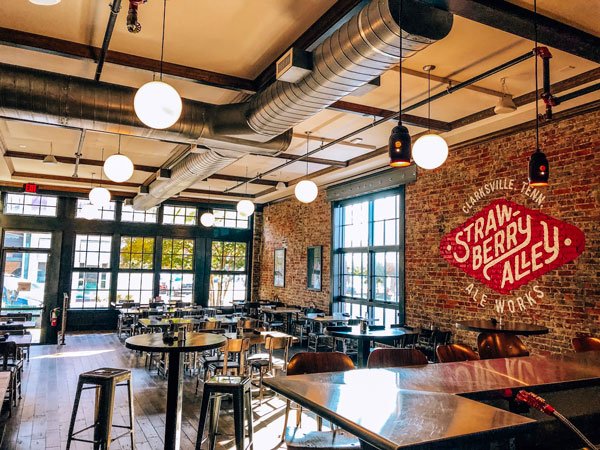 When we moved to North Carolina from Florida, I desperately craved the Dutch 'Gezelligheid." Amsterdam is infamous for brown cafes and that cozy feeling spent with loved ones. Blackhorse Pub and Brewery definitely gives off those vibes along with Strawberry Alley Ale Works.
However, unlike Blackhorse, Strawberry Alley Ale meshes those gorgeous old bricks with vibrant murals–some from Ola, who I just happened to bump into outside of his Clarksville studio. The taproom is just filled with light and color, thanks to Ola.
Ola is a Nigerian-born artist determined to tell the stories of those he meets through poems and portraits on canvases. His art not only covers the walls of Strawberry Alley Ale Works but brightens the walls across Clarksville, TN.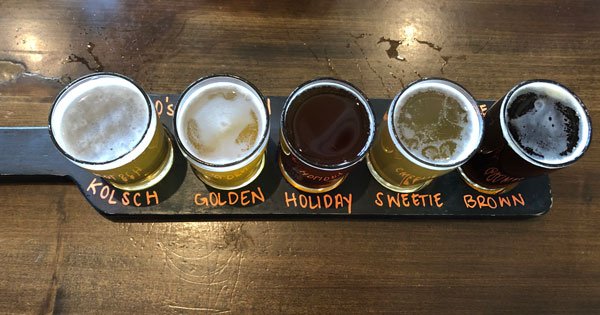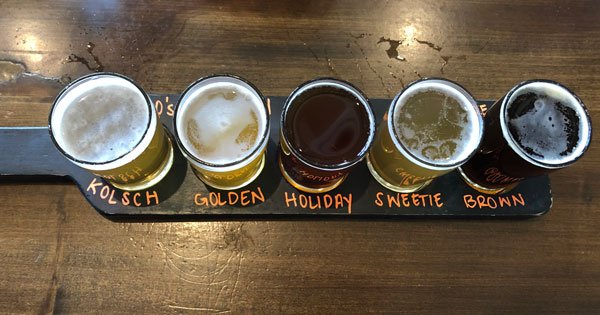 Strawberry Alley Ale Works sits in the actual Strawberry Alley–a quaint street tucked between Main and Franklin. We headed here for a mouth-watering lunch. What pairs better with a diverse flight of goldens, like a German Kolsch, and some ambers than fish and chips?
They also have an upstairs taproom with full bar games for guests over 21+ later in the day.
Strawberry Alley Ale Works is located at 103 Strawberry Alley, Clarksville, TN. Check out their massive menu, hours, and what's brewing here.
---
---
The Star Spangled Brewing Co.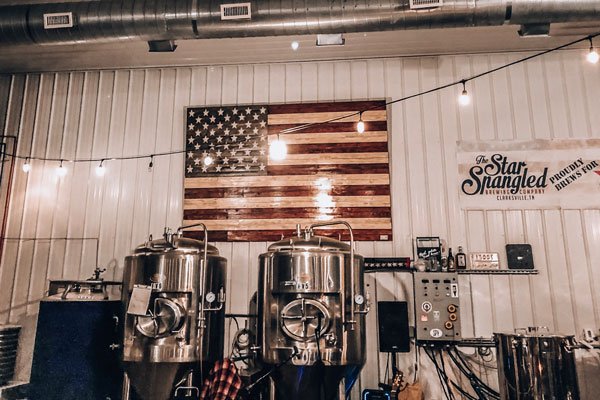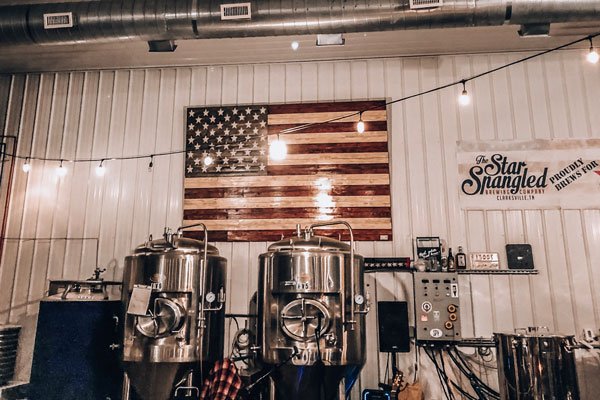 Star Spangled Brewing is another veteran-owned brewery in Clarksville with a large array of beers as well as ROOT BEER. They had such a large selection, I could hardly decide what to pick.
They proudly boast of their American-vibed atmosphere, and on the weekends, you can catch live music.
This Clarksville brewery is also close to Old Glory Distilling and Beachaven Winery. Old warehouses always made for the perfect brewery in Florida, and The Star Spangled Brewing Co. is no different.
We felt like we were at a giant picnic filled with friends and entertainment.
Star Spangled is located at 1030 Progress Drive Suite E., Clarksville, TN. Learn more about Star Spangled Brewing.
Tennessee Valley Brewing Co.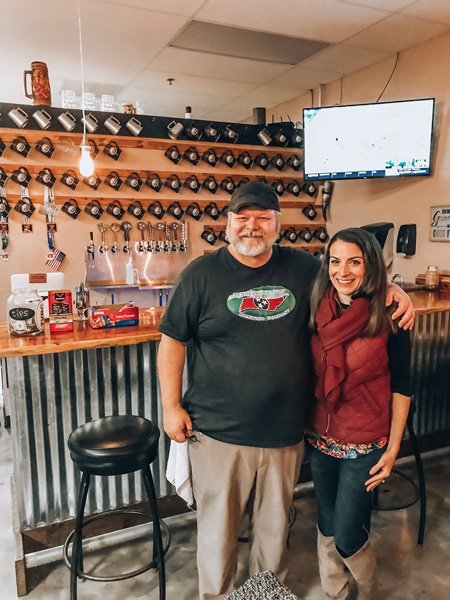 Tennessee Valley Brewing is Clarksville's first micro-brewery. They offer award-winning Base and Seasonal beers, including Pale Ales, Stouts, Nut Browns, Irish and Scottish Ales, and Belgians.
Although their home is in a shopping mall–like some of my favorite restaurants, ever–don't let that deter you from stopping by. A food truck met us in the parking lot, and once you open that front door, squeeze into a picnic table-like setup, chill at the bar, or grab a stool for a wine barrel table.
From the second we entered on a packed Friday night, the owners greeted us with huge smiles. I'm pretty sure this boozy blogger also didn't get any special treatment as Eric and his wife, Wendy, walked from table to table chatting with everyone like they were family.
Similar to the other breweries in Clarksville, TN, Tennessee Valley Brewing is extremely community-oriented, holding food drives and raising money for charitable causes.
Of course, I loved their fruity selections. For my Celiac hubs, he had cider options as well a Cucumber Lime Keto Beer. What is Keto beer? 100 calories or less, less than 1% carbs and 1 gram of sugar, and the perfect gluten-free choice.
TN Valley Brewing is located at 2088 Lowes Drive Suite H, Clarksville, TN. Get the full story here at TN Valley Brewing Co.
Evill Nash Brewing Co.
While Evill Nash landed on our packed itinerary, I actually spoke aloud words that I never thought would come out of my mouth: Babe, I cannot drink any more beer. Shocking, I know. All three days that we found ourselves in Clarksville, TN, I swore I'd try to get here.
Blame the giant burrito bowl from the West Coast Taco Shop, seasonal cocktails at the speakeasy at Roux, or the butterbeer bevie from Ravenwood. Plus, we had a holiday weekend drive back to NC.
Don't worry, I'll be back as they are known for small-batch, barrel-aged beers and limited-release experimental beers. They have light fare and snacks too. Sounds a lot like Bharmari Brewing in Asheville to me. Sign me up!
Evill Nash is located at 232 S. 10th Street, Clarksville, TN. Check them out at Evill Nash Brewing Co.
Are you ready to drink some Clarksville, TN beer?
Have you ever landed in a small town that surprised you with endless breweries?
That hoppy feeling embraced us in Clarksville. The Clarksville breweries truly seemed endless for our weekend visit.
Which ones would you visit first?
---
---
Stoked To Follow The Clarksville, TN Brewery Trail? Pin It To Your Tennessee Travel Board.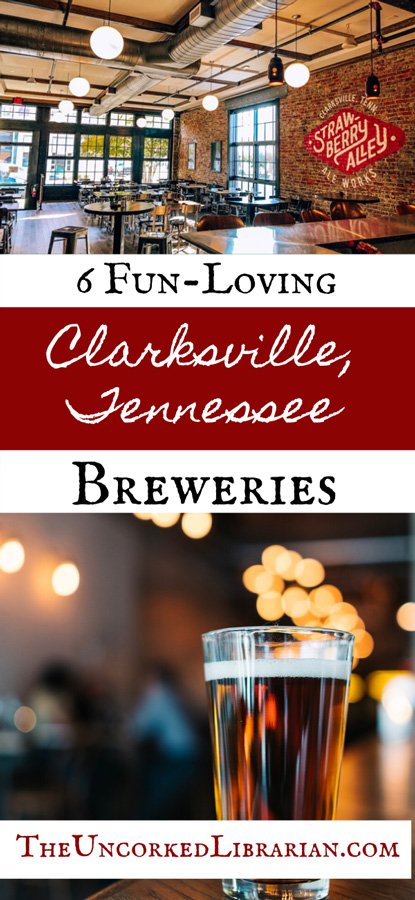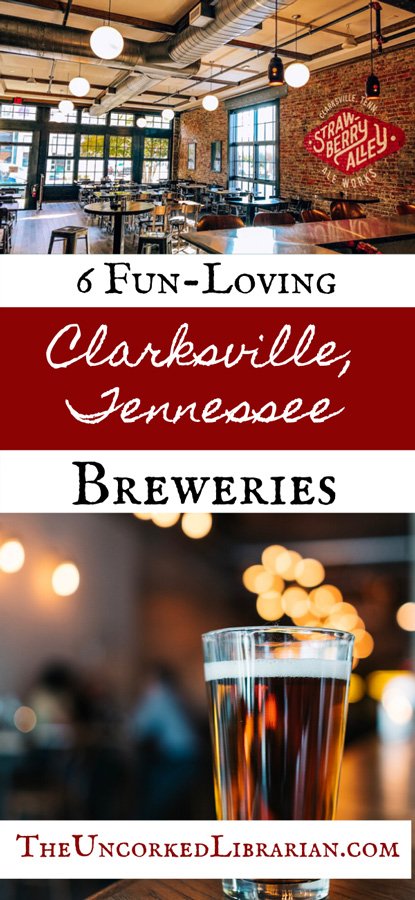 Where Should You Stay In Clarksville?
Don't forget to always drink responsibly. If you plan on seeing all of the breweries in Clarksville, book at least 2 nights in the city, especially with so much to see and do.
We stayed right off of the highway near Beachaeven Vineyards and Winery. Old Glory Distilling Co. and Star Spangled Brewing sat about 5-minutes away too. A few hotels that you may want to check out include:
Hilton Garden Inn
Best Western Plus Atrium Inn & Suites
Days Inn By Wyndham
Find a giant list of Clarksville accommodations here.
Have a great trip!