Born A Crime by Trevor Noah – Powerful Stories About Growing Up In South Africa
Are you looking for one of the best memoirs to read about racism? Don't miss Born A Crime by Trevor Noah. Uncover a Born A Crime summary, reviews, and book information for this novel about growing up in South Africa.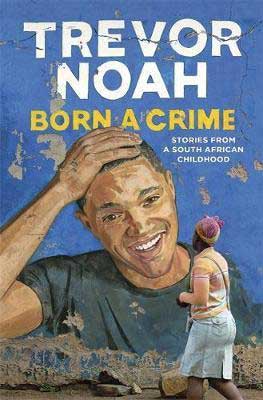 This post may contain affiliate links: If you purchase through my link, I will receive a small commission at no additional cost to you. I only recommend products/services that I approve of. See my full Disclosure Policy.
Author: Trevor Noah
Genre: Memoir | Book About Racism | Book Set In South Africa
Pages: 264
Publisher: One World
Publication Date: 2016
Buy Now On Amazon
Where you can find books like Born A Crime by Trevor Noah for free or discounted:
Born A Crime by Trevor Noah Summary
Trevor Noah's unlikely path from apartheid South Africa to the desk of The Daily Show began with a criminal act: his birth. Trevor was born to a white Swiss father and a black Xhosa mother at a time when such a union was punishable by five years in prison.

Living proof of his parents' indiscretion, Trevor was kept mostly indoors for the earliest years of his life, bound by the extreme and often absurd measures his mother took to hide him from a government that could, at any moment, steal him away.

Finally liberated by the end of South Africa's tyrannical white rule, Trevor and his mother set forth on a grand adventure, living openly and freely and embracing the opportunities won by a centuries-long struggle.

Born a Crime is the story of a mischievous young boy who grows into a restless young man as he struggles to find himself in a world where he was never supposed to exist. It is also the story of that young man's relationship with his fearless, rebellious, and fervently religious mother—his teammate, a woman determined to save her son from the cycle of poverty, violence, and abuse that would ultimately threaten her own life.

The stories collected here are by turns hilarious, dramatic, and deeply affecting. Whether subsisting on caterpillars for dinner during hard times, being thrown from a moving car during an attempted kidnapping, or just trying to survive the life-and-death pitfalls of dating in high school, Trevor illuminates his curious world with an incisive wit and unflinching honesty.

His stories weave together to form a moving and searingly funny portrait of a boy making his way through a damaged world in a dangerous time, armed only with a keen sense of humor and a mother's unconventional, unconditional love.

One World
More About Trevor Noah
Trevor Noah is the Emmy award-winning host of The Daily Show. He is also a podcaster and comedian. Read more about Trevor Noah.
Where You Can Find Born A Crime by Trevor Noah Reviews On TUL
Headed out on the road and wondering what books to listen to? Our readers rave about Born A Crime as an audiobook. See what other books you'll love, too — fiction and nonfiction included.
Are you looking to gift dad with an inspirational book or two? Don't miss our reading list perfect for the holidays or Father's Day. We'll share our favorite books to gift dad, including Born A Crime by Trevor Noah.
Travel to South Africa with these books. Explore South African sci-fi, historical fiction, thrillers, nonfiction, and short stories. These are some of the best books about South Africa.
See what books we read and loved from October to December 2020. Along with Trevor Noah's Born A Crime, find book reviews for A Good Neighborhood, Leave The World Behind, The Family Upstairs, and The Night Swim.