Are you looking for young adult books with magic and romance? Here are 5 reasons why you should read Grim Lovelies by Megan Shepherd.
Book Review Of Grim Lovelies by Megan Shepherd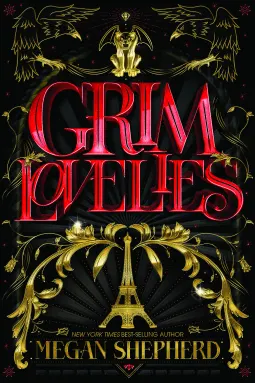 Pin
I would like to thank NetGalley and HMH Books for Young Readers for providing me with a free copy in exchange for an unbiased and honest review
Teen books with magic and romance make for a great Harry Potter-like fantasy series. Don't get me wrong, nothing compares to HP in the bookish world, but I couldn't help but think Megan Shepherd is onto something completely captivating with her newest magical witch series, Grim Lovelies.
Although not as dark or grim as I was hoping for—no play on words intended—Grim Lovelies builds a thrilling magical world that tweens and younger teens will adore. Warning: tragic deaths and gruesome biting off of rats' heads occur.
Grim Lovelies focuses on good versus evil power, what it means to be human, and the innate power to love and grow within all of us. Reminiscent of a Cinderella story gone dark mixed with magical Harry Potter battles and a fantasy world with muggle-like Pretties, don't miss Grim Lovelies as a top 2018 YA read.
Below, check out TUL's 5 reasons why you should read Grim Lovelies, including LGBT+ elements and misplaced love.
A Remixed Fairytale Of Rags to Fairy Godmother
Grim Lovelies By Megan Shepherd Summary
Anouck is a beastie and servant girl in the heart of Paris. Years ago, her powerful witch mistress, Mada Vittora, turned five animals into humans, enslaving them with mundane tasks. Treated more like the doll and family pet, Anouck has had an easier life than her comrades who are routinely beaten and face the inevitable threat of death.
With the sudden murder of Mada Vittora and disappearance of pragmatic beastie, Luc, Anouck's world falls apart. Having never left the confines of her magic-protected prison, she and the other beasties run for their lives. Facing murder charges is the least of their worries since they secretly possess stronger magic than any other witch, wizard, and goblin in the Haute and Royal witchcraft world.
Worst of all, the beasties require a witch to renew their spell before they transform back into wild animals. Losing the ability to love and live like the Little Mermaid in the human world, all of the beasties are willing to fight to the death. With time running out, there is a goblin battle, stolen kisses, enchanted shrubbery, and so much bloodletting.
Five Heart-Stopping Reasons To Read Grim Lovelies By Megan Shepherd
Intrigued? Why read Grim Lovelies and not sleep or eat the entire day until finished? Here are 5 heart-stopping reasons:
1. LGBT+ elements, which YA fantasy books tend to lack
From fairytales to a Beauty and The Beast like male relationship, Grim Lovelies adds LGBT+ components in an accurate, non-contrived, and endearing fashion. Fantasy and old-school fairytales lack diversity and adequate portrayal of many communities.
With Grim Lovelies, readers find unique love and characters from all parts of the LGBT+ spectrum. Petra, a transgender witch's girl, defies all boundaries and stereotypes, and I commend Shepherd for her innate inclusion of not only the LGBT+ community but also a commentary on socio-economic classes and race.
2. Misplaced love all over the place
Grim Lovelies questions what it means to love and receive love in return.
Anouck looks at the cruel Mada Vittora and loves her as a mother, even though she is far from such. The woman chopped off her toes, for goodness sakes! Beau kisses a goblin girl in retaliation and jealousy. Scary Rennar wants a bride to rule his kingdom and loves power and the abuse of magic. Viggo gropes and obsessively crushes on Cricket in a way that makes you want to slug him. Anouck creates an obsession spell to manipulate Viggo into helping her. And lastly, Beau makes the ultimate sacrifice in the face of true love.
The reconciliation and understanding of love leave readers pondering the many faces of the emotion and how much we confuse love for something else.
3. Talk about a thriller with deceitful alliances: TRUST NO ONE
I guess we shouldn't be surprised? Witches, wizards, and goblins do not have the trustworthy reputations to begin with. Every character has their moments and lies. EVERY CHARACTER. While love is off-balance, the definition of truth is nonexistent. Is there ever a good lie? Grim Lovelies keeps readers guessing with the threat of disaster on every corner.
---
Find even more witchy titles on this witch books book list.
---
4. The incessant threat of death. There is so much that could go wrong, even until the last page.
I was not a fan when everyone in HP started dying in battle. Grim Lovelies has a major war scene that obliterates characters and your soul. A freaking shrubbery bear goes down at one point, and I almost lose it. I hope certain characters aren't really dead, although the ones turned to stone and smashed are TOAST without any fluff or jam.
Talk about a cliffhanger from chapter one, too. You just know that these beasties might not beat the clock and turn into critters. It took all of my will power not to peek at the last chapter. I am so proud of myself. I did not look ahead, and honestly, I would have DIED.
5. The Ending: Is book two out yet? Now?
Of course, there is no conclusion. This is a series, and damn it, I need to know! I appreciate books that do not have tidy or happy endings. Clear-cut is not realistic. I promise you, Grim Lovelies will leave you on your toes and have you pretty upset. In a fantastically written kind of way, of course. Plus, if book one is this dramatic and strong, opening with deaths and suspense, I cannot even imagine the wildness in book two.
Find your copy here: Amazon
.
Grim Lovelies by Megan Shepherd Book Information
Grim Lovelies by Megan Shepherd [HMH Books for Young Readers 2018)
Genre: Young Adult Fantasy and Science Fiction; Witches & Folklore
You can learn more about the author Megan Shepherd here.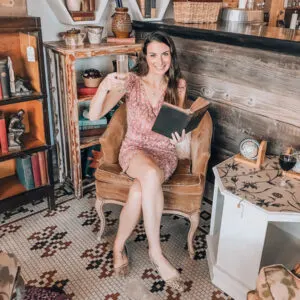 Christine (she/her) is the owner, lead editor, and tipsy book sommelier of The Uncorked Librarian LLC, an online literary publication showcasing books and movies to inspire travel and home to the famed Uncorked Reading Challenge.
With a BA in English & History from Smith College, an MLIS from USF-Tampa, and a U.S. Fulbright Fellowship in Christine's back pocket, there isn't a bookstore, library, or winery that can hide from her. Christine loves brewery yoga, adopting all of the kitties, and a glass of oaked Chardonnay. Charcuterie is her favorite food group.