Imagine getting off of a red-eye flight in Iceland and heading straight to Blue Lagoon Spa outside of Reykjavík. Find out what to expect, tips for a successful visit, and what to bring.
---

Preconceived Notions
Did you ever expect that you wouldn't like a place because it was labeled as super touristy such as Blue Lagoon Geothermal Spa in Iceland? Picture hoards of people taking pictures for the Gram and hundreds rushing from sight to sight just because they should stop at all of these infamous locations.
Iceland is facing a current tourist boom and is incredibly trendy lately. Even going in the February off-season, we walked around with slowly building mobs of people.
I feared the Blue Lagoon Spa would be, quite frankly, hell:
Taking naked showers with swarms of people. Getting pushed and shoved on my way into the turquoise waters. Picture-takers everywhere. Spending a ton of money on tickets for a tourist trap.
I'd seen hundreds of beautifully edited, idealized photos. I am not one for insanely popular places. Balinese rice paddies, I will never understand. I am, however, well aware that these destinations are largely popular for a good reason.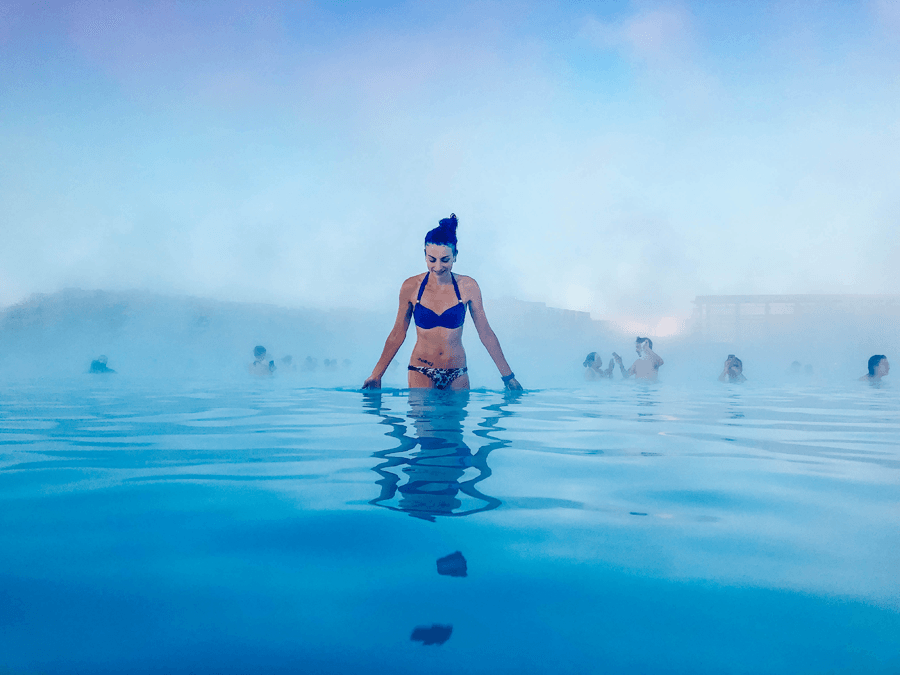 Blue Lagoon Spa in Iceland
My prejudices caused unnecessary anxiety, though. I can surprisingly and honestly say that I absolutely loved my three hours at the Blue Lagoon Geothermal Spa. Only my excitement for exploring Reykjavík dragged me out of the misty waters.
From face masks to mimosas, the Blue Lagoon is the perfect cure for jetlag and a warm first handshake with Iceland. Hands down, one of my favorite indulgent travel experiences.
Learn a few not so secret tips for avoiding the crowds, keeping your phone safe, and what to expect. We also made a few minor mistakes that you can avoid. As you read along, please know that I am not an expert but just a happy traveler who works hard at planning trips.
This post will not cover the Blue Lagoon Geothermal Spa's dining areas, hotel accommodations, or actual spa services. This post is just about dunking yourself in the water.
[bctt tweet="From face masks to mimosas, the Blue Lagoon Geothermal Spa is the perfect cure for jetlag and a warm first handshake with Iceland. #Iceland #BlueLagoon" username="theuncorkedlib"]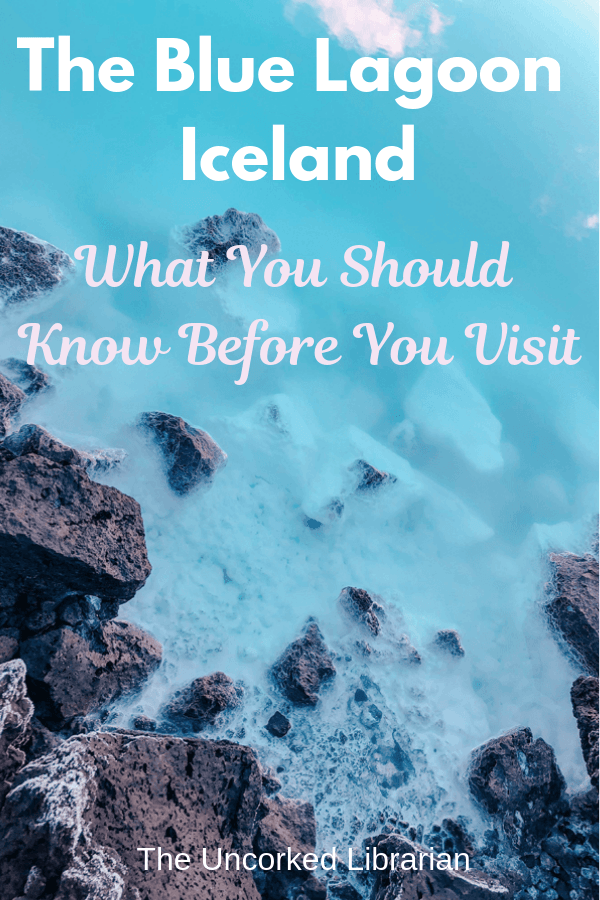 Pin
Blue Lagoon Logistics: Getting There & Tickets
The sun comes up closer to 10 AM in Iceland in the winter. Just getting off the plane, the temperature was barely 17 degrees F. Every travel blogger told us to reserve Blue Lagoon tickets at least a month out and book straight from our red-eye flight for the 8/9/10 AM, opening slots.
Best decision we made, albeit with some risk of a delayed flight or airport congestion. We had the Blue Lagoon largely to ourselves as the sun rose. Heavenly.
Tour groups pour in after 10/11 AM.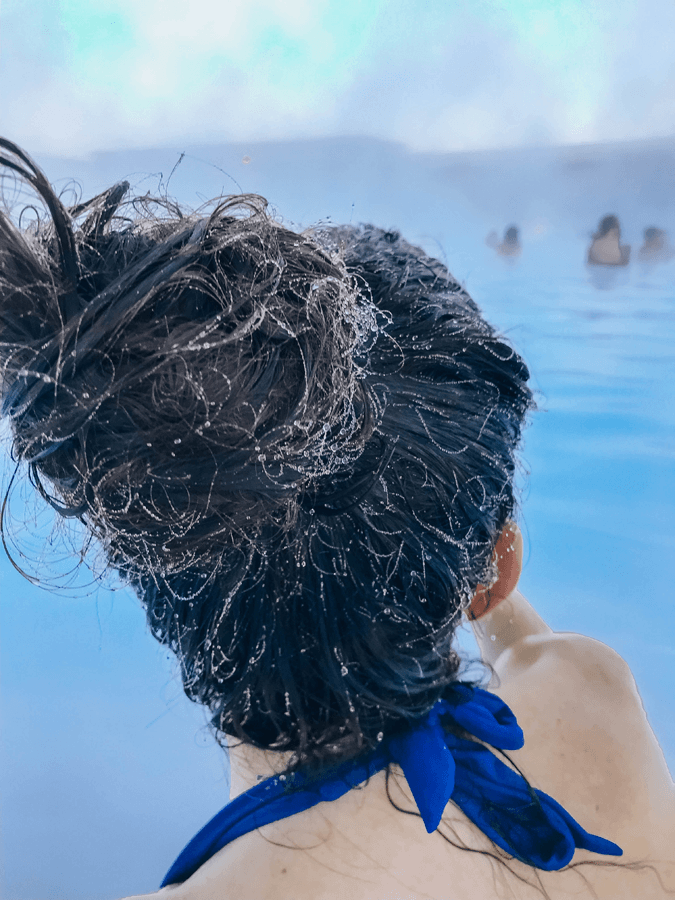 A Few Important Pre-Booking Tips for the Blue Lagoon Spa, Iceland
1. Book your tickets at least one month in advance. You book by the hour, although you can stay at the Blue Lagoon as long as you like. You have a one-hour window to make your designated time.
We completely messed up here, but more so because we were waiting to hear from potential travel partners. Luckily, we managed to buy tickets to the Blue Lagoon one week+ in advance. Almost completely sold out for the entire week–in the off-season–we scored an 8 AM time slot. I would have safely preferred at least 9 AM. Our Icelandair flight was set to land at 6:10 AM.
Risky AF, right?
Determined not to miss our chance at those turquoise waters, we made sure to pack only carry-ons. Our flight landed early, thank goodness. We even had time for breakfast at my new favorite Icelandic chain, Joe and The Juice.
According to the Blue Lagoon Geothermal Spa website, if you miss your ticketed time and call them ASAP, they might be able to reschedule you. I'm happy to report that I cannot tell you more on this from experience.
May the odds be ever in your favor.
2. Pick the earliest time slot that you can.
The Blue Lagoon opens at 8:00 AM, which is the perfect time to miss the crowds and watch the sunrise. The only bus we saw coming in that early was the one from the airport. We drove up to an empty parking lot and had no lines to grab bathrobes, get our entrance wristbands, and take a shower in peace.
Also, know that the Blue Lagoon Geothermal Spa is about 40 minutes from Reykjavík so it's easier to see the geothermal spa straight from the airport. Otherwise, this destination is out of your way.
3. The Blue Lagoon is about 20 easy-to-drive minutes from Keflavík International Airport (KEF).
We rented a car, which I highly recommend. Although pricey for car insurance–that you desperately need–we loved the freedom of picking our own routes on our schedules. Read more about driving in Iceland. The airport also provides direct bus transfers to the Blue Lagoon if driving isn't your jam.
In regards to making our 8 AM timeslot with a 6 AM arrival time: we walked through KEF with no problems. No lines at the car rental area (ours was the Avis counter), and the entire deboarding, car picking up, and the exiting process took less than 30 minutes. At 6 AM on a Sunday, KEF appeared easy to navigate. A small miracle, maybe?!
4. There are different ticket packages for different prices. Regardless, expect to spend nearly the cost of a Disney Park ticket. Worth it? You bet.
Prices vary based on days and times. Some are much cheaper than others. There are two main Blue Lagoon Geothermal Spa ticket tiers (as of 2019):
Blue Lagoon Comfort Package starting at $57: Entrance, Silica mud mask, towel, and one free drink.
Blue Lagoon Premium Package starting at $81: All of the above plus a second mask, slippers, bathrobe, and dining reservation at their restaurant.
Due to our late booking, we only had the option for the Comfort Package, which was more than enough. We definitely paid a lot more than $57 too… We spent around 3 hours at the Blue Lagoon.
Also, note that the Blue Lagoon Retreat Spa offers spa packages.
5. Blue Lagoon has a baggage check/holding area along with large lockers.
If you are going to the airport or heading out, the Blue Lagoon will safely hold on to your luggage for a small fee. Hit up this building before you enter the Blue Lagoon ticket doors.
Don't forget they have bigger lockers for your coats and purse. Leaving everything on the grounds felt completely safe. I did have expensive cameras, devices, etc. on me.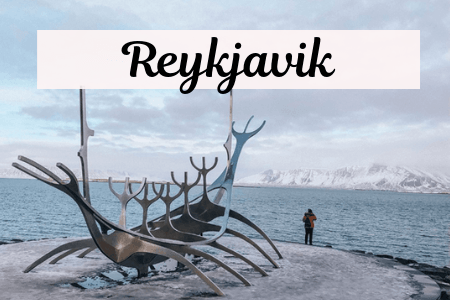 What To Expect At the Blue Lagoon Geothermal Spa: Lockers, Showers, and Experience
We headed up the Blue Lagoon's well-groomed walkway in anticipation of a pretty chilly dunk. My head instantly started screaming–either from the sheer cold or fear of being colder–that this was a bad idea.
You'd have to be crazy to strip down in this frigid weather.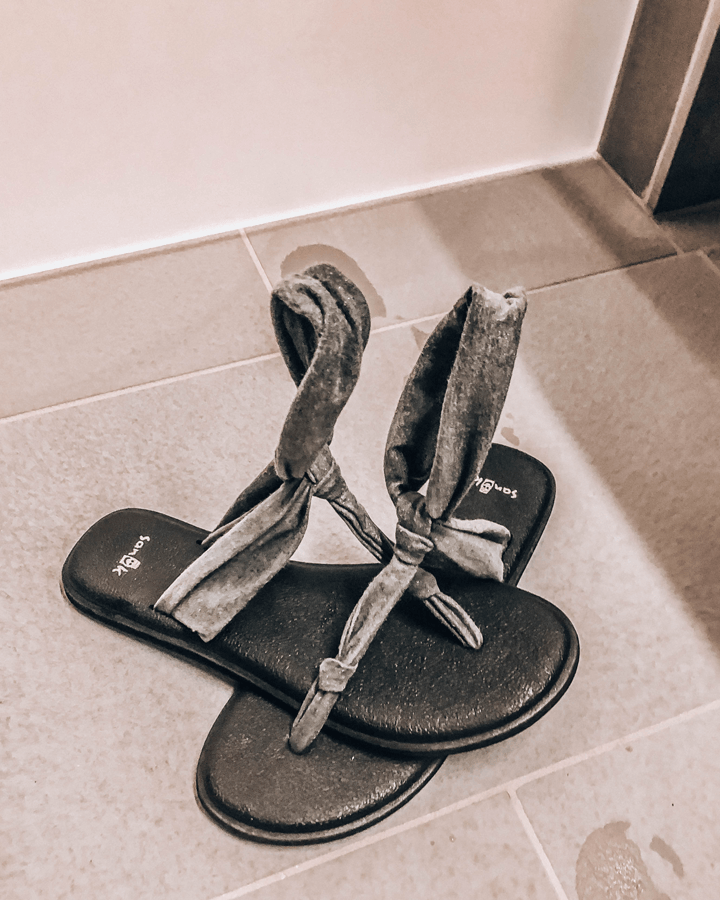 However, the locker and shower rooms are minimally warm, and once you hit the Lagoon waters, all chill goes away.
I will never forget stepping out of the pre-thermal spa shower and my bare toes burning on the icy ground. Is this fire or ice? I quick-shuffled my way into the Lagoon, which was like entering sheer heaven.
A Silica face mask and a mimosa, included, we stayed for hours. Never too hot, never too cold, I could have stayed forever. The perfect cure for jetlag.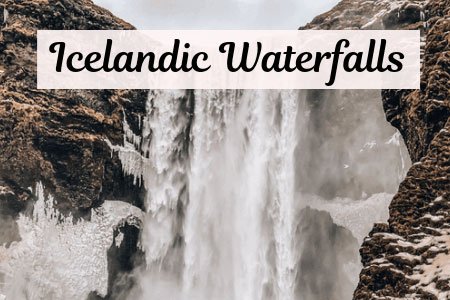 What You Should Know About the Blue Lagoon Experience
1. Once you check in, you are given a wristband to wear at all times. You can also purchase slippers, robes or additional supplies like phone protectors that you may want.
We decided to rent robes, which was semi-helpful for walking around the locker room. However, the smallest bit of water on them froze outside. Just make a run for it and save the money.
2. You must shower before entering the Blue Lagoon.
There are private changing rooms, bathrooms, and public areas. The Blue Lagoon asks that visitors shower sans everything. You can pick a shower with a door or not.
They provide shower gel and conditioner for your hair. You definitely want to place your hair in a bun. Leave some conditioner in, too. Do not put your hair in the water. The water will fry your hair.
Your wristband stays on the entire time and gives you access to a huge locker with a coat hanger and plenty of space for your bags. You can return to the lockers at any time.
3. Drinks are to your right. Face masks are to your left. The pool is much larger than you think.
Grab your free drink on the right. You can also use your band to purchase more bevies and cash out at the end.
I have incredibly sensitive skin, but the Silica mask is refreshing and at least for me, safe. After 10 minutes, you wash the gloop off in the Blue Lagoon. Your skin will glow.
4. Although I already said this, I feel like I need to reemphasize: DO NOT PUT YOUR HAIR IN THE WATER. Straw. You will watch silky hair turn to straw.
No explanation needed, right? Smooth hair = no Lagoon water.
5. Stop by the cafe and exit through the shop.
If you need hydration, grab water at the cafe or a snack for the 40-minute ride into Reykjavík. You conveniently exit through the shop.
Also, don't forget to sneak upstairs to the balcony for a view that overlooks the Blue Lagoon Geothermal Spa area. On your way out, you can walk a scenic path to see the bubbling blue water, too.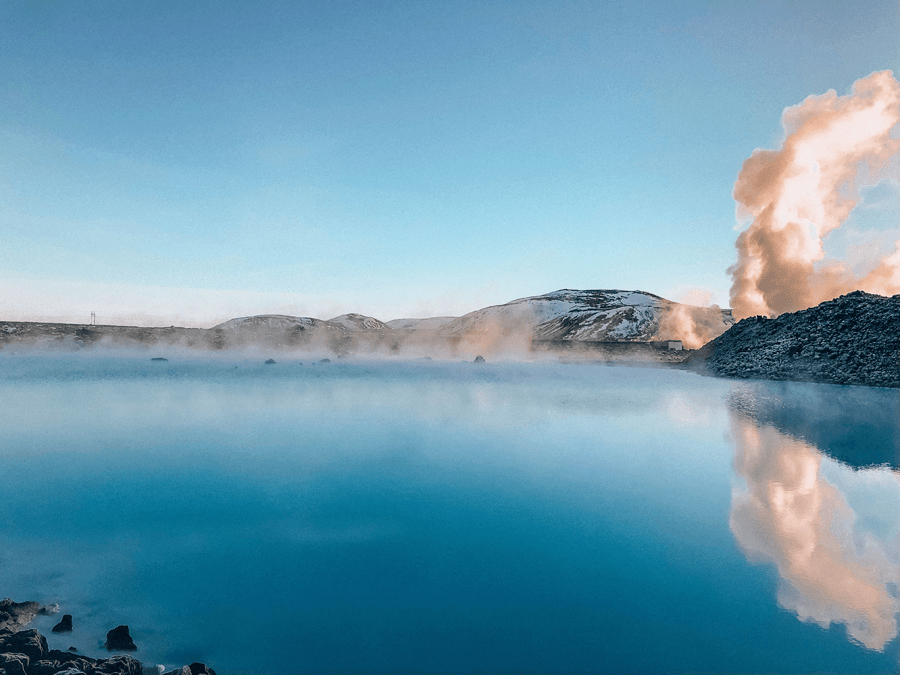 Pin
Cheap Advance Purchases That May Enhance Your Travel Experience At the Blue Lagoon Spa
I was not always the biggest fan of 'what to bring and wear' posts until I realized how actually helpful they are when you have no idea what to expect. Plus, people find cute and practical gear that I never even knew existed.
Just A Few Pre-Purchase Recommendations:
Packing Cubes: I used these packing cubes for all of my clothes. I created a specific packing cube for the Blue Lagoon. I threw in my bathing suit, a pair of sandals for the locker room, a change of clothes, and an extra sweatshirt. You might want to add lotion and some hair care products too. Leggings are great.
Cheap sandals: Oops, I froze mine outside. I do not love walking around shower and locker rooms barefoot. Maybe it's just me. I'm a fan of anything waterproof. Of course, you can buy $5 Payless thongs, but I live on Amazon. Just one example of water-friendly shoes with a brand that has serious endurance:
Face Wipes: I have really sensitive skin. I definitely recommend face wipes for removing makeup before The Blue Lagoon Spa experience. These are perfect for getting the face mask off completely too. Not to mention that I use these exact wipes for removing my makeup every night. No one wants the extra hotel charge for killing a towel.
Hair Drying Towel: Why did I forget mine? The Blue Lagoon changing rooms have hairdryers. However, I left with soaking wet hair and wish I brought my microfiber towel.
Phone Protectors: We were still terrified to fully submerse our phones in the Blue Lagoon waters and didn't. We did, however, keep our phones with us for pictures. These protectors definitely kept out whatever water touched them. **Please note that it is pretty hard to take pictures through plastic protectors with the steam. We managed, but my pictures aren't amazing. These worked for us, though. You can 'kiss' off the steam. All of my pictures are with these covers over our iPhones.
Summary Of Tips
Are you ready for a Blue Lagoon adventure? Just picture warm water, misty skies, and feeling at peace with the world.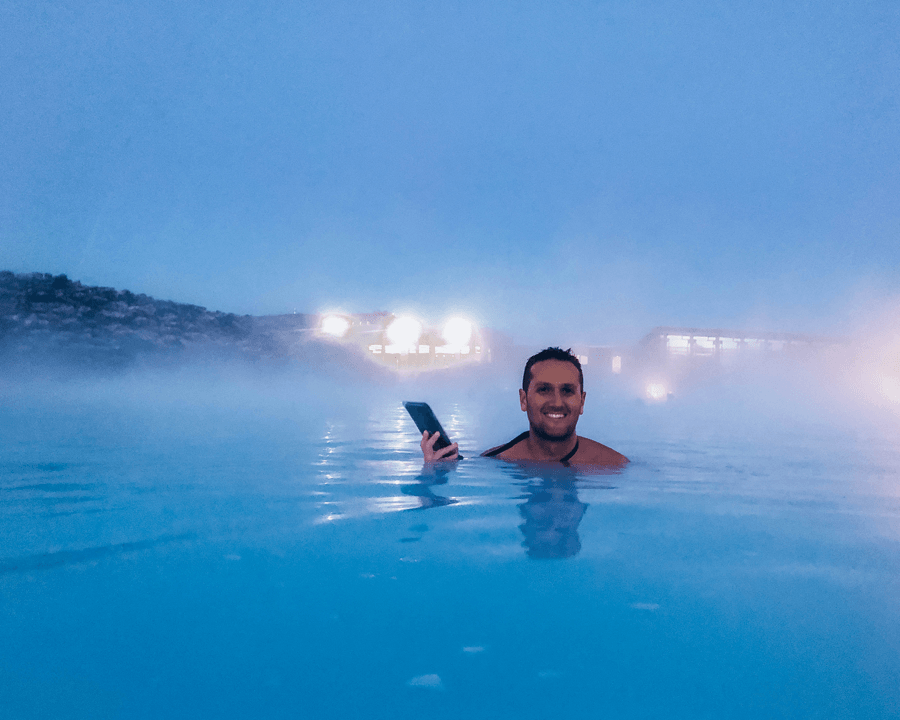 Pin
Just to recap a few key points for a serene the Blue Lagoon Geothermal Spa experience:
Book your tickets well in advance and book the earliest time you can.
Think about booking the Blue Lagoon Spa experience around your international flight arrival or departure time.
Drinks are to the right.
Don't dunk your hair in the water. Being cute and pretty with your hair down is nice, but you will pay, dearly.
Bring a change of clothes. Think about walking barefoot around the lockers.
Um, have the time of your life!!! We definitely did!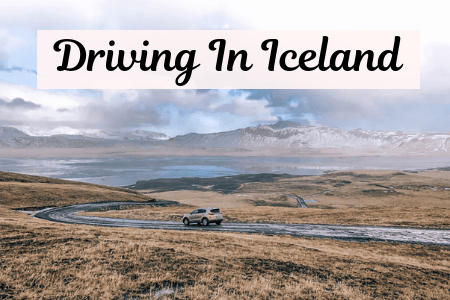 It took SO much self-control not to book Blue Lagoon for our flight home too. Luckily for my wallet, tickets were sold out. Would I visit the Blue Lagoon Geothermal Spa again?
You bet.
Looking for more Iceland itineraries and a little history? Check out TUL's visiting Iceland guide.
The Blue Lagoon Geothermal Spa Information
Be sure to check all information, pricing, and hours directly on Blue Lagoon website.
Contact Information for the Blue Lagoon Geothermal Spa:
Blue Lagoon
Norðurljósavegur 9, 240 Grindavík
+354 420 8800
Let Me Know What You Think!
If you have been to the Blue Lagoon Spa or visit after reading this post, let me know what you think.
Is there anything else that I am missing that you have questions about?
Save These Blue Lagoon Iceland Tips For Later: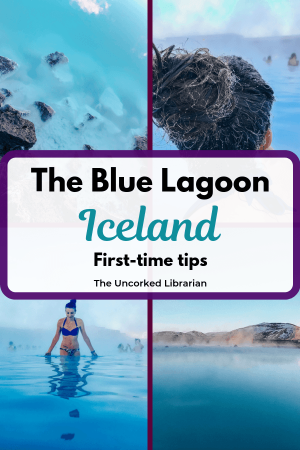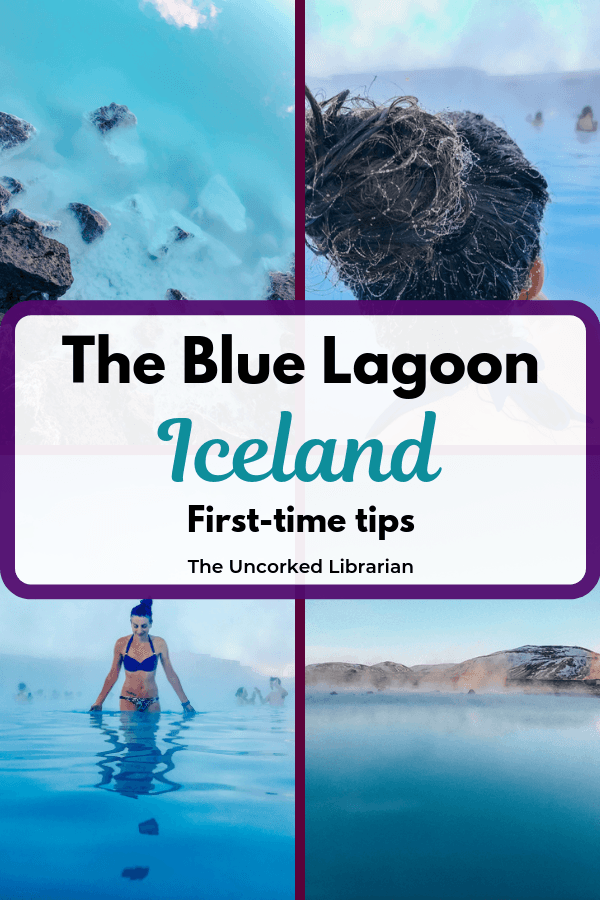 Pin
Even More Posts On Iceland To Explore:
Should I Drive In Iceland In February?
Will I Enjoy Iceland In The Winter?
What Drinks Are Delicious And Specific To Iceland?
Books About Iceland
Iceland's Book Flood, Jolabokaflod
Must-See Southern Iceland Waterfalls
Our 7-Day Southern Iceland Road Trip Itinerary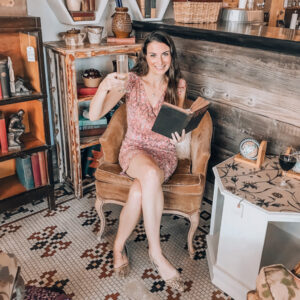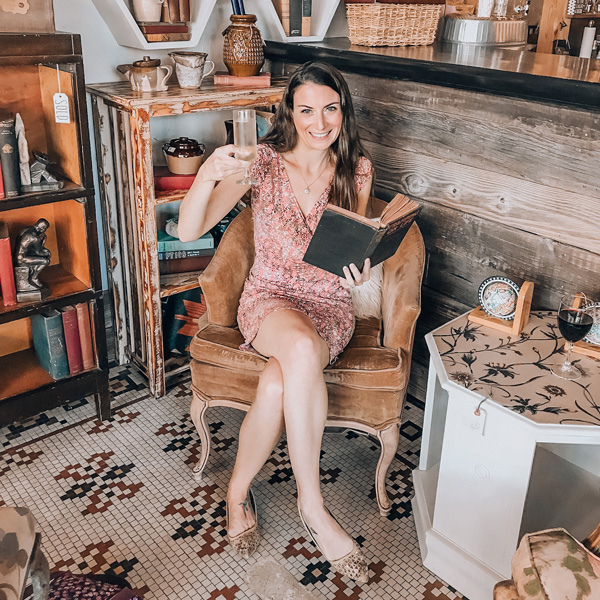 Christine (she/her) is the owner, lead editor, and tipsy book sommelier of The Uncorked Librarian LLC, an online literary publication showcasing books and movies to inspire travel and home to the famed Uncorked Reading Challenge.
With a BA in English & History from Smith College, an MLIS from USF-Tampa, and a U.S. Fulbright Fellowship in Christine's back pocket, there isn't a bookstore, library, or winery that can hide from her. Christine loves brewery yoga, adopting all of the kitties, and a glass of oaked Chardonnay. Charcuterie is her favorite food group.