9 Wanderlust-Inspired Destinations For Your Birthday Vacation
Are you looking for Birthday vacation ideas? What about trips to take before 30 and 40? Check out this list of Birthday travel ideas.
---
"Oh, shit. Where are we?!"
"Venice is safe to walk around at 1 AM, right? We got past the Rialto so we are on the right side, I thiiii….OH MY GOD, CANAL. Why don't they have fences? Or warnings?"
"Can we just sleep here?"
"Oh f', I have to pee. Do you have a few Euros? Or should I just buy another drink; it is my Birthday vacation after all."
"No. NO, I DON'T WANT YOUR FREAKING OVERPRICED ROSE! Stop following me. Stop it!"
"Did he just throw a rose at me?! WTF?"
Wakes up the next day at 1 PM, gagging on toothpaste and wondering where I went wrong… P.S. I have never slept in on a vacation. So there I lay sprawled out zombie-style in a fancy boutique hotel in a non-touristy part of Venice hungover and 30. How did this happen?
I did not take turning 30 gracefully.
I mean, sure, it could be all Sex in the City glam if I tried, but I loved my 20's. And that damn sip of water from the Fountain of Youth in St. Augustine, Florida for my 29th: worthless.  However, I do appreciate getting older because it means I am alive.
Like many others, I do not like Birthday parties or gifts. However, I am a sucker for a birthday vacation and 30 is HUGE. My husband and I decided to hop on a plane destined for Venice and Florence, Italy. Hating tourist spots, I wanted to see Venice but had low expectations. Yet, you cannot help but to fall in love with the quaint canals, flower-boxed windows, and heck, anything Italy for these two Italian-Americans.  Italy runs deep within our blood.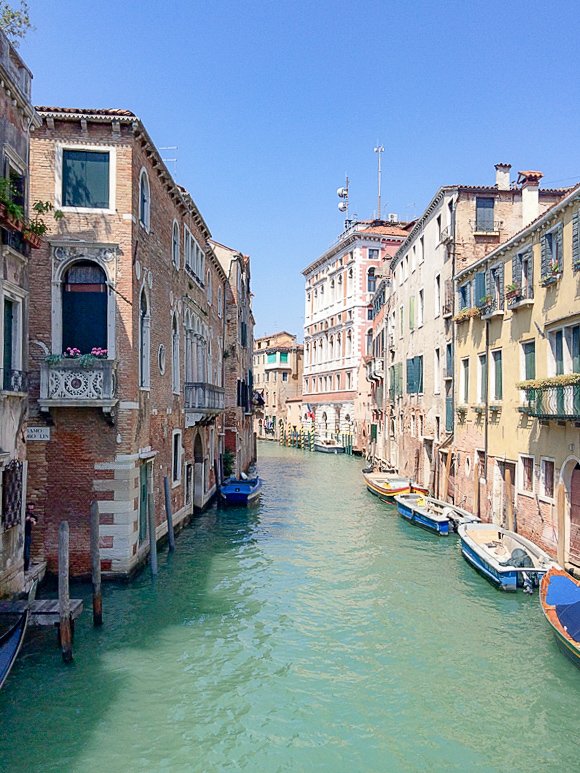 Pin
As we landed, disorientated and tired, we quickly learned that the canals are not like a NYC-grid.
Trying to find our accommodations sober let alone inebriated would have lost us the Amazing Race. Not to mention that 80+-year-old woman who helped us find our hotel, grabbed my bag like the Hulk, and swatted at me like an overprotective grandmother. God, I freaking love this country.
Our hotel warned us that their remote location made it tricky to ever return. "Venice, esss like a fesssh," reception told us. Well, that fish definitely tasted great—I love Italian cuttlefish—but contained thousands of prickly, misleading bones.
That night to ring in 30, we wandered the canals in search of Prosecco and endless Birthday drinks. Venice is stunning in the twilight: alfresco dining, romantic gondola rides, music, and starlit canals. The birthday drinks flowed freely, passed to me by cute, old bartenders donning suspenders. Thirty started to look much better.
Hours later, map in hand, we went geocaching for our beds.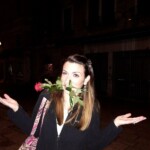 PinTravel tip: The further you get into the heart of Venice, those little streets disappear off the maps, the buildings block the light, and harmless peddlers chuck roses at you after you refuse to buy one. The smaller canals have no barriers, and the steps guide the unsuspecting tipsy traveler right into a sobering bath.
I found a picture on my husband's phone on the plane ride home from Venice: Me, 30, chucked red rose in mouth, arms up lost in search of our bed. BEST. BIRTHDAY. EVER.
[bctt tweet="How do you celebrate your big day? Find out these 9 #birthday vacation destinations for the wanderlust-inspired soul. #traveltips #travelaroundtheworld #travelbloggers" username="theuncorkedlib"]
Plus:
That birthday week, we also deliriously drank Chianti on a vineyard in Chianti.  We skipped lines to meet David, instead heading to the fortress walls of Lucca.  Did you know that you could ride your bikes, picnic, or steal away for a lovers' tryst on those very walls?  We held up the Leaning Tower of Pisa and shared a gondola ride with a German couple to save a few bucks.  Who needs romance anyway?  Magical.
Which Got Me Thinking…
How do others celebrate their Birthdays?
In search of the perfect Birthday vacation, I asked eight more travel bloggers for places to go for your birthday.  From Tanzania and Peru to India and Disney, here's how they responded:
Where To Go For Your Birthday From Top Travel Bloggers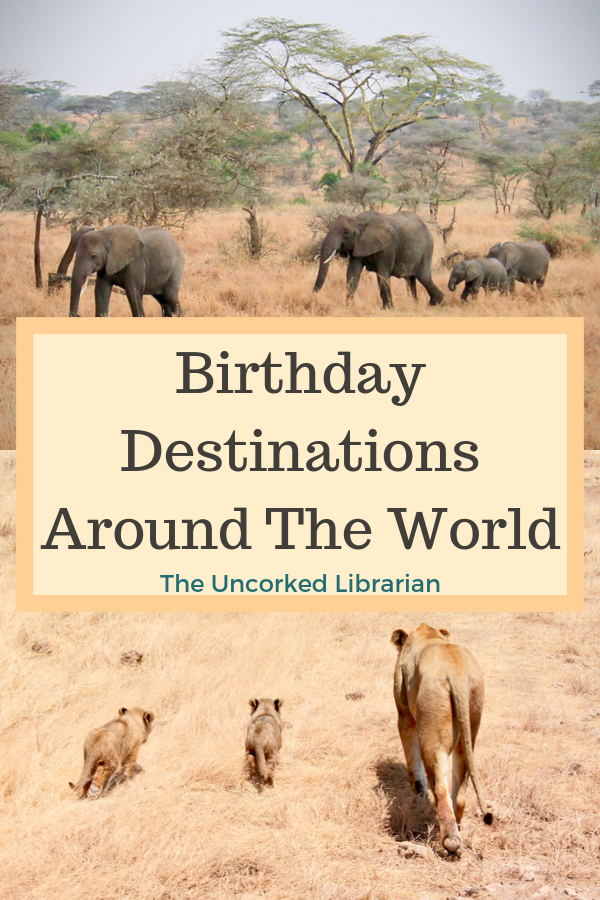 Pin
---
India For Your 18th Birthday
These days I make it a point to be abroad every year for my birthday. My only rules? (1) It must be a country I have never spent my birthday in and (2) I need to have Chinese food (although I will accept Indian if necessary). Nowadays the ritual keeps me excited about my birthday, but when I was younger, this habit was only just forming – and unintentionally, I should add. Oh, and I hated my birthday. I can't really tell you why beyond the fact that I loathe being the center of attention. For an introvert, it's kind of hell. I'm also just not the biggest fan of cake (blasphemy, I know).
So when I found out our senior class trip–a Habitat for Humanity excursion to Southern India–would be over my 18th birthday, I had mixed feelings. On one hand, I was excited to be returning to India, a place I still held in high regards and missed dearly. I also liked the idea of giving back on my birthday. I was 18 and naive; nowadays, I question whether people who don't know how to build buildings should be involved in projects like this – I certainly wouldn't trust a house I built! But on the other hand, all my friends kept threatening to publicly announce it was my birthday – something most people in my class didn't know.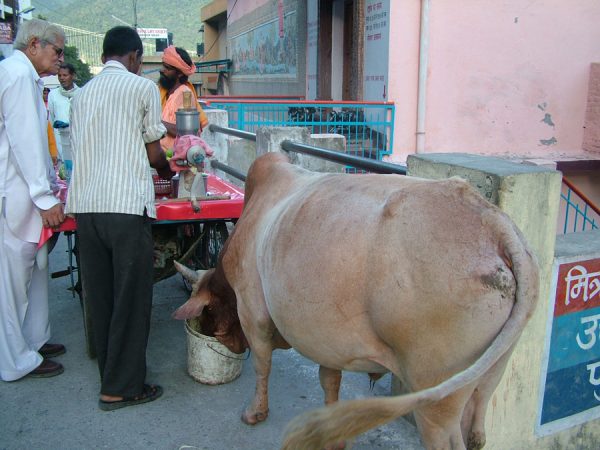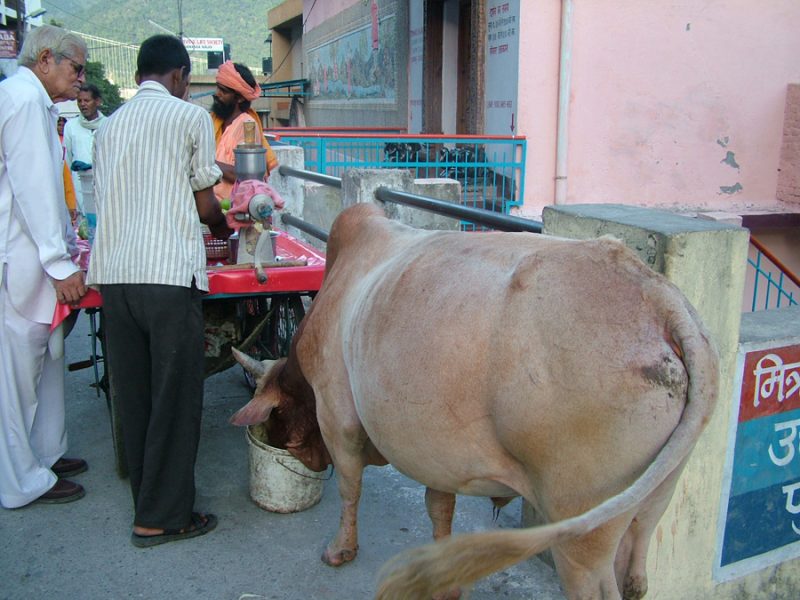 Pin
Being back in India was like returning home.
The smells, the colours, the cows on the road. While all my classmates screamed, as our bus flew through the streets at breakneck speed, swerving constantly to avoid other cars, vendors, and various animals, I smiled and bounced along oblivious.
In the end they didn't announce it – thank you everyone! – and instead, they threw a secret birthday party for me. It did involve waking me up ridiculously early before the 'work' day and loudly singing happy birthday as I sat in sheer terror that everyone in adjoining rooms would wake up and join in. My 'cake' was comprised of several brownies and two donuts, arranged into the number 18. I didn't really do anything crazy in India, but I had a genuinely good time with friends. I also got the most confusing birthday present ever: a Miss India barbie doll!
With a love for dark tourism, follow Dagney and her blogging teammate/husband, Jeremy, on Instagram and Twitter.
---
Bali, Indonesia For Your 24th Birthday Celebration
As a January baby with a birth date that falls just 13 days after Christmas, I've pretty much exhausted my present list following a good Christmas haul, 95% of which is books and socks. So I like to celebrate my birthday by treating myself/being treated to–more the latter–a little getaway instead (not that you can ever have too many books and socks).
My 24th was no exception. Living 10,000 miles apart from my soon-to-be fiancée, Dom surprised me on my birthday with a very unexpected trip to Bali.  He told me after that it was a toss-up between Bali and an online course. That could have been the marriage deal-breaker.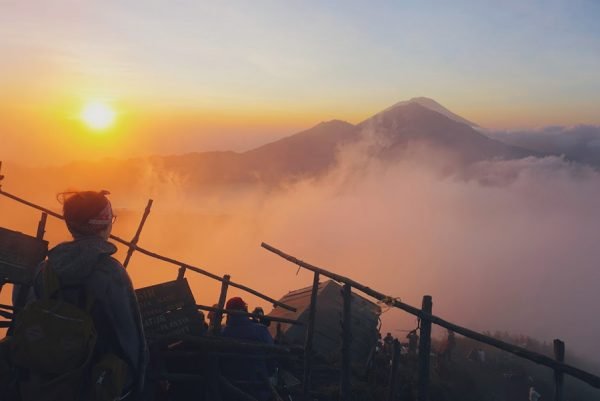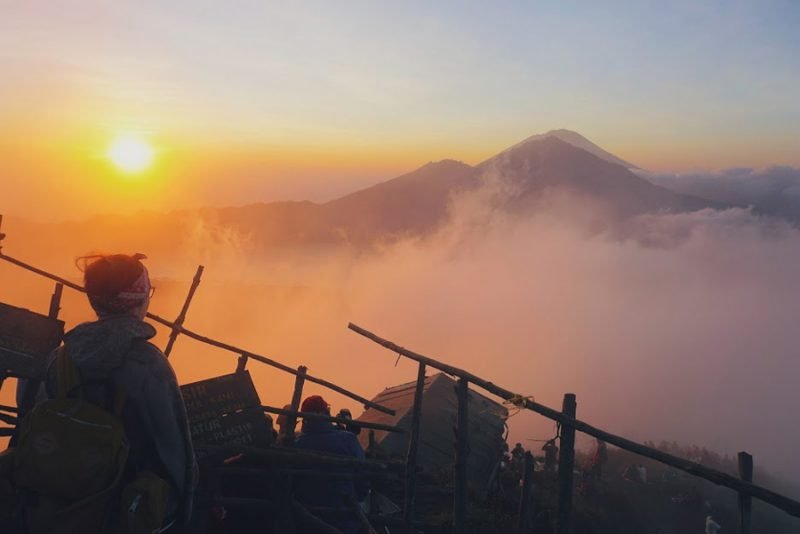 Pin
Touching down in Bali, we arrived at a beautiful resort in Seminyak, sipping a cocktail and hearing about the hotel perks: free daily cocktail, 4 free massages, afternoon tea – sign me up!
Staff showed us to our room and had been there mere minutes when I heard a knock on the door. Assuming/hoping for a another free drink, I bounded over and was greeted by my parents. Dom had arranged back in January for them to fly out and surprise me, knowing I wouldn't have seen them for 6 months. Speechless, there was some ugly crying.  My dad (fortunately) forgot to hit record on his phone so missed the whole thing. You had 1 job dad, 1 job.
The rest of the holiday was a dream. Dom and I trekked up Mount Batur at 3am for the incredible sunrise. We visited the rice paddies, waterfalls, local food joints and a coffee plantation–one of my favourite spots. We experienced a traditional Balinese evening of food, music and dance, and watched the sunset every night on the beach. If you haven't been to Bali, I can't recommend enough. My advice is to spend money – Bali is cheap so take advantage of this. But you also need to eat at the local warungs, which we didn't do until our subsequent trips the following year. Once you've tasted a local Gado Gado (for less than $1.50), you'll never look back.
In love with books and world travel–or even some van-life road trips? Follow Hayley on Instagram.
---
Disney World For Your 27th Birthday Vacation 
Submission from Tori Corran of Tori Leigh
When you think of a milestone birthday in Disney World you probably envision a giddy five-year-old, dressed in her princess gown, excited for photos with Cinderella's Castle, not a gleeful 25-year-old. Disney has no shortage of magic for our little ones, especially on their special days. But, believe it or not, Disney is also the perfect venue for a milestone adult birthday, especially when your big day falls during Epcot's International Food and Wine Festival like mine does!
Epcot's International Food and Wine Festival is an annual event that usually runs from the end of August through the beginning of November. In addition to the eleven country pavilions permanently stationed in Epcot, kiosks from almost thirty other countries are set up throughout the park. Guests can sample food and drinks from around the world.  They can attend cooking demos and wine tasting events at the showcase headquarters, all while enjoying the culture, shopping, and rides Epcot features.
The festival is this wine and travel (and Disney) enthusiast's dream getaway.  Throw a birthday in there and you've got the perfect combination of boozy adventure and ageless magic.
I spent my 23rd, 25th, and 27th birthdays celebrating here, and it hasn't gotten old. Eat and drink your way through Brazil, Patagonia, China, and elsewhere, all while getting shoutouts by Disney characters and cast members. Drift off to sleep with a glass of Lost Slipper Sauvignon Blanc and wake up to a birthday phone call from Mickey himself. Don your birthday pin.  Enjoy that extra falafel in Morocco's Marrakesh Restaurant. Or, dare I say it, enjoy that free second glass of wine you were offered because, believe it or not, Disney does, on occasion, give you free things for your birthday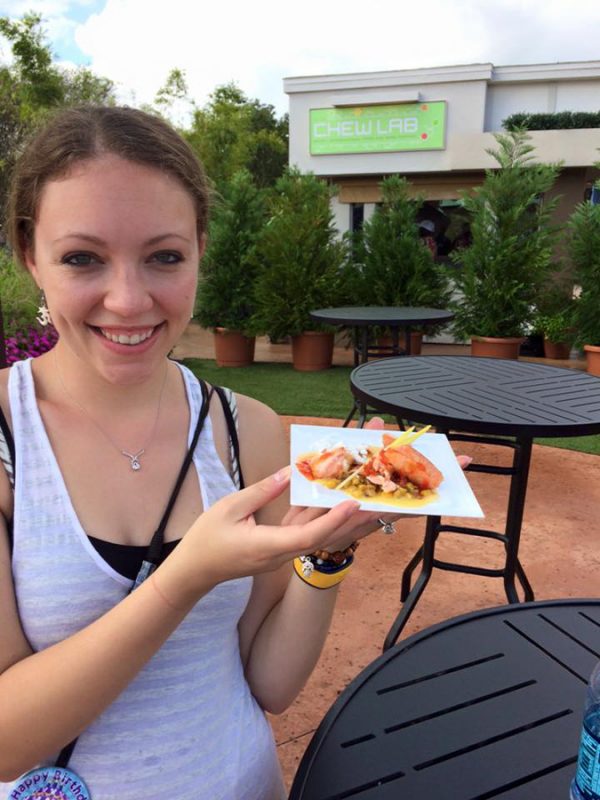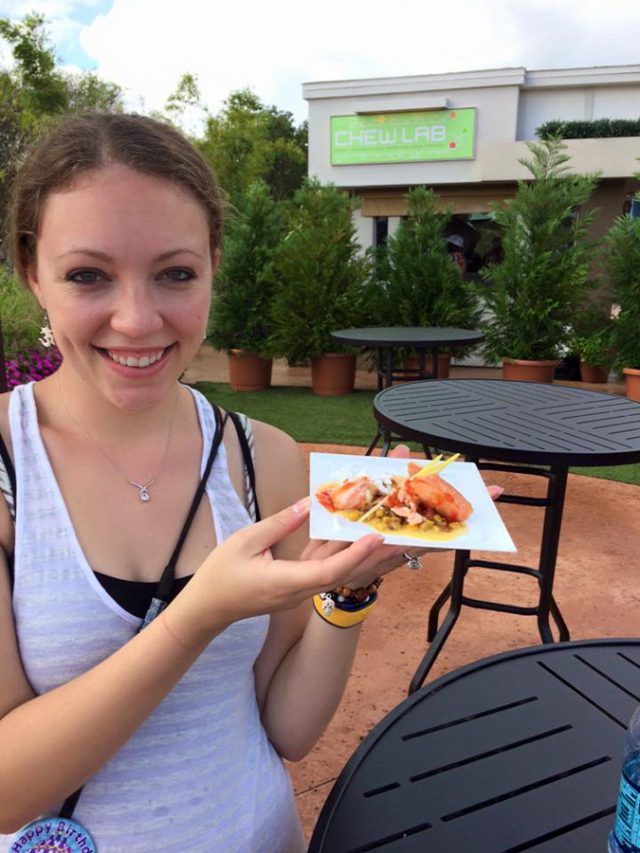 Pin
Cast members are at liberty to give away what they deem fit to make a guest's stay extra magical. I am one happy recipient. On my 25th birthday, a pair of cast members approached me to ask if I'd like free VIP seating for my mom and I during Epcot's Illuminations firework show. Umm, happy birthday to me!
It's not just free stuff from cast members, though, but the permeating aura of happiness and innocence that can only make getting older feel giddy again.
One evening my mom and I walked into Germany's candy shop. After noticing my birthday pin (never don't get the pin, BTW!), a thirty-something-year-old man drunkenly encouraged the entire store to sing happy birthday to me…in various slurred languages, behind glassy eyes and authentic smiles. Leave it to Disney to turn a drunken escapade into a memorable birthday serenade.
Between the fancy, tiny plates of food, the copious amounts of champagne, and the good old Disney magic, believe me, this is the perfect place for a milestone (or not!) birthday.  I can't think of anything better except for the fact that my husband just surprised me with a trip to Paris for my 30th. We're trying to jam pack every museum, wine bar, garden, and cafe into four days all while leaving time to leisurely stroll the Seine while sharing a ham and cheese crepe.  Dare I ask him to venture to Disneyland Paris?
Follow Tori's love of Disney, book reviews, and adventures of mom-hood on Instagram and Pinterest.
---
Abra de Ilog, Philippines For Your 27th Birthday Vacation
Submission from Jana of Jana Soli
Have you ever gone on a trip without expectations and been blown away by the positivity of the experience? Abra de Ilog, located in the Philippines, was exactly that for me. For my Golden Birthday, I turned 27 on 7/27/2017, and because I couldn't travel that July I saved up for a trip with a good friend in February 2018. That journey took us by pedicab and outrigger to our destination at a sandy beach beneath a giant hillside. A 15-minute stair climb brought us to the beautiful house that was ours for the week.
I'd researched beforehand, so I was open to experiences easily missed with an agenda and cell phone reception. No phones for the week!
What did we do with all our free time, you ask?
Picture mornings on a dreamy balcony, sipping Filipino coffee in awe of the changing colors of sunrise over the South China Sea. If you love coffee and porches like me, this is a dream come true.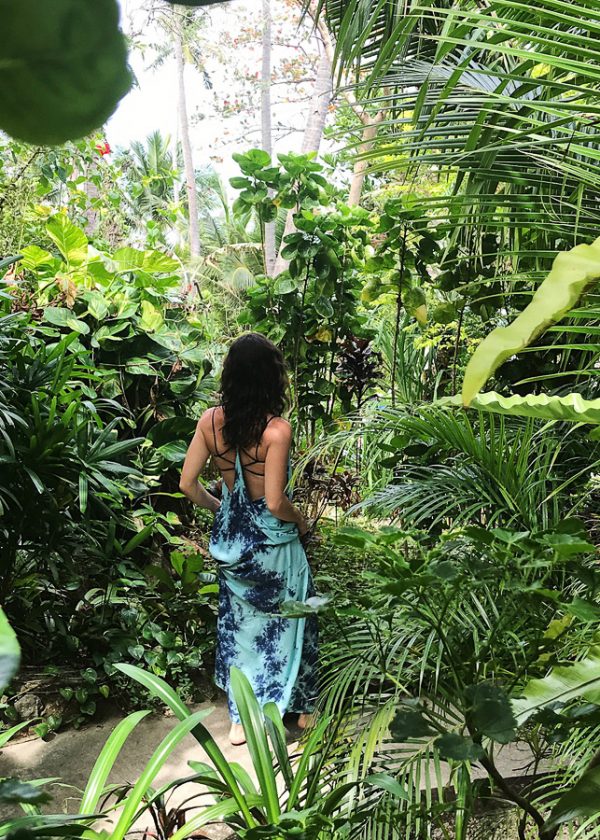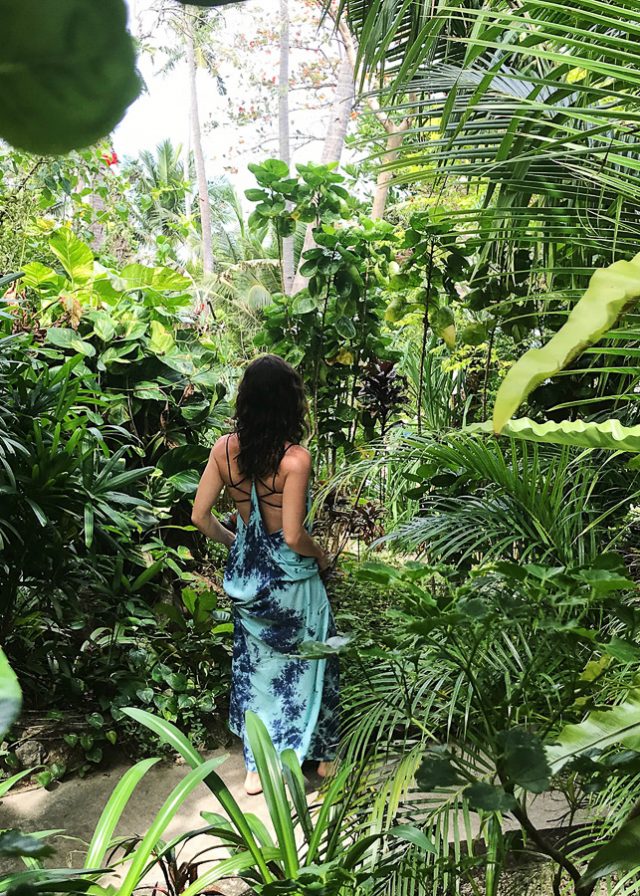 Pin
When the coffee kicked in we climbed down to Tuko Resort and explored their gardens. Most days we followed a footpath to a village where we became regulars at Undallans Cooksina for their tasty 50 cent hamburgers. We made friends with villagers and sipped beer while they sang karaoke. My friend met a child with a basketball: They had the village children joining into the lively game or cheering from the sidelines.
Each evening we returned to check for sea turtles hatching at Tuko Resort's turtle restoration site.
Few things cause you to fall in love with ocean life more than witnessing turtles hatch and sprint instinctively towards the waves. Back on our porch, we poured big glasses of boxed wine to celebrate the sunsets. Hilarious conversation and wine refills continued until mosquitos chased us inside for cover.
The week ended and we said goodbye to the incredibly kind locals we'd met before leaving the island. What I loved about this trip was learning how much a pause from technology reconnects you to the present. It also revealed how people enjoy connections and laughter everywhere I've been, whether that connection is over beer or an attempt at communicating between different languages, which often ends in shared laughter. Lastly, coffee and wine are best served on a porch overlooking the South China Sea.
You can follow Jana's beautiful-wanderlust inspired travels on Instagram.
---
Tanzania For Your 30th Birthday Celebration
I've never really been one for big birthday celebrations. At least not in the traditional sense. As it turns out, my husband isn't a huge fan either, so that tends to work out pretty well for us.
But, we do love going away somewhere for our birthdays – whether it's just for a night somewhere close to home, or an all-out holiday for a couple of weeks. We've celebrated birthdays in Mexico, Mallorca, London, Thailand, New Zealand and more.
For my 30th birthday, I really wanted to tick off my long-standing #1 bucket-list item… And so it came to be that I woke up that birthday on the shore of Lake Victoria in Africa, and spending the day going on my first ever game drive in the Serengeti in Tanzania! What an experience!!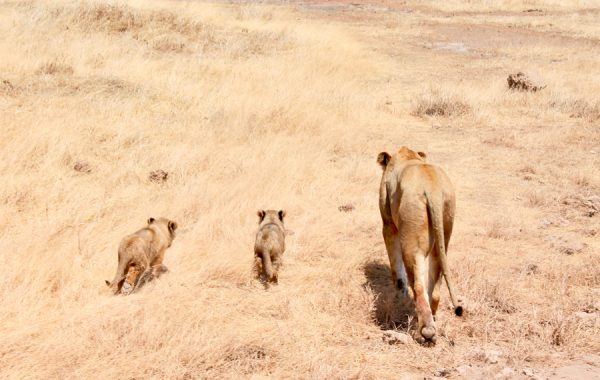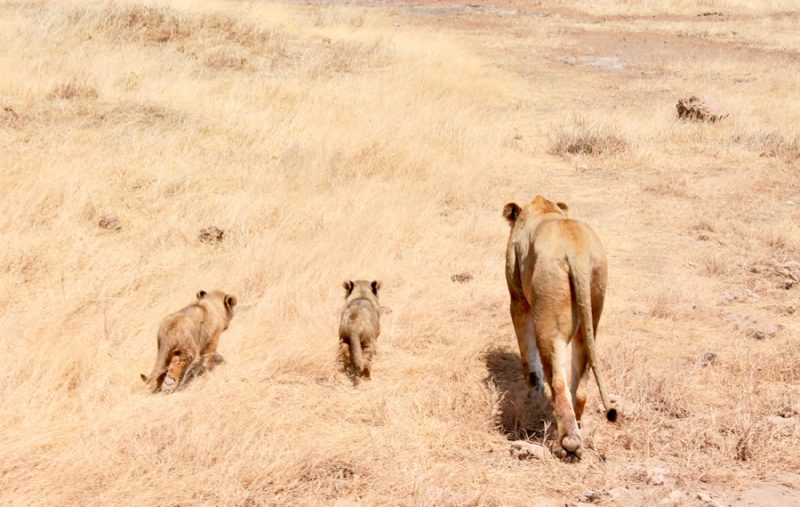 Pin
Driving through the picture-perfect wide open plains, brown and burnt during the midst of the dry season, we got to see elephants, zebras, lions, giraffes, warthogs, wildebeest, buffalos, hippos, monkeys, gazelles, antelopes, and even a crocodile!
We were incredibly lucky to get to see so much wildlife on that first drive into the Serengeti national park! As cliche as it sounds, it was truly a dream come true.
We set up camp for the night in the middle of the Serengeti, with no barriers between the wild animals and our small dome tents, placed closely together so as to deter lions from entering the camp during the night.
We had a driver, tour guide and cook with us on our group tour. The cook managed to surprise me completely with a home-baked lemon cake that evening around the campfire! How she pulled that off in the middle of nowhere I have no idea, but it was an amazing end to an unforgettable day!
We spent a total of three days camping in the wild in the Serengeti and the Ngorongoro Crater as part of our tour. We saw baby lion cubs and a Discovery Channel worthy moment of two cheetahs expertly hunting down a gazelle! It was without a doubt one of those moments in life that I will remember forever.
A travel blogger with gorgeous photos, follow Joannda and her zest for travel on Instagram and Twitter.
---
A Tour Of Europe For Your 35th Birthday Vacation
Submission from Derek Hamel and Carine Liberian of We Did It Our Way
Birthdays are a big deal for us no matter how old we are turning. We like to celebrate even the smallest things, because life is about the little details. The little moments really add up in the end.  So it's important to take the time to appreciate them all.
However, 2018 was a milestone year for us. That's the year we re-evaluated everything and hit reset on our lives. We went from the typical grind of working 9-to-5 jobs to having the ultimate freedom while traveling the world. We also celebrated our 35th birthdays on the road. It was truly an epic one for us.
We celebrate birthdays in a big way. We're not just talking about a one-day celebration. We mean a whole week of festivities!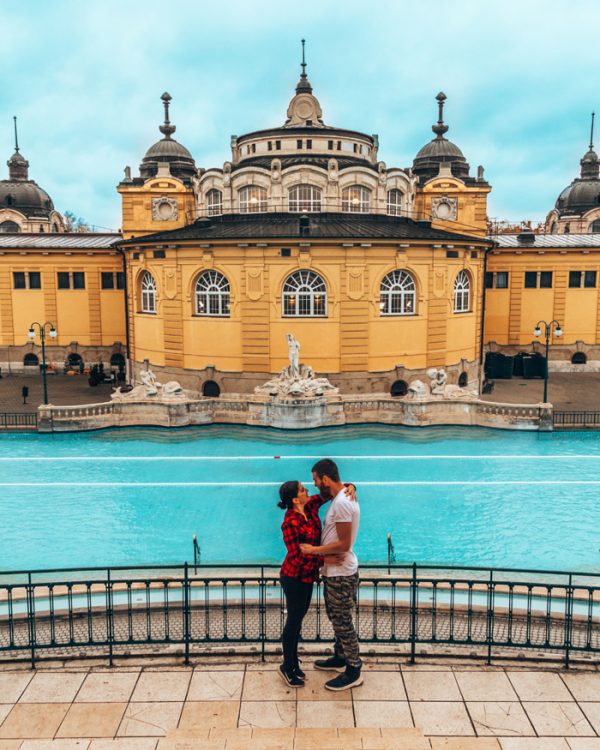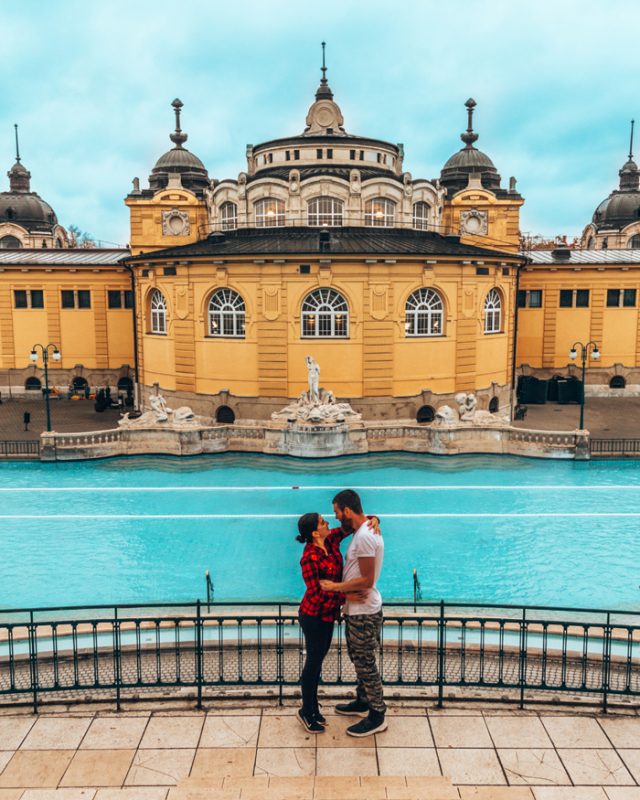 Pin
So to celebrate Carine's big 35 this year, we are actually touring Europe; 15 cities in 12 countries, and all in 30 days. That in itself is an awesome gift. To make the week even more special, Carine gets to choose the fun and special activities we get to do. She also gets to pick restaurants and meals.  It's her birthday week, so she's the boss!
In Krakow, Carine wanted to go to the Wieliczka salt mines, so we went.  It was awesome! Then, in Budapest, she wanted to go to the famous thermal baths, so that's what we did. It was so relaxing. And this is only the beginning. She has a few more days until her week is up, so let's see what else we get up to!
You can follow Derek and Carine's whirlwind world travel tour and a taste of the desk-free life on Instagram and Pinterest.
---
 Peru For Your 40th Birthday Vacation
Submission from Mel of Traveling Mel
When I turned 40, my husband gave me a trip to Peru. A friend of mine puts together custom, small-group trips and she had arranged for four of us to explore Cusco, spend nine days trekking through the Andes, and eventually arrive at Machu Picchu.
This was a pretty big deal. Not only was it a huge trip, but it was also 16 days away from my four- and six-year-old boys. Henry recognized that I needed something for me. It should be adventurous, outdoors, and entail no cooking, cleaning, or taking care of anyone. That's exactly how this trip unfolded.
On my actual birthday, he handed me the book, "Turn Right at Machu Picchu" by Mark Adams. I was pretty excited about the book, since I had wanted to read it. When it turned out to be a cute stand-in for a trip of a lifetime, I was floored.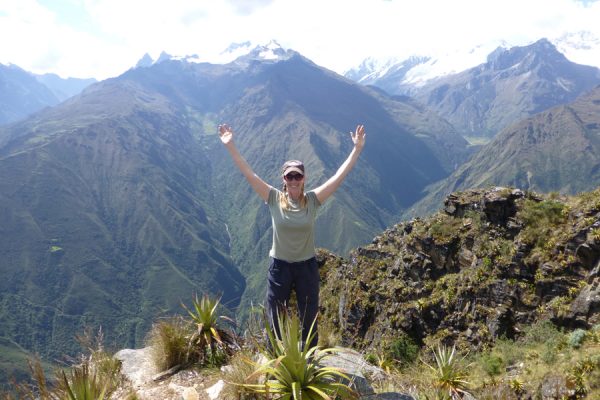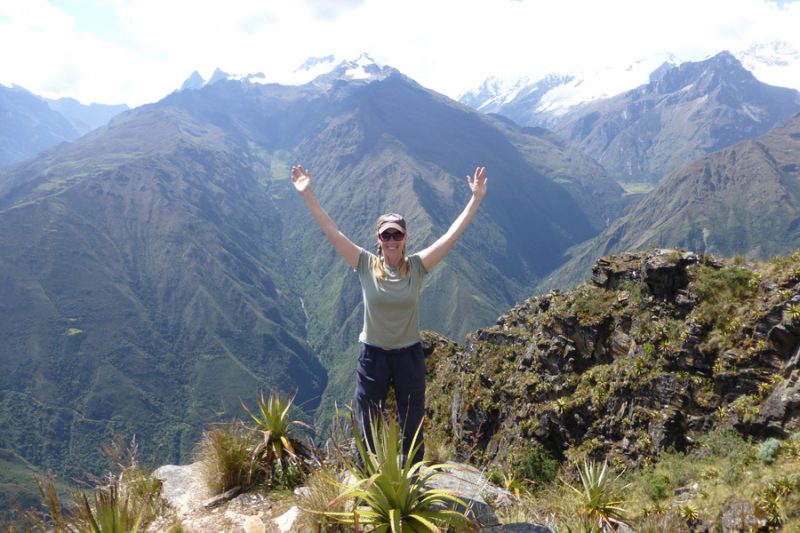 Pin
The nine-day trek along Incan trails was one of the most challenging things I've ever done. And that's without carrying my own pack.
We were above 10,000 feet the whole time and were either walking straight up or straight down. I passed impossibly terraced farms gripped to the sides of the mountains and watched Andean condors soar overhead, riding the thermals. We explored an Incan city likely to be as big and elaborate as Machu Picchu once it is fully uncovered. I may have felt magic from the sun god while sitting in an unsu (an elevated platform for worshipping gods). I definitely crossed a 14,000-foot pass while munching coca leaves, and soaked in the most delicious hot spring. Old ladies in sandals carrying multiple bags passed me as I slogged up hills with my trekking poles, totally unencumbered.
Until we arrived in the town below Machu Picchu, we saw only locals. Most of the "towns" we stayed in didn't have road access. Whether it was the work of the sun god or good planning by my husband, it was one of the best trips I have ever taken.
You can follow along with Mel's outdoor and family adventures on Instagram and Facebook.
---
A 40th Birthday Culebra-tion In Puerto Rico
Submission from Bernie and Jess Watt of Watt? Where? How? 
We're not sure if there's a more ominous feeling than looking down the barrel of a milestone birthday – especially when it's the big Four-Oh. And as an Australian couple living 9,621 miles from our family and friends, it made the prospect particularly depressing. With a limited budget and only a couple of days free, we went all in, escaping the lingering early spring snow to Puerto Rico.
Puerto Rico is an American territory, which makes it an easy getaway for US citizens, with no passport needed, US dollars and full cell phone reception. Beyond that, it's like a Spanish outpost, with its capital San Juan a charming walled citadel, with distinct blue paved streets and rather phallic garita guard towers watching over the town. There's rich Caribbean food, pirate-like fortresses, delicious cocktails, people dancing in the streets, roosters patrolling the yards – everything you need for a milestone birthday destination. Oh, and one of the top ten beaches in the world.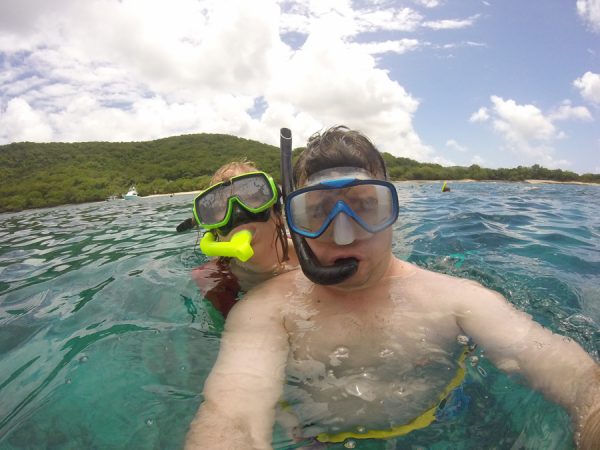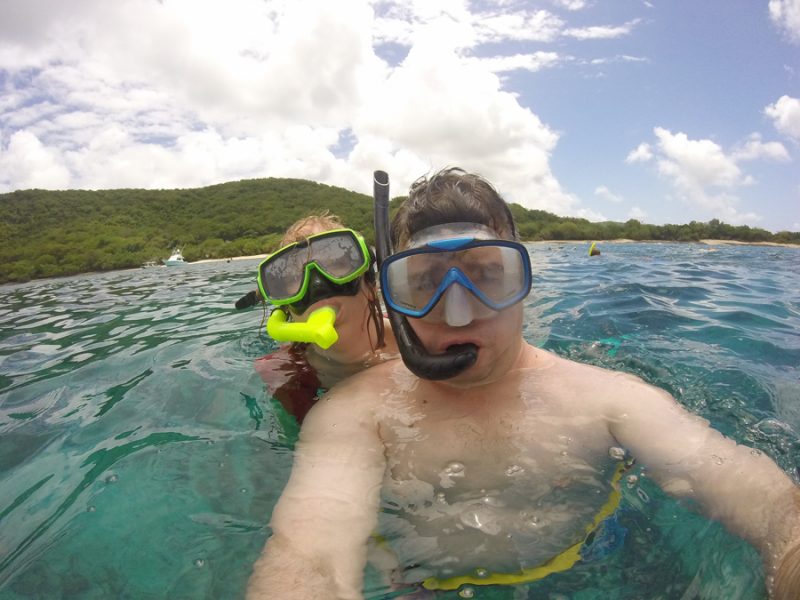 Pin
On the actual birthday, we head out on a cruise to Culebra Island and its famed Flamenco Beach.
Once a munitions training ground, the pristine beach is still littered with destroyed American tanks that make for great photos. After a choppy ride out, the catamaran stops at two locations for some snorkeling over reefs teeming with colorful tropical fish, before anchoring 100 yards from the beach.
With flotation vests to keep us upright, we proceed to drift in the most stunning turquoise waters as we're handed bottomless cups of rum punch by the crew. Others float whole cases of beer to the shore (they're either MENSA level intelligent or they've been on this trip before). It's a celebratory atmosphere and buoyed by the buffet of fresh salads and with enough rum punches to make us feel half our age, we're content with the fact that although we're far from our loved ones, we feel that somehow, the world is partying with us. We may be graying, a little fatter and less likely to recover as quickly in the morning, but this, my friends is how you turn 40.
Bernie and Jess Watt are Australians living in NYC, blogging about budget travel, their Green Card journey and ideas for quick getaways that defy time, money and belief.  Follow them on Twitter and Instagram.
---
Where Have You Been For Your Birthday Vacation?
If you travel to celebrate your birthday, we'd love to hear what you did and where you went in the comments.  Do you have any big milestones planned?
Where is your dream destination if you could go anywhere for your birthday?  Mine might be in one of those over-priced yet cool as heck villas over the water in Bora-Bora.  I'd also love to play with the rescued elephants in South Africa or Thailand.
I would like to personally thank all of the above contributors–each of whom I work with and talk to across social media platforms on a weekly basis.  If you are looking for new travelers and bloggers to follow, I whole-heartedly recommend every single one of them.  They are a part of TUL community.
Excerpt and pictures are submitted from each respective blogging member(s).
---
Share These 'Wanderful' Birthday Vacation Destinations: Pin It!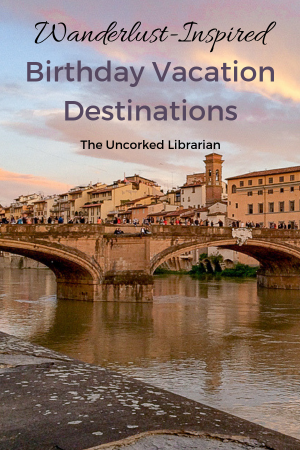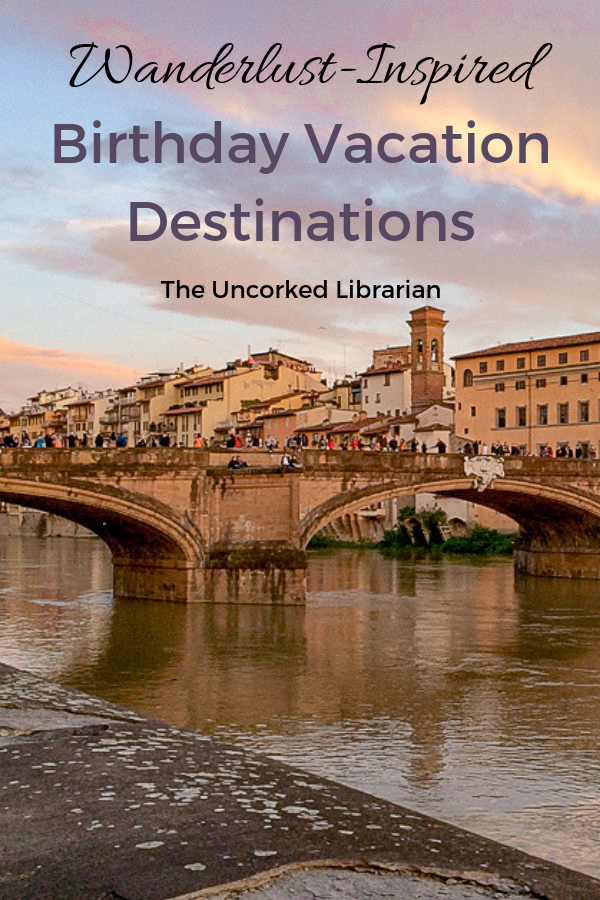 Pin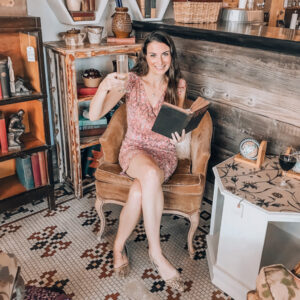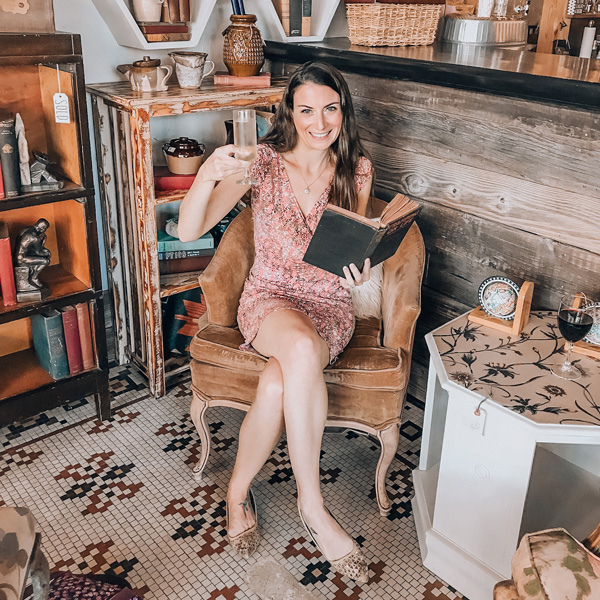 Christine (she/her) is the owner, lead editor, and tipsy book sommelier of The Uncorked Librarian LLC, an online literary publication showcasing books and movies to inspire travel and home to the famed Uncorked Reading Challenge.
With a BA in English & History from Smith College, an MLIS from USF-Tampa, and a U.S. Fulbright Fellowship in Christine's back pocket, there isn't a bookstore, library, or winery that can hide from her. Christine loves brewery yoga, adopting all of the kitties, and a glass of oaked Chardonnay. Charcuterie is her favorite food group.