Are you interested in reading or listening to Big Little Lies by Liane Moriarty?  Get the down low here, including featured book lists and books similar to Big Little Lies.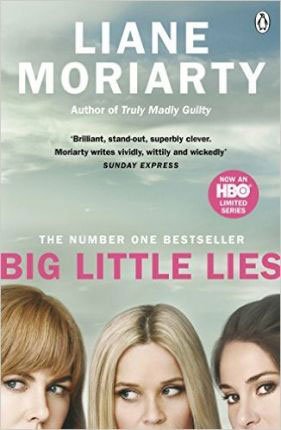 This post may contain affiliate links: If you purchase through my link, I will receive a small commission at no additional cost to you. I only recommend products/services that I approve of.  Purchasing through my links allows me to continue to provide unique content and pursue my business dreams. Thank you for supporting me.  See my full Disclosure Policy.
Big Little Lies
Author: Liane Moriarty
Genre: Adult Fiction | Women's Fiction | Realistic Fiction | Women's Detective Fiction
Pages: 258
Publisher: Penguin Group | Penguin Random House
Publication Date: 2014
Buy Big Little Lies by Liane Moriarty Here:


Don't Forget To Watch The Big Little Lies HBO Series:
If You Like Big Little Lies On The Tube, Try My Other Favorite:
Big Little Lies By Liane Moriarty Summary From The Publisher, Penguin Random House:
"From the author of Nine Perfect Strangers, Truly Madly Guilty, and The Husband's Secret comes the #1 New York Times bestselling novel about the dangerous little lies we tell ourselves just to survive.
A murder…A tragic accident…Or just parents behaving badly? What's indisputable is that someone is dead.
Madeline is a force to be reckoned with. She's funny, biting, and passionate; she remembers everything and forgives no one. Celeste is the kind of beautiful woman who makes the world stop and stare but she is paying a price for the illusion of perfection. New to town, single mom Jane is so young that another mother mistakes her for a nanny. She comes with a mysterious past and a sadness beyond her years. These three women are at different crossroads, but they will all wind up in the same shocking place.
Big Little Lies is a brilliant take on ex-husbands and second wives, mothers and daughters, schoolyard scandal, and the little lies that can turn lethal."
About Big Little Lies Author, Liane Moriarty:
Liane Moriarty is a New York Times bestselling author.  Born in Australia, she now lives in Sydney with her family where she writes, reads, and raises her family while being a full-time author.  With over 14 million copies of her books sold worldwide, her books are being transformed into movies (possibly Truly, Madly, Guilty) and TV series.   Read more about Liane Moriarty here.
If You Love Big Little Lies, Check Out More Novels From Liane Moriarty:
Big Little Lies was by far my favorite book in 2014.  I love Liane Moriarty, and my other personal favorite is The Husband's Secret.
TUL Book Lists Featuring Big Little Lies By Liane Moriarty:
Ready for a road trip?  We love hitting the road abroad, especially in countries like Iceland and the Baltic states. Check out these best audiobooks for road trips with a variety of genres for even the pickiest reader.  Find titles like Big Little Lies as well as some of my favorite bestselling books.

Other Road-Trippy Books That You Will Find On This Audiobook List Include:
If You Like Big Little Lies By Liane Moriarty, Try:
Looking for bestselling and popular books similar to Big Little Lies? Check out these books.  I read all three, and not only did they totally creep me out, but they also sucked me in while keeping me guessing.
The Uncorked Librarian pretty much reads everything and loves sharing the drama.